CELEBRATE THE FOURTH OF JULY IN BUCKS COUNTY
Gather your flags and red, white and blue attire to celebrate the independence of this great nation with a variety of events happening in Bucks County this Fourth of July. With concerts, fairs, mouth-watering BBQ and of course, fireworks, Bucks County has all the best activities to celebrate your patriotic pride.
TOP PLACES TO SEE FIREWORKS
Fireworks are a quintessential part of any Fourth of July celebration. Here are our picks for where to see stunning fireworks throughout Bucks County.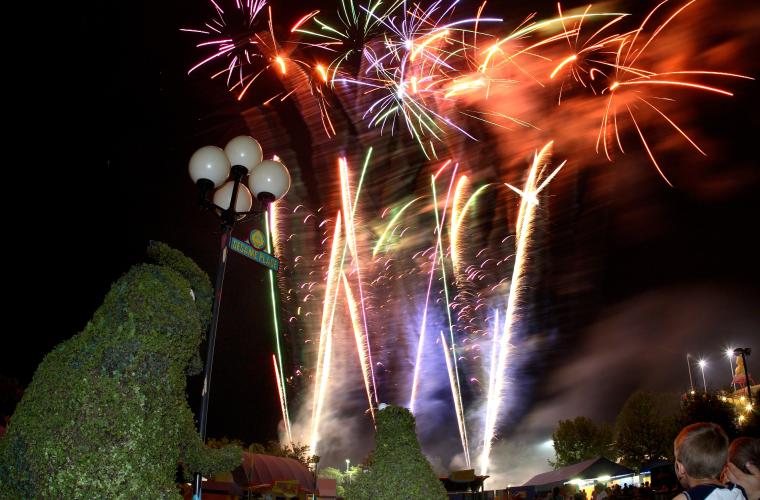 • Celebrate throughout the summer with Friday night fireworks over the Delaware River in New Hope. This location provides a breathtaking backdrop to the fireworks and the opportunity to catch them all summer long!

•Take the kids to a day-long celebration at Sesame Place®! Starting with a Fourth of July BBQ and ending with a magnificent display, this day is sure to be non-stop, patriotic fun! You'll experience a unique display set to Sesame Street music, which is sure to entertain the kids as they hang out with their favorite furry friends.

• Combine the charm of a country fair with the excitement of a fireworks display at the Annual Southampton Days Country Fair! Enjoy a parade, rides, delicious food, a flag raising and multiple live entertainment options. Cap of the day by sticking around for a fantastic display of fireworks.

• Feed your appetite with a delicious pancake breakfast at Quakertown Community Day. The event will also feature a car show, parade and live entertainment. Remember the classic display of fireworks that follows! 
PATRIOTIC FUN AND MUSEUM TOURS
Fireworks aren't the only time-honored Fourth of July tradition. Check out any of these historic events to step back in time and celebrate our country's history!  
• Explore everything related to the symbol of our country, the American flag, at the Mercer Museum. Their "Long May She Wave" exhibit features thousands of American flag-related objects and artifacts. You'll be able to explore different interpretations of one of the most recognizable symbols in the world-the American flag!

• Check out Fonthill Castle's Fourth of July celebration for a day filled with family-friendly activities. There will be something for everyone at this day filled with food, old-fashioned games, crafts and live music, all with the magnificent backdrop of Henry Mercer's estate. The castle will also be open for self-guided tours as the cherry on top of an already amazing celebration!

• Discover the past at Washington Crossing Historic Park. You can watch living historians demonstrate their crafts, tour historic buildings and even see a military encampment. The Declaration of Independence will be read aloud, a great finishing touch to your day of historical discovery. On the Fourth of July, the site also turns into a great place to watch a breathtaking fireworks display, the first in 20 years on the site!
• Pack a picnic lunch for the whole family and spend time together at the charming Pennsbury Manor. Located along the picturesque Delaware River, this recreation of William Penn's historical estate offers a variety of activities. You can take a guided tour, visit their award-winning exhibit, William Penn: Seed of a Nation, or explore the estate on your own. By the end of the day, you're sure to be an expert on one of Pennsylvania's most famous Quakers!

• Explore the Sellersville Museum and listen to a reading of the Declaration of Independence. This event also offers the opportunity to be chosen to ring the Museum's historic school bell! This is a great way to honor our country's independence while getting a taste of the past!  
 For all Independence Day celebrations, check out our calendar of events.