MEET THE WINEMAKER: WYCOMBE VINEYARDS
WINEMAKER
Rich Fraser
WHY DID YOU CHOOSE TO HAVE YOUR WINERY IN BUCKS COUNTY?
Our winery is located on land that has been in my wife's family since 1925. There are about 70 acres total, 60 of which are preserved farmland. We have 10 acres of vines or six miles one way. I have been here for 41 years, my wife Deborah has been here her whole life on the family farm. Over the years we have seen many changes, some good, some not so good. But through it all, Bucks County remains an exceptional area to live, work and play. We have many cultural, scenic, historical and recreational attractions all while being in close proximity to cosmopolitan Philadelphia, New York City, the Pocono Mountains and the New Jersey seaside. Combine this with our excellent school systems and hospitals, what more could one ask?
DESCRIBE YOUR WINEMAKING PROCESS.
We are an estate vineyard with one exception at this time. That means that except for one wine all of our grapes are grown here and all of our wine is produced, bottled, labeled here at the winery. Also all of our grapes are hand picked, by the public, and processed within an hour or so. One cannot get a fresher grape than this.
All the grapes are pressed in a traditional European fashion using a hand operated basket press and fermenting in smaller batches. We utilize stainless steel to minimize over oaking a wine. The flavor of the grape is way more important than the flavor of the wood in a European style of wine-making. As an added accent, all of our labels contain family archive photos of family relatives that lived, worked and died on the family property. Most photos were taken circa 1929 thru 1947.
HOW DID YOU GET INTO THE WINEMAKING BUSINESS?
After graduating from college with a degree in law enforcement, I entered the construction trades while awaiting an opportunity to utilize my degree. I worked for a general contractor that built auto service stations, restaurants and government installations over a four state area. During this time I learned how to do anything necessary to construct most buildings from the foundations to the final polish on the floors. These were valuable experiences that allowed me to construct every building at the vineyard, including our home, pretty much by myself.
I left the construction business for an offer to join a major insurance company to help develop catastrophic response teams to service policy holders during the aftermath of hurricanes, tornadoes, floods etc. When not responding to such disasters, I was based here in Bucks County to settle major fire & water claims in the five county area. I witnessed the misery and resourcefulness of countless families during this time. In 1984, I left the disaster side of the business and opened an insurance agency in Doylestown. The R.A. Fraser Agency is one of the older agencies in Central Bucks.
While I am still licensed I am involved as a mentor, as my son and son-in law now operate that business, in 1999 the family decided to put most of the farm in preservation, so my wife and I decided to get the family back into the farming business. Most of the land has been rented to other farmers since 1958 and this was a timely opportunity considering the comeback of local wineries and breweries in the country. Besides, it was an easy transition to move from the insurance business to the alcohol business (laughs). Our first planting was 2000 and we opened in 2006.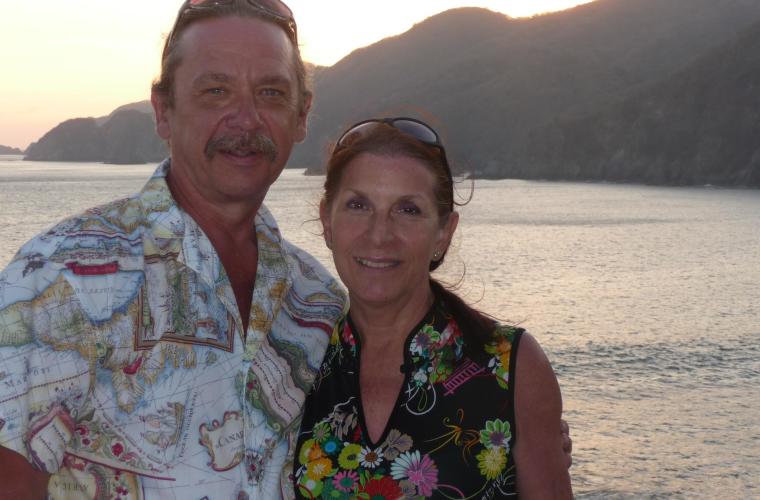 WHAT ARE SOME OF YOUR FAVORITE PLACES IN BUCKS COUNTY?
Deb and I don't get out much these days as most of our time is spent here at the vineyard or spoiling our grandchildren. We do like to get out to a laid back local restaurant, visit New Hope on an off night, or see the many events occurring in Doylestown.
DO YOU HAVE ANY FUTURE PLANS FOR THE VINEYARD?
We have plenty of land to expand our vines but I believe bigger isn't better. I believe the bigger the production, the more compromises are made. Some of the best wines made are done in people's basements. The problem with that is the wine is gone too soon. We are producing about 14,000 bottles a year and that's about enough corks one shoulder can handle. We live at the winery and along with our neighbors enjoy the serenity that nightime offers.
WHAT'S YOUR FAVORITE PART ABOUT MAKING WINE?
My favorite part of being a winemaker is watching people's faces light up when they taste our wines. Knowing that I planted the vines, I tended them year round, I helped harvested the grapes and I made something that people can enjoy. That is my definition of a rewarding experience.
DO YOU HAVE A RECIPE YOU'RE WILLING TO SHARE?
Our recipes will remain family secrets. The dandelion wine comes from a recipe from Deb's grandfather found in a diary circa 1934. Our Holiday Spice Wine is made with a delicate balance of Chardonnay and spices. Apple pie in a bottle. Our new red Sangria recipe is outstanding, so I'm told.
WHAT'S YOUR FAVORITE WINE AND FOOD PAIRING?
In Europe, wine is considered food. Here it is another form of alcohol. The natural flavors of the grape make excellent food pairings. For example, our Traminette, a Gewurztraminer hybrid, has a pink grapefruit flavor. Think of spicy Thai, Indian or Mexican with this wine. Our Alsatian, a dry Riesling, has lemon lime flavor. Think of chicken or seafood. Our reds are made to different dryness levels to pair with different cuts of red meat. Our most dry Cabernet Sauvignon works with the juicy cuts, while our Chambourcin works with red pasta or pizza. Our Smokehouse Red, a blended red, works with everything in between. Our Vintage Ruby Port for an after dinner kickback is second to none.