Kid-Friendly Itineraries 
Bucks County provides the perfect place for a weekend getaway with the family. Create a memory that will last a lifetime when you take the kids to meet Big Bird at Sesame Place or George Washington at Washington Crossing Historic Park.
For more kid-friendly ways to play in Bucks County, see our Pinterest board. 
Whether your family loves the outdoors, is interested in history or just wants to play; here are three trip ideas for a fun-filled weekend in Bucks County:  
• There's no better place to start your child's adventure than the Bucks County Children's Museum in New Hope. This hands-on experience lets kids work in a general store, dig for buried treasure in their newly renovated Dig exhibit, build their own race car and even take a "ride" in a hot-air balloon! The museum recently expanded and has a brand new interactive exhibit called "Airways to Waterways" that the little ones will love!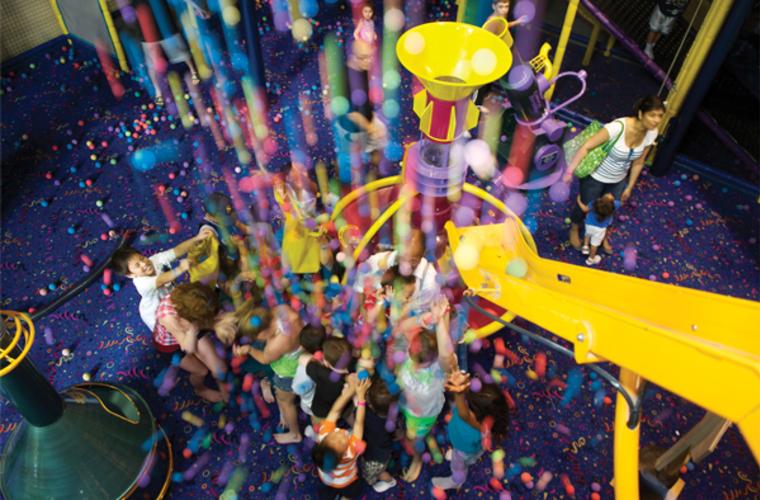 • After a good night's sleep, experience whirling rides, water slides and furry friends at Sesame Place. Elmo, Big Bird and all the Sesame Street friends come to life at the only theme park dedicated to America's favorite children's television show. Take a ride on the Vapor Trail, stroll through Sesame's Neighborhood and enjoy a show at Elmo's World Live. Don't miss the Neighborhood Street Party Parade that marches down Sesame Street every day. Now is the perfect time to visit Cookie's Monster Land at the park which features five exciting new rides, a five-story net climb, Cookie's Sometimes Anytime Food Market and more!

• Just a short drive from the Museum is Giggleberry Fair at Peddler's Village. Giggleberry Fair is home to the Grand Carousel, a fully restored 1922 carousel featuring 46 hand-carved wood figures, including horses, giraffes, lions and even a spotted hog! Stop by the brand new Game Room which features more than 40 fun arcade-style games for parents and children of all ages. Giggleberry Fair is part of Peddler's Village, an 18th-century-shopping village that boasts more than 70 unique shops.
• Let the current be your guide on a rafting trip down the Delaware River with Bucks County River Country or Delaware River Tubing. With nature's beauty as your backdrop, tube, kayak, canoe or raft a four-hour trip along the scenic river.

• Grab a hammer and experience the natural wonder of Ringing Rocks Park, an eight-acre boulder field and geologic wonder. When struck with a hammer, the rocks give off a high-pitched ringing noise. After taking your swings, hit the trail to explore the rest of the park, home to Bucks County's tallest waterfall. 

• Be one with nature at the nearby Colonial Woods Family Camping Resort. Open April through November, Colonial Woods has more than 200 campsites for you to park your RV or pitch a tent. Cabins are available for those who enjoy the comforts of home. There are special events at the campground all summer, including a luau and outdoor movies.

• Spend a day down on the farm at Shady Brook Farm in Yardley. Pick your own strawberries, raspberries and blueberries in June; peaches and apples in August; and pumpkins in October. The Farm also has homemade ice cream and special events throughout the year, including Fall Fest, which offers a petting zoo, inflatable attractions and pig races!
• Follow in the footsteps of George Washington at Washington Crossing Historic Park. Learn about the famous crossing of the Delaware River on Christmas day, 1776. The recently-renovated Visitor Center tells the story of how the "ten crucial days" that followed paved the way for American victory. Local volunteers re-enact the crossing every year on Christmas Day, and the park offers living history demonstrations throughout the year.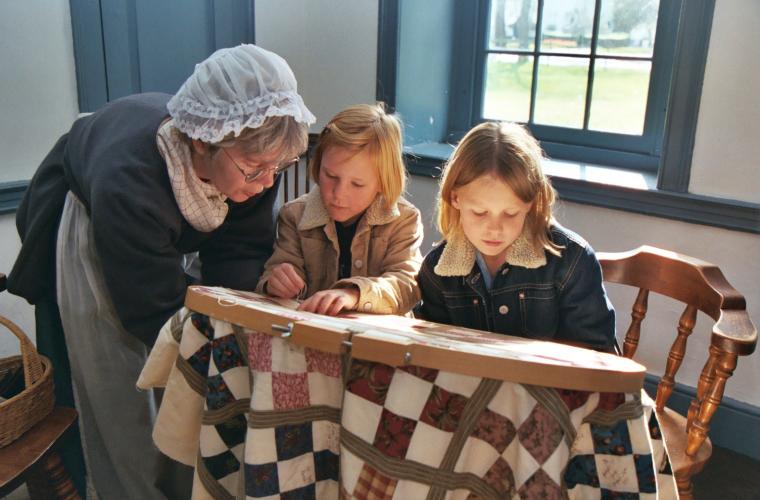 Washington Crossing Historic Park
• All aboard the historic New Hope & Ivyland Railroad! This 1925 steam locomotive pulls passengers from New Hope to Lahaska on a nine mile, 45-minute ride through the Bucks County countryside. Hourly excursions run year-round and the railroad also runs seasonal trains for many holidays including Easter, Halloween and Christmas. 
• Step back in time to Colonial America at Pennsbury Manor. The Manor house is a reconstruction of William Penn's provincial home, decorated as it would have looked in the 17th century. See colonial craftsmen plying their trades on the grounds during Sundays at Pennsbury, April through October. Pack a picnic lunch to enjoy under the pavilion, explore the Manor's many outbuildings and visit the stables to see the oxen and sheep that live on property. 
More Fun for the Little Ones