Eat, Drink and Explore in Bucks County Summer Photo Contest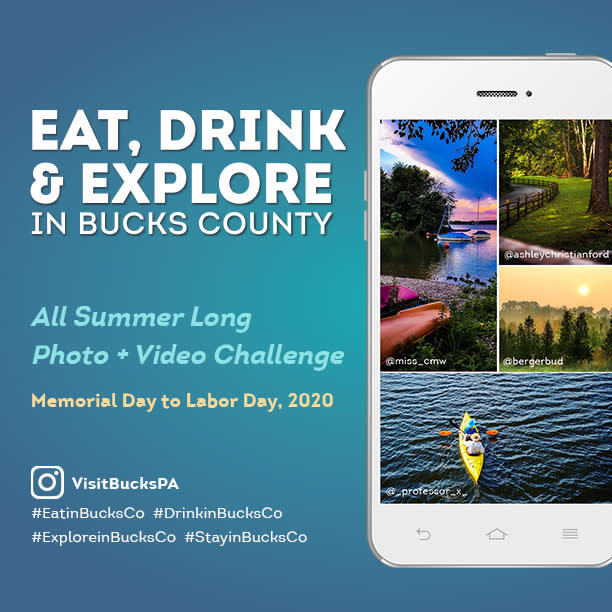 While you are out and about exploring Bucks County while practicing safe social distancing from Memorial Day to Labor Day, capture and share your favorite moments with #EatInBucksCo, #DrinkInBucksCo, #StayinBucksCo and #ExploreInBucksCo on Instagram or Facebook and be entered to win some cool prizes. New this year, follow along with Visit Bucks County's theme weeks for ideas and inspiration on what to post!
Prizes Include:
Roku 

Amazon Echo Dot

One-year subscription gift card to Disney+

Apple Airpods 

Bucks County Swag 
By utilizing the #EatInBucksCo, #DrinkInBucksCo, #StayinBucksCo and #ExploreInBucksCo hashtags, consent is given to Visit Bucks County (official tourism promotion agency) to repurpose and distribute the content for editorial and promotional use. Winners will be notified the week of September 20, 2020.
WEEKLY THEMES:
MAY

May 25 – 30 = Wine Week
In honor of May 25 being National Wine Day, why not kick off summertime with a tasty glass or rosé? Show off your favorite wines from the Bucks County Wine Trail!
May 31 – June 6 = Attractions & Museums Week
Memories from growing up going to Sesame Place®. Your child's first time at the Bucks County Children's Museum. Your weekend picnic outside Fonthill Castle or the Michener Art Museum. We want to see them all!

JUNE

June 7 – 13 = Takeout & Delivery Week
Support local business by ordering takeout and delivery to enjoy safely at home – and show us!
June 14 – 20 = Sunrise & Sunset Week
Get ready for the longest day of the year, June 20, the Summer Solstice! Bucks County is FULL of gorgeous sunsets and sunrises. Show us yours this week!
June 21 – 27 = PRIDE Week
Take a trip down memory lane! We want to see your favorite photos of PRIDE, or other LGBTQ+ events, that you've celebrated in past years in Bucks County!
June 28 – July 4 = Party in the USA Week
However you celebrate the Fourth of July this year, or your memories from past BBQs, we want to see your photos!

JULY

July 5 – 11 = The Great Outdoors Week
Parks, rivers and lakes, oh my! Bucks County is filled with so many scenic properties, and we want to see yours.
July 12 – 18 = Rediscover Bucks County Week
Dig out the old albums. We want to see photos of summers' past in Bucks County! Maybe it was your first trip to Sesame Place as a kid, or boating for the first time on Lake Nockamixon. Reminisce in the nostalgia of summer in Bucks County.
July 19 – 25 = Sweet Spots Week
Sunday, July 19 is National Ice Cream Day! Show off your cones, or any other sweets you like to #EatinBucksCo off the Bucks County Sweet Spots Trail.
July 26 – August 1 = The Adventures of Bucky Week
Win a free Bucky plush from completing the Sweet Spots Trail? We want to see how your Bucky's been spending Summer 2K-20.

AUGUST

August 2 – 8 = Beer Week
August 7 is International Beer Day. We're sure you've been sipping some suds this summer. Show us your favorite beers from the Bucks County Ale Trail!
August 9 – 15 = Oh, The Place You'll Stay Week
We can't wait to welcome you back to our hospitable accommodations when the time is right. Show us your past vacation photos at Bucks County's best B&B's and hotels!
August 16 – 22 = Towns & Main Streets Week
From New Hope to Doylestown, Bristol to Perkasie, Bucks County is filled with some quant and historic Main Streets. Show off your best town photos.
August 23 – 29 = Pets Week
August 26 is National Dog Day. Our furry friends make staying socially distant a little easier! Snap a pic of your pet(s) enjoying the "pawsome" outdoors of Bucks County.

SEPTEMBER

August 30 – September 7 = Bucks County is My Home Week
September 7, Labor Day, marks the end of the contest. Show off any of your favorite photos from summer, past or present, that screams your love for Bucks County!
How to Enter/Step-By-Step Guide:
Download Instagram or Facebook onto your iPhone, Android or other smartphone. These apps can be found in your smartphone's app store.

Take a picture or video using your smartphone. Feel free to add a fun filter like "Valencia" or "Ludwig" on Instagram to give your photo a special touch!

Post the photo or video to your Instagram account. Share the fun with friends and family.

Make sure to include one or all of the hashtags #EatInBucksCo, #DrinkInBucksCo, #StayinBucksCo and #ExploreInBucksCo to enter the contest. You can also tag @VisitBucksPA and include any other relevant hashtags to share your photo far and wide.

You are now entered in the contest! By posting with the hashtag(s), you allow Visit Bucks County to use your photo for tourism promotion.

So, go out and explore Bucks County! There's no limit on the number of times you can enter!
*This contest is not affiliated with Instagram, Disney+, Roku or Amazon.
**Note: If your account is private, we cannot see your entry and you will not be in the contest.