I am always on the lookout for new places to visit and new things to try. So, traveling the Bucks County Sweet Spots Trail is the perfect way to discover local businesses…and unique, delicious desserts!
It's a great time of year to download your digital passport and follow the trail. The holiday treats at the 30+ bakeries, café's, confectionaries and creameries are sure to get you in the festive spirit!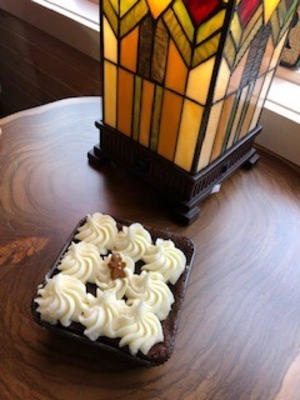 My first stop was F.P. Kolbe gift store and café. I enjoyed a scenic drive along the Delaware River to Point Pleasant where this fourth-generation store is located. On entering you will find many interconnected rooms filled with gifts and fun items to browse.
There is a lovely café area serving a range of drinks and snacks, but I decided to indulge in the gingerbread cake! The mini gingerbread man on top and the swirls of vanilla icing made it look particularly enticing. The delicious cake made the perfect treat for a cold and wet December day!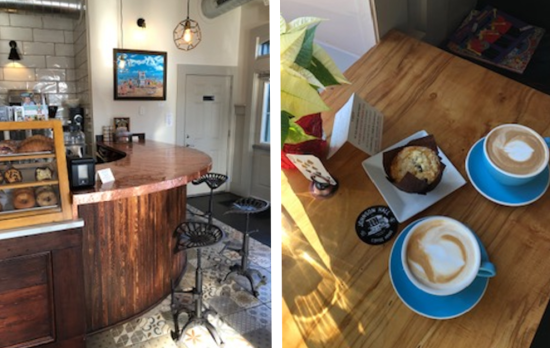 Nestled in historic Hulmeville, the newly established Johnson Hall Coffee House is a lovely place to stop for a relaxing drink or bite to eat. On their regular menu, I discovered the white chocolate raspberry latte. They also have a festive menu which included a peppermint mocha! One of each was ordered and we were delighted to receive the freshly brewed coffees in a turquoise china cup and saucer.
The perfect blend of hot coffee and interesting flavors were enjoyed as we sat amongst a display of local artwork. This is truly an inviting and beautifully designed coffee shop with a warm atmosphere.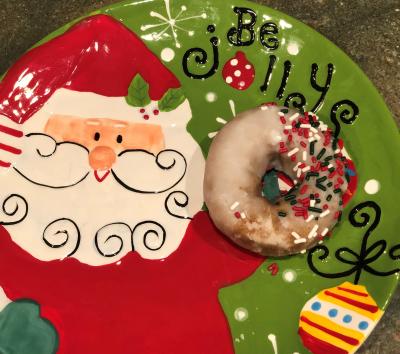 As soon as I walked through the door of The Happy Mixer, I found an enticing selection of homemade brownies, cookies and muffins, all of which are 100% gluten free. After careful consideration my son decided upon a festive looking doughnut. Green, red and white sprinkles covered the top of The Happy Mixer's classic vanilla iced old fashioned cake doughnut. It was the perfect treat to take home after a busy day!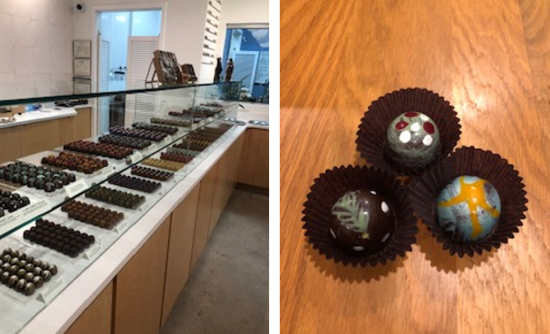 If you are anything like me, then chocolate is the ultimate go-to indulgence! I paid my first visit to Naked Chocolate in Newtown and I was not disappointed. There is a vast and beautiful selection of handmade chocolates, plus unique gifts and the smoothest cup of hot cocoa!
The holiday treats on offer are all exquisitely crafted and the variety includes chocolate Christmas cards, peppermint bark and my personal favorite - the bon bons. We tried 'crushed toffee meltaway', 'candy cane' and 'a very cherry holiday' - truly scrumptious!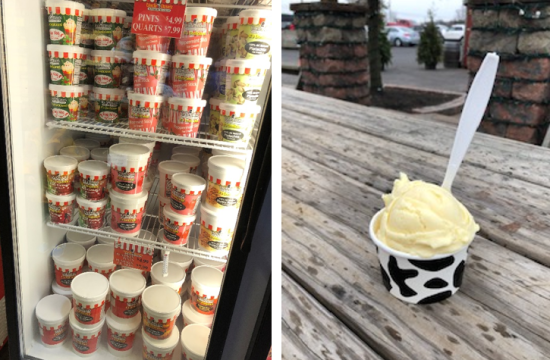 A festive delicacy in the form of an ice cream is not what you might expect to be ordering during the cold winter months in Bucks County. But Uncle Dave's homemade ice cream at Shady Brook Farm is open all year round, serving seasonal and well-loved flavors. When I discovered that eggnog ice cream was on their seasonal menu, I made a special trip to give it a try.
The smell and taste of the Christmas flavors were evident in this icy treat… and Shady Brook Farm's holiday decor really adds to the festive feel! This sweet indulgence is also available to enjoy by the pint or quart.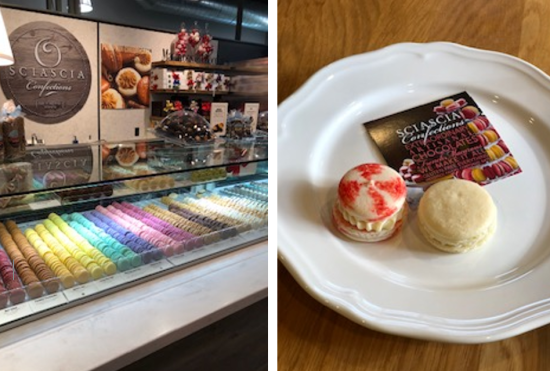 If you've never been to Sciascia Confections, you need to stop by for a sweet treat. It can be found on South Main Street, New Hope within Ferry Market. I can always count on finding a beautiful display of colorful handmade macarons and delicious looking chocolates.
Candy cane and eggnog macarons were the newest addition to their holiday menu so I ordered two! The candy cane macarons are made from almond meringue cookies with a fresh peppermint and white chocolate ganache and the eggnog macarons contained festive spices with just a hint of dark rum. These macarons are truly enjoyable and would make a great holiday gift!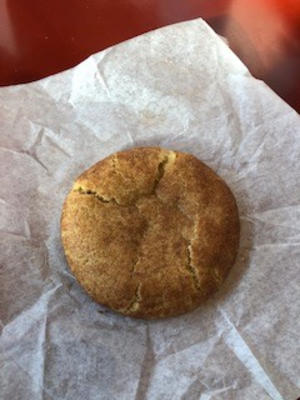 Another Sweet Spots Trail venue within the inviting space of Ferry Market is The Big Cookie Company. There is always an eye-catching display of yummy looking cookies with classic and well-loved ingredients. Our pick today was a Snickerdoodle cookie made from a 100-year-old recipe. From the first bite you can taste the cinnamon spice blend with a crisp sugar crunch and soft center, a great choice for a Sunday morning treat.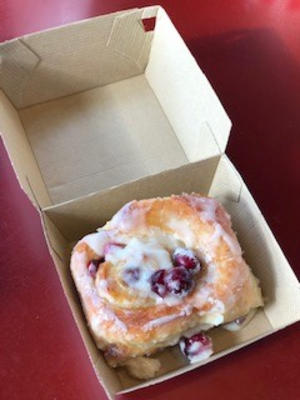 Novel buns is fast becoming one of my new favorites within Ferry Market. Their seasonal bun on offer was Cranberry Orange! We received the tastiest warm gooey bun made with orange zested sugar and fresh cranberries which was devoured quickly. The cream cheese frosting and festive sugared cranberries on top were a delight to taste. These buns are a must-try.
Are you ready to taste these treats and so much more on the Bucks County Sweet Spots Trail? Download your digital passport here! When you visit 5 locations, you get a free Bucky plush.