We asked our spring 2019 interns to document their internship at Visit Bucks County. Read below to see what a day in the life of an intern looks like here at the tourism bureau!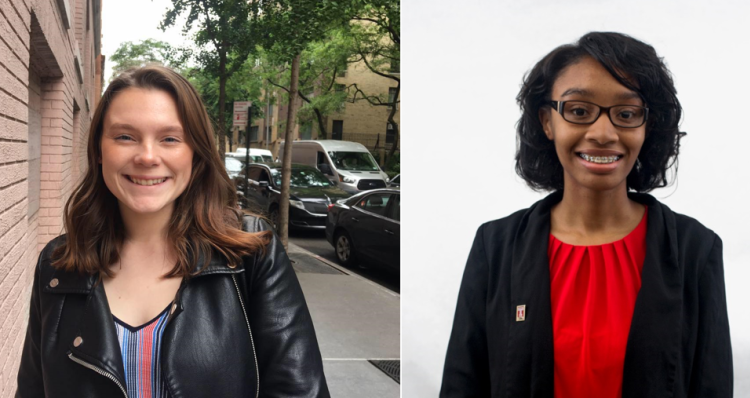 JORDYN: I am a senior in Media and Communications at Temple University that thrives in change and creativity. This internship is the perfect balance of both of those things. I was born and raised in Bucks County, so Visit Bucks County was always somewhere I looked for new fun things to do and restaurants to eat in the area, especially in Well Seasoned (which is written a lot by interns!).
APRIL: I am a junior in the school of Sport, Tourism and Hospitality Management at Temple University. My major is Tourism and Hospitality Management and I have hopes of one day becoming an entrepreneur. This internship is perfect for me because I have the opportunity to understand the events, restaurant, DMO and hotel industry all in one with the tasks I have. I live in Philadelphia and commute into Bucks County twice a week, sometimes three. Interning here, I learned a lot about what Bucks County has to offer!
My Schedule:
JORDYN: I'm in the office twice a week from 9-5, which perfectly fits into my internship course guidelines. Every morning, I have a quick check-in with my supervisor. We discuss my plans for the day and any new projects that have come up. Although this is a 9-5 role, my days are always different and filled with new and exciting assignments!
APRIL: My supervisor is very understanding of my class schedule and ensured that I come in on days that do not conflict with school. Every day I have a quick check-in with my supervisor where we discuss my itinerary for the day and any new projects that have come up. My days are always different and sometimes I do not spend all my time at my desk but at on-site visits.
My Responsibilities:
JORDYN: The assignments that I'm given are anywhere from writing and updating articles for the website and Well Seasoned, to drafting monthly content for Twitter and Instagram. This is what I spend the rest of the day working on with deadlines in mind. Some other assignments I have worked on include researching ideas for third-party newsletters, drafting up What's Up This Weekend posts, uploading new photos and videos that come in into the media library, drafting scripts for social media videos, drafting media pitches and releases and visiting places to take videos for Instagram stories.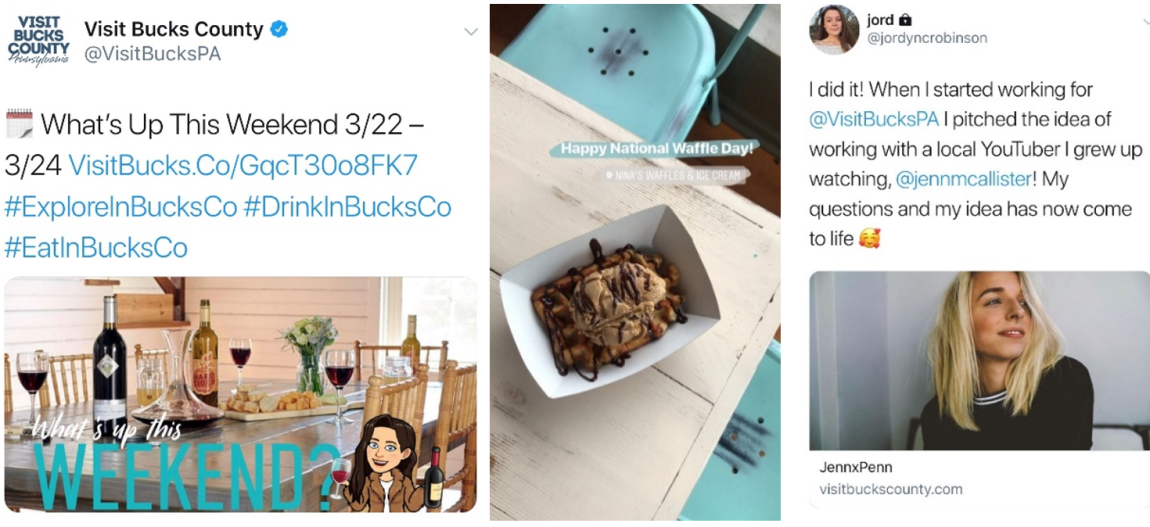 APRIL: The assignments that I am given range from administration-based to hands-on. I work a lot in the CRM (Customer Relationship Management) system here at VBC. This is where all of our accounts and contacts are kept. I do a lot of imputing data for follow-up, assigning tags and adding new contacts. I also assemble a lot of welcome bags for weddings and events. On the hands-on side, I help with the breakdowns and set-ups at event sites a lot. I also conduct research for specific projects and make phone calls to partners for more information.
My Tip:
JORDYN: Share your ideas! If you're always glued to your phone on Twitter or Instagram like me, then you know what new events or people are getting popular online. Use this to your advantage and think about how this can tie back to Visit Bucks County's brand and customer! Your supervisor and team want to see you succeed and always welcome you to share new ideas. I'm an avid watcher of YouTube so when one of my favorite YouTubers, Jennxpenn, posted a new video one day, an idea came to mind. I knew she was from Bucks County but had never connected doing a collaboration together. I went to my supervisor and told her that we needed to partner with Jenn! Now, questions I created for Get to Know: YouTuber Jennxpenn are online and once even made the top 8 pages of the week on the website.
APRIL: Be openminded! If you want an internship where you can learn a great deal and also have the opportunity to network with other companies, you can here. You never know who you will meet, so be kind to everyone because this person may end up being your boss one day. When a door opens, walk through it because you never know where it will lead you. Also, proficiency in Excel and other technologies will help in the long run, so it's good to learn them here now to help you succeed in the future!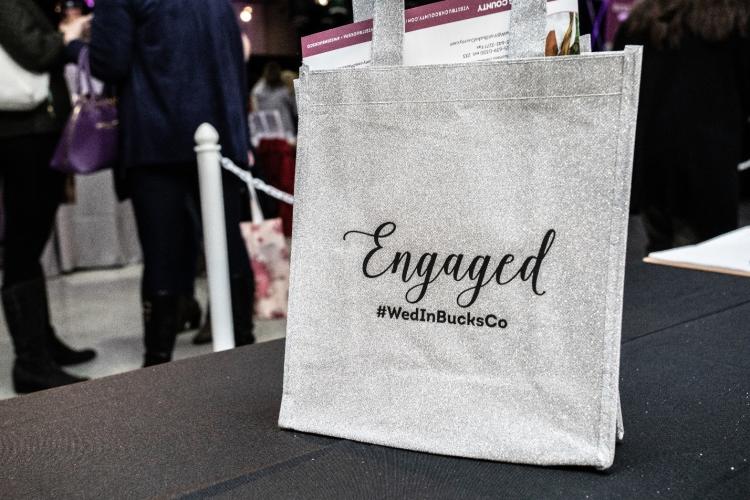 My Takeaway:
JORDYN: I'm really thankful that I was given the opportunity to intern at a company like Visit Bucks County. They care about their team and treat interns just like another employee! They welcome you to share your ideas and create cool content for their brand. My favorite parts were being able to see my words come to life on the website and in the magazine. I received amazing hands-on experience in the world of tourism and hospitality. I hope that giving you a peek into a day in my life as an intern gives you a good idea of what you can look forward to in this internship!
APRIL: I am so happy that I had the opportunity to hold this position and meet such wonderful people that were so welcoming to me and made me feel a part of the team. At Visit Bucks County, they genuinely care about the interns and want to ensure the goals you had at the beginning are met. No question is a dumb question, so be open to learn and ask as many questions you would like because the staff here are willing to help you in any way possibly, with the best interest at heart. My favorite parts were being able to see my small tasks come to light in the bigger picture of things. I received excellent hands-on experience on what it takes to successfully help market a destination.
Visit Bucks County offers internships for Marketing & Communications and Tourism and Hospitality Relations tracks every spring, summer and fall. Interested in applying? Click here!