No matter the season, Peddler's Village is one of the most charming places in Bucks County. From the shops, to the dining, to the seasonal events that take place on its beautifully-landscaped grounds, Peddler's has something for everybody! Trust me — I love it so much, I had my wedding reception there last October!
Peddler's Village is located in Lahaska just a few short miles from New Hope, is full of quaint shops, tasty eateries and restaurants, and a few places that'll help you quench your thirst! I'll give you a *virtual* tour of a few of my favorite places, but before I do, here's a little history about the place…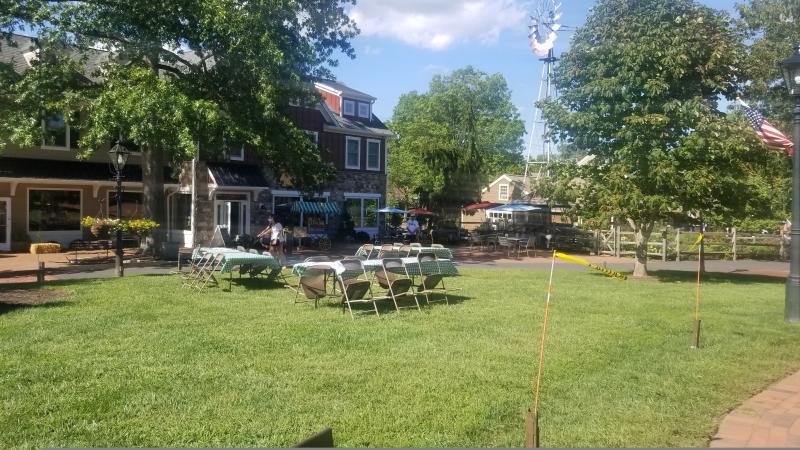 According to Place Names in Bucks County by George MacReynolds, published by the Bucks County Historical Society in 1942, the "small town at the intersection of York Road and Street Road, partly in Buckingham and partly in Solebury Township" was once called Hentown (likely for the chicken farm that was once there!).
The Buckingham Friends Meeting, the oldest place of worship in Lahaska, was founded in 1701 by English Quakers, some of the earliest settlers in the area. The first meetinghouse, constructed of logs, was built between 1705 and 1708. The second was a wooden framed building, and the third one, made of stone, was built circa 1731. As the meeting grew even larger, a fourth meetinghouse was constructed in 1768 — the same one we see today on top of a hill just outside of Peddler's Village. During the Revolutionary War, the meetinghouse served as a hospital for wounded Continental Army soldiers. It was declared a National Historic Landmark in 2003.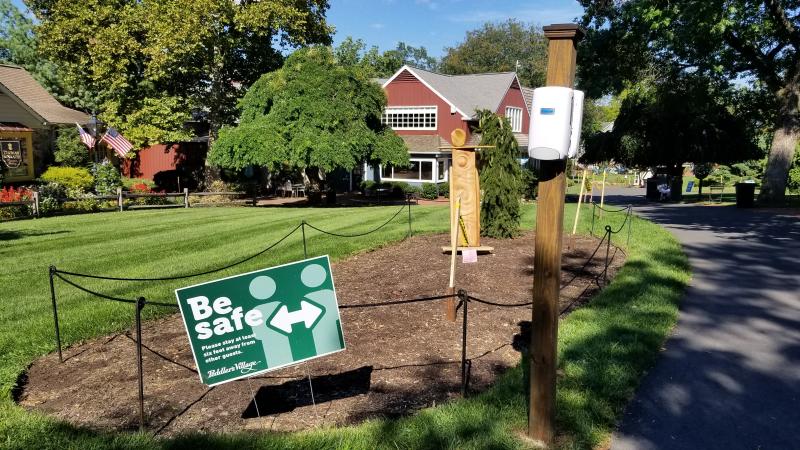 In 1874, the village consisted of 15 houses, a store, hotel, coach factory, a few small shops, as well as a post office. The name "Lahaska" originates from a Lenape Native American word meaning, "the place of much writing." In June 1962, lifelong Bucks County resident Earl Jamison, envisioning an 18th century style specialty shopping village, founded Peddler's Village. Run by Jamison in the early years, Peddler's Village opened with only 14 shops and the Cock 'N Bull Restaurant. Much of Hentown's original architecture was incorporated into the designs of the shops and restaurants visitors still enjoy today, including The Golden Plough Inn. (More on Peddler's historical — and haunted — past can be found here!) Now, during your next visit to Peddler's Village, you'll be able to take a step back in time and appreciate the history it has to offer!
As you're planning your next trip to Peddler's Village, remember that we're still in a pandemic. Given the latest government-issued regulations, everyone must wear a mask if you cannot be six feet from others. On a not-so busy day, you will probably find yourself socially-distanced from the next family, but on a festival weekend, during big sales, or just when the weather is nice, expect to throw on your mask.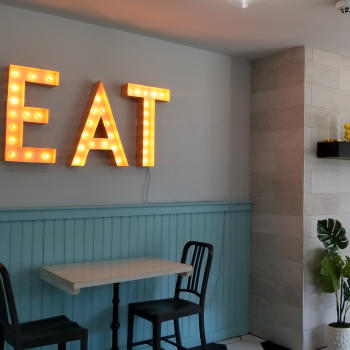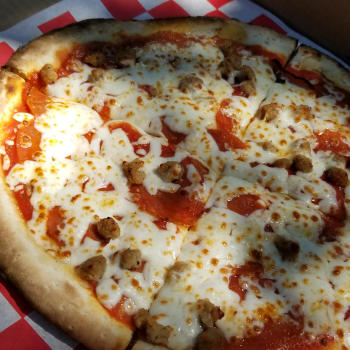 Peddler's also has a lot of signage posted around the property reminding guests to keep a distance of six feet or more, and to wear a mask (properly, too!). There are also several hand sanitizing stations conveniently placed throughout the village. It's clear they make our safety a priority, which is one of the many reasons why I like the place so much!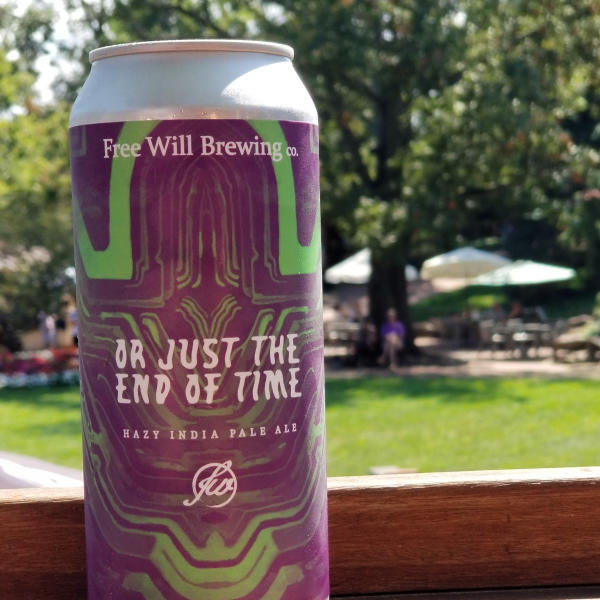 If you're not up for dining indoors quite yet (much like myself), then you will be happy to hear that Peddler's Village has set up multiple dining areas throughout the village with tables, chairs, and, of course, umbrellas for those sunny (or rainy) days. These tables are perfect for enjoying takeout meals, like the pizza I picked up from Mama Hawk's, or for drinking an ice-cold beer from Free Will Brewing Company (also guilty!).
Other favorite stops include the Cock 'n Bull Restaurant, if you're in the mood for American classics, like pot pie, meatloaf, or fish & chips, or Earl's New American, if you're looking for a restaurant that pairs contemporary cuisine with rustic charm. Moku-Bowls and Mama Hawk's are both excellent quick-service eateries, but their offerings couldn't be more different: Moku-Bowls offers traditional Hawaiian poke bowls, and Mama Hawk's menu lists everything from paninis, to pizza, to soup or salad. And, like I mentioned earlier, Free Will Brewing's craft beer selection is top-notch, with beers ranging from classic ales to IPAs. But if you're craving something a little stronger, head on over to Hewn Spirits to taste some of their smooth yet complex Pennsylvania bourbon or gold rum, all hand-crafted and distilled right here in Bucks County.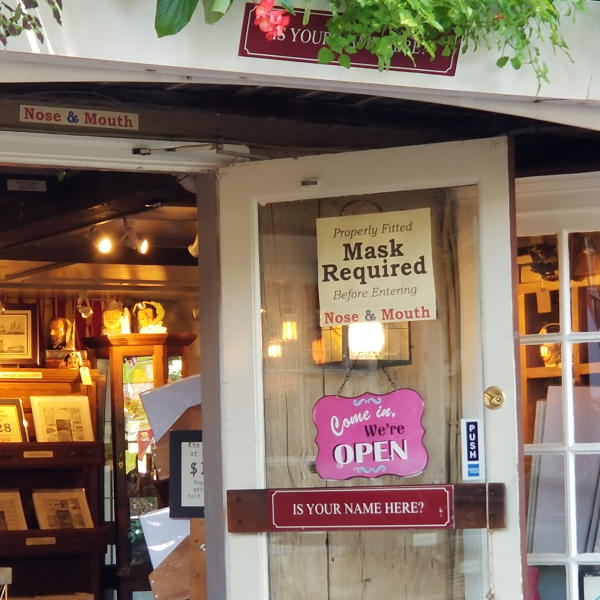 After dining, if you are looking to burn off some of those calories, then you're in the right place! Peddler's Village has numerous stores to choose from to hit while strolling, many that offer unique gifts, collectibles, locally-made art, antiques, and more! There are also shops that sell graphic tees, cozy sweaters (for that cooler weather!), and pajamas. I always try to stop by Mixed Threads (PSA: Philly sports team apparel found here!), Pine Wreath and Candle, Ltd. for their incredible selection of holiday decor, and the Celtic Rose for all things Irish!
Finally, no trip to Peddler's is complete without a visit to Skip's Candy Corner for some old-fashioned sweets, The Lucky Cupcake for classic treats, or Nina's Waffles (ice cream + waffles = best. dessert. ever!).
Scarecrow Season began earlier this month, so while the weather is still warm, be sure to make your way over to Peddler's Village, take in some of the fall foliage, nibble on some fantastic food, and have yourself a day full of family-friendly fun!