We came, we saw and we conquered 32 pumpkin beers!
There were eight people doing a March Madness tourney-style bracket that saw each beer competing against one another for the title of the 2016 Pumpkin Madness Champion. The big winner was…drum roll…Bucks County's own, the Pride of Croydon, Neshaminy Creek's Punkless Dunkel.
Beers were put into groups based on brewery locales. The first round was separated into eight groups of four beers. One beer came out of each group and competed in another round of 4.
The third and championship round pit the winners of the second groups of 4 against one another: Neshaminy Creek's Punkless Dunkel and Rogues Pumpkin Ale.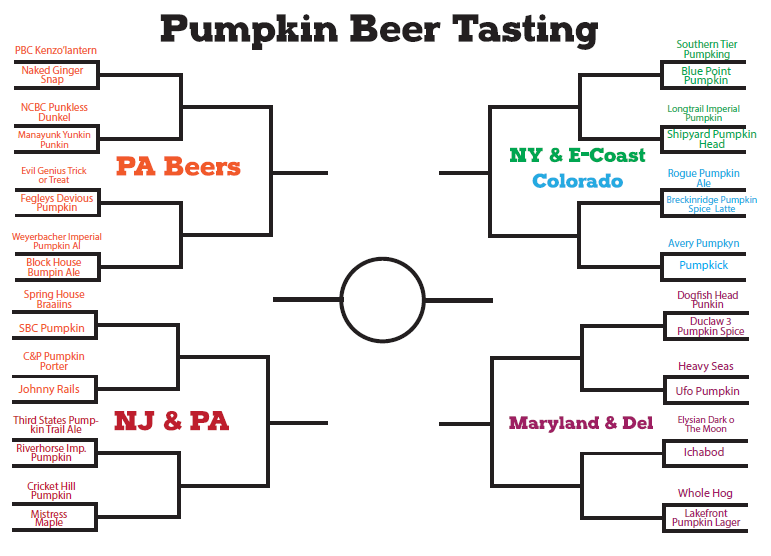 As this was our 2nd annual tasting, we have some new tips for next year's event.  Here is what we learned:
Buy extras of each beer. For our tasting, since we did it in a tournament style, we had to buy two of every beer so you could taste the beer again in the next rounds. Also, spillage is a real thing people!
 
Rating the beers is crucial since a beer might not make it out of its own bracket, but that's only because it went up against a beer that was just a little more amazing.
 
Have multiple tasting glasses for each person for tasting multiple beers at one time.
 
Make sure you know the brand of beers you are tasting. We had four beers going around at one time so we had to make certain we did it in the proper order on the bracket.
 
Buying extra beers also works out since you will have plenty leftover to save and drink for the holidays!
Now, it's time to pumpkin detox since my blood is 75% pumpkin spice. I will leave you with some of the notable and highest rated beers that didn't take the title.
Evil Genius - Trick or Treat
Rogue - Pumpkin Ale
River Horse - Imperial Pumpkin
Third State - Pumpkin Pail Ale
Weyerbacher - Imperial Pumpkin
Fegley - Devious Pumpkin
Lakefront - Pumpkin Lager
Heavy Seas - The Great Pumpkin
Bluepoint - Pumpkin Ale