So many of us love history - but some eras speak to us more than others. For example, I have a co-worker who is a Civil War reenactor, but I love the decades between 1920-1970. We joke that we both dig the 60s - but just in different centuries!
My interest in the mid-century and earlier decades has led me through back roads and downtowns across the country, scouting out businesses from those eras that still survive despite the chain stores and franchises quickly overtaking the landscape. The excitement when finding these places led me to create Retro Roadmap, a website and book series where I share my discoveries from those eras that still survive with their authentic vintage charm intact, including in Bucks County!
What do I consider "authentic vintage charm"?
While this can vary from place to place, the overarching quality is getting that "stepped back in time" feeling when you see or enter the business. This can be anything from a giant neon sign on a downtown movie house, or un-remodeled diner with its original Formica counter. You get a sense of history at these places that you don't get at a chain store or business that has been "modernized" into a beige stucco box.
By scouting out these businesses and highlighting them on my website and books, I encourage business owners to not feel like they need to update their look to be successful. If anything, their historic details and vintage qualities are sought out by many travelers who want to experience actual real places and a sense of history when traveling, not the cookie cutter shops they can find at home.
If​ ​you​ ​are​ ​the​ ​type​ ​of​ ​traveler​ ​who​ ​wants​ ​to​ ​explore​ ​the​ ​real​ ​Bucks​ ​County​ ​-​ ​Retro​ ​Roadmap​ ​style -​ ​here​ ​are​ ​three ​places​ ​I​ ​like​ ​to​ ​stop​ ​any​ ​time​ ​I'm​ ​in​ ​the​ ​area:
Newtown​ ​Hardware​ ​House​ ​–​ ​Newtown
Opened in 1869, the Newtown Hardware House is older than many of the places on RetroRoadmap.com but when you step onto their wooden floors and see the antique fixtures still in use, the charm of this place is undeniable. Not only a place for nuts and bolts, they offer a wide variety of gift items, both locally sourced and with nostalgic appeal, to entice shoppers of all kinds to drop in.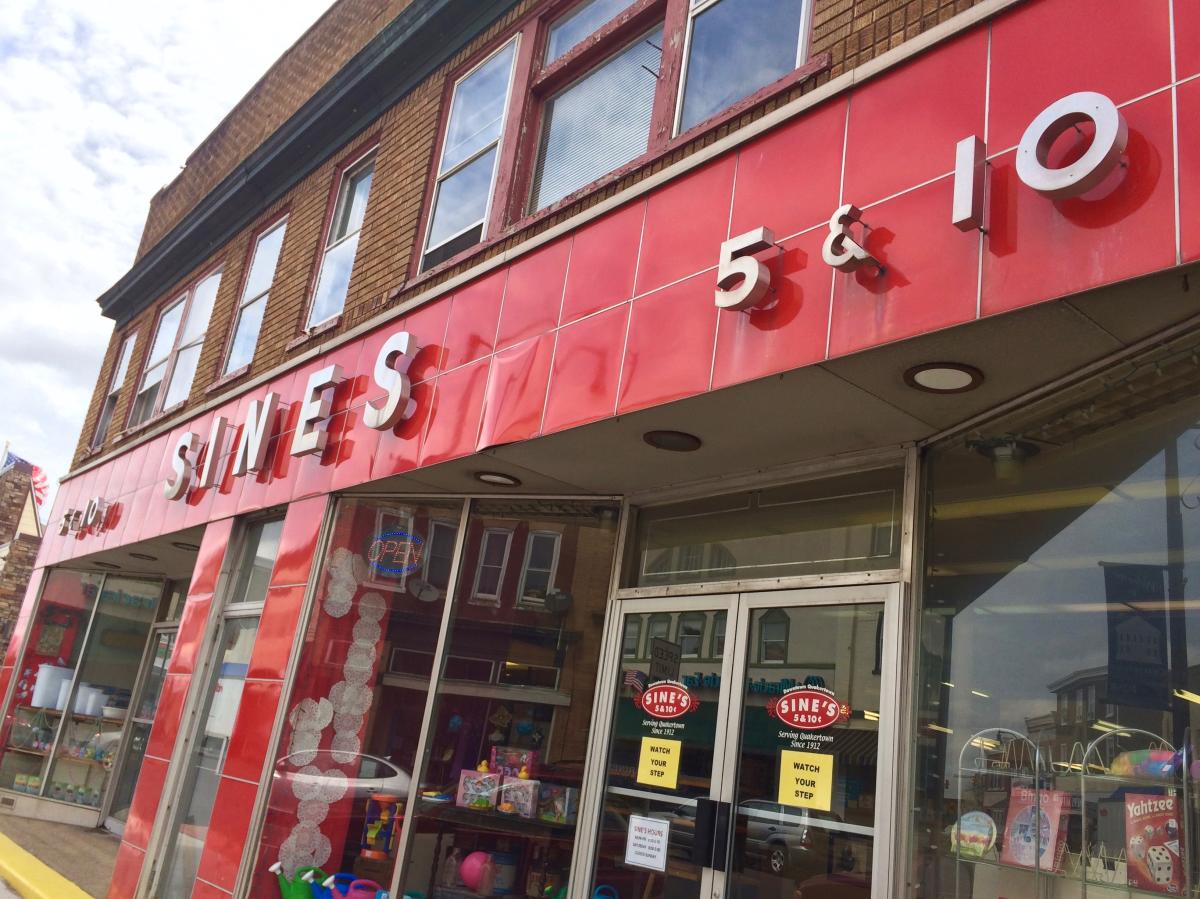 Sine's​ ​5​ ​&​ ​10​ ​-​ ​Quakertown​
A stalwart business in downtown Quakertown, this variety store has been family owned and operated for over 105 years. From the moment you open the doors and see the still fully functional lunch counter, wooden boxes displaying old fashioned penny candy and useful household items for sale, it is like returning to a simpler era before the big boxes stores and online shopping took over.
Warner's​ ​Candies​ ​-–​ ​Bensalem
Tucked away "on the beaten path" on the busy Bristol Pike, the house that Warner's Candies is located in is 250 years old. The candy shop is modern in comparison, having opened in 1955. Still family owned and operated, they're a local destination for holiday molded chocolates, buttercreams and a variety of other sweet treats.
To make it easy for you to find more of these hidden Bucks County gems, my favorites are included in the Retro​ ​Roadmap​ ​Roadbook​ ​of​ ​the​ ​Philadelphia​ ​Suburbs.​ Not your typical travel guide, it has room for you to write your memories and keep track of the places you've been or discovered. Hopefully it will inspire you to get on the road and discover for yourself the cool vintage places that still exist in Bucks County and beyond!