There are so many reasons to visit Bucks County in the fall – the apples and cider! The pumpkins and harvest festivals! Art and craft fairs galore! But for the past 43 years, one of the most consistently popular seasonal events has been Scarecrows in the Village at Peddler's Village in Lahaska. 
For eight weeks, beginning in September, the outdoor shopping destination boasts more than 100 scarecrows made by greater Philadelphia-area residents all across its grounds, ranging from scary to silly and everything in between.
Visiting the scarecrows is a big kid favorite in our house, so this year we made a day of it and headed over for lunch and one of the several scarecrow-making workshops the festival brings!
Our morning was a busy one, full of a soccer game for our six-year-old Howie and early walks with five-month-old Clover, so everybody was really ready for lunch at the FresCafe Food Co. Located in a charming, cozy, window-filled building over in "the Courtyard," it's part of Peddler's Village without being at the center of crowds and activity, which was great with a stroller. The super friendly maître d', Terrence, sat us outside as requested and took great care of us even as the lunch rush got busy.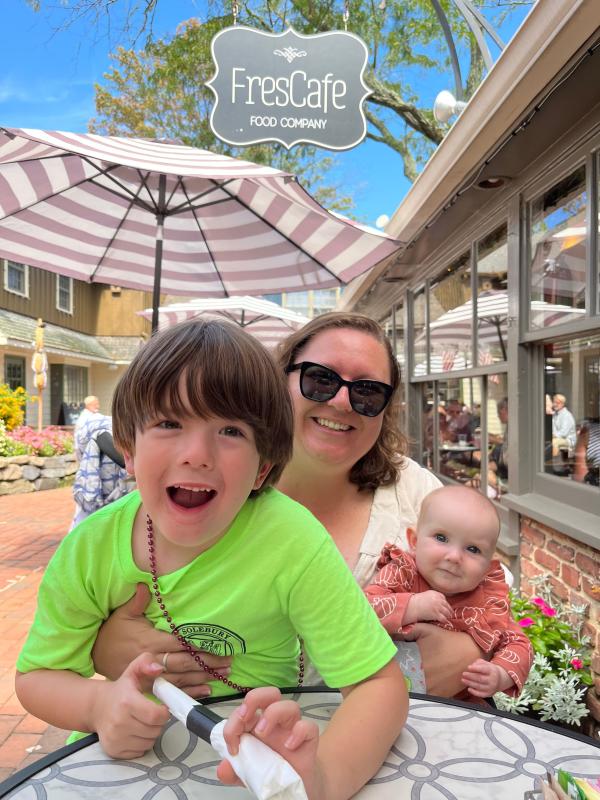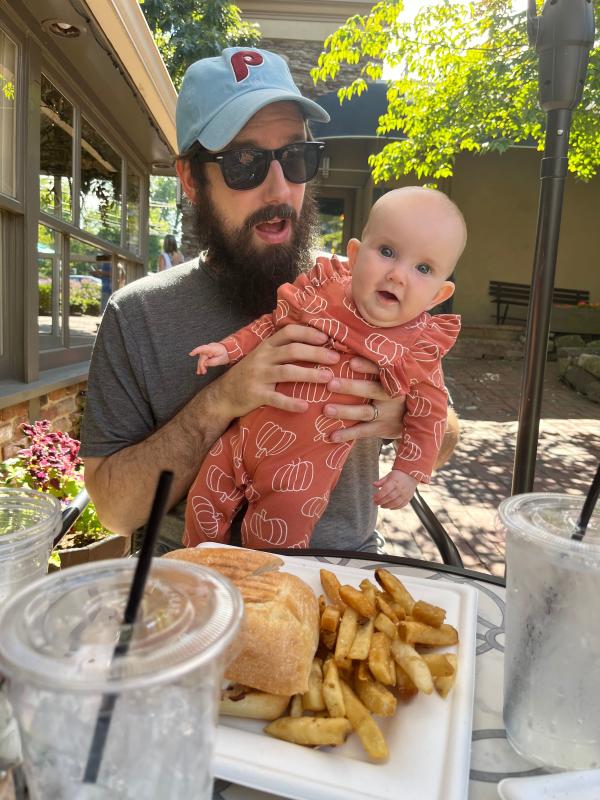 Howie's main priorities were French fries and lemonade, which he devoured within a matter of minutes, but was ultimately glad he also got the All-American Grilled Cheese. I had the Smokehouse BLT and my husband Ross had the Cuban, both of which were hearty and delicious. We especially liked FresCafe's creative mocktails menu – don't miss the Elderflower Spritzer! I'm already planning a return visit for their version of a Moscow Mule over brunch…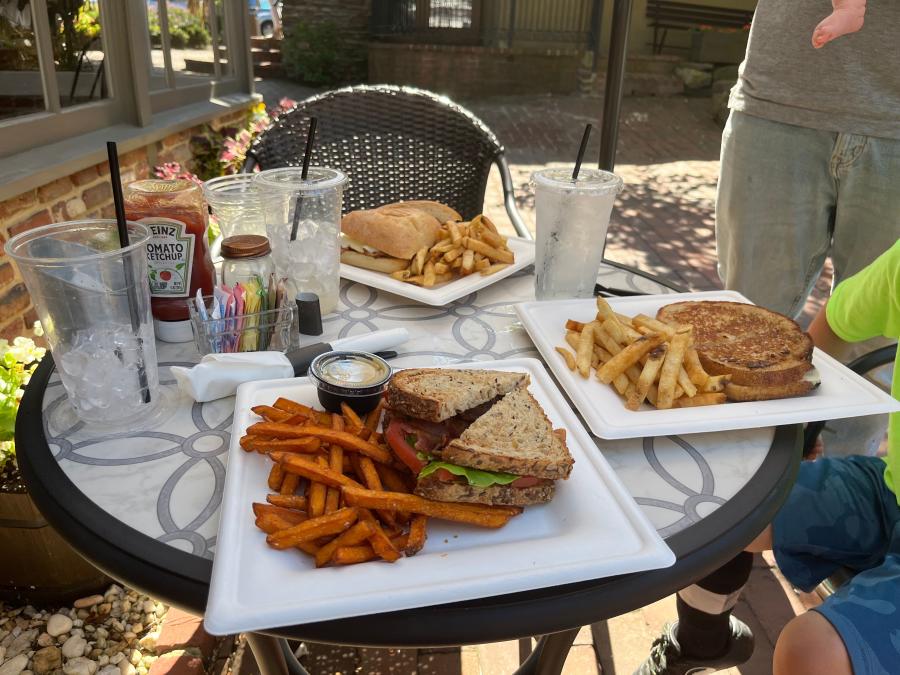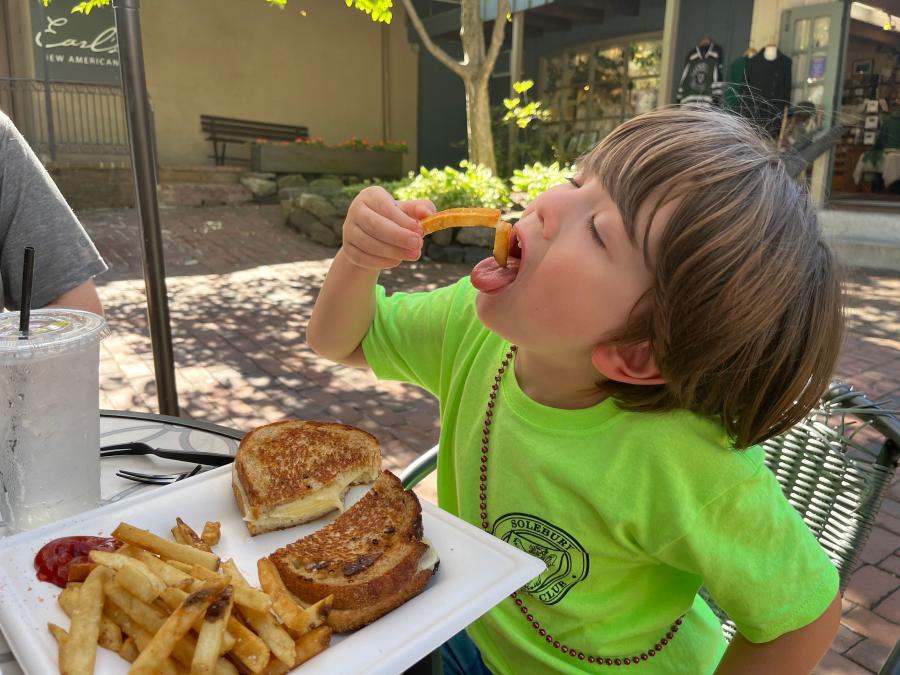 From there, we walked past entries in the "Fright Night" category of the scarecrow festival on our way to the Main Event Tent on Street Road Green for the scarecrow-making workshop. There are several categories you can enter your scarecrow into if you'd like to be in the competition. From "Fairytale Characters" to "Pink Out for Breast Cancer Awareness," to create your own! We spotted Visit Bucks County's entry, Claudia the Local Tourist TikToker, while we were there too.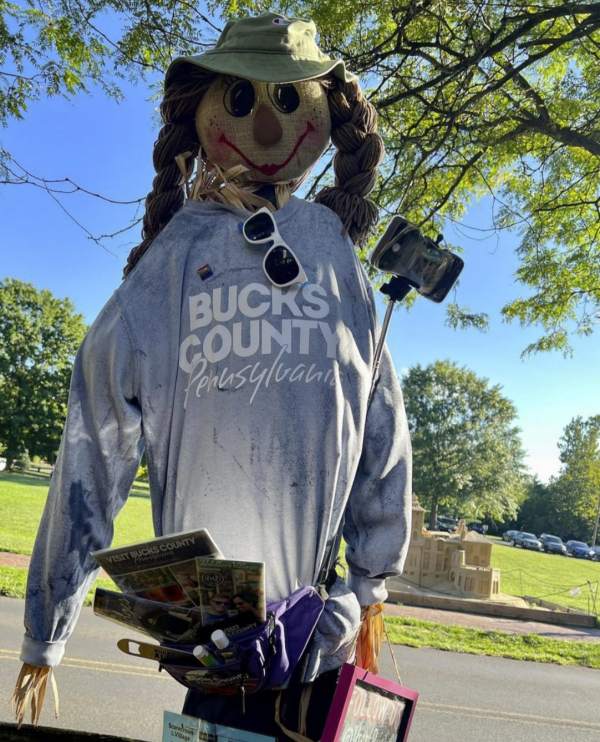 At check-in, we received a bag full of supplies and were able to select a shirt, pants, and an accessory from tables covered with options for our scarecrow-to-be. Howie was especially excited to find a Spider-Man cape among the props – lucky kid, luckier scarecrow!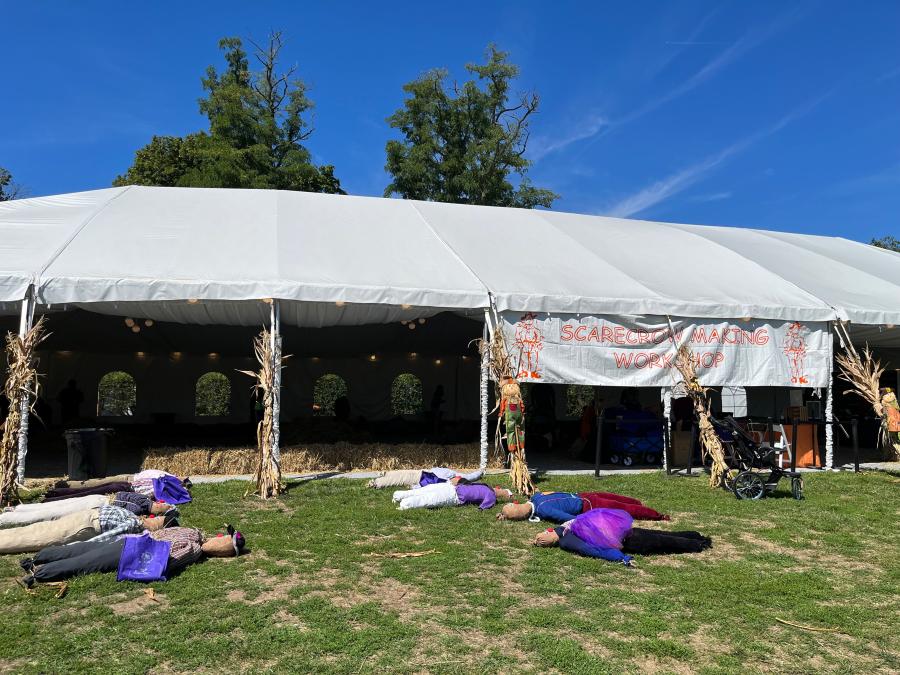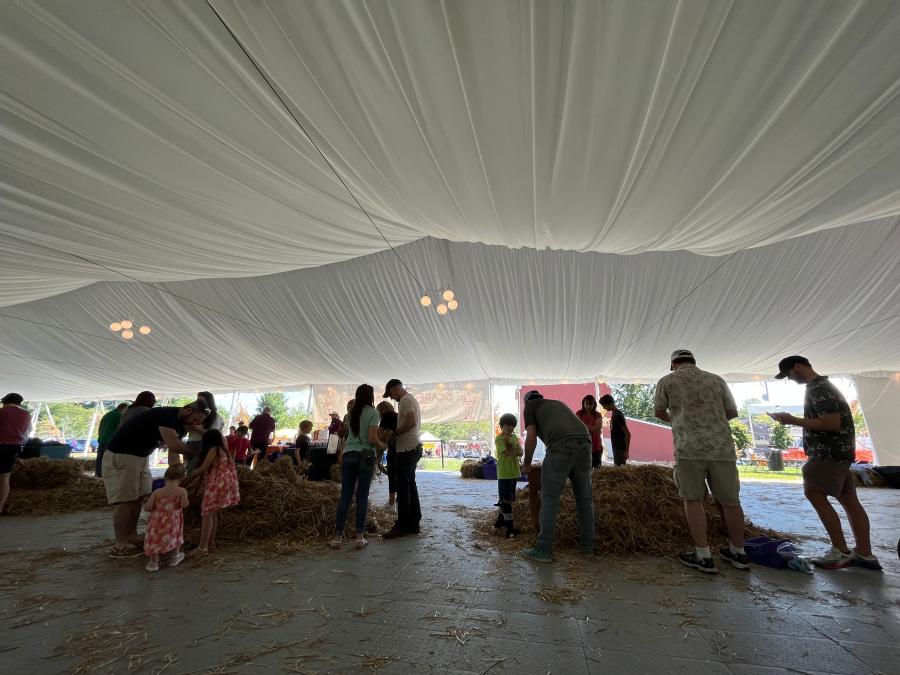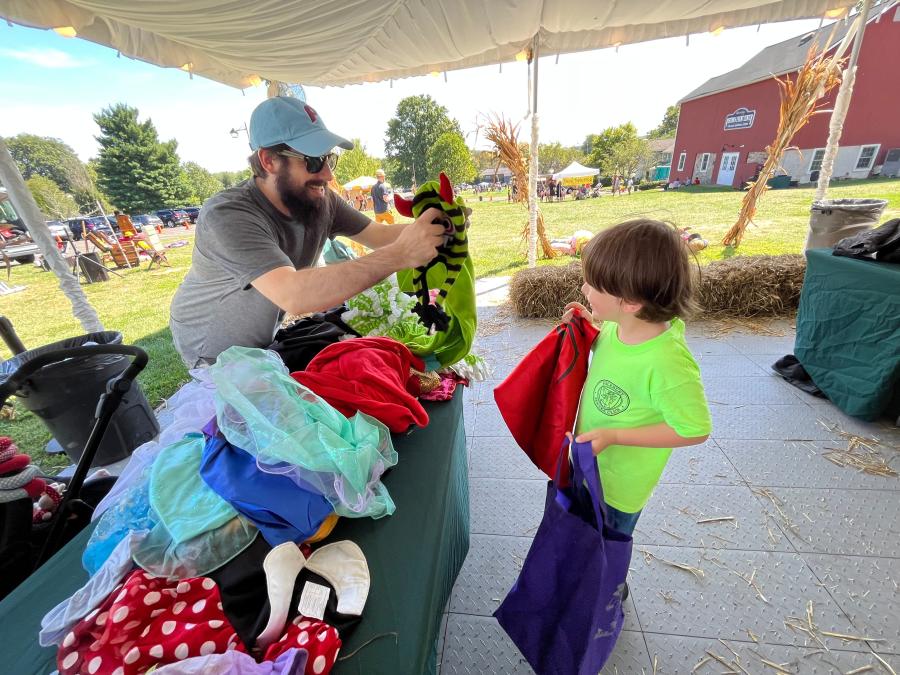 At the workshop, staff gave a fun presentation on how to build a scarecrow with the supplies and piles of hay provided. Apparently, it's all in how you fluff the hay (who knew?!). Howie and Ross took charge and filled, stuffed, tied, and assembled our scarecrow. I would say his smile stretched from ear to ear, but of course we didn't give him any ears.
Clover and I supervised and helped hold the occasional pant leg or sleeve. Looking around, it was fun to see how many different directions families took their designs. We saw happy, sad, scared and confused scarecrows, with arms of various lengths, and middles of all different hay-filled sizes. But just about every scarecrow left with a very cheerful, bright red nose!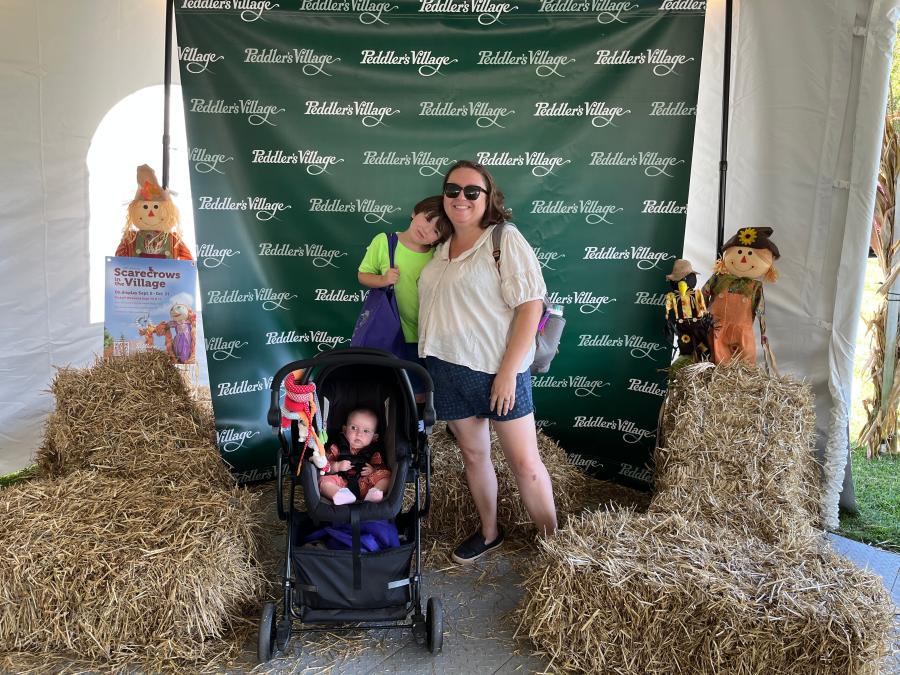 Once we decided our new friend was complete, we laid him out in the sun so his glued-on accessories could dry. He was in a long line up of some seriously stylish company!
The workshop took a little under an hour, and we had so much fun. If you'd like to build your own scarecrow at Peddler's Village, make sure you sign up ahead of time as spots fill up pretty quickly. And make sure you walk around afterwards to check out the rest of the scarecrows and vote for your favorite on the Peddler's Village app!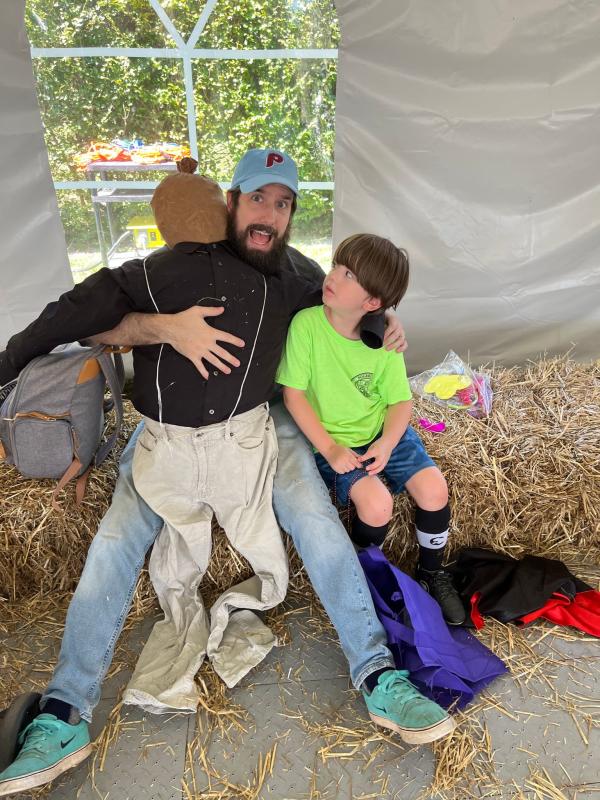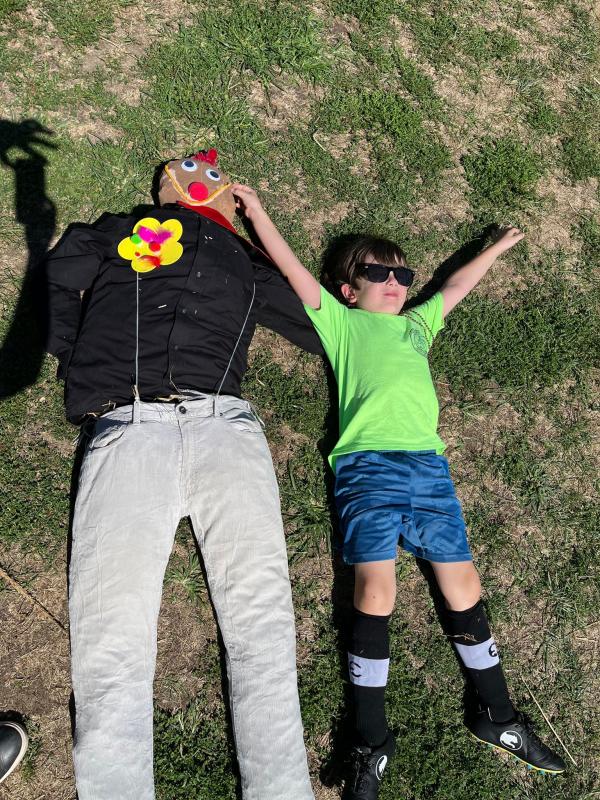 Peddler's Village is located at 2400 Street Road in Lahaska, PA. Scarecrows in the Village runs from September 5th through October 31st, 2022. Hours are 10:00am – 6:00pm Monday through Thursday; 10:00am – 8:00pm Friday through Saturday; and 11:00am – 6:00pm on Sunday. More details can be found at peddlersvillage.com.