"What you see before you, my friend, is the result of a lifetime of chocolate."
- Katharine Hepburn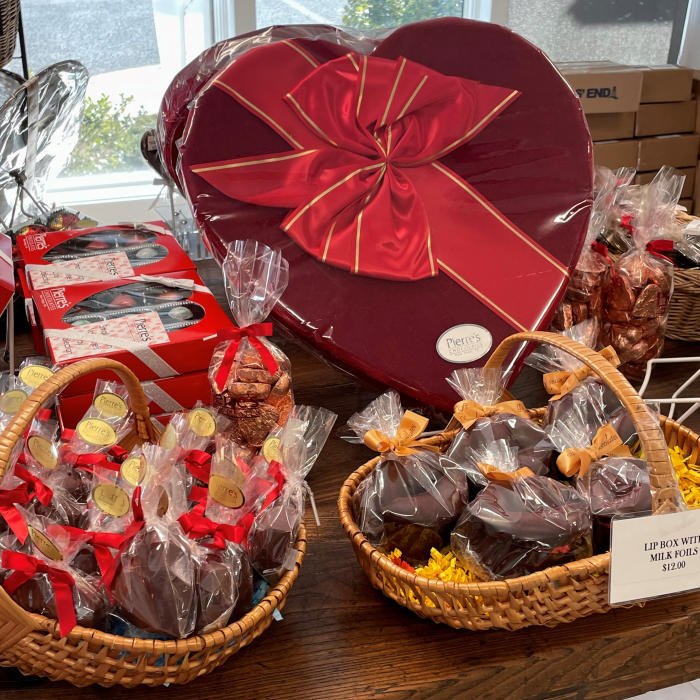 Going into Pierre's Chocolates in New Hope, Pennsylvania is a delight to the senses. But in February, when Valentine's Day is around the corner, it is even more delightful.
With the smell of chocolate wafting in the air, you see bins of red foil wrapped hearts and shelves with heart shaped boxes of all sizes. Any Valentine on your list would be happy to see such a gift arrive, but even happier when they taste the chocolates inside.
A long-time staple in New Hope, Pierre's first opened in 1970 by Swiss-born chocolatier Jean Pierre Meyenberg and his wife, Jinny. The store moved to 360 West Bridge Street in 1986. In 2011, Tom Block and his son-in-law, Justin Zaslow, who graduated from the Natural Gourmet Institute in New York City, bought the business from Jean Pierre. Tom Block was the founder of Country Fair Chocolates in New Hope, Thomas Sweet in Princeton and the former Naked Chocolate Café in Philadelphia.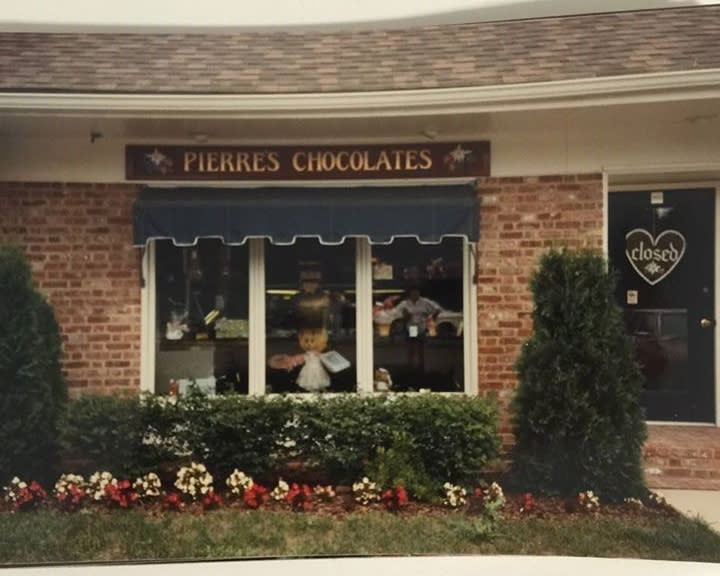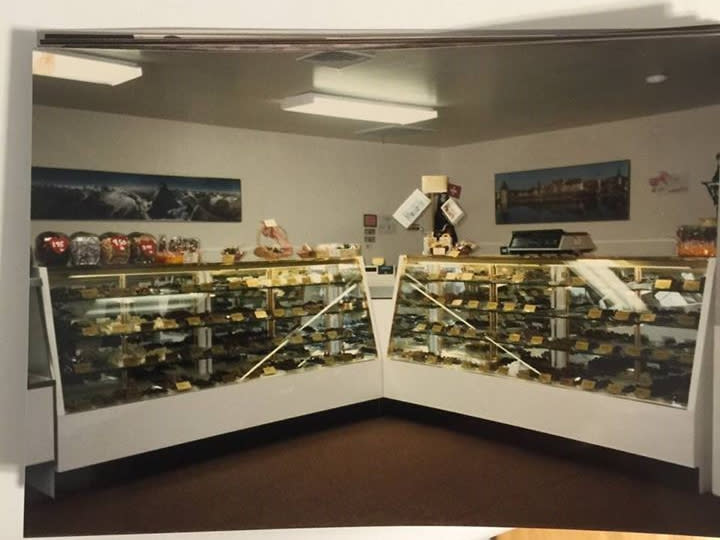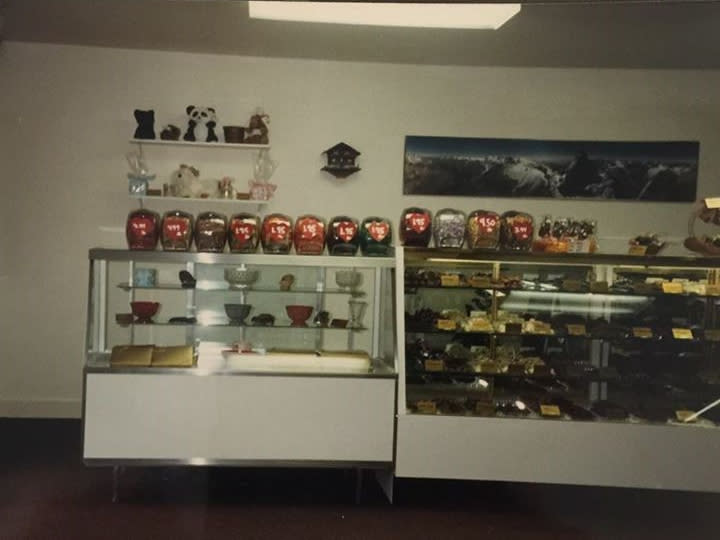 Pierre's Chocolates in the 1970's
Pierre's makes all their chocolates on the premises from scratch. Their chocolate is sourced from small family farms in South America where the chocolate is harvested in its purest form without the use of pesticides. Through Fair Trade, the farms provide a safe work environment for their farmers. They also use local farms and wineries from the area for seasonal chocolates, such as apples from Manoff Market Gardens & Cidery in New Hope.
Artisan small batch chocolates, meltaways, bars and a hot chocolate mix are new additions to their candies. For the non-chocolate lover, there are fruit slices, gummies, jellies and hard candies. You can purchase already made gift boxes or design your own!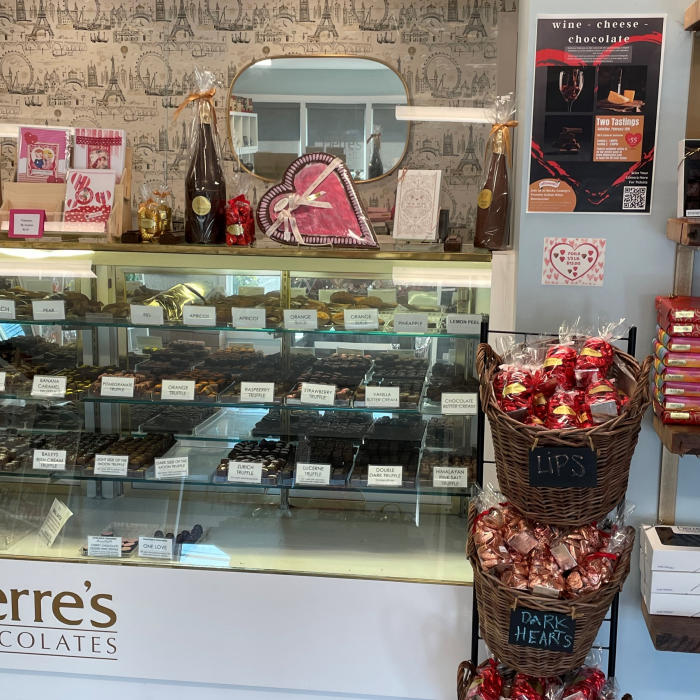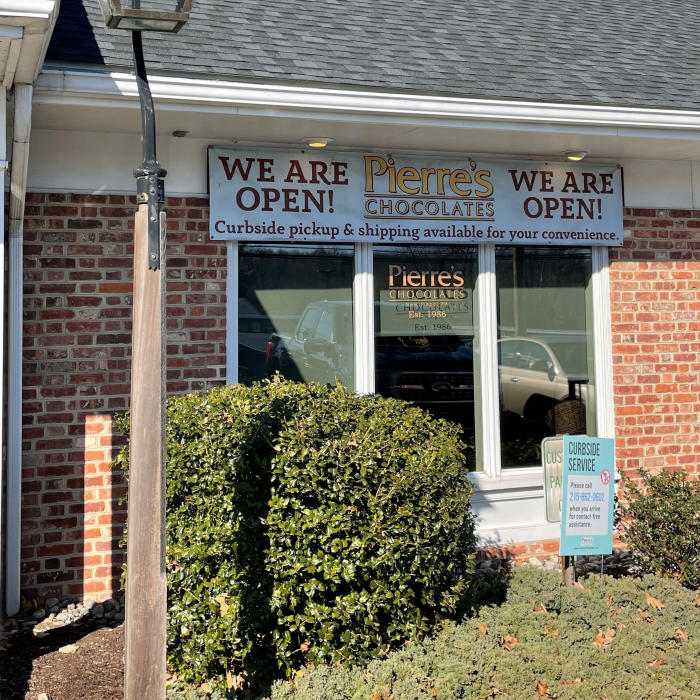 Pierre's will ship, supply chocolates for weddings, parties and corporate events. There is also curbside pick-up available.
When shopping for your Valentine, don't forget to treat yourself. For me, there is nothing better than a hot chocolate and a chocolate covered pretzel (or two) on a cold, snowy day. Don't forget to save some truffles in a secret place!