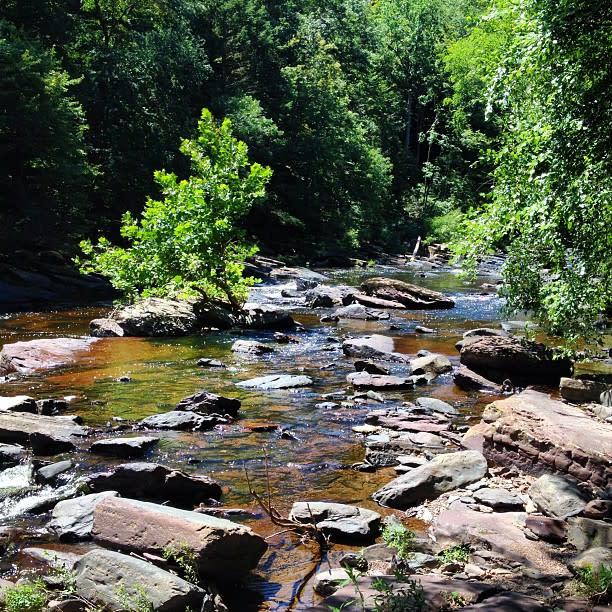 "There are certain expectations of a creek; you expect a small hike through the woods, eventually stumbling upon a trickle of water where you turn over rocks to find some small crawling things. Tohickon is different. You start the long walk down from a moss-covered pavilion and wind through paths lining grassy fields and entering dense forests. All the vegetation glows bright green and there is a smell of earth in the air. Finally, you begin to hear water rushing, and it sounds much larger than a creek. The forest opens up to a HUGE valley that you would expect to see in an old western film. The vast nooks and crevices are perfect for all the creatures to hide and perfect to go explore. The trees and bushes and flowers reflect beautiful colors on the water.
Then something spectacular happens- someone falls and tumbles into the crisp water! Unlike a normal creek where you get back up and keep on trucking, this creek is now a water slide that gently floats you down the stream. This is a whole new mode of exploration. Now the sky is the limit-literally, you are forced to look upward and see the clouds and the passing hawks.
This is what I saw that day, but my role there was to be a teacher of children with a nature camp. But on this day, I was just as much a child there to explore as they were!" ~ Emily Coleman 
Learn more about Tohickon Valley Park.