There is nothing more special and comforting than waking up on Christmas morning to a crackling fire, the tree decorated with presents underneath and festive holiday music playing. This is a favorite family tradition of mine that I look forward to each and every year – and maybe you too!
But there is another Christmas tradition that takes place every year to commemorate history right here in Bucks County. Every Christmas Day, the non-profit, Friends of Washington Crossing Park, hosts two reenactments of the iconic river crossing.
On December 25, 1776, General George Washington had other plans than decorating the tree. It was the American Revolutionary War after all. Washington had led an army of 2,400 men to secretly cross the Delaware River at McConkey's Ferry – today's town of Washington Crossing – to attack the Hessian troops across the way. With high hopes and strategic thinking, this guerilla attack came several months after the defeat of his army that concluded a loss of New York City and other points of the region.
Washington and his troops successfully braved the icy and freezing river and surprised the 1,500 Hessian troops in Trenton, New Jersey early in the morning. Although 1,000 Hessian men were captured, some did escape. Because of this, the victory was not significant from a strategic point of view, but the news of George Washington's initiative greatly raised the spirits of the American colonists who were beginning to doubt a win.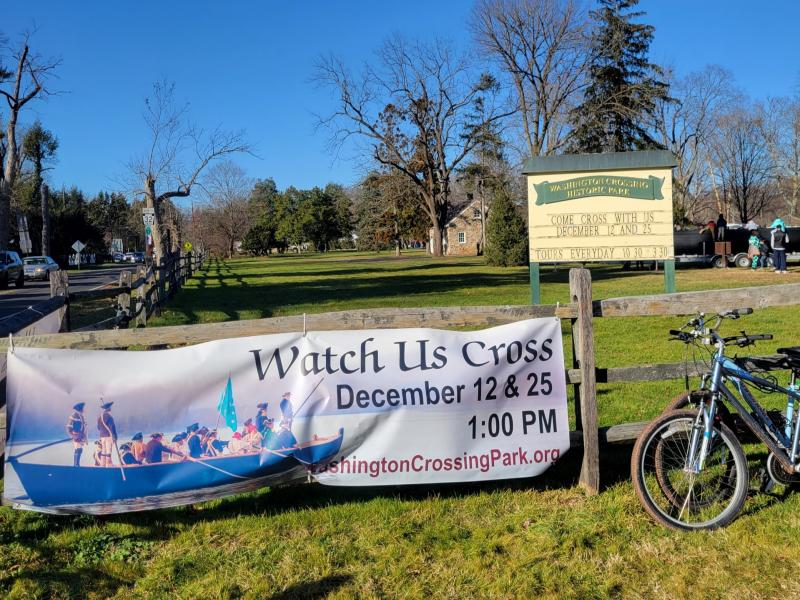 This year, 2021, marks the 69th Annual Washington Crossing Reenactment. There is always two, one on Christmas Day and one leading up to the anniversary to commemorate the "Ten Crucial Days" Washington and his troops spent in the area. I had the opportunity to go to the first reenactment with my husband. As soon as we arrived to the park, it was remarkable to see the amount of history buffs who came to witness this groundbreaking event that changed the course of the Revolutionary War. We enjoyed hearing "George Washington's" speech. It set the tone on how he led his soldiers to cross the Delaware River.
To set the scene, there are 200 reenactors dressed in Continental military attire. "George Washington" gives a speech and then you see the crossing. There are colonial era family-friendly activities all around. It is a remarkable way to experience how it might have been back in 1776.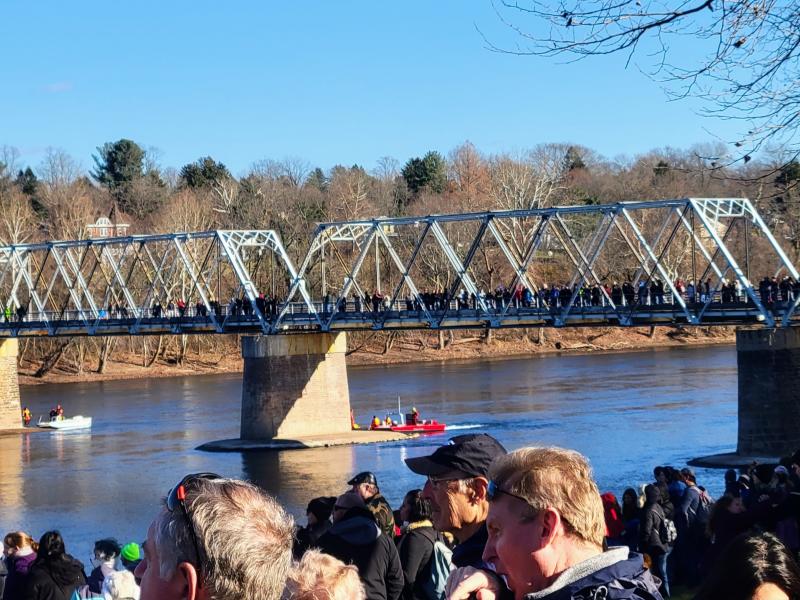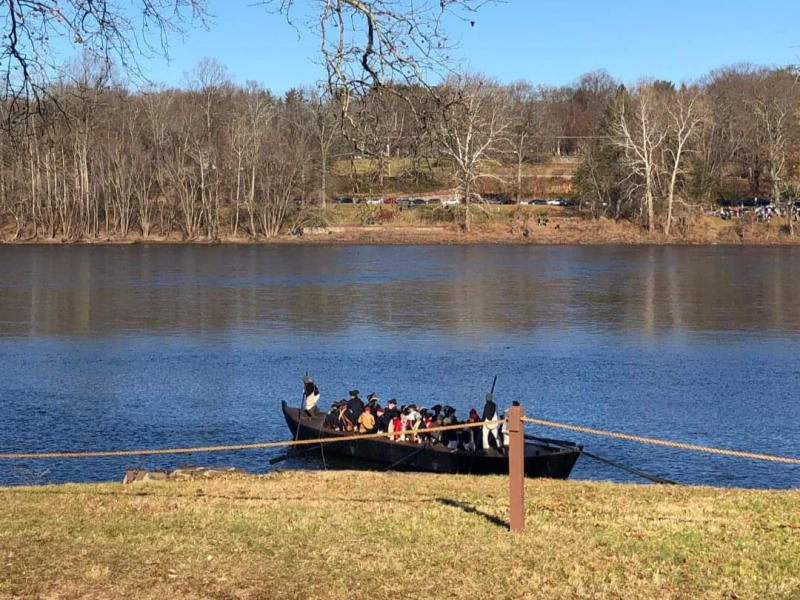 Now back then there were about 20 Durham boats that made the crossing, but for the purpose of the reenactment there is only one. To get a better idea of what a Durham boat is, there was a boat on display on the park grounds. You can go up close and see the size since it can be hard to tell when it is on the river.
Washington Crossing Historic Park is also home to the site of the Thompson-Neely House, Grist Mill and Village consisting of a blacksmith shop, Durham boat Barn and McConkey's Ferry Inn. In a short distance is Bowman's Hill Tower and the Washington Crossing Cemetery.
If you are looking for a Christmas Day tradition, attend the next reenactment (FREE!) on Saturday, December 25, 2021 from 12-3 p.m. (crossing is at 1 p.m.) and experience this historical spot in your own backyard.