For me, food trucks always conjure up my college days. I can still hear the buzz of truck motors parked along the avenue, offering a quick bite in between classes or a late-night snack.
Believe it or not the first food truck dates back to 1691, when New Amsterdam (now New York City) licensed the first street vendors with pushcarts. Now an American staple, food trucks appear at street fairs and festivals, corporate offices, city streets, breweries and more.
With a culinary option for everyone, go out and try some of Bucks County's famous food trucks! Since they're often moving about the County, the best way to keep tabs on where they're parked is to check their individual Facebook pages.
Best Darn Kettlecorn
There is a flavor for every popcorn lover at the Best Darn Kettlecorn. From sweet to savory, you can try their special White Chocolate Strawberry, Buffalo Blue Cheese, Golden Cheddar, Chocolate Covered Pretzels and many more. Their kettlecorn is nut, gluten and dairy free. They can be found at the Bristol Amish Market on the weekends and can be booked for festivals and private events. 
Big Poppa's Backyard BBQ


Big Poppa's Backyard BBQ in Quakertown specializes in Southern, country-style cooking. BBQ fans will delight in their Applewood Smoked Pulled Pork, Hickory Smoked Beef Brisket and Smoked Kielbasa. For sides, try their deep-fried corn on the cob and perogies. Their food truck is available for private events and has recently been at Bishop Estate Vineyard and Winery in Perkasie and Two Rivers Brewing Tap Room in Quakertown.
Cheese Dawgs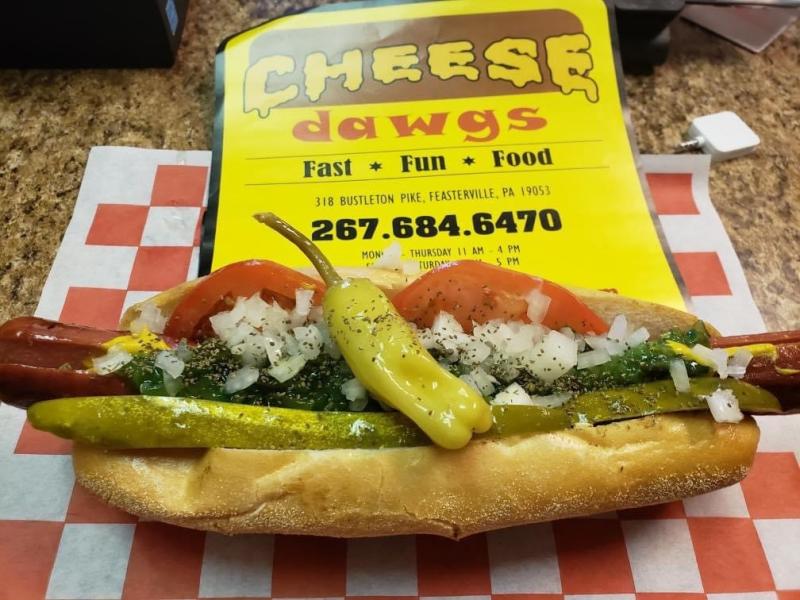 What is your favorite hot dog topping? Cheese Dawgs will make it a hard decision with all their choices! From the "South Philly" with provolone, spicy mustard and sauteed onions to the "Dallas" with Texas chili, they have a dawg for everyone. Also on the menu are their special grilled cheese sandwiches. Their mobile kitchen does pop-up events and has recently been at the Home Depot for an employee appreciation event. Located in Feasterville, they will do carryout and delivery too!
Jay's Steak & Hoagie Joint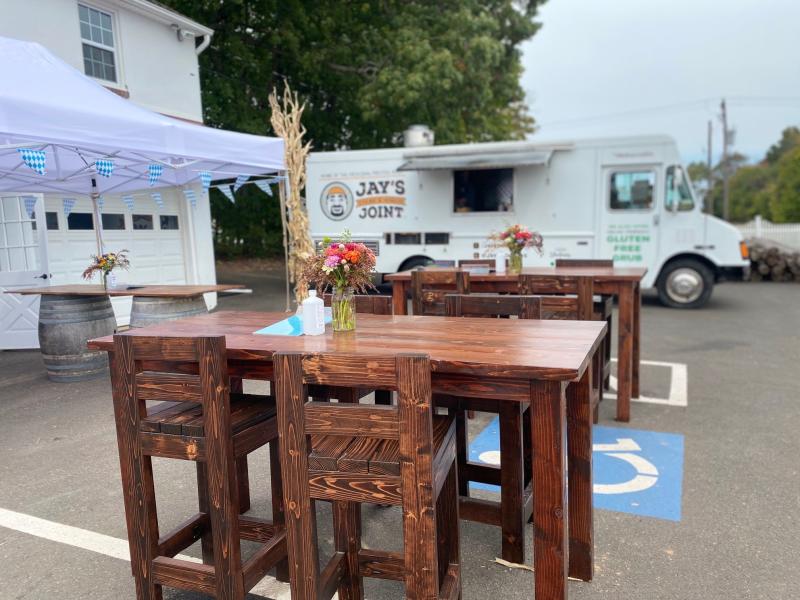 Jay's Steak & Hoagie Joint's motto is "Changing the World One Cheesesteak at a Time." There have been debates for decades over the best cheesesteak and anyone from Philly can attest to that. Besides the traditional cheesesteak at Jay's, try the Stuffalo with Buffalo sauce and swiss cheese, or the Garlic Bread Cheesesteak. They are also the home of the original Pretzel Roll Sandwich. Their food truck is available for private parties and fundraisers with 10% of the sales going to charity.  They are also open at their brick-and-mortar location in Langhorne and hold community nights to donate to people in need.
Jules Thin Crust
Pizza has always been a fan food truck favorite and Jules Thin Crust knows how to do pizza.  With cheese pies, meat and veggie pies, there are pizzas for everyone, gluten-free and vegan too! Try the Margherita and Brooklyn pies. Jules Thin Crust has several locations throughout Bucks County. Their food truck is available for events. On Christmas Day, 2020 their food truck treated the employees of Doylestown Hospital to lunch – talk about a nice slice!
Meat Wagon BBQ
With a location in the Quakertown at the Trolley Barn Public Market, Meat Wagon BBQ is known for their signature dishes: deviled eggs, hush puppies, candied bacon and onion pretzels are on the menu alongside their BBQ meats and sauces. They have been at the Bucks County Brewery and Bishop Estate Vineyard & Winery in Bucks County.
Nina's Waffles & Ice Cream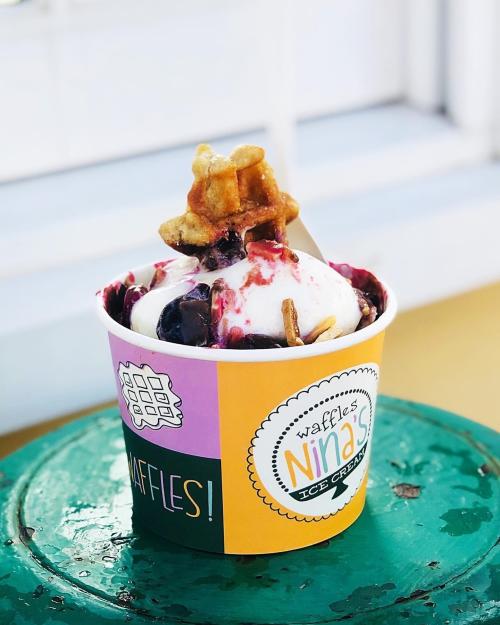 Nina's Waffles & Ice Cream has four locations in Bucks County. They specialize in hand-dipped small batch ice cream and authentic Belgian Liege waffles to enjoy year-round. They also have small specialty ice cream cakes. Their truck has been spotted at the New Hope Auto Show and festivals throughout the County. Nina's has partnered with The Good Neighbor Food Drive in Doylestown.
Smokerhead BBQ
We can never get enough BBQ food! Smokerhead BBQ's style is all American using real split wood and homemade sides. Black cherry chipotle meatballs, creamy mac and cheese and sweet rubbed St. Louis pork ribs can be found on their menu. Their food truck is available for events and has been at The Mercantile in Doylestown and Neshaminy Creek Brewing Co.
Check out the event calendars at these popular food truck hubs: