It's official. We've reached that point in the summer where it's too hot on the playground and too stuffy inside. The kid is restless, I'm out of iced coffee – you know what that means, right? Time for an adventure!
Today my three-year-old son, Howie, and I are off to the Bucks County Audubon Society.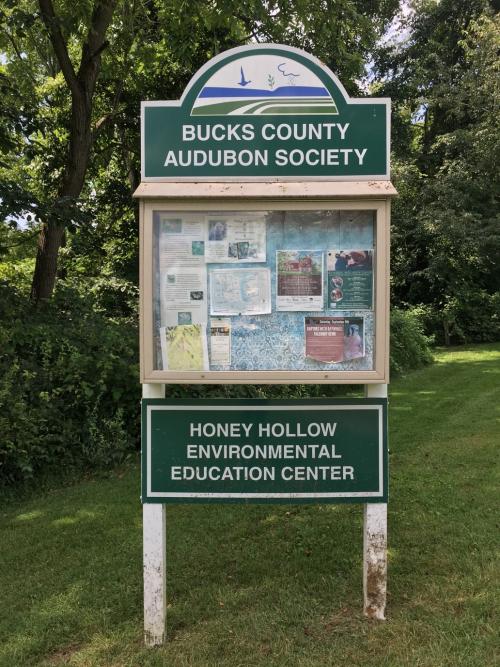 STOP ONE: Breakfast and Packing
Since we're packing a picnic lunch today, Howie and I lived it up this morning and popped over to Fred's for breakfast. A neighborhood classic, grabbing some amazing French toast with a river view mid-week always feels special. There's hardly ever a wait (unlike the busy weekend rush) and we often run into friends while we're eating – today we saw a neighbor and Howie's friend from preschool.
Then we walked home to pack for our trip to the Audubon Society. Here's what went into our backpack:
Sun hat
Sunscreen
Water shoes (Howie wore his rain boots)
Picnic lunch (PB&J, carrots & hummus, blueberries)
Snacks (applesauce, granola bar, crackers)
Water bottles
A net
Twine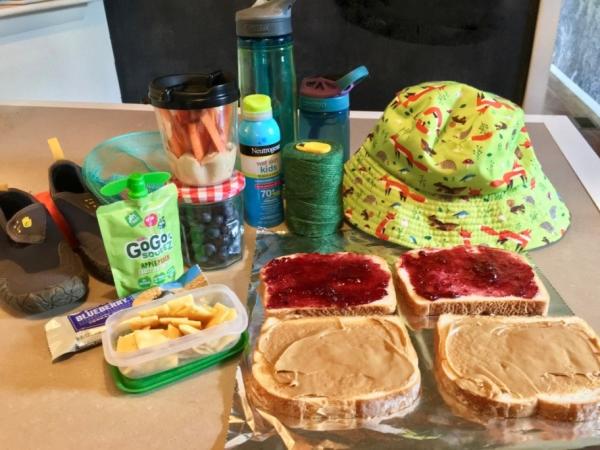 STOP TWO: Visitor Center
The Audubon Society is about a 10-minute drive from our home in downtown New Hope. Both parking and admission is free all day, every day (although you can join as a member). Follow the long driveway past the Organic Garden (wave to my mother-in-law's zucchini) and park by the Visitor Center barn. First, you'll want to go inside to check out the maps and figure out which trail(s) to take. Since the site is large at 110 acres and has over 6 miles of trails, meadows, forests, ponds, wetlands, and streams you may want to prioritize your time.
Even though Howie and I knew where we were headed, we stopped here first. We always like to say hello to the Society's Red Eared Slider turtles, Chowder and Panini, before hitting the trail.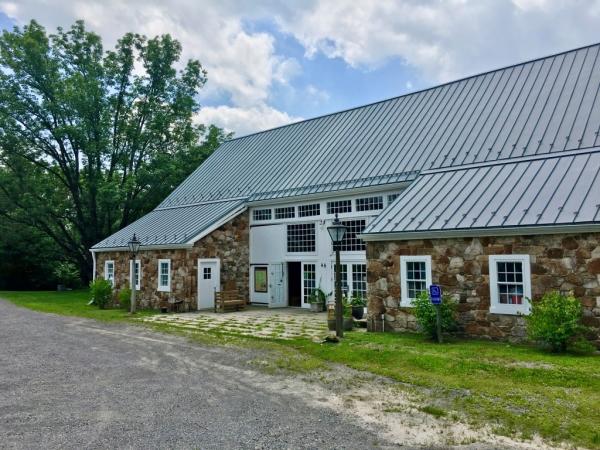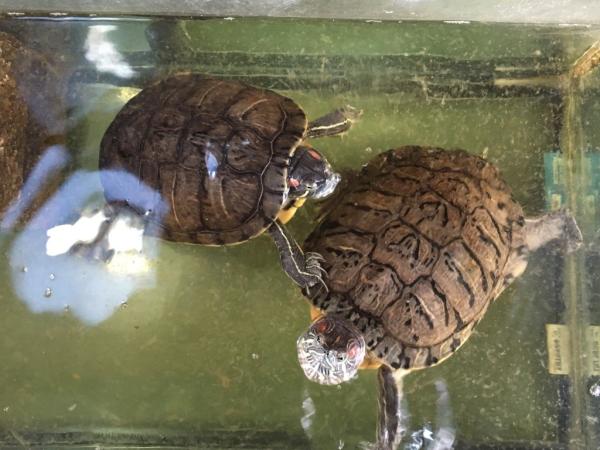 STOP THREE: Trails and Creeks
Our walk down to Honey Hollow Creek is always a nice one, but today felt like pure relief. Town is hot in the summer, so a walk deep into the cool woods was exactly the escape we needed.
We set up "camp" at our favorite spot – a small clearing with two mini bridges, just right for a picnic. Although, if I'm being honest, Howie was more interested in building stick rafts with twine, splashing around, making rock towers, and collecting pebbles in his net than he was in his sandwich.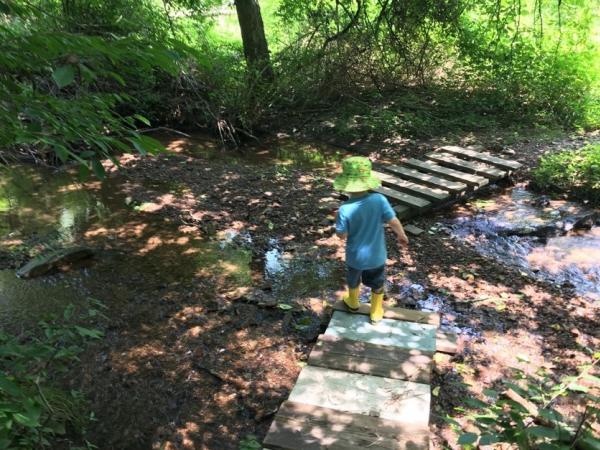 We hung out in our spot for a good hour or so, and then Howie was ready to do some creek walking. I grew up splashing around brooks, creeks, and streams as a kid in New England, so being able to watch him get good and messy right here was the absolute best.
We wrapped up our afternoon doing "laps." That meant creek walking to Audubon Pond to check out the fish and salamanders and then back to our lunch spot on the trails. This loop feels about right for adventurous toddlers – not too rough, but not boring either. On some days, we do veer off to visit the nearby Springhouse or go farther afield (literally) into the meadow, but since today was so hot, we stuck to the shade.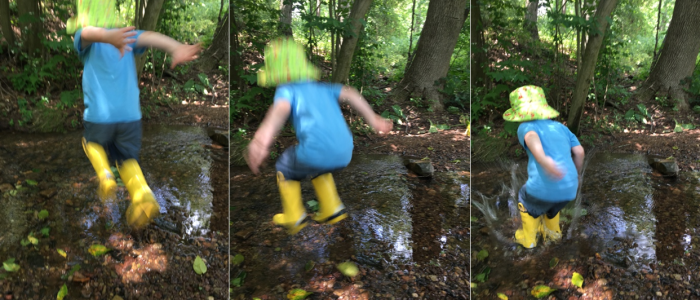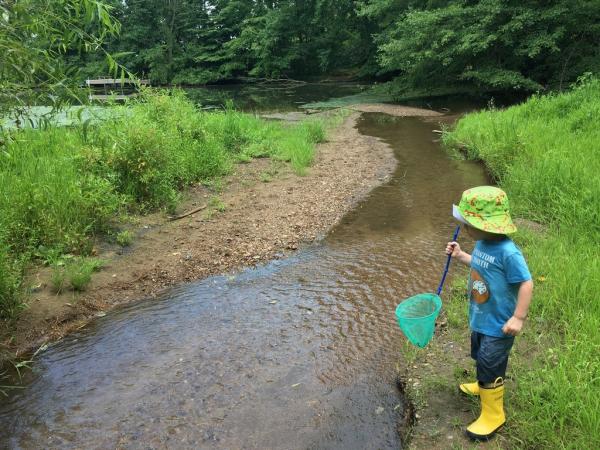 STOP FOUR: Home Again
As usual, when we emerged from the woods Howie was hungry. I checked my watch and realized we'd spent way more time at the Audubon than planned – time to think about dinner. Luckily, Poppy's Greengrocer was on the way home…and they welcomed us, muck boots and all.
Until next time, Audubon Society!