I'm not sure if there is anywhere more iconic to kick off the Christmas season than the charming town of Doylestown – streets lined with festive lights, quaint shops donned with winter greenery and the welcoming smiles of Christmas-spirited locals eager for festivities to begin.  
One of the first events of the season, and a local favorite, is the annual Doylestown Tree Lighting. This year was the 104th celebration and just one of the many tree lightings in Bucks County that brighten the region this time of year. The celebration begins with musical entertainment and street vendors lined down Main and State Streets.
I recommend arriving a little early, browsing the business and organization tables on Main Street and then heading into one of the town's cafes to grab a beverage to go for the tree lighting. Two of my favorites to visit are Nonno's Café and The Zen Den.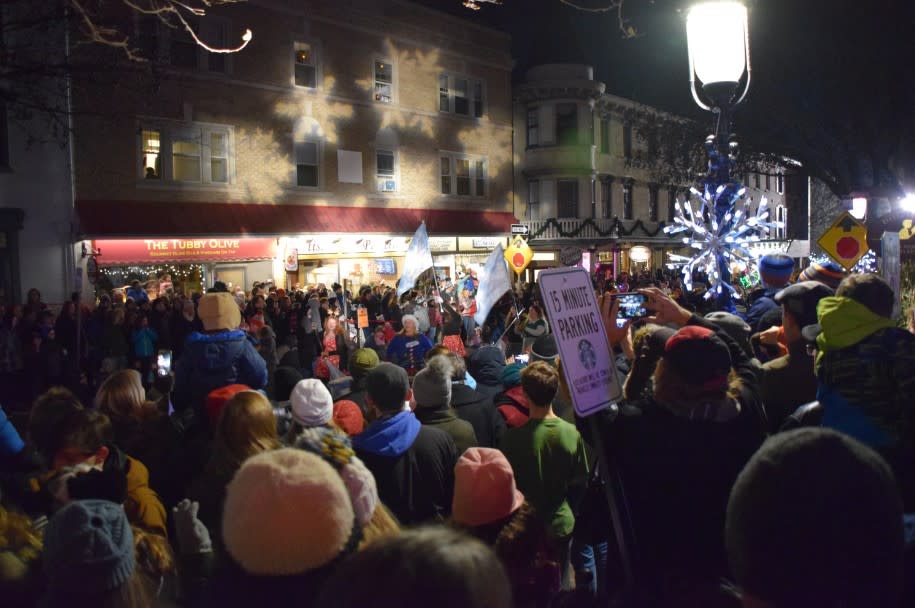 With a hot beverage in hand, it's time to scope out the perfect place to watch Santa's arrival and the lighting of the tree. The Starbucks parking lot is where we claimed a spot this year– while you wait for the illumination, carolers and musical performances fill the town with sounds of the holidays.
The lighting ceremony kicks off when Santa arrives on a fire truck, preceded by the Central Bucks West marching band who marches down State Street to the tree.  Upon Santa's entrance, he climbs into a cherry picker and is lifted above town to greet all the people and children.
After a 10-second countdown (reminiscent of a New Year's celebration), Santa lights the tree and a simultaneous explosion of snow rains down as Christmas songs fill the air again – a truly magical holiday moment.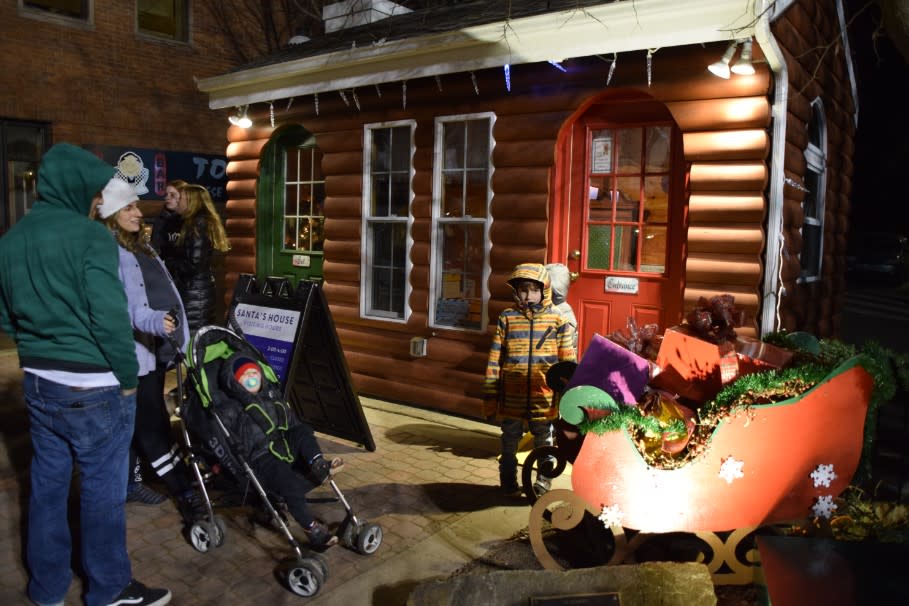 Once the lighting concludes, Santa heads to his cottage at the corner of State and Hamilton Streets where children can say hello, take a picture and share their Christmas lists.
If you missed the Doylestown Tree lighting this year, not to worry! There are still plenty more holiday tree lightings and winter celebrations throughout the county this year - including the Sellersville Winterfest, Christmas in Fallsington and the Bensalem Community Tree Lighting.