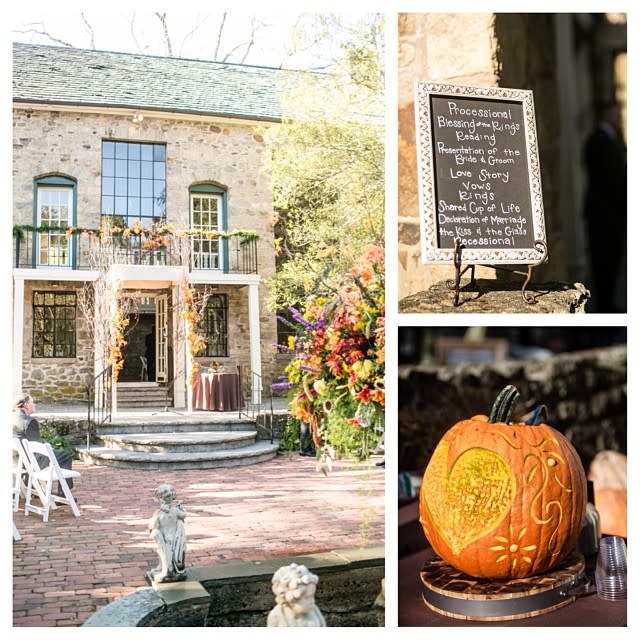 "I grew up in Langhorne, PA and have always been a huge fan of the Bucks County area. When I was younger I would always venture up to New Hope or Rice's Flea Market and spend hours shopping or just walking around and taking in all of the beautifulness of the area. I currently live in Scranton, PA and miss the sights, smells, and sounds of Bucks County during any season, but especially during the fall. When my now-husband proposed to me in February 2012, I knew that I wanted to have an October wedding and I knew that I wanted it to be down in Bucks County -seriously, what is better than Bucks County in the Fall?! I started researching all of the "rustic" looking venues around the area and checked out a ton of barns and vineyards, but as soon as we walked onto the property at HollyHedge Estate, I fell in love and knew instantly that this was the place for us. Everything about the venue was just gorgeous and immaculate and it had everything we were looking for. After almost 2 years of planning, we finally got married on October 13, 2013 and it was more than I could have ever fantasized about for a wedding. It was absolutely a fairytale come true! My dream of having a fall wedding wonderland of bright hues, colorful leaves and trees, pumpkins, romance, and rustic elegance exceeded my expectations in every way at HollyHedge. The staff saw my vision from the beginning and helped me achieve everything I had always wished for on my wedding day. We received so many compliments from our guests that it was the most beautiful wedding they had ever been to and that the cocktail hour and food at the reception was some of the best that they had ever had. Sometimes I still need to pinch myself that it actually really happened and that it was my wedding - dreams really do come true!!"

~Lauren M. from Scranton, PA
 Learn more about New Hope, Rice's Sale & Country Market, and HollyHedge Estate.