The public is invited to a once-in-a-lifetime display of General Washington's daring crossing of the Delaware River from 7-9 p.m. Sept. 16 at Washington Crossing Historic Park!
Starting at dusk, world-renowned Swiss artist Gerry Hofstetter and his team of lighting experts will project an hour-long array of images of the Crossing and music from inside a boat in the middle of the Delaware river.
Spectators can bring their own blankets and chairs to watch from the riverbank. Since this is the artist's only stop in Pennsylvania as part of a three-year tour across the country, we recently spoke to him about the event! 
What inspired you to do this?
"USA is a great country. I discovered it when my elder daughter went to Los Angeles for studies. We are from Switzerland, a very small, nice country, full of history. So, I learned more about the U.S. and discovered a lot of common roots between these two countries. I started to go deeper into history and came up with the idea to spotlight the history of USA and Switzerland by light and art, one monument per state, doing this by a tour through all 50."
Why Washington Crossing?
"Visit www.grandtour-usa.ch. Go to the project and under the 1st Tour 2017, you will have the states of this year. We start with Pennsylvania as number one:
'Pennsylvania entered the Union as No. 2 on December 12, 1787. On August 1, 1291, Switzerland was founded as the world's first democracy. In 1307, William Tell, the Liberator of Switzerland, a legendery figure, revolted against Gessler, a tyrannical reeve of the occupying Austrian forces. While being transported to prison on the other side of Lake Lucerne, the boat drifted close to shore and Tell jumped out and escaped. He ran across the country to find Gessler and kill him with a crossbow. It was the turning point of the Swiss Revolution.
USA was founded on July 4, 1776 and on December 25 of that same year, General George Washington crossed the Delaware with a small army in boats and attacked the Hessian soldiers fighting for the British. Washington's victory was the turning point of the American Revolution.
Boats and the resolve of men and women to fight for liberty were central to the birth of democracy and independence in USA and Switzerland. This is why they are also called Sister Republics.'"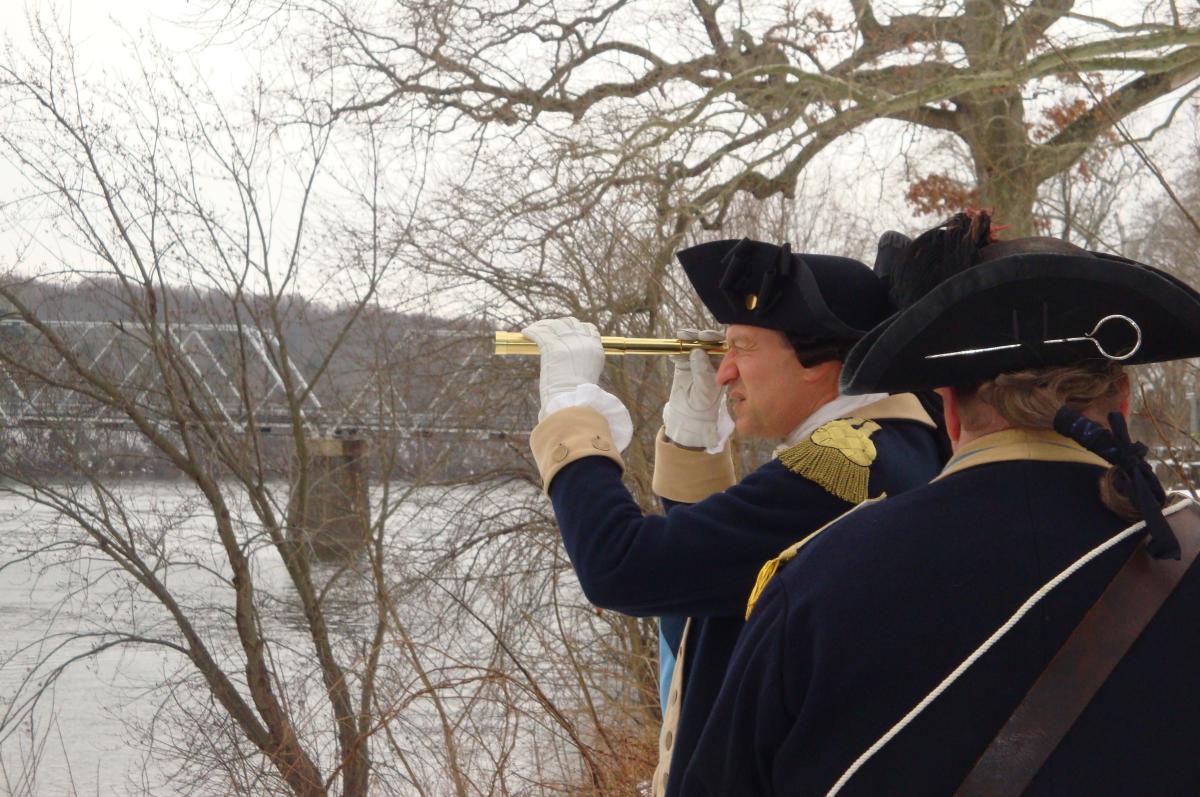 What can people expect?
"Static light art projections with pictures and designs connected to the place, its history and importance of the root of the USA. On most of the monuments, there is a direct or indirect connection to Switzerland. This will be shown, too, with some of the pictures."
What do you hope people get out of this experience?
"Remembering that there are a lot of places which made history and helped to establish a democratic country, like Switzerland."
Have you ever been to Bucks County or Pennsylvania?
"No, this is my first time and I'm looking forward to it! I like nature."
Hofstetter didn't want to give away the other monuments for next year's tour, so you'll just have to be surprised in 2018!