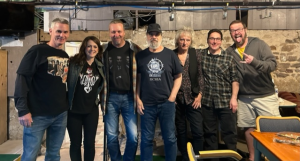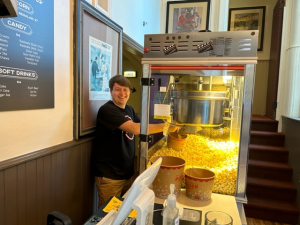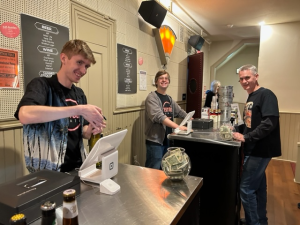 If you are looking for a fun-filled adventure, head on over to Newtown borough where you will find wide sidewalks, restaurants, taverns, shops, and my favorite, The Newtown Theatre! Did you know that this historic town was founded by William Penn in 1684? Penn organized the town around Philadelphia to provide country homes for city residents, while supporting the farming communities. At one point in history, General George Washington had made this location his own headquarters. I was looking for something unique to celebrate my husband's upcoming birthday. My parents could not stop raving about this incredible venue and a show they had just attended called "Beatles Through the Years." I had to go see the theatre for myself! After ordering tickets through a very simple process online, I started doing some research on this venue. It has an amazing history, along with Newtown borough itself!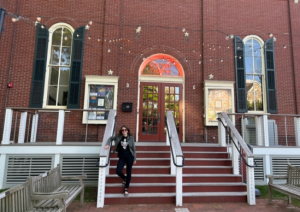 Both young and old will enjoy this quaint 235-seat theater by seeing concerts, movies, comedy shows, live theater and more. My husband and I were lucky to see a live performance by a Tom Petty tribute band, Damn the Torpedoes. Ironically, Petty is one of my husband's top five musicians of all time, so we got pretty lucky with this one! These guys were so authentic and entertaining. We highly recommend them! The theatre has an extensive history which dates back to 1831 and was originally built as a hall for town gatherings, a house of worship for traveling ministers, eventually becoming a center for entertainment in the town. In the mid 1800's, the hall hosted anti-slavery meetings, which included sermons by Frederick Douglass. The first movie shown in The Newtown Theatre was in 1906. It was footage from an earthquake that occurred in San Francisco, making it America's oldest continuously operating movie theater!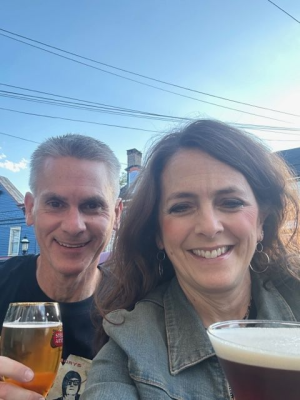 Before sitting down to watch the show, we grabbed a quick beverage at The Temperance House, also located on State Street. This tavern dates back to 1772 and offers fine dining in a room that actually contains two original fireplaces, tavern/bar dining and thirteen historical hotel rooms. It is comfortable and cozy. There are some benches and chairs out front, so we decided with the beautiful weather to take our sips in the sun. The doors at The Newtown Theatre open an hour before the show, so we headed over about a half hour early to scoop up some good seats. That certainly wasn't a problem, though! EVERY seat was a GOOD seat. Andy, the theatre's Executive Director, showed us around. You could tell he takes great pride in this establishment. It was both welcoming and clean, with a friendly atmosphere. Andrew, who was working the popcorn machine, offered us this buttery, crunchy, and traditional treat before the show. You could smell the butter when the doors opened! Noah and Devon were bartending during the show. Drinks were reasonably priced, and you could even purchase a bottle of wine from a local vineyard, Crossing Vineyards and Winery. It was a fun flavor to sip on during the show! Before the performance, we were very excited to meet the band backstage. What a great group of guys with a common goal: eager to entertain! And, boy did they do just that! Many attendees were up and dancing near the stage by the night's end. We sang along throughout the entire show.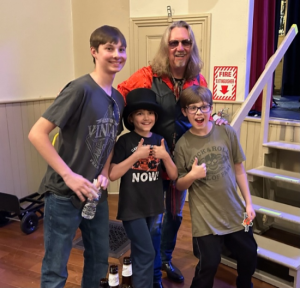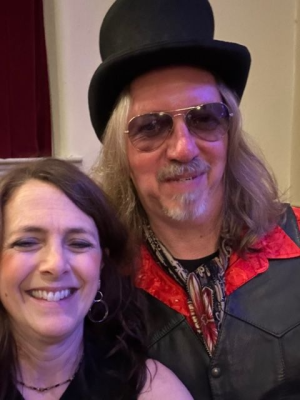 We left Newtown Theatre wanting to come back for more. As a matter of fact, the day after, I purchased two tickets for my son who will be turning twenty-one in July titled "Queen Flash: The Real Tribute to Queen." So, "The Show Must Go On" while "Another One Bites the Dust." There is no doubt in my mind that he will catch the theatre "bug" after watching this upcoming performance in this amazing venue. One piece of advice, order your tickets as soon as you see a show you are interested in-they sell out quickly! Whether you go with a group, a date, your brother or sister, your children, your parents, or yourself, you will not be disappointed when you make the trip to The Newtown Theatre on State Street in Newtown, Pennsylvania.  It is a must-see, must-experience theater and is a wonderful ending to some time spent in this historical borough in this beautiful county of Bucks!