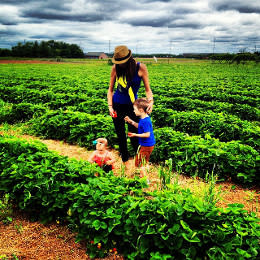 My husband and I try to bring our two children (Braxton-4 and Isla-almost 2) to Shady Brook Farm for "pick your own" almost every season. The kids absolutely love picking their own fruit, pumpkins, etc. On this particular day, we were picking strawberries. We found so many big, juicy, berries and ended up with over 23 pounds! Shady Brook Farm is a wonderful place to take the family whether you are apple picking, strawberry picking, or even enjoying the holiday light show! This has become somewhat of a tradition with my children, which I'm sure we will continue for years to come!
~Megan from Holland, PA
Learn more about Shady Brook Farm.