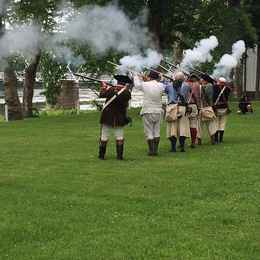 Washington Crossing Historic Park has long been one of my favorite places in Bucks County. I love it's picturesque landscape and beautiful historic buildings nestled along the banks of the Delaware River.
After years of peeking through the windows, I was excited to finally tour the buildings within the heart of this historic location on the 4th of July.
This particular picture was captured during a reenactment drill alongside the Boat Barn. As shots rang out over the Delaware River, smoke billowed upwards from the soldiers muskets. It was just one of several highlights from the celebration that day.
As we embarked on our tour, we were greeted by costumed historical interpreters at the McConkey's Ferry Inn. They gave insight into it's significance; General George Washington wrote a dispatch there to Colonel John Caldwalader about his intent to cross the Delaware on Christmas night 1776.
We then wandered over to the Boat Barn. Once inside, we were able to peer into authentic reproductions of the Durham boats Washington's troops used to cross the Delaware as a costumed interpreter described different aspects of the vessels. And then a short time later they reenacted an authentic christening of a newly refurbished boat, the "Liberty" too!
Outside, a fiddler walked the grounds as we surveyed the interactive activities such as quill pen writing at the Frye House, musket loading along the main path, a spinning demonstration at the Hibbs House, metal work at the Blacksmith's Shop and we even listened to the reading of The Declaration of Independence!
If you love history and/or a beautiful park with lots to do, Washington Crossing is a must see!
Learn more about Washington Crossing Historic Park.