Even though summer flew by, don't worry! Autumn is still the perfect time to get outside, enjoy a beer or two, and visit some of the incredible historic sites, parks, landmarks here in beautiful Bucks County. But, before the leaves start to change, let's start you on another tour, pairing history with local, thirst-quenching pints.
The first stop on your journey is Pennsbury Manor – the 43-acre estate and country home of William Penn, founder of Pennsylvania. The original estate, built in 1683, was Penn's country home until the year 1700. Pennsbury Manor is the reconstruction of William Penn's home which opened to the public in 1939. The reconstructed house was based on archaeological finds, documentation, and plenty of research.
Penn, born in London, England in 1644 to Sir William Penn, a devoted loyalist to the crown, would later become a philosopher, Quaker, and founder of the Province of Pennsylvania, including Bucks County. (As a very interesting side note, Bucks County was named after Buckinghamshire in England - where the Penn Family lived. Many of the area's first settlers arrived alongside Penn, including those who purchased land years ago where your house is currently sitting - cool, right?) I could go on and on about William Penn and the great things he did for the area, but before I get carried away, your next stop on the tour is Neshaminy Creek Brewing Company!
After you take a tour of Pennsbury Manor, about 20 minutes away sits a local favorite, Neshaminy Creek Brewing Company, or NBCB, for short. The brewery, which was founded eight years ago by head brewmaster Jeremy Myers and assistant brewers Rob Jahn and Steve Capelli, officially opened its doors on June 1, 2012.  Neshaminy Creek brews eight year-round beers and various seasonal beers, many of which are distributed to New Jersey and the Philadelphia region. Plus, venturing straight to the brewery will reward you with a fresh pint poured practically right out of the tanks in the next room over -- you can't miss them. (And yes, the brewery really does use Neshaminy Creek water in all of their brews, and let me be the first to tell you -- it tastes delicious.)

Before heading to Neshaminy Creek Brewing Company, stop by Pennsbury Manor in Morrisville -- a reconstruction of William Penn's original home along the Delaware. The manor was opened in 1939 after a long process of archaeological digs, transcribing documents, and conducting research. The homestead sits on 43 acres of land and is furnished with artifacts and furniture dating back to the 17th century. The outbuildings, like the Kitchen House, contain various reproductions, allowing for demonstrations and hands-on activities during your visit.
William Penn was born in 1644, right in the middle of England's Civil War. His father, Sir William Penn, an Admiral in the British Navy, was an avid supporter of King Charles I, and later Charles II following his father's beheading, and continued to support England's monarchy through thick and thin. The family was very wealthy, and even used their own personal wealth to rebuild the navy. 22 years later, William Penn managed his father's estate in Ireland and assisted the British military in their fight against the Irish. At this time, England was in control of Ireland. Between 1641 and 1691, two periods of civil war occurred between England's Protestants and Ireland's Catholics, killing thousands of Irish Rebels -- nearly a third of their population - and leaving others in permanent exile. As punishment for the rebellion of 1641, most of the land owned by Irish Catholics was confiscated and given to British settlers -- Catholics were barred from Parliament of Ireland, buying or inheriting land, and were excluded from public office. When Penn heard a Quaker preacher, his life was changed forever, and so was the Quaker faith once he contributed his energy, connections, and money to the religion. However, England outlawed any religion that was not The Church of England, including Catholicism and Quakerism, and unfortunately for Penn, this meant religious persecution. This did not stop him from writing religious books and letters and challenging others to accept his ideas of freedom of religion and free elections.
Because the persecution of the Quakers became so intense, William Penn sought a fresh start as a new, free settlement in North America, especially as some Quakers had already made the journey across the pond. In 1677, at the young age of 33, Penn, alongside other prominent Quakers, received the colonial province of West New Jersey, and in 1681, he was granted land for the Pennsylvania Colony by King Charles II as payment for a debt owed to his family (the aforementioned funds his father gave to the Navy!). Between those four years, thousands of settlers arrived to the New World, including those who settled in Philadelphia and Bucks Counties.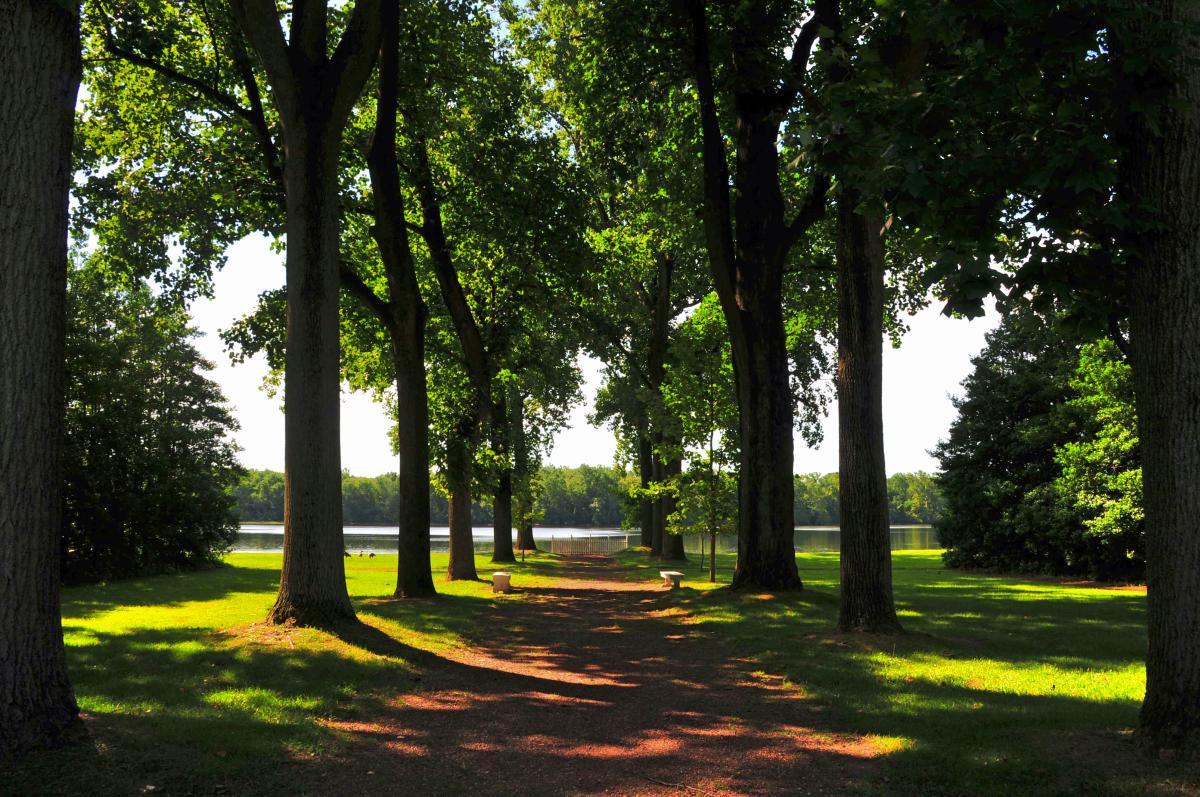 Despite William Penn moving back and forth between England and the new colonies, he remained incredibly involved in the project by drafting documents for the settlement, guaranteeing free and fair trial by jury, freedom of religion and unjust imprisonment, as well as free elections, all of which were attractive qualities to those seeking a new place to call home.
There is so much more to learn about William Penn, so the next thing you need to do is plan your trip to Pennsbury Manor. But, before heading there right this minute because you obviously can't contain your excitement (it's OK, I'm fighting it, too), Pennsbury Manor is closed on Mondays, but is open Tuesday through Saturday from 9:00am-5:00pm, and Sundays from 12:00pm-5:00pm. Plus, on Sundays from April through October, the manor offers open hearth cooking, joinery, and blacksmithing demonstrations, as well as lessons on their gardens and animals. The cost is $9 per adult, and $5 for children ages 3-11. You can find more information about their tours, including private tours and special programs, on their website.

Founded in 2010 by a group of friends who had worked in similar industries, Jeremy Myers, Rob Jahn, and Steve Capelli originally planned on opening a production brewery, but when craft brewing laws in Pennsylvania loosened up, the trio decided to open a taproom, where they sell fresh pints and growlers, as well as super cool merch, like t-shirts and hoodies. In spring of last year, Neshaminy Creek Brewing Company opened their second location in Jenkintown, Montgomery County, which has been a resounding success.
Year round, NCBC brews a pilsner, three different kinds of IPAs, including a session and an imperial, a cream ale, a lager, and an American "juicy" ale. I won't tell you which is my favorite because it is honestly so hard to choose, but if you are looking for something light and refreshing, give the Croydon Cream Ale or Churchville Lager a try. Their latest addition to the year-round lineup is their first session IPA, Keep it on the DL, which was released this past April.
But, out of their seasonal series, Punkless Dunkel, a Pumpkin wheat ale, takes first place in my book (note that even though this is only available during the fall months after Labor Day, the brewery still offers a huge selection of fantastic draft beer all day, every day). In fact, their Churchville Lager won a gold medal at the Great American Beer Festival in 2013, clearly indicating that their beer is top-notch. On top of that award, NCBC was also awarded two bronze medals at the Great American Beer Festival in 2016.
Neshaminy Creek's Croydon location introduced several new events this year, including their first-ever Pro-Wrestling Event, Hops & Headlocks. Come out and enjoy a pint or two at their Hot Rods and Hops Charity Event this November -- mark your calendars now so you don't forget! Plus, every month, NCBC hosts charity movie nights, trivia, concerts, and more. NCBC's Jenkintown location also serves food, including daily specials, like a burger and a brew combo for just $12 on Wednesdays. Be sure to follow them on Facebook and Instagram to find out more about their awesome events, food truck schedule, and new beer releases. NCBC's Croydon location is closed on Mondays and Tuesdays, so you might want to save your adventure for the weekend!