Bucks County is so full of phenomenal breweries and magnificent historic sites that it becomes difficult selecting which ones you want to visit next! By embarking on your own personal tour from thirst-quenching brewery to captivating historic site, you are able to immerse yourself in the wonders of exploring history while enjoying a cold pint. Bucks County is home to many breweries that offer warming ales and IPAs, and there are plenty of historic structures and homesteads for you to visit nearby – many with a cozy fireplace! If you would rather venture outdoors and witness the wintry (and sometimes snowy) natural beauty Bucks has to offer, there are also plenty of outdoor historic sites and parks for you to visit, including cemeteries of the Revolutionary War. After visiting the Thompson-Neely House and nearby Revolutionary soldiers' graves, travel a few miles down the road to Great Barn Brewery's Taproom in New Hope -- you won't be disappointed.
Tucked away along a stream off of the Delaware River in scenic New Hope, Bucks County, is the Great Barn Brewery -- a "farm-to-glass" microbrewery -- the first of its kind. Opening its doors in summer 2017, Great Barn converted a portion of a goat dairy barn into a seven-barrel brewing system. The family farm-turned-microbrewery has eight of their own drafts on tap, plus a cider from Stone and Key out of Montgomeryville. From a George Slept Here Rye Pale Ale paying homage to the great president, patriot and general himself, to their Baltic Porter and Double New England IPA, the brewery has a beer for every palate. 
Just five miles from Washington Crossing and less than three from New Hope sits the Thompson-Neely House. The Thompson-Neely House served as a regimental army hospital during General Washington's 1776-77 winter campaign of the Revolutionary War. Wounded soldiers were brought to the homestead and were treated for their injuries and illnesses, including Virginian officer and fifth United States President James Monroe. Unfortunately, Captain James Moore of the New York Artillery and several unknown soldiers died during the encampment and Battle of Trenton. They were subsequently buried in graves that are just a five-minute walk from the house. Though an emotional site, the graves are an important reminder of the sacrifice the Continental Army gave to the fight for freedom during the American Revolution.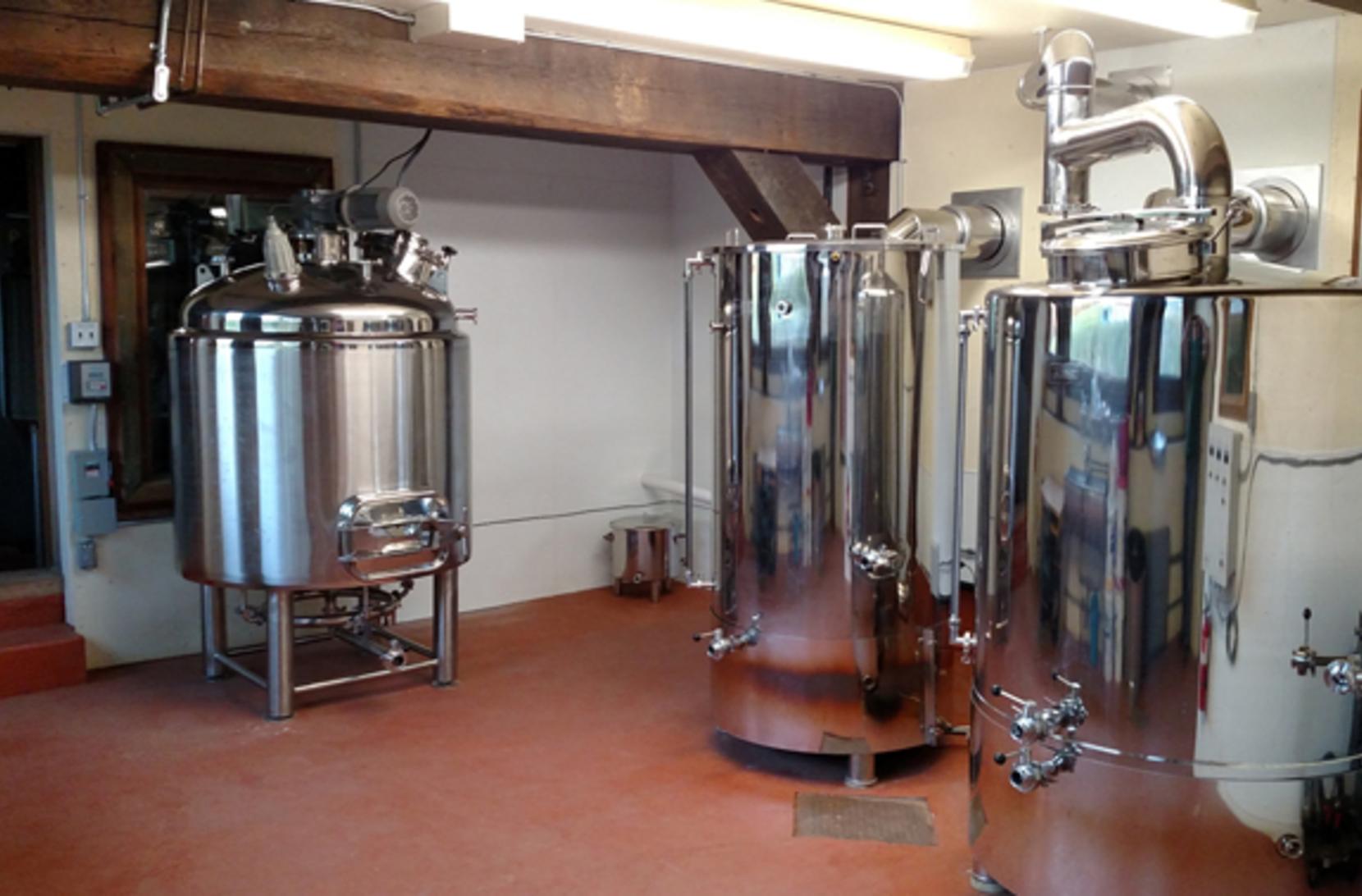 Drums at Great Barn Brewery
About the Brewery
In August 2017, Maryana and Steve Ferguson opened the Great Barn Taphouse, but their story of how they became craft brewers began only a few years ago. In order to save their farm from being developed, the duo tossed around the idea of opening a microbrewery using their own farm-grown barley. They approached Durham Township to ask that their property be zoned as an agricultural farm microbrewery. A few years later, Maryana and Steve were finally able to move forward with the brewery. 
Great Barn Brewery uses their own barley and receives their malts from local maltster, Double Eagle, out of Montgomery County's Huntingdon Valley. As a "proud member" of the Pennsylvania Preferred Brews program, Great Barn's products grow and thrive in Pennsylvania soil and focus on offering a pint paired with a message: to brew farm-to-glass beer while remaining ecologically responsible. (They actually partnered with a provider of clean wind power, Hello Inspire, for both their farm and taphouse so their brews are made and served using clean energy.) What's not to love? Plus, they also strive to support local hop and other farmers right in Bucks County, and use American-made kegs from a company out of Pottstown.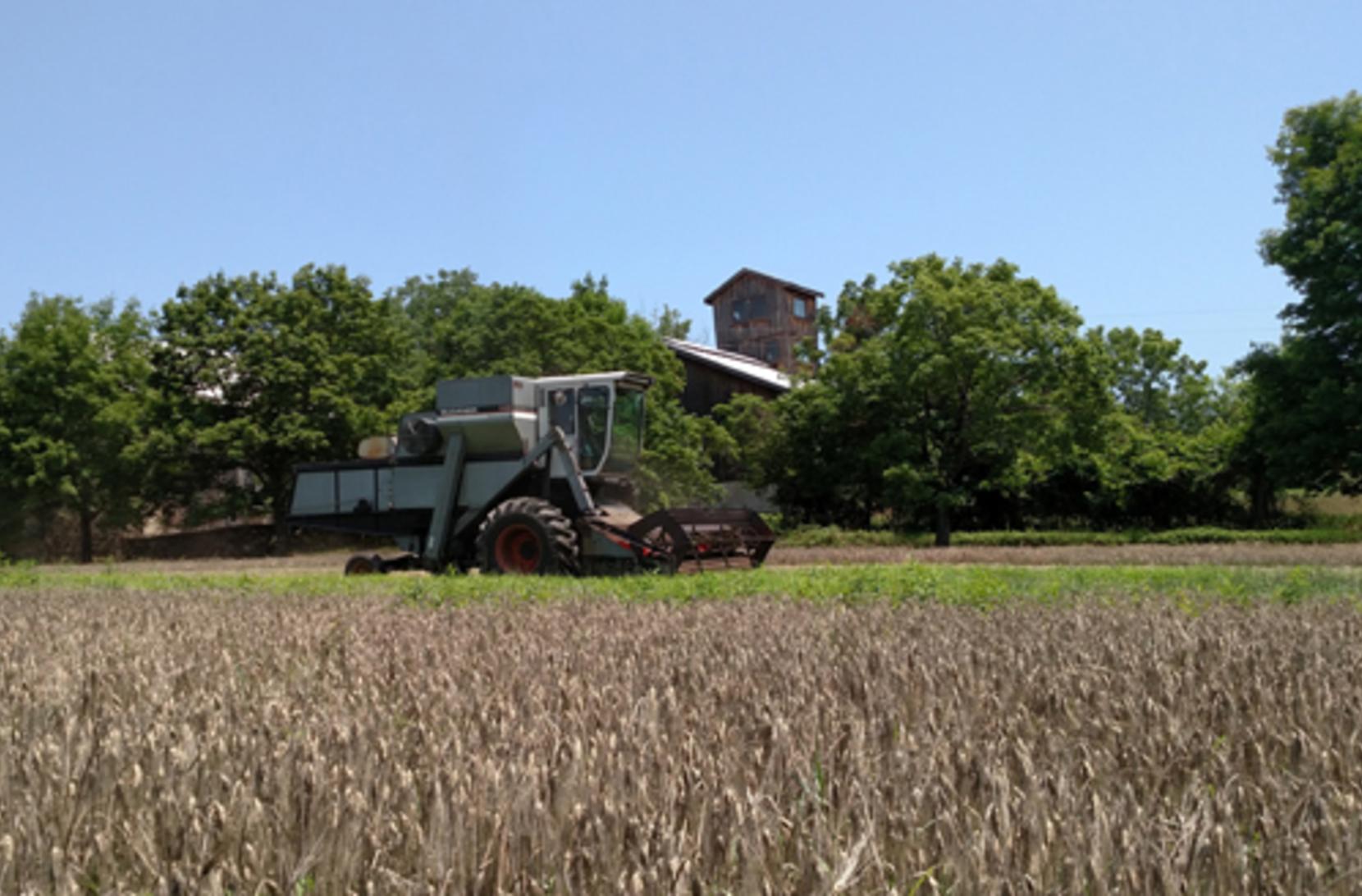 Great Barn Brewery fields
Steve's family has owned the farmland for about 40 years and, since he wanted to do something with the land, he was open to suggestions. Together, they hatched a plan to establish the farm microbrewery just before the township debated changing the zoning regulations. Thanks to them, as well as the area farmers they partner with, the brewery has certainly helped revitalize the local agricultural community. The barn itself was built in 1976 on more than 115 acres of land. Once they filled up a silo using their first batch of barley, Great Barn Brewery and Taphouse was within arm's reach. 
If you haven't yet paid the taphouse a visit, I highly recommend that you make your way there soon. With a variety of brews on tap, some even reflecting on the great history our area has to offer, (Where the Delaware Am I? IPA and Doan's Lost Gold Kolsch -- for those unaware, this one is named for the infamous Doan Gang out of Plumstead Township that wreaked havoc throughout Bucks County during the Revolutionary War), there's a beer for everybody. What better way to reflect on Bucks County's monumental history than to enjoy a pint dedicated to it?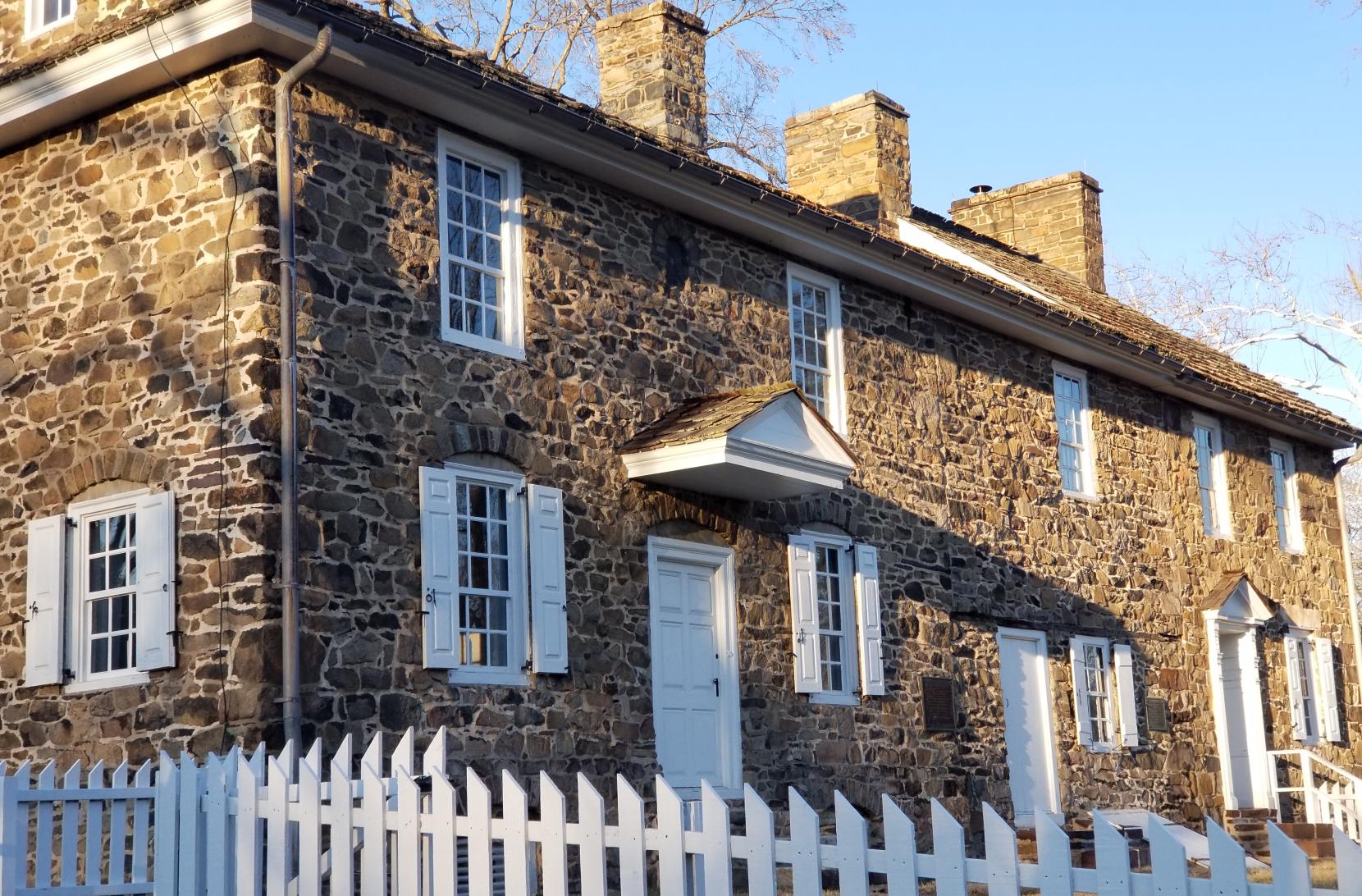 About the Thompson-Neely House and Nearby Soldiers' Graves
The Thompson-Neely House, built in approximately 1740 by Quaker miller John Simpson who established a gristmill along nearby Pidcock Creek, sits on what was originally the property of early Scotch-Irish settler John Pidcock. Pidock established a trading post on the 500-acre tract of land with local Native Americans in 1684. (A marker attached to a large rock on the property indicates the approximate location of the trading post.) Following John Simpson's death in 1747, his widow, Hannah, married Robert Thompson. Thompson (also Scotch-Irish) was a journeyman miller for Simpson following his move from Wrightstown to New Hope. 
In 1757, Robert Thompson constructed a two-story addition on the west end of the house. His daughter, Elizabeth, would wed Irish immigrant William Neely just nine years later which led Thompson to build a second story above the first section.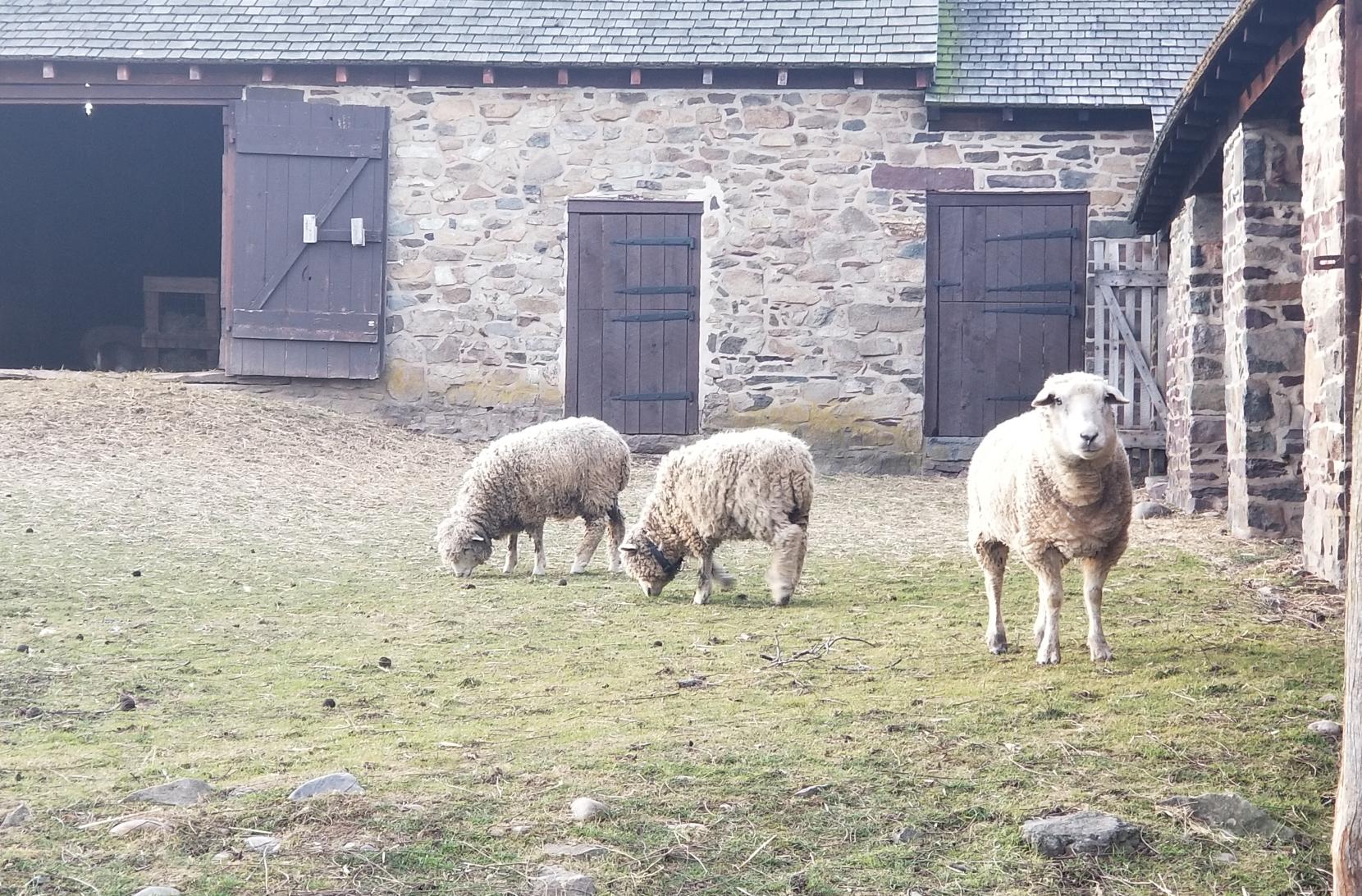 Sheep at Thompson-Neely House
Both the Thompson and Neely families resided in the homestead when 7,400 Continental Army troops encamped there during the winter campaign of 1776. The house, which served as a hospital to care for the Army's wounded and sick, also treated the likes of future president James Monroe, 24-year old Captain James Moore, and cousin of General George Washington, William Washington. Even though no American soldiers were killed during the famous Crossing of the Delaware or First Battle of Trenton, some did perish due to exposure, disease, or previous injuries. Those who did not make it, including Moore, were buried in unmarked graves just a short walk from the property. An American flag and several headstones indicating the burial of the unknown soldiers, as well as one for Captain Moore, serve as a memorial for us to remember and acknowledge those many lives lost during the American Revolutionary War.
On the National Register of Historic Places, the Thompson-Neely House is located at River and Aquatong Roads bordering New Hope and Washington Crossing. However, even though tours are unavailable until early March, the property and cemetery have a lot to offer in terms of sightseeing and enjoying a day out in picturesque Bucks County! Plus, there are sheep right on the property, so if you want to add livestock to your adventure, look no further. For those wanting to hang tight until March for a visit inside of the homestead, tours are 10 a.m. to 4 p.m. for just $6 per person. They also offer a super convenient combination ticket that includes tours of the lower park, the Thompson-Neely House, and Bowman's Hill Tower for $11. If you're in the mood to visit all three sites, which, to be honest, I cannot blame you for, then enjoying a pint dedicated to Bucks County history is the perfect way to top of a great day.