Bristol Borough is Bucks County's oldest town, dating back from 1682. The riverside borough proudly celebrates and preserves its rich historical legacy.
The homes and buildings in this quaint town, paint the perfect picture of its past through its architecture. The architecture consists of structures that were built before the Revolutionary War, waterfront mansions, industrial worker housing of the 19th and 20th centuries, and a beautiful wharf along the water. You can find a variety of these landmarks on the famous street known as Mill Street.
As you stroll down Mill Street, you will notice that this part of town is bustling. The community represents its past, while embracing the present and future. You'll find antique and boutique shops, breweries, distilleries, local eateries, cafes, and more!
All of these establishments make Bristol a true destination within itself. The food scene in particular is one of my favorites in Bucks County!
Itri Wood Fired Pizza is one of my go-to restaurants when dining in the small town. Their Italian-inspired menu features a variety of wood fired pizzas, in addition to salads, sandwiches and pasta entrées. They recently expanded into the building next door, but the modern and rustic atmosphere flows throughout. The exposed brick and wood fired oven makes you feel right at home.
I recently went to dinner here with my parents and as always, we thoroughly enjoyed our meal. We have been before, and we love the pizzas. However, this time, we decided to go a different route for food, and try their sandwiches.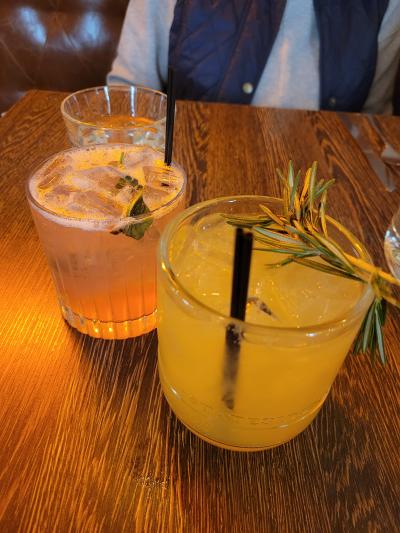 To drink, my mom got the Earl Grey Cocktail (pictured above) that had vodka, basil, earl grey simple, lime, and cranberry. She loved the earl grey taste as that is her favorite tea. I got the Waterloo Sunset Cocktail which had santa familia tequila, mezcal, st. george spiced liqueur, orange juice, rosemary simple (pictured above). I loved the smoked rosemary leaves garnish that added a unique flavor to the drink. My dad got a Stella draft.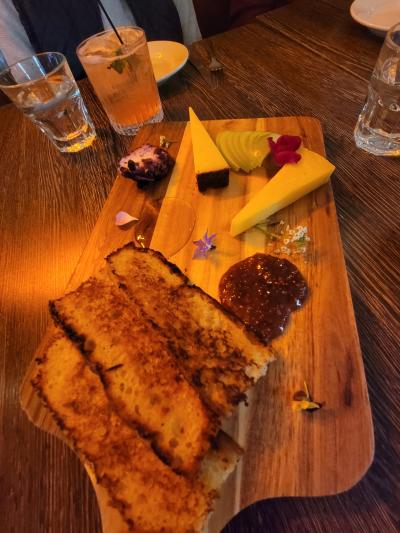 For an appetizer, we shared The Forager Cheeseboard that featured cheese from Itri's new specialty cheese shop, The Forager which is a few doors down. The spread displayed cowboy coffee cheese, blueberry vanilla goat cheese, clover truckle cheese, seasonal fruit, honey, edible flowers, fig jam, and house made focaccia. The highlights for us were the blueberry vanilla goat cheese, clover truckle cheese, and the focaccia! The focaccia had a nice woodfire taste from the pizza oven.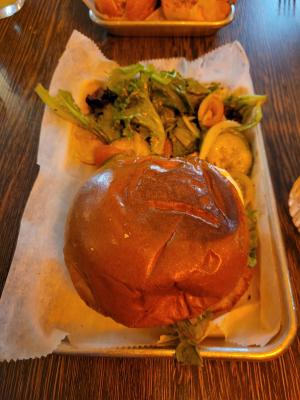 For our entrées, my mom got the Itri Burger and my dad and I both ordered cheesesteaks. My mom thought the truffle aioli and crispy fried onions on top of the burger made the dish. My dad and I loved our cheesesteaks! We loved the buttery, toasted roll they were served on and I got a Buffalo version and I especially loved the combination of blue cheese and ranch mixed together.
Whether you go for pizza or the traditional Italian fare, Itri is always a great choice! They have a great happy hour selection that goes every week day from 4pm-6pm. And if you can get there on a Tuesday, they have "Twofer Tuesdays" where you can get any two pizzas for only $20! It's such a great deal. 
If you have the chance, be sure to check out The Forager also in Bristol, or Itri's other location at The Station, which is a part of The Square in Dublin.