If you love craft beer, then you've probably been to Warwick Farm Brewing in Warwick Township, Bucks County. And if you're a fan, much like myself, then you know that their highly anticipated tasting room officially opened on Friday, February 11! From the gorgeous wood floors to the stone bar and Edison bulb chandeliers, the rustic, yet modern, atmosphere is everything you would expect in a Bucks County brewery.
Founders Scott Seiz, with his son Ryan, and Tom Taber, with his son Tim, came together with a vision that honored their families' passions: home brewing and preserving Bucks County historic farmland, respectively. Together, they opened the first microbrewery and brew-farm in Warwick Township.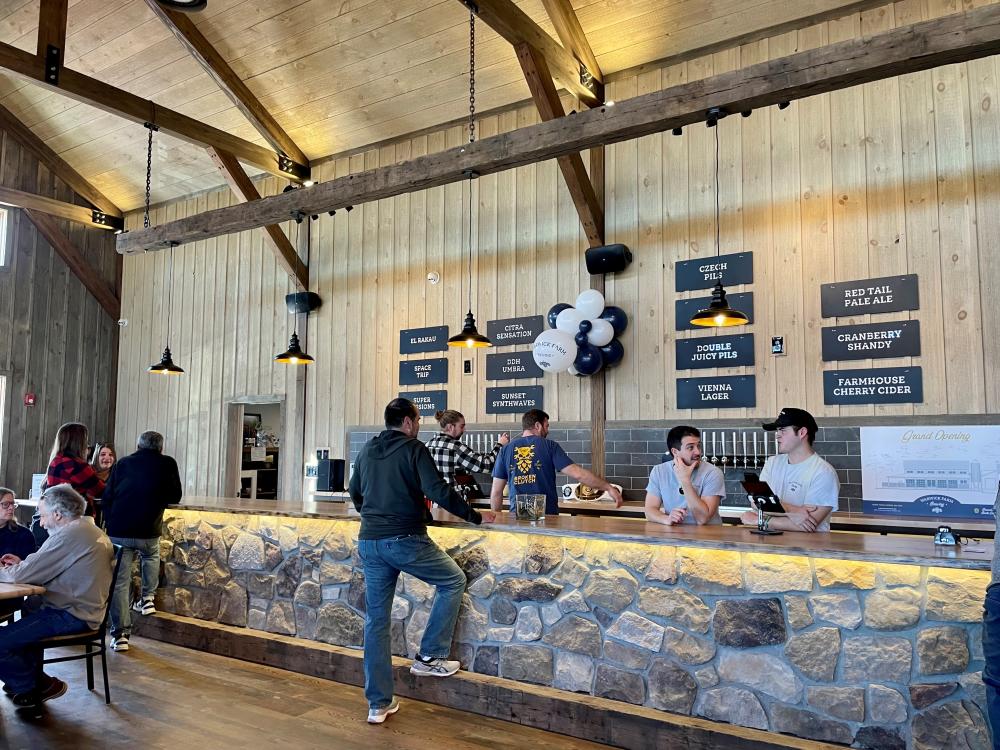 Warwick Farm Brewing, named a top ten brewery in Pennsylvania by Untappd, sits atop 22 sprawling acres of farmland, overlooking a scenic landscape and Neshaminy Valley Golf Club.  Because they grow their own hops and ingredients on-property, brewmaster Ryan Seiz is able to experiment across beer varieties and flavors, creating some of the most delicious brews in Bucks.
I had the absolute pleasure of visiting Warwick Farm's new 5,000 square foot tasting room on opening day for a couple of their finest brews. It was a beautiful sunny day, so of course the tasting room was filled with craft beer enthusiasts sipping the Citra Sensation Hazy IPA and locals enjoying a fresh pint of the refreshing Czech Pils. Thankfully, the tasting room has plenty of seating to go around, with even more tables on the wrap-around deck for you to soak in the sunshine and fresh air.
Before I get to outdoor seating, let's first talk about everything that went into making the tasting room a beautiful addition to the Bucks County Ale Trail. Warwick Farm took extra care to seamlessly blend stone and natural wood to build a 25-foot bar with 24 taps offering plenty of space for guests to sample, taste, and order the perfect pint. A warm light glows just below the bar top, with Edison bulb chandeliers hanging directly above, creating ambient lighting complemented by an abundance of large windows that welcome in natural light. There are plenty of low and high-top tables spread throughout, and a cozy seating area, equipped with a couch, leather chairs, and a stone fireplace, provides a welcoming spot to catch up with friends and family.
Step outside onto the wrap-around porch and catch a glimpse of the stunning, rolling hills of Bucks County while you sip a delicious brew (with ceiling fans that'll prove an excellent addition in the hot summer months!). During my visit, I split my time between the tasting room and the deck (I just can't miss the views!) and sipped two of my (current) favorites: the Space Trip Hazy IPA and Red Tail Pale Ale.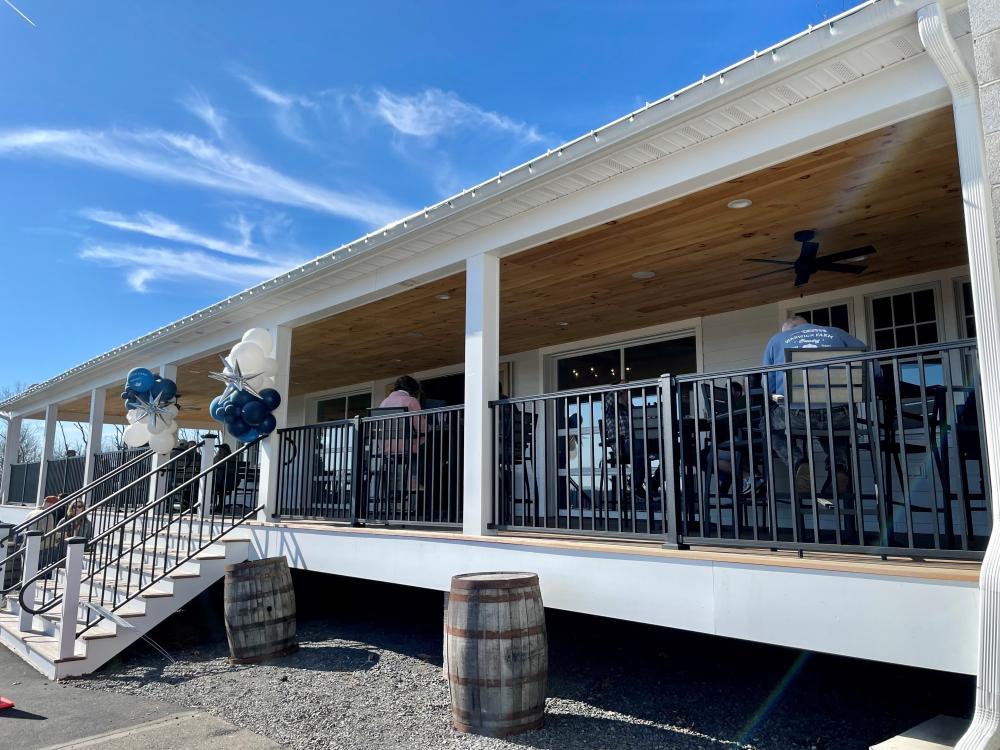 Warwick Farm has so many excellent craft brews, from juicy pilsners to double IPAs, you're guaranteed to find something you like. You can also pick up a few four packs inside the tasting room for you to enjoy at home (either stop in or place your order online)!
Between the beautiful architecture and design elements creating a picture-perfect, Bucks County atmosphere, and the award-winning brews, Warwick Farm Brewing has quickly become an area favorite. Be sure to visit their tasting room Thursday through Saturday from 12-9 p.m. and Sunday 12-6 p.m. for an unforgettable craft beer experience on the Bucks County Ale Trail.