With the leaves rustling all around us and the sun abundantly shining, it was a crisp, brisk Fall afternoon on a Wednesday in mid-November. As a lifelong Bucks County resident, born and raised, I'd very rarely made the short trip to Bristol Borough, except for the Grundy library on few occasions. However, over the past year, I'd noticed an increase in public posts via social media from independently-owned businesses lining the streets of historic Bristol Borough, many of which captured my curiosity and interest.  In particular, three businesses stood out to me, offering items and concepts resonating with me. Therefore, with temperatures drastically decreasing each day, I found myself craving both comfort and warmth. On a day free of work-related responsibilities, I partnered with my mom; not only my mom, but a close friend with many shared interests to accompany me on a special trek to Bristol Borough to explore, indulge and most importantly, warm up to the beckoning holiday season! 
A short and easy drive from my residence in Yardley, we arrived in Bristol Borough in the mid-afternoon, easily securing a convenient parking spot in the large municipal lot located behind the popular Mill Street businesses. With our parking spot secured, we headed to our first "warm up" location, looking to heighten our senses at Spice & Co.! Frequently cooking and baking together, when I first learned of Spice & Co and their unique offerings, I was intrigued and curious to see what I'd be able to find and how I may even be able to incorporate it into our culinary repertoire.
Spice & Co.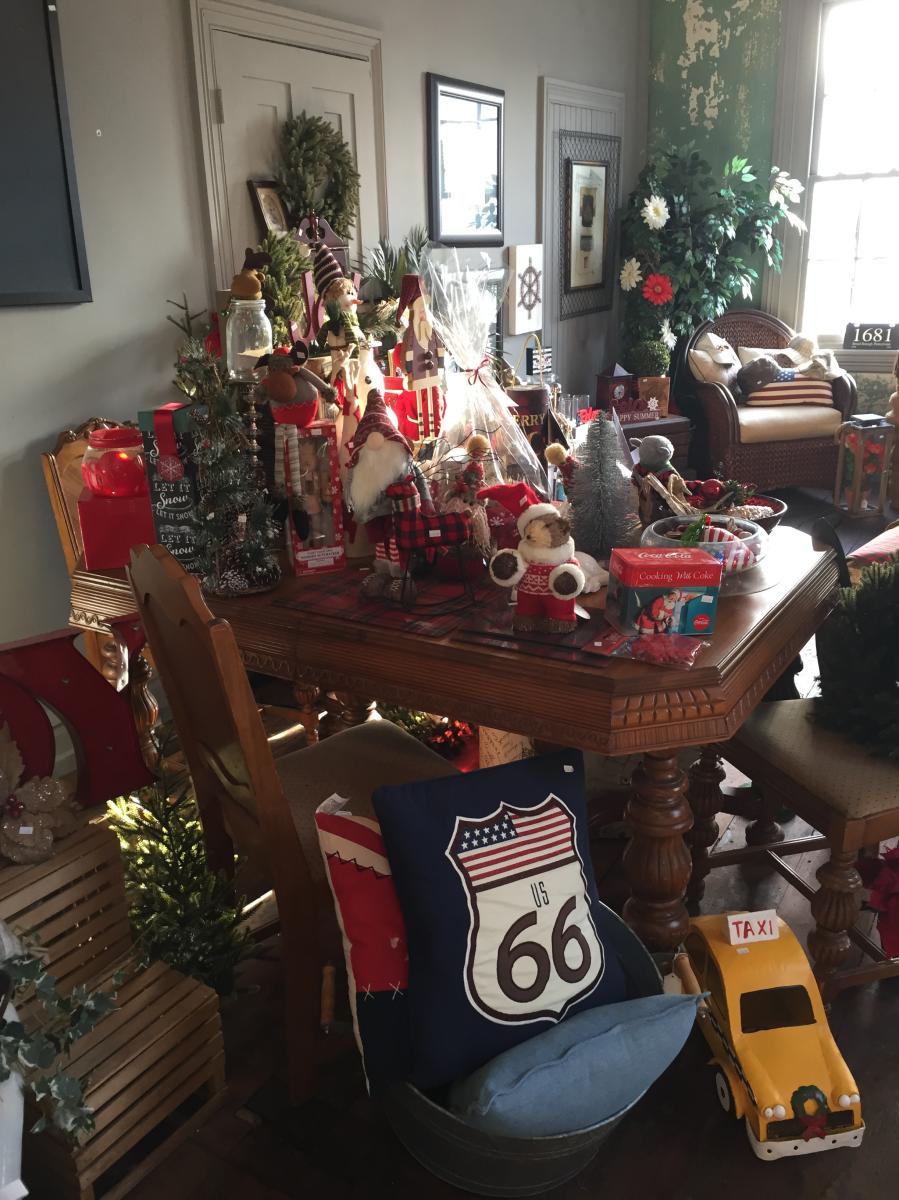 Conveniently located in the heart of Bristol Borough, Spice & Co's black awning and exterior is as charming as the tokens housed inside. Offering everything from mainstream coffee brands to those that are lesser-known but equally as pleasing, Spice & Co adds intrigue and allure to their products simply from their crafted and skilled displays. With two floors of items, the shop is every bit charming, nearly reminiscent of a castle with items to see and explore in every corner. Unlike chain stores where items may be out-of-place, messy and with difficult to maneuver aisles, Spice & Co is carefully maintained, with every item in its place, waiting to be touched, explored and ultimately purchased.
Co-owned by Mycle James Gorman, a Pennsylvania native and interior decorator, all items in Spice & Co are hand-selected, offering customers insight into their tastes, preferences and carefully curated items. It is easy to see and feel the personal touch of their unique items offered in store. In fact, a brief conversation with a friendly, well-seasoned shop employee, who stated she's been there since it's 2013 arrival, provided insight into the most popular and beloved items, which include: Mill Farm brand spices, candy (the selection regularly changes for variety), teas, sauces, olive oils, and coffees. Plus, there is always something new and unique in their décor offerings.  She also stated the shop has been a local "hot spot" for unique Christmas gifts. As one of their most treasured gifts and items, a license plate (offered in either a white or black background) with the year Bristol Borough was founded (1681) is a coveted fan favorite, often out of stock during the height of the holiday season.
Making our way again towards the front of the store, our visit to Spice & Co concluded, leaving us nothing but feelings of warmth, already accomplishing our goal during our first shop visit of the afternoon.
Location – 131 Mill Street, Bristol, PA
Hours of Operation – Monday-Thursday: 10am-6pm, Saturday: 10am-7pm & Sunday: 11am-6pm.
Phone Number – (215) 919-7723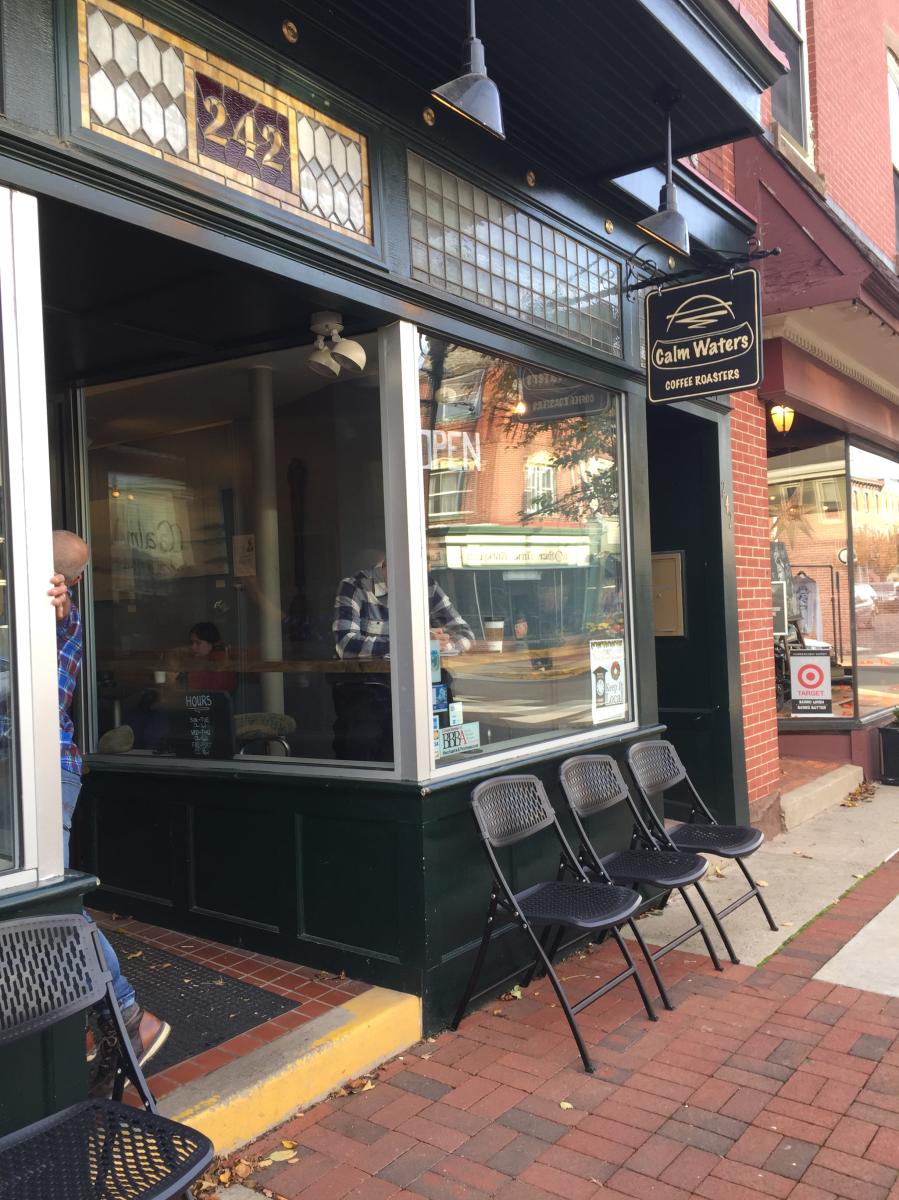 A quick journey on foot after exiting Spice & Co landed us at Calm Waters Coffee Roasters, a coffee-roasting business and popular café with a vast following and customer-base. Since its arrival in the borough a couple years prior, I've been closely following along on social media, intrigued about their on-site coffee roasting process, techniques and community outreach. Connecting to the community and public is truly evidenced through Calm Waters' social media posts, alone.  My excitement mounted as my mom and I noticed the inviting shop from a distance, quickly crossing the busy street corner to finally make our appearance. Chilled from our short walk, my mom and I quickly marched to the counter, noting the peaceful and laid-back atmosphere circulating through the café.
Owned by husband and wife team, Andrew and Jodi Dittman, a couple whose passion and dedication to roasting and serving coffee brings the community together one cup at time, Calm Waters Coffee maintains a popular presence at 242 Mill Street. Calm Waters Coffee truly embodies the spirit behind the mission stated on their website (calmwaterscoffee.com) – "It's more than just great coffee, it's about taking time to appreciate the good things in life, loving thy neighbor and growing as a community." Given their name, the roasters and coffee shop's claim to fame is coffee and all types. Noted for their classic roasts, espressos, cappuccinos, lattes, cold brews, and iced coffees, they handcraft all their beverages and specialize in a customer favorite – latte art, custom made with love, care and precision (as my mom came to know, firsthand, during our visit – more on that, later!). Though it's important to note, they are not solely limited to coffee, but also offer teas, sparkling waters, and an array of foods (sandwiches, pastries, etc), all guaranteed to bring much-needed warmth on a cold, fall or winter day. Beloved customer favorites include: Ham & Swiss on sourdough bread, a classic grilled cheese, muffins and even a grilled pound cake!
What truly captivated me beyond their roasting and brewing processes, is the inclusion of community and their dedication to Bristol and beyond. In fact, every initial Friday of the month is coined as "First Fridays," offering customers performances by local bands/musicians, in addition to storytelling and game nights on other occasions. Visiting Calm Waters Coffee Roasters is surely a way to warm up, both literally and figuratively! They embody the spirit of community and will even display local art and periodically feature interviews with their customers on social media, truly appreciating and grateful for the patronage and presence of the community and local economy.
After taking in the ambiance of Calm Waters Coffee, it was finally time for my mom and I to place our orders. Having seen their latte art many times, my mom stepped up to order the seasonal, "Fall Spice Latte." Within minutes, she was presented with a wide mug housing the carefully-crafted beverage featuring latte art! A beauty in itself, the latte contained warm hints of cinnamon, nutmeg, and steamed/frothed milk warming her to the core, tasting the quality of the espresso pulsed throughout. For me, I opted for a more coffee-driven option – choosing a classic decaf roast so I could truly taste the difference between Calm Waters Coffee and a typical chain. Upon first sip, I noted the strength in their roast; robust and flavorful, providing the warmth I craved that afternoon. Upon exiting the shop having secured our java fill for the afternoon, I was pleased to have finally experienced the allure of the locally-owned cafe firsthand.
Location – 242 Mill Street, Bristol, PA
Hours of Operation – Sunday-Tuesday: 7am-3pm, Wednesday-Thursday: 7am-6pm, Friday-Saturday: 7am-10pm
Phone Number – (215)781-6286
Website: calmwaterscoffee.com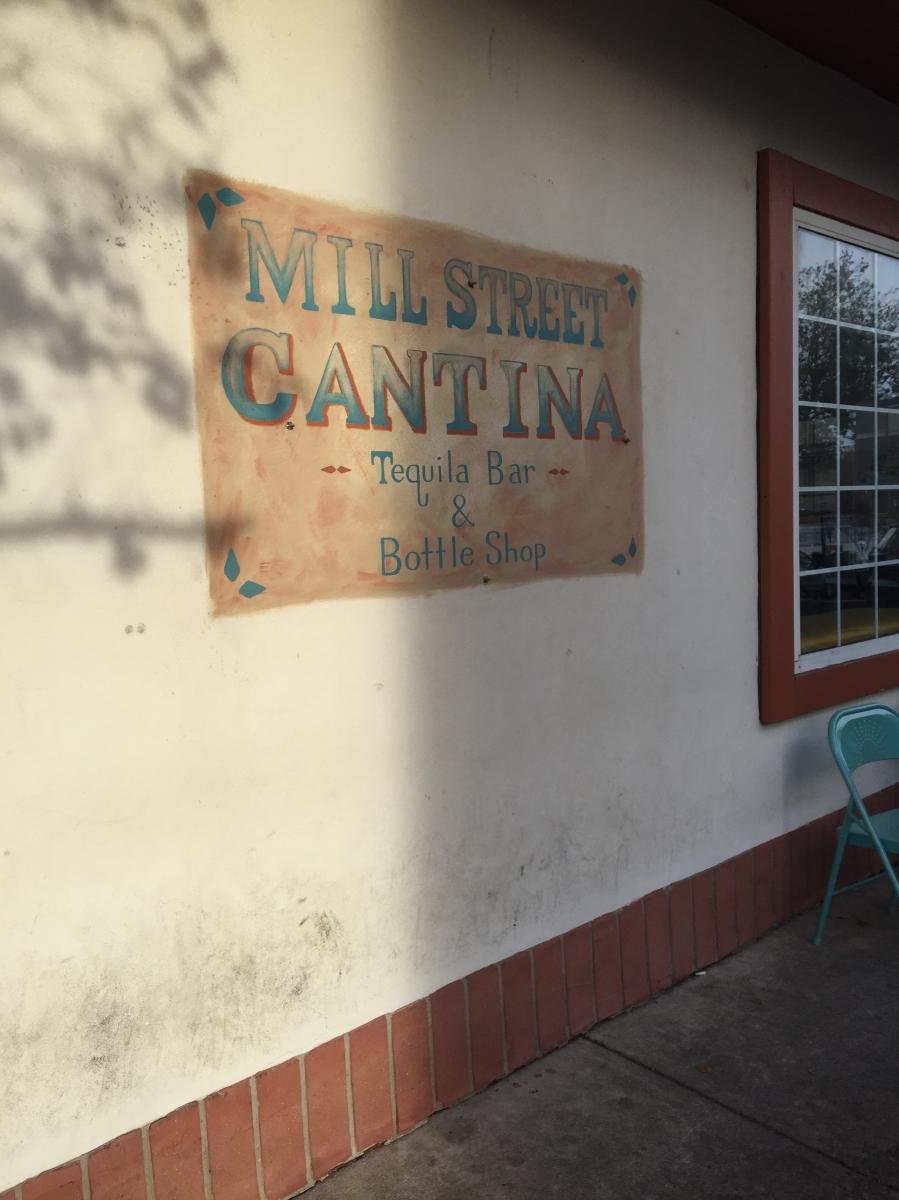 Still warm from our visit to Calm Waters, we made the short journey to Mill Street Cantina, a three-year institution with a culinary presence in a class of its own. Located at 101 Mill Street, adjacent to the Bristol Riverside Theatre, its location is as prime as the food inside and the service received. With a menu adorning the outside, its offerings are as appealing as the warm atmosphere. Owned by Tim McGinty, a chef with training in Italian/French cuisines with a curiosity and interest in Mexican cuisine, the Tapas concept and in delivering high-quality, local foods, Mill Street Cantina is a breath of fresh air and joy to experience. Upon first entering the restaurant, my mom and I were instantly greeted by the smiling face of Leah, a longtime restaurant employee. Her bright smile and cheerful nature matched the alluring Mexican décor and energetic presence. With modest seating of about 55, the restaurant can often house a two-hour wait, especially during the warmer months when outdoor seating (even dogs are welcome!) is offered. Classic and inventive Mexican cuisine is served not only during traditional lunch, dinner and happy hours, but on the weekends for brunch as well – featuring specialty items like chicken and waffles, various benedicts, stuffed torrejas (a stuffed French Toast on brioche bread stuffed with homemade Farmers Cheese) and beyond. In fact, though noted for their fresh, local ingredients and unique foods, the Mill Street Cantina proudly maintains the title of "Best of Bucks" for their housemade margaritas (popular flavors include blood orange and pineapple!)
After my visit I was able to connect with McGinty, a chef for 11 years, via phone whose jubilance and enthusiasm could be easily felt. During our brief conversation, it was a joy to hear of his passion and sentiments, truly eager to nourish the community both literally and figuratively, one plate or glass at a time. As the sole owner, McGinty is a passionate chef and culinary extraordinaire, taking risks and urging his staff to flex their creativity and curiosity. Throughout our conversation, he emphasized the importance of being able to truly TASTE the ingredients used to create a dish, rather than disguise them. Every item on the menu, including their sour mix used for their custom margaritas and popular tortillas are all homemade and locally-sourced, with a desire to support the local economy and agriculture. Emphasis was made on how people are often "very conscious about where their food actually comes from," and while dining at Mill Street Cantina, they can rest assure, knowing the food is homemade, crafted with care and quality, and custom-made. Even their chorizo and other meats are butchered themselves and made-to-order.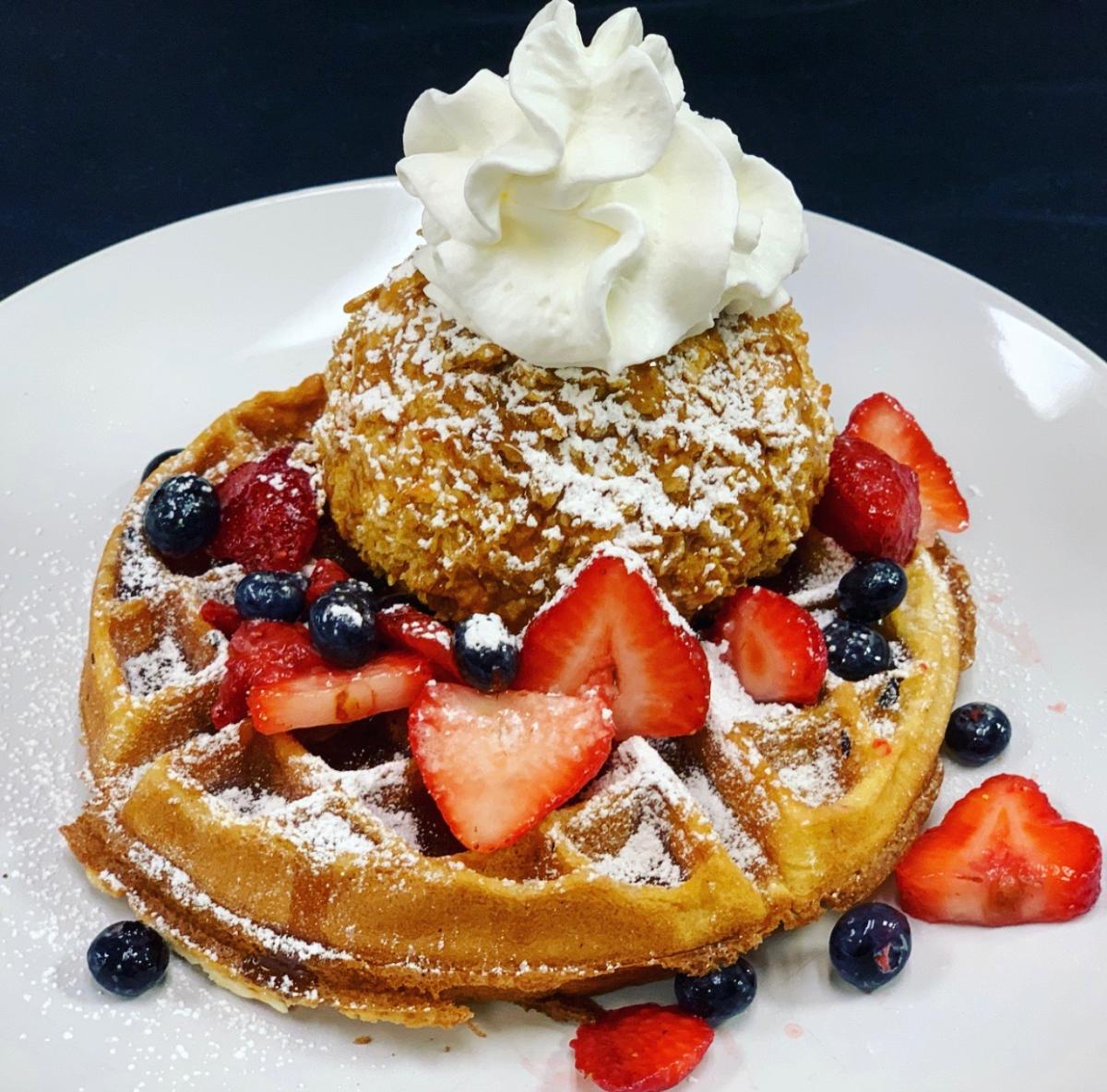 In a world where it can often feel difficult to find one's place, Mill Street Cantina is more inviting than I could have envisioned. With little to no knowledge about it prior to visiting and conversing with employees and McGinty, my only pull towards it was its specialty in Mexican cuisine, a favorite of my mom and I. Though after visiting, I now know I always have a place I can visit, knowing I am always welcome and encouraged to stop in. No matter where you've come from, what day you've had, or if you simply need a place to rest your feet, McGinty opens his restaurant's doors with wide arms. Each day, McGinty and his staff are there, waiting to add a bit of sustenance and refreshment to the day while making each customer feel welcomed and appreciated.
Location – 101 Mill Street, Bristol, PA
Hours of Operation – Monday-Friday: 11am-2am; Saturday/Sunday, 10am-2am.; Happy Hour: 5-7pm, each day
Phone Number – (215) 788-0969
Website – themillstreetcantina.com
After visiting Bristol, I found myself reflecting and thinking of it later, eager to share my newly-learned knowledge and excitement about Mill Street Cantina with whomever I could. With my goal of our Bristol Borough visit to be obtaining warmth, we surely discovered a way to not only warm our bodies and bellies, but also our hearts and minds, feeling the closeness and support of the community. No matter your background or experiences, a visit to Bristol Borough makes each person part of the family, truly personifying a "borough of warmth."