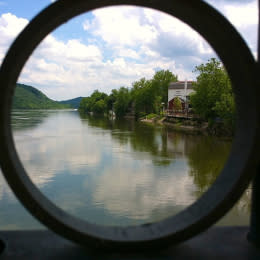 "My favorite time of day in Bucks County is the afternoon. This day, my husband and I had taken an afternoon trip to New Hope, PA. After enjoying a hot cup of coffee together we browsed the unique shops. New Hope is a delightful place to walk since there are so many things to see. These include the Bucks County Playhouse, the New Hope and Ivyland Railroad, the historic buildings converted to restaurants and shops, and multiple views of the Delaware River. After having lunch, we decided to cross the bridge to Lambertville, NJ. I was able to capture this shot of the Playhouse. From the bridge you can really appreciate all the beauty Bucks County has to offer. A simple afternoon in New Hope can turn out to be a refreshing experience."
~Wendy from Doylestown, PA
Learn more about the New Hope, Bucks County Playhouse, and the New Hope and Ivyland Railroad.