The weather is finally warming up and spring events are in full swing! Wine tastings, live music, Easter fun, and more, make for a fun weekend ahead in Bucks County. 
Check out our guide below for details on this weekend's must-see events around the County. Stay up-to-date on what's coming up next week with our Upcoming Events Calendar.
Friday, March 26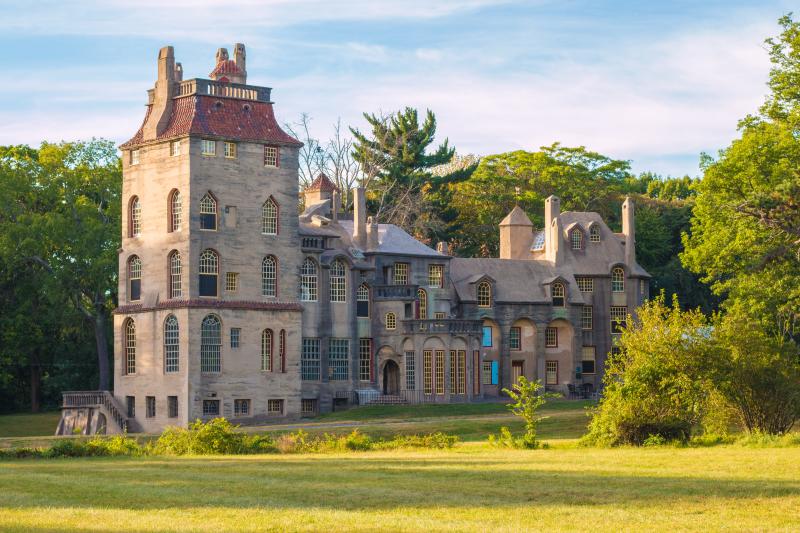 Delight in the splendor of a guided historic evening tour at Fonthill Castle. Fonthill Castle was the home of Henry Chapman Mercer and an early example of reinforced concrete architecture. Discover Mercer's renowned ceramic tiles during these intimate 45-minute guided historic tours of the castle's unique rooms and artifacts.
When: Through April 22, times vary
Where: Fonthill Castle
Cost: $25 Adults/$15 Member Adults/$15 Youth
On the fourth Friday of each month you can create your own tasting flight by choosing four different wines from a list of 20 for only $10 (list changes month to month). Each taste is 1.5 oz and the four together are equivalent to one six oz glass of wine. A printed guide includes descriptions to help you choose.
When: March 26, 5:00 - 8:00 p.m.
Where: Washington House Hotel & Restaurant
Cost: $10.00
With so many guitarists trying to make their mark these days, it's not easy being a "trailblazer." Yet, that perfectly defines Tim Farrell. His fingerstyle playing and original compositions display an elegant simplicity that celebrates the purity of the acoustic guitar. He has performed worldwide and maintains an active performance schedule, appearing in a variety of concert venues such as the Kimmel Center, Montreal Jazz Festival, Carnegie Center, Hard Rock Live, Metropolitan Museum of Art, Memphis Acoustic Guitar Festival, Healdsburg Guitar Festival, Woodstock Invitational Luthiers Showcase and many more.
When: March 26, 8:00 PM to 11:00 PM
Where: Sellersville Theater
Cost: $19.50
Looking up from the heart of the Mercer Museum's Central Court is an experience like no other. Artifacts hanging from rafters and objects at every turn create a most unique sensory experience. This 45-minute virtual experience features a 15-minute recorded tour of the Mercer Museum's renowned Central Court, followed by an array of mesmerizing photographs and a live virtual Q&A conversation with one of our experienced tour guides.
When: Through April 22, times vary
Where: Virtual Program - Zoom
Cost: $10/General Admission virtual connection per household or $0/BCHS members
The Michener Art Museum is delighted to present Essential Work 2020: A Community Portrait, on view from March 19-July 11, 2021. As the United States was confronted with the coronavirus pandemic, racial injustice, political protest, and a heated presidential election, 2020 will be long remembered as a year of upheaval and uncertainty. During these challenging times, the creation and sharing of images has raised awareness, communicated information, spread hope, and strengthened connections. The focus of this exhibition is to identify how different people interpret what work is essential for our health, well-being, and a more equitable future.
When: Through July 11
Where: Michener Art Museum
Cost: Admission prices vary
Saturday, March 27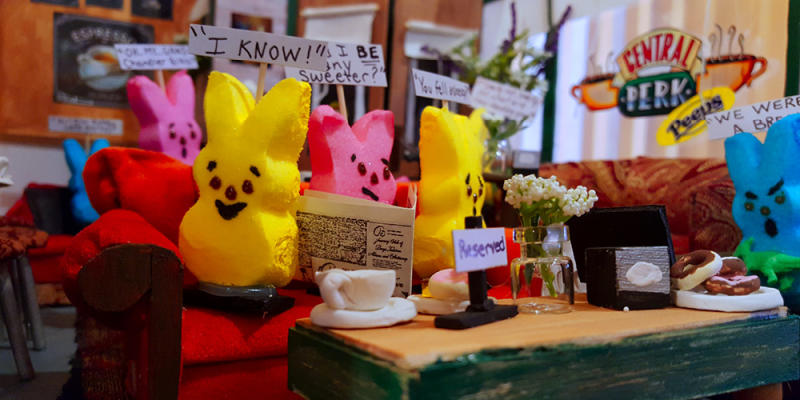 This spring, Peddler's Village presents the 2nd Annual PEEPS® in the Village. Housed in an indoor area in the Village Courtyard, the colorful display will include more than 90 creations of wall art, dioramas, and sculpture, all prominently featuring the popular Pennsylvania-made bunnies, chicks, and other candies. Admission to the display is free. Safety measures will be in place as appropriate.
When: March 22 - April 17
Where: Peddler's Village
Cost: Free
The dedication of the band to both the songs of the Grateful Dead and their spirit of musical exploration sets JOTD apart, as audiences are now starting to find out. In March 2019, Philadelphia area guitarist Rich Hill pulled together a select group of musicians to do a one-off show as a Grateful Dead tribute night at The Fainting Goat in Glenolden, PA. The turn out, the performances and the synergy were so strong that by the end of the night, they all knew that they had something here and they should keep going. Thus, "this thing of ours", this "jawn of the Dead" as it came to be known, began its strange trip, hopefully a long one, around the Philly region.
When: March 27 8:00 - 11:00 p.m.
Where: Sellersville Theater
Cost: $19.50
The Silver Lake Nature Center inspires connections with Nature for people of all ages, interests, and abilities through education, recreation, preservation, research, and advocacy. Grab the family for a fun morning on the trails!
When: Saturdays through May 29
Where: Silver Lake Nature Center
Cost: Free
Enjoy acoustic music from local performers! Check the website for complete details: performances and schedule subject to changes. Light bites available, as well as beer wine and cocktails!
When: Through March 27, 2 - 6 p.m.
Where: Crossing Vineyards and Winery
Cost: Free to attend
Brand new exhibit! Through the Lens explores nearly 70 years of artistic experimentations with photographic processes and subject matter by artists in the Delaware Valley region. With work ranging from carefully hand-painted, bucolic landscapes to decisive snapshots taken on the street, Through the Lens highlights distinctive work in the Michener's photography collection, including many that have never before been on view.
When: Through August 15
Where: Michener Art Museum
Cost: Free with museum admission
Sunday, March 28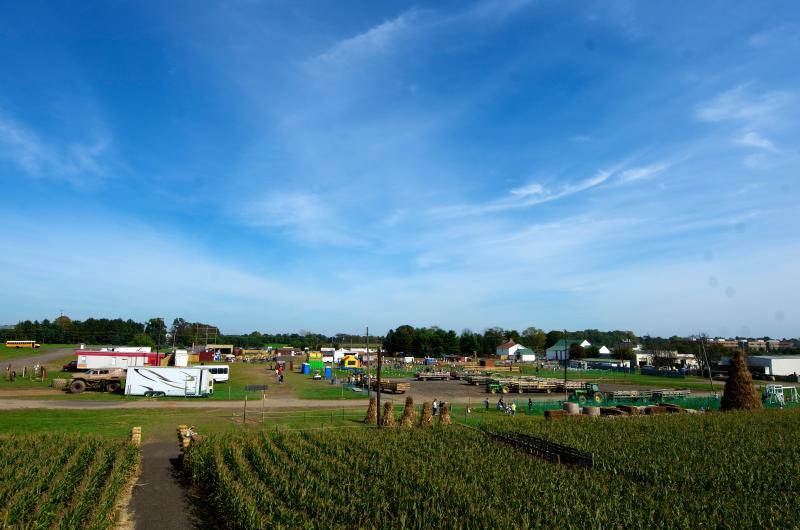 Hop your way into spring at our super fun Easter Egg-stravaganza! Take a wagon ride to the "Hunting Grounds" where kids will find 6 candy-filled eggs, get a prize and meet the Easter Bunny. A great way to kick-off the spring season. Admission includes all of the fun in our Festival Field like meet & greet the Easter Bunny, Pedal Go-karts, Backyard Games and so much more. 
When: Mar 27 - 28, Apr 1 - 3
Where: Shady Brook Farm
Cost: Must purchase tickets online: $12/child*, $8/adult
Don't miss Elmo's Eggstravaganza – our exciting Easter Celebration on select dates from March 27 – April 18! Guests can safely visit Sesame Place for a hoppin' good time with rides, shows, surprise mini parades and special Easter fun with everyone's favorite furry friends.
When: Select dates March 27 - April 18
Where: Sesame Place
Cost: Ticket prices vary
Join us for the Market's annual egg hunt on Sunday, March 28th. This year we will have the age groups go at separate times in an expanded hunt area. Ages 0-3 hunt at 1pm, Ages 4-6 hunt at 2pm and Ages 7-9 hunt at 3pm. Children must wear a mask to participate in the hunt. We ask all parents & participants to not bunch up around the hunt area.
When: March 28, 1:00 - 3:00 p.m.
Where: Quakertown Farmers Market and Flea Market
Cost: Free
Photos are socially distanced with the Bunny in his Easter Display behind plexiglass to keep everyone safe. Please keep a 6 foot distance while waiting in line for photos.
When: Mar 20 - 21, Mar 27 - 28, Apr 2 - 3
Where: Quakertown Farmers Market and Flea Market
Cost: $4.00 each or 3/$10.00
This is a gallery wide show featuring 20 award-winning artists and will celebrate the beauty of the season in gardens, river banks and rolling hills as well as flowers. The exhibition will showcase painting in oil, pastel and watercolor.
When: Through June 6
Where: Patricia Hutton Galleries
Cost: Free