Eat breakfast with Santa Claus at Shady Brook Farm, play Dreidel games at the Bucks County Visitor Center and feast your eyes on the fantastic gingerbread display at Peddler's Village!
Check out our guide below for details on this weekend's must-see events around the County. Stay up-to-date on what's coming up next week with our Upcoming Events calendar. 
Friday, December 20

It's the shortest day of the year! Enjoy a special night on the Silver Lake Trails after dark, followed by a campfire and marshmallows, as well as a visit to the SLNC Earthship!
When: December 20, 6:30 - 8 p.m.
Where: Silver Lake Nature Center
Cost: $10
Make the Visitor Center your first stop when celebrating the Holidays in Bucks County. Don't miss Holiday Trees at the Visitor Center, a beautifully decorated display of trees and pick up the exclusive Bucks County Holiday Experience Book on must-see holiday attractions and events!
When: Through January 4, 9:00 a.m. – 5 p.m.
Where: Bucks County Visitor Center
Cost: Free to attend
Self-taught award-winning artist and native of Bucks County, Jill Tarabar, is proud to present a display of Chanukah Menorahs at the Bucks County Visitor Center this holiday season. Jill mixes a variety of clear textured glass with bevels and found objects. Much of her work consists of functional gift items such as jewelry boxes, Menorahs & Mezuzot!
When: Through January 4, 9:30 a.m. – 4:30 p.m.
Where: Bucks County Visitor Center
Cost: Free to attend
"An Acoustic Christmas" is a one-night-only concert that will feature a specially assembled group of local musicians playing unplugged versions of everyone's favorite Christmas songs. Featured musicians include John Beacher, Brad Hinton, Amanda Penecale and LisaBeth Weber. Free hot chocolate, coffee and cookies are included. Beer and wine will be available for purchase at the theatre before the show and during intermission.
When: December 20, 8 – 10 p.m.
Where: Newtown Theatre
Cost: $20 online; $30 at the door
The Gingerbread Competition & Display is a feast for the eyes with creative and whimsical entries in several categories: Traditional, Authentic Reproduction, 3-D, Movie or TV Set, Student, Kids Only and more! The Gingerbread entries will be on exhibit in the Village Gazebo during shopping hours.
When: Through January 4, Display Times Vary
Where: Peddler's Village
Cost: Free to attend
Join Santa and Mrs. Claus for a ride upon their magical Steam Train through the historic Bucks County countryside. Sing along with the roaming musicians as they play Christmas carols and you enjoy warm cocoa and a freshly baked cookie. Share your wishes with Santa as he and Mrs. Claus visit with the children. Each child will receive their own sleigh bell gift from Santa himself. Children and adults are encouraged to wear pajamas while settling in for a relaxing ride aboard our festive railway cars adorned with holiday decorations.
When: Daily until December 24, Times Vary
Where: New Hope & Ivyland Railroad
Cost: Prices Vary
Saturday, December 21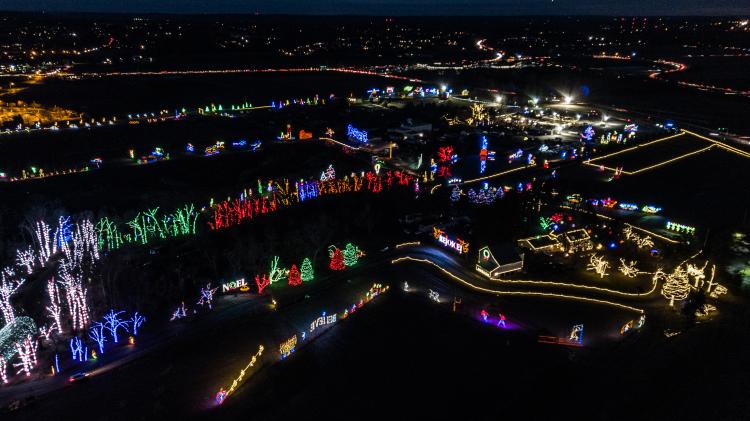 Experience the magic of more than 3 million lights illuminating acres of farmland at Shady Brook Farm's Holiday Light Show! Encounter whimsical displays and familiar characters as you drive through in the comfort of your own car or enjoy the show on an open-air wagon ride (weather permitting). The two-mile trail takes about 20 minutes to drive through if you're taking your time to enjoy the sights.
When: Through January 5, 5 - 10 p.m.
Where: Shady Brook Farm
Cost: $30/carload
Feed your holiday excitement with a festive meal with Santa himself! Enjoy a homemade breakfast, get that perfect picture of Santa with your little ones, and create memories that will last a lifetime. Each paid child gets a FREE 5 x 7 photo with Santa. Space is limited and advance tickets are required.
When: December 21, 9 - 11 a.m.
Where: Shady Brook Farm
Cost: $24.95/adult, $19.95/child.
Formed in 2010, EagleMania has emerged as a major act throughout the East Coast, performing to sold out audiences everywhere they go. EagleMania performs all of the hits of the Eagles, as well as Don Henley, Glen Frey, and Joe Walsh's solo albums. The band consists of an ensemble of veteran musicians whose goal is to faithfully reproduce the Eagles repertoire!
When: December 21, 8 – 10 p.m.
Where: New Hope Winery
Cost: $39
VeryCoolLights presents their Christmas Light Show! About 20,000 LED lights choreographed to 10 songs at the Catalpa Road location, and over 3,000 lights choreographed to 5 songs at the York Road location!
When: Through January 12, 5 - 10 p.m.
Where: 901 Catalpa Road, Warminster
Cost: Free to attend
Despite hosting a holiday party last year, which resulted in the murders of Ebenezer Scrooge and Tiny Tim, the Sawyers are going to give it another try. They have invited all of their closest friends for their annual holiday party and are hoping for no mishaps this year. But when an uninvited guest shows up, someone is bound to exclaim, "What the deadly Dickens?"
When: Select dates November 9 - January 11, 7:30 p.m.
Where:  Peddler's Village
Cost: $69.95 per person (includes dinner, show, tax & service charge)
Crowd favorite Low Totem brings their high energy covers to The Naked Brewing taproom! Come hungry - Chuck's BBQ food truck will be serving up favorites.
When: December 21, 7 – 11 p.m.
Where: Naked Brewing Company
Cost: Free to attend
Sunday, December 22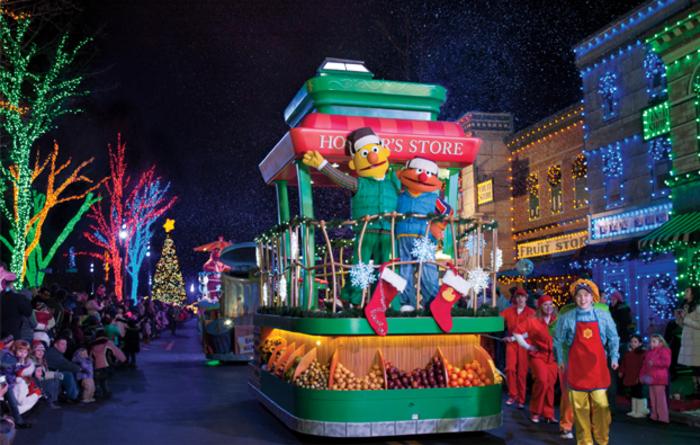 Visit for a festive, family-friendly celebration with everyone's favorite Sesame Street® friends. The park is transformed into a one-of-a-kind Christmas wonderland with millions of twinkling lights and festive decorations all around.
When: Through January 1
Where:  Sesame Place® Philadelphia
Cost: Ticket prices vary
Gather the kids for a book reading of If the Candles Could Speak by Dassie Prus at the Bucks County Visitor Center. There will also be dreidel games for Hanukkah fun! 
When: December 22, 12 – 1 p.m.
Where: Bucks County Visitor Center
Cost: Free to attend
Be sure to bring your own camera, as Santa will be visiting the Holiday Trees Exhibit.  On this day in particular, Santa will stay until 4:00 p.m. to take pictures with pets for the last hour!
When:  December 22, 1 - 4 p.m.
Where: Bucks County Visitor Center
Cost: Free to attend
The use of reclaimed materials and objects, married with Ed Bennet's signature cutting-edge art, results in striking, fully functional furniture. Old world meets new in a one-of-a-kind visual symphony meticulously orchestrated to play well in almost any decor.
When:  Daily until January 3, 9:30 a.m. - 4:30 p.m.
Where: Bucks County Visitor Center
Cost: Free to attend
Just in time for football season, Pigskin Peanuts showcases fifty of Charles M. Schulz's daily and Sunday Peanuts comic strips featuring the sport of football and the popular characters Charlie Brown, Woodstock, Snoopy and more. Dress up as football players and take pictures at the interactive photo station featuring Peanuts characters. The companion exhibit, Bucks County Plays Football! highlights some of Bucks County's own football history and traditions and will include historic photographs, video footage, game programs, tickets, sports cards and other artifacts and memorabilia.
When: Through February 9, 10 a.m. – 5 p.m.
Where:  Mercer Museum
Cost: Free with Museum Admission