Happy Valentine's Day weekend! Fall in love with all there is to do in Bucks County. Still trying to find the perfect date destination? View this article for all the best deals!
Check out our guide below for details on this weekend's must-see events around the County. Stay up-to-date on what's coming up next week with our Upcoming Events calendar. 
FRIDAY, FEBRUARY 12

Sand Castle Winery invites you to celebrate the holiday weekend with fun-filled events and activities. We are also offering "TO GO" packages for those guests who would like to celebrate in the comfort of their own home. For detailed information, menus, reservations, and tickets - visit www.sandcastlewinery.com.
When: February 12 -- 14
Where: Sand Castle Winery
Cost: Ticket prices vary 
Arete means "to live in virtue." The gallery showcases art that improves the human condition. True to the mission is "a triple threat of powerful black female perspectives" through photos, poetry and mixed media. Explore their Black History Month exhibition, which celebrates a commanding trio of black female artists.
When: Thursday – Sunday in February; 10 a.m. – 5 p.m.
Where: Arete Gallery
Cost: $25 per person 
Brand new exhibit! Through the Lens explores nearly 70 years of artistic experimentations with photographic processes and subject matter by artists in the Delaware Valley region. With work ranging from carefully hand-painted, bucolic landscapes to decisive snapshots taken on the street, Through the Lens highlights distinctive work in the Michener's photography collection, including many that have never before been on view.
When: Through August 15
Where: Michener Art Museum 
Cost: Free with museum admission 
Come join AOY Art Center as they show some love for the arts! The "Love the Arts!" exhibition will display original art from AOU member artists entirely through an online platform. There are landscapes of Bucks County countryside, remembrances of international travel and backyards, portraits and pets and colorful abstract works. All media is represented including oil, acrylic, watercolor, encaustic, photography and mixed media. There are also unique jewelry, handcrafted basketry and ceramics. Art purchases can be made online and AOY will make appointments for you to pick up the art at the Center, or curbside if desired. 
When: through February 22
Where: Online @ aoyartcenter.org 
Cost: Free to attend
John Spears opens New Hope Arts exhibition year with an in-gallery exhibition designed to explore space and illusion, when architecture and art work together. The eighteen canvases curated by Rita Romanova Gekht, arranged as viewer-centered experience, illuminate Spear's method developed over his forty-five-year career. Large scale images delight using both UV and LED light to reveal the vast array of colors and textures unseen in natural light.
When: Friday, Saturday & Sunday through March 21; noon – 5 p.m.
Where: New Hope Arts Center
Cost: Free to attend
SATURDAY, FEBRUARY 13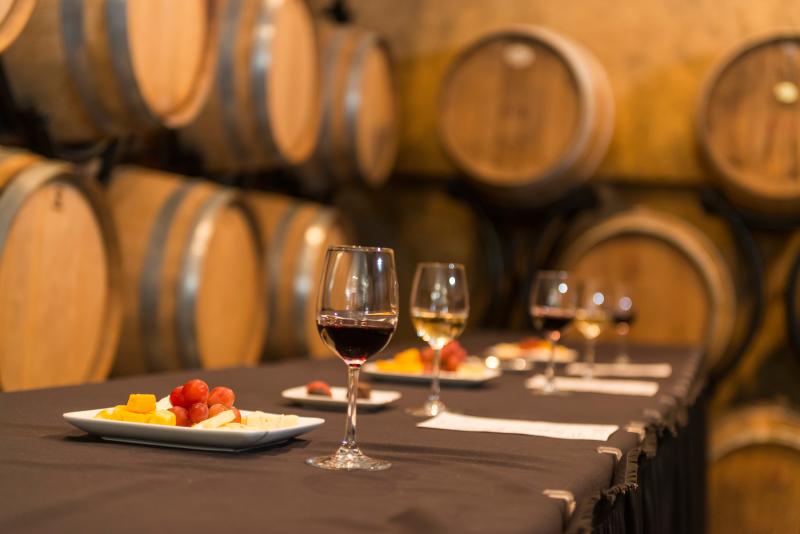 Wine and Chocolate For Lovers
Give your honey some sugar at Crossing Vineyards with a special wine pairing experience. Enjoy an assortment of artisanal chocolates from Naked Chocolate of Newtown, paired with our award-winning wines. Includes a table for two, wine tasting and a selection of gourmet chocolates.
When: February 13 – 14
Where: Crossing Vineyards and Winery
Cost: $40 per person  
Show your lover some appreciation this Valentine's Day with the "be mine" brunch. The menu includes Red Velvet Pancakes, Orange Strawberry Mimosas, XXL Bourbon Pepper Bacon, Shakshuka and Chocolate Cherry Bark. What's not to love? The menu is available for dine in or pick up.
When: February 12 – 14
Where: Turning Point
Cost: $39.95 per couple  
Ready to get out and have a little fun? Come chill out in the Greenhouse with the Winter unWINEd! There's live music, food & drinks + the chance to hang out with friends in a safe environment. Tickets are limited and masks must be worn unless seated.
When: February 12 & 13, 5 – 10 p.m.
Where: Shady Brook Farm
Cost: $5 Cover
Enjoy acoustic music from local performers! Check the website for complete details: performances and schedule subject to changes. Light bites available, as well as beer wine and cocktails! 
When: Through March 27, 2 - 6 p.m. 
Where: Crossing Vineyards and Winery 
Cost: Free to attend 
Treat your Valentine to something really special! Gift this incredible to go collaboration from Magic Arts Studio & Sweet Treat Too and Neshaminy Creek Brewing Company. Your package will include 6 excellent beers and 12 amazing chocolate truffles.
When: Pickup February 6 - 13 
Where: Neshaminy Creek Brewing 
Cost: Prices vary 
Paint and Sip Night For Valentine's Day!
Paint and Sip with a partner on Valentines weekend! BYOB! Enjoy an evening of creativity together ! We will create a painting that is inspired by the Robert Indiana LOVE sculpture displayed in Philadelphia! Masks required, social distancing practiced.
When: February 13, 7 p.m.
Where: Art in the Barn
Cost: $50 for 2 partners
SUNDAY, FEBRUARY 14

Tony Sands takes you from the silver screen of Hollywood to Frank's Main Event comeback. Sinatra's best loved songs are performed in this sensational storytelling musical. Sing along in person or livestream the event from home!
When: February 14 @ 4 p.m. 
Where: Sellersville Theater 
Cost: Ticket prices vary 
This ALL-NEW event series will offer guests brand-new, limited capacity special events where they can celebrate everyone's favorite red monster during Elmo's Rockin' Birthday Bash, treat little ones to a fun day during the My Fuzzy Valentine's Celebration, let the good times roll during the park's FIRST-EVER family-friendly Mardi Gras Celebration, and grab cozy jammies to celebrate our favorite feathered friend's birthday at Big Bird's Pajama Party!
When: Saturday & Sunday through March 21
Where: Sesame Place
Cost: Ticket prices vary
Start off your Valentine's Day with a lovely three course brunch from 11:30 a.m. – 2:30 p.m. or celebrate your love with a special four course dinner in our romantic, candlelit dining rooms from 4 p.m. – 8 p.m.
When: February 14
Where: Washington House Hotel & Restaurant
Cost: Prices vary  
Join us for a virtual celebration of George Washington's 289th birthday! Sing "Happy Birthday" to General Washington, show him your homemade card or drawing, and enjoy dessert with him if you'd like. At the end, George Washington will take questions from children in the audience, so be sure to think of a good question!
When: February 14
Where: Washington Crossing Historic Park
Cost: Free to Attend 
Do you love wine and cheese? Join us for a wine and cheese pairing experience, available everyday in January. Six wines and six cheeses thoughtfully paired to enhance both our wines and Wisconsin cheeses. For groups of 10 or more reservations and deposit required.
When: through February 28
Where: Bishop Estate Vineyard and Winery
    Cost: $15 per person      
Step back in time to the 1850's at Newtown Hall, now known as The Newtown Theatre. Learn about the Newtown Hall sermons by Frederick Douglass, Lucretia Mott and other key figures of the early anti-slavery and women's suffrage movements. Discover the story of many of our nation's abolitionists and early women's suffrage pioneers while viewing life-sized figures dressed in period attire, anti-slavery literature, women's suffrage memorabilia, accessories, photos, and more. In celebration of Black History Month this display will also include Bucks County children's artwork.
When: through March 21
Where: Bucks County Visitor Center
Cost: Free to attend
Looking to beat the winter blues? Grab the family for an afternoon of outdoor fun. Join Silver Lake Nature Center for a leisurely and informative walk covering seasonal topics. The spacious and scenic trails wander through diverse habitats preserved at the Nature Center. 
When: February 14, 1 – 2:30 p.m. 
Where: Silver Lake Nature Center 
Cost: Free to attend