Another fun filled weekend has arrived in Bucks County! Enjoy a delicious food truck festival at Bolton Mansion, sip on local Bucks County wine during Nouveau Weekend or kick off the holiday season with the magical North Pole Express Train at New Hope Railroad. 
Check out our guide below for details on this weekend's must-see events around the County. Stay up-to-date on what's coming up next week with our Upcoming Events Calendar.
FRIDAY, NOVEMBER 12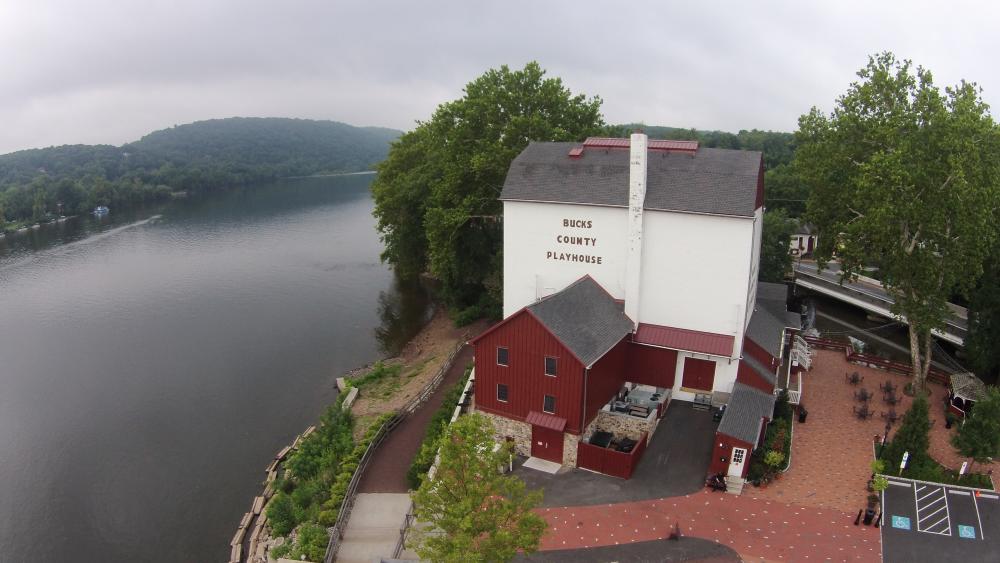 The lives and careers of three iconic singers, James Taylor, Carly Simon and Carole King, have always overlapped and interlinked — and their music is unforgettable. The new tribute show, Taylor Simon King, explores these musical icons through clever musical arrangements and selection of carefully chosen songs.
When: November 12
Where: Bucks County Playhouse
Cost: $45  
Bring your family and friends to the rolling hills of Bucks County amidst the beauty of fall's finest colors to enjoy a great day of fun on the farm. General Admission includes entry to our 18 acre Adventure Farm area which includes a Hayride, 2 Corn mazes, Farm animals, 3 slides, Tractor Tire playground and 40+ activities for children and adults of all ages.
When: Weekends in November
Where: Hellerick's Family Farm
Cost: Ticket prices vary
The Golden Girls are at it again! Miami's Fab Four are planning their annual Halloween shindig, and the goblins and ghouls have all come out to play. Will you solve the mystery? Before the show, make sure to visit the unique  restaurants and shops at Peddler's Village. 
When: Now through November 13 
Where: Cock 'n Bull 
Cost: Ticket prices vary 
Take a step back in time to experience the origins and traditions of past Christmas's in The Parry Mansion. The Mansion is sparkling with holiday cheer, just waiting to share this joyous season with you.
When: Weekends through December 19 
Where: Parry Mansion Museum
Cost: $10
Celtica is the latest and greatest bagpipe driven Celtic hard rock act we're bringing to our many Celtic fans! Composed of musicians from all over the world, Celtica has taken festivals and concert halls by storm!
When: November 12
Where: Sellersville Theater 
                                                                      Cost: $21.50                                                                         
Enjoy an evening out with your girlfriends, your mom, your sisters, your daughters, or anyone who enjoys bingo or beautiful bags while supporting the cross-cultural, humanitarian, and educational work and mission of Pearl S. Buck International. Space is limited and tickets are expected to sell out quickly!
When: November 12
Where: Pearl S. Buck House & Historic Site

Cost: $40
Discover some of the physical and mental benefits from immersing yourself in the natural world at Bucks Audubon while learning about an art therapy technique of neuroart! All materials provided, however if participants have their own drawing paper and colored pencils, they are welcome to bring them.
When: November 12
Where: Bucks County Audubon Society
Cost: $15
SATURDAY, NOVEMBER 13 

With 10+ incredible food trucks, moon bounces, balloon art, costume characters, knocker ball, face painting, children's canvas painting, a DJ, vendors/crafters and a beer/cocktail garden, this will be a great celebration of food and fun for everyone!
When: November 13
Where: Bolton Mansion
Cost: Free to attend
Buckingham Valley Vineyards, Crossing Vineyards and Winery, Rushland Ridge Vineyards and Winery and Sand Castle Winery are offering Nouveau wine tastings during the event. Bishop Estate Vineyard and Winery may offer a new release in conjunction with Nouveau weekend. Please check with each winery to determine specific event times and details. Each winery sets its own hours and offerings.
When: November 13 – 14
Where: Bucks County Wine Trail 
Cost: No admission; wine tasting fees apply
Market in the Vineyard
Browse the fully outdoor market and support local vendors and small businesses this holiday season! Wine by Wycombe Vineyards and specialty cocktails by Sator Square Distillery will be available for purchase, as well as Taco Town food truck serving up some delicious tacos. Bring a blanket or chairs and enjoy live music from 1 - 4!
When: November 13 
Where: Wycombe Vineyards
Cost: Free 
Wine and Horse Drawn Wagon Rides
Celebrate Nouveau Weekend (A Bucks County Wine Trail Event!) Join Bishop Estate Vineyard and Winery for a special afternoon and enjoy a horse drawn wagon ride through the vineyard. Come early and get a glass of wine for the ride. 
When: November 13 
Where: Bishop Estate Vineyard and Winery 
Cost: $20 each 
Come have a flight or share a chilled bottle of hard cider on Saturdays! The bonfire will be going during chilly days so dress appropriately. Our hard cider is made in house from our very own apples. Mostly dry and sparkling it's a refreshing drink of choice for sociable day drinking. 
When: Saturdays through November 20 
Where: Manoff Market Gardens & Cidery 
Cost: Free to attend  
Weekly comedy showcase! 8 hilarious comics bring the funny while top notch staff serve food and drinks! Each week brings a brand new lineup. 
When: Saturdays through December 18 
Where: Water's Edge Gastropub and Lounge 
Cost: $20 
Tour highlights include newly-discovered research about the Grundy family's domestic staff, details about our extensive interior restorations, and collection items never exhibited before. Required reservations can be made online through TicketLeap. 
When: Saturdays through November 
Where: Margaret R. Grundy Memorial Museum 
Cost: Free to attend, reservation required 
You are invited to the Annual Holiday Small Works Show at Canal Frame-Crafts Gallery! The show presents over 30 artist's work in a variety of mediums - Oil, Watercolor, Pastel, Egg Tempera, Acrylic and Pottery.
When: Now through December 30
Where: Canal Frame - Crafts Gallery
                                     Cost: Free to attend                                  
The Hot Club of Philadelphia is an exciting acoustic ensemble dedicated to playing 'Gypsy Jazz' — the musical genre pioneered by the legendary guitarist Django Reinhardt and Violinist Stephane Grappelli and their Hot Club of France Quintet. The Hot Club of Philadelphia mixes the original style of these genre-breakers along with their own modern influences.
When: November 13
Where: Bucks County Playhouse
Cost: $45
Please join The Shops at Valley Square as they officially welcome the arrival of Santa and Mrs. Claus! Enjoy DJ contests, face painting, bounce houses and so much more while listening to the joyful sounds of the holidays.
When: November 13
Where: The Shops at Valley Square
Cost: Free to attend
SUNDAY, NOVEMBER 14

Christmas time will soon be here, bringing along joyous memories of times past. This year the New Hope Railroad invites you along as we set the clock back and showcase a magical journey mirroring those of years ago.
When: Now through December 30
Where: New Hope Railroad
Cost: Free to attend
Four Detroit auto workers panic as rumors that their factory is closing circulate through the tight-knit work community. With their futures unknown, each of the workers must make difficult choices about loyalty to each other, the company, and themselves. Don't miss this performance at Bristol Riverside Theater!
When: Select dates through November 21
Where: Bristol Riverside Theater
Cost: Ticket Prices Vary
Take this expertly guided walking tour to see the places and hear the tales that make New Hope such a fascinating place. The tour is approximately one mile long and lasts about one hour.
When: Every Sunday, 2:00PM to 3:00PM
Where: Start at The Parry Mansion 
Cost: $10 per person 
"Found, Gifted, Saved! The Mercer Museum Collects Local History", a new exhibit at the Mercer Museum, displays artifacts collected by the Bucks County Historical Society in the first two decades of the 21st Century. What objects, images, and documents are among these acquisitions, and what do they reveal about Bucks County's people, history and culture?
When: Now through April 10 
Where: Mercer Museum
Cost: Exhibit included with Mercer Museum admission
Join one of Pennsylvania's longest-running associations of quality antiques dealers, the Bucks County Antiques Dealers Association, for their 74th Annual Antiques Show.  Find your perfect treasures and enjoy beautiful Bucks County.
When: November 13-14
Where: Eagle Fire Hall
Cost: $6, Children under 16 are free.
Come and join the Lenape Chamber Ensemble's 47th Baroque Fest featuring world renowned musicians from New York to Chile! This concert is a refreshing chance to hear these superb musicians in an acoustically excellent theater auditorium!
When: November 14
Where: Life Sciences Auditorium at Delaware Valley University
Cost: Adults: $18 Students & Seniors: $15 Children $5
A bona fide guitar hero, Al Di Meola has been recognized internationally over the past four decades as virtuoso of the highest order. And while his dazzling technique on both acoustic and electric guitars has afforded him regal status, the depth of Di Meola's writing along with the soulfulness and his inherent lyricism of his guitaristic expression have won him legions of fans worldwide beyond the guitar aficionado set.
When: November 14
Where: Sellersville Theater
Cost: 59.50
Joseph Marchetti, graduate of Central High School in Philadelphia and Tyler School of Art, Temple University presents "Places I Remember". The exhibit includes paintings that represent over two years of work in Bucks, Lancaster and Lehigh Counties. The body of work started with a painting of the Scholfield-Ford Covered Bridge in Tyler State Park and now includes covered bridges, farms, barns and castles in Pennsylvania.
When: Now through January 7
Where: Bucks County Visitor Center
Cost: Free to attend
Join the Rainbow Ridge Farm Therapeutic Equestrian Center for fun filled pony rides every Sunday from 12 PM – 2 PM. Spend the day with their adorable ponies and even go feed their petting zoo animals! 
When: Every Sunday
Where: Rainbow Ridge Farm Therapeutic Equestrian Center
Cost: $10 a pony ride