Watch talented musicians and performers bring holiday tunes to life, travel through the Shady Brook Farm Holiday Light Show and experience holiday magic around Bucks County!
Check out our guide below for details on this weekend's must-see events around the County. Stay up-to-date on what's coming up next week with our Upcoming Events calendar.
Friday, December 13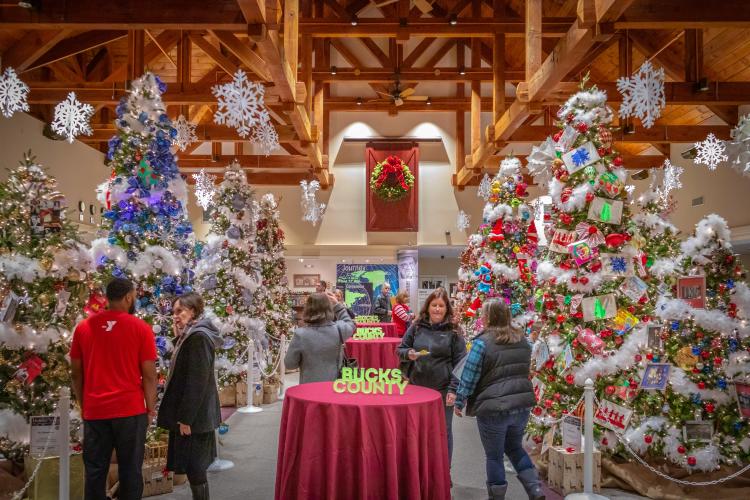 Make the Visitor Center your first stop when celebrating the Holidays in Bucks County. Don't miss Holiday Trees at the Visitor Center, a beautifully decorated display of trees and pick up the exclusive Bucks County Holiday Experience Book on must-see holiday attractions and events!
When: November 20 – January 4, 9:00 a.m. – 5 p.m.
Where: Bucks County Visitor Center
Cost: Free to attend
Returning for his 16th year, renowned actor and great-great grandson of Charles Dickens, Gerald Dickens will be performing his spirited rendition of "A Christmas Carol" on the factory floor of Byers' Choice. During this energetic one-man show, Dickens brings "A Christmas Carol" to life.
When: December 13 at 7 p.m., December 15 at 1 p.m. & 5:30 p.m.
Where: Byers' Choice®, Ltd.
Cost: $22.50
The chill of winter is in the air as Keith Baker and the BRT Concert Band, along with fabulous entertainers, take the stage to perform your favorite carols and heartwarming holiday songs. You won't want to miss this opportunity to celebrate the holidays in style!
When: December 13 - 15, Showtimes Vary
Where: Bristol Riverside Theatre
Cost: Prices Vary
The Gingerbread Competition & Display is a feast for the eyes with creative and whimsical entries in several categories: Traditional, Authentic Reproduction, 3-D, Movie or TV Set, Student, Kids Only and more. The Gingerbread entries will be on exhibit in the Village Gazebo during shopping hours.
When: November 15 - January 4, Display Times Vary
Where: Peddler's Village
Cost: Free to attend
Join Santa and Mrs. Claus for a ride upon their magical Steam Train through the historic Bucks County countryside. Sing along with our roaming musicians as they play Christmas carols and you sip warm cocoa and enjoy a freshly baked cookie. Share your wishes with Santa as he and Mrs. Claus visit with the children. Each child will receive their own sleigh bell gift from Santa himself. Children and adults are encouraged to wear pajamas while settling in for a relaxing ride aboard our festive railway cars adorned with holiday decorations.
When: Daily until December 24, Times Vary
Where: New Hope Railroad
Cost: Prices Vary
Hear all of your favorite holiday classics performed by Philadelphia's Premier Jazz Orchestra. Hot cocoa and holiday treats for all will be served in the lobby area before the show!
When: December 13, 7:30 p.m.
Where: Zlock Performing Arts Center
Cost: 25$ VIP; $12 General Admission
Come on down and they'll tell you a tale; One of a Christmas with rain, sleet, and hail. Vixen is tired of being deer number four; She knows deep down that she is worth more...You won't want to miss this holiday themed mystery dinner presented by Without a Cue Productions LLC.
When: December 13 & 14, 6:30 p.m.
Where: Fisher's Tudor House
Cost: $59.99/person
The Fixx has been heralded as one of the most innovative bands to come out of the MTV era. The band's themes are often complex, introspective and thought-provoking, and it's had three #1 hits and millions of albums sold worldwide. Songs such as "One Thing Leads To Another", "Red Skies" and "Saved By Zero" remain everyday staples on radio stations!
When: December 13, 8 – 10 p.m.
Where: New Hope Winery
Cost: $65
Saturday, December 14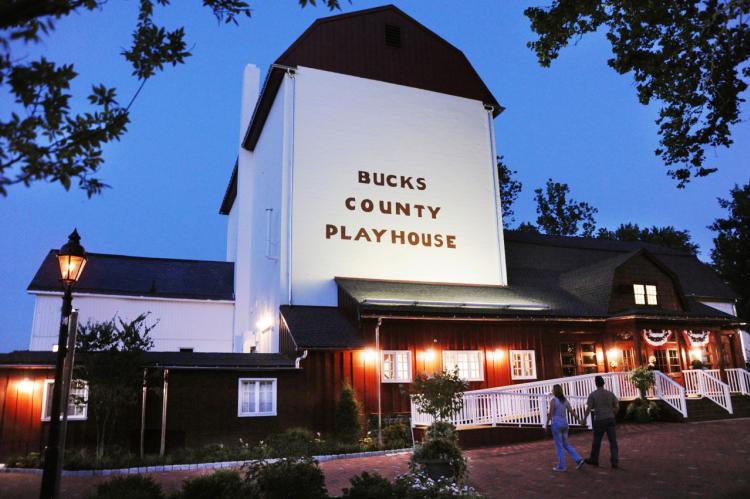 Back by popular demand, "Ebenezer Scrooge's Big Playhouse Christmas Show" returns to delight audiences of all ages again in 2019. Five quick-changing actors play dozens of roles in this fast, funny and highly theatrical reimagining of one of the most beloved holiday stories ever told. Terrorizing the good citizens of Bucks County, Ebenezer Scrooge's rediscovery of the Spirit Christmas comes in this riotous Dicken's mashup set in New Hope.
When: Friday, Saturday and Sunday through December 29
Where: Bucks County Playhouse
Cost: Ticket Prices vary
Wear your ugliest holiday sweater to this public skating session. Bring your camera for some fun pictures with friends and family. Skate rentals are included with admission.
When: December 14, 12 – 2 p.m.
Where: Revolution Ice Gardens
Cost: $5.00 with Ugly Sweater, $10 without
Celebrate the opening of Sand Castle Winery's Winter Garden. Cozy up around warm fire pits or sit under heated lamps while enjoying live entertainment, hors d'oeuvre's and sweets, and a complementary glass of their award-winning Alpine Spice wine!
When: December 14, 2 – 6 p.m.
Where: Sand Castle Winery
Cost: $30
Experience the magic of more than 3 million lights illuminating acres of farmland at Shady Brook Farm's Holiday Light Show! Encounter whimsical displays and familiar characters as you drive through in the comfort of your own car or enjoy the show on an open-air wagon ride (weather permitting). The two-mile trail takes about 20 minutes to drive through if you're taking your time to enjoy the sights.
When: November 23 – January 5, 5 - 10 p.m.
Where: Shady Brook Farm
Cost: $30/carload
Join herbal enthusiast and CNC employee Steph Catrambone for a foray into easy herbal remedies you can make at home! Talk herbs, ask questions, and make your own salve to get you through dry skin season! Bring a friend. Herbal teas and drinks will be served. You also have the opportunity to make extra tins to gift to your friends and family for the holidays!
When: December 14, 7 p.m.
Where: Churchville Nature Center
Cost: $15
VeryCoolLights presents their Christmas Light Show! About 20,000 LED lights choreographed to 10 songs at the Catalpa Road location, and over 3,000 lights choreographed to 5 songs at the York Road location!
When: November 29 – January 12, 5 - 10 p.m.
Where: 901 Catalpa Road, Warminster, PA 18974
Cost: Free to attend
Despite hosting a holiday party last year, which resulted in the murders of Ebenezer Scrooge and Tiny Tim, the Sawyers are going to give it another try. They have invited all of their closest friends for their annual holiday party and are hoping for no mishaps this year. But when an uninvited guest shows up, someone is bound to exclaim, "What the deadly Dickens?"
When: Select dates November 9 - January 11, 7:30 p.m.
Where: Peddler's Village
Cost: $69.95 per person (includes dinner, show, tax & service charge)
Sunday, December 15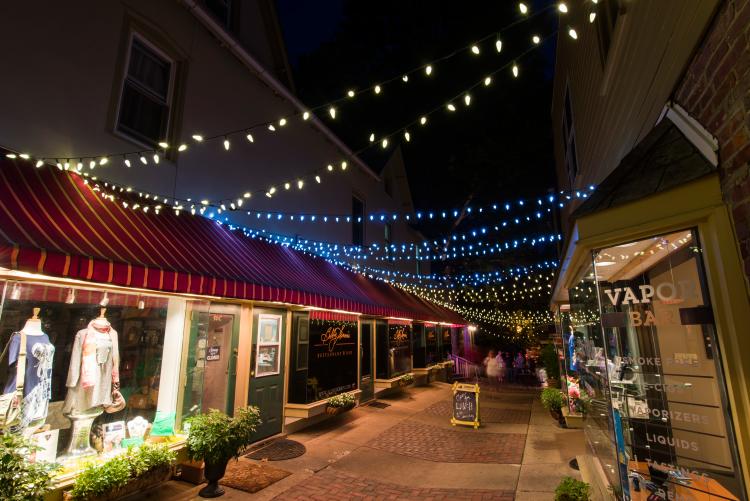 Sing holiday songs with the Temple Judea community! Eat delicious donuts and decorate cookies with Jkids Philly. Kids will receive goody bags and you can enter to win a drawing for prizes. Join Rabbi Sigal for a story at the Doylestown Bookshop at 2:45 p.m.
When: December 15, 1 – 3 p.m.
Where: State and Hamilton Streets in Doylestown Borough
Cost: Free to attend
Be sure to bring your own camera, as Santa will be visiting the Holiday Trees Exhibit.  When you're at the Visitor Center, make sure to grab a Holiday Experience Book.
When:  December 15, 1 - 3 p.m.
Where: Bucks County Visitor Center
Cost: Free to attend
This December, It's a Wonderful Life – A Live Radio Play returns to the DCP Stage by popular demand. Enjoy this classic story with your favorite holiday songs and 1940s radio commercials.
When: December 13, 14 & 15, show times vary
Where: DCP Theatre
Cost: Ticket Prices vary
The use of reclaimed materials and objects, married with Ed Bennet's signature cutting-edge art, results in striking, fully functional furniture. Old world meets new in a one-of-a-kind visual symphony meticulously orchestrated to play well in almost any decor.
When:  Daily until January 3, 9:30 a.m. - 4:30 p.m.
Where: Bucks County Visitor Center
Cost: Free to attend
"Charlie Brown Jazz" will feature the Eric Mintel Quartet playing music from "A Charlie Brown Christmas" and a selection of original songs. The Eric Mintel Quartet has been playing its electrifying brand of jazz for more than 25 years, largely in the Greater Philadelphia region!
When: December 15, 3 – 4:30 p.m.
Where: Newtown Theatre
Cost: $25 online; $35 at the door
Feed your holiday excitement with a festive meal with Santa himself! Enjoy a homemade breakfast, get that perfect picture of Santa with your little ones, and create memories that will last a lifetime. Each paid child gets a FREE 5 x 7 photo with Santa. Space is limited and advance tickets are required…get yours today!
When: December 14 & 15, 9 - 11 a.m.
Where: Shady Brook Farm
Cost: $24.95/adult, $19.95/child.
Visit for a festive, family-friendly celebration with everyone's favorite Sesame Street® friends. The park is transformed into a one-of-a-kind Christmas wonderland with millions of twinkling lights and festive decorations all around.
When: November 23 – January 1
Where:  Sesame Place® Philadelphia
Cost: Ticket Prices vary
Did you know many native cultures do not put faces on their dolls? Join us for this fun craft and hear the story behind this tradition. The Lenape did not waste anything, so you will see some great examples of how corn husks were used in everyday life. Create your own corn husk doll to take home.
When: December 15, 2 – 4 p.m.
Where: Churchville Nature Center
Cost: $5
Just in time for football season, Pigskin Peanuts showcases fifty of Charles M. Schulz's daily and Sunday Peanuts comic strips featuring the sport of football and the popular characters Charlie Brown, Woodstock, Snoopy and more. Dress up as football players and take pictures at the interactive photo station featuring Peanuts characters. The companion exhibit, Bucks County Plays Football! highlights some of Bucks County's own football history and traditions and will include historic photographs, video footage, game programs, tickets, sports cards and other artifacts and memorabilia.
When: November 15 – February 9, 10 a.m. – 5 p.m.
Where: Mercer Museum
Cost: Free with Museum Admission