The holiday season has officially arrived, and what better way to celebrate than a fun, festive filled weekend in Bucks County? Head to New Hope for their annual tree lighting or ring in the holidays with Elmo and his furry friends at the Very Furry Christmas Celebration at Sesame Place! 
Check out our guide below for details on this weekend's must-see events around the County. Stay up-to-date on what's coming up next week with our Upcoming Events Calendar.
FRIDAY, NOVEMBER 26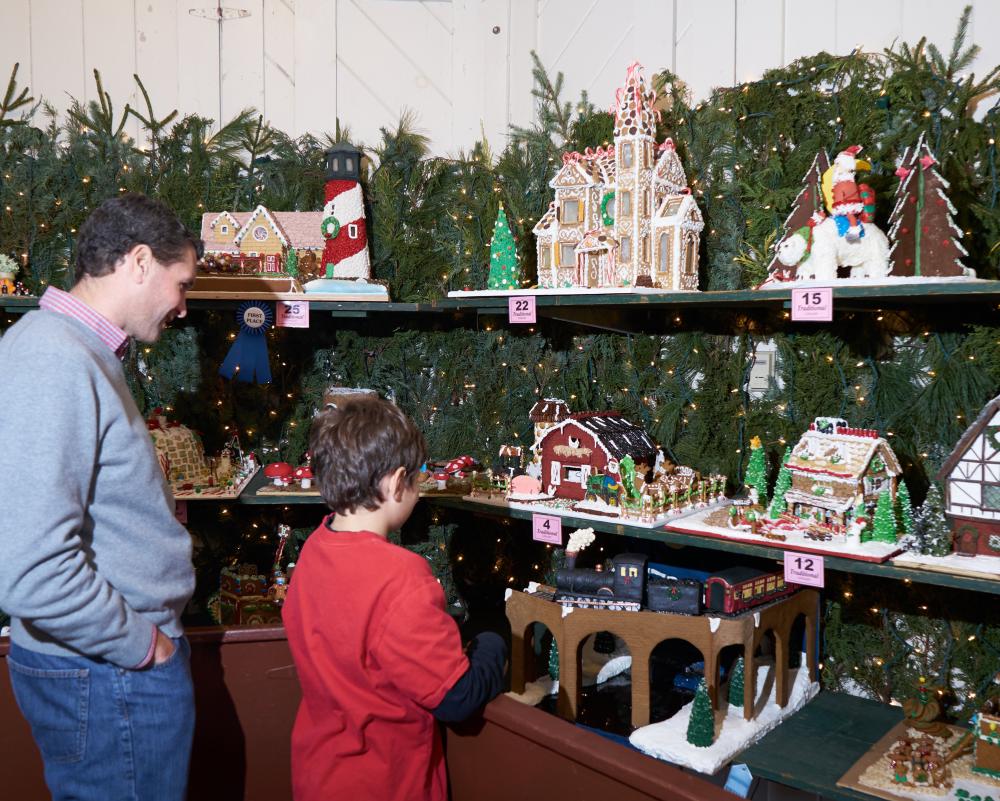 A holiday tradition at Peddler's Village since 1984, the Gingerbread Competition and Display is a feast for the eyes with more than 75 creative and whimsical entries in these categories: Holiday on Wheels, Traditional, Authentic Reproduction Around the World, 3-D, Movie or TV Set, Winter Wonderland, Student, and Kids Only.
When: November 19 to January 8
Where: Peddler's Village
Cost: Free to attend
Join Discover Doylestown for the 107th Annual Tree Lighting. Music performances start at 5 PM with the Bucks County Gilbert and Sullivan Society and the Central Bucks West Choir. Santa then arrives via fire truck at 6:30 PM to light the tree! 
When: November 26
Where: Downtown Doylestown
Cost: Free to attend
Take a step back in time to experience the origins and traditions of past Christmas's in The Parry Mansion. The Mansion is sparkling with holiday cheer, just waiting to share this joyous season with you.
When: Weekends through December 19 
Where: Parry Mansion Museum
Cost: $10
Amazing Christmas Village is a traditional European-style outdoor market where you can expect to have endless fun and a jolly time while eating, shopping and being festive to kick off celebrating this Holiday season.  
When: November 19 - December 31,Thursday through Sunday
Where: Neshaminy Square Shopping Center
Cost: Free to attend
This 45-minute guided tour with stops on five different floors invites visitors to journey back through time to explore Pitcairn holiday traditions in their 20th-century castle.
When: Now through January 30
Where: Glencairn Museum
Cost: Ticket Prices Vary
Hoey has been a driving force behind instrumental rock Christmas music since 1995 after his version of "The Twelve Days Of Christmas" hit the airwaves with its crunchy guitars and metal flavor. Gary's annual Ho Ho Hoey Rockin' Holiday Tour has become a tradition for families coast-to-coast, and Sellersville has been on that list for ten years!
When: November 26
Where: Sellersville Theater
Cost: $33
Please join The Parry Mansion in welcoming the Bucks County Women's Chorus and Cordus Mundi to kick-off the magical holiday season with friends and neighbors!
When: November 26
Where: Parry Mansion Museum
Cost: Free to attend
Please join the Washington Crossing Historic Park (Village Green, Route 32 and 532) for their Annual Tree Lighting and Food Drive in support of the Upper Makefield Fire Department's Food Drive.
When: November 26
Where: Washington Crossing Historic Park
Cost: Free to attend
Ring-A-Ding Ding! The famous (and infamous) Rat Pack — Frank Sinatra, Dean Martin and Sammy Davis Jr. — were the "Kings of Las Vegas Swing" from the late 1950s into the 1960s and they formed "the pack" as their own nightly on-stage party. Get ready to hit the bar and settle in for a celebration of the great music, revelry and spirit as three incredible entertainers recreate the magic that made this trio the hottest ticket on the Vegas strip.
When: Now through November 28
Where: Bucks County Playhouse
Cost: $45
Bring your family and friends to the rolling hills of Bucks County amidst the beauty of fall's finest colors to enjoy a great day of fun on the farm. General Admission includes entry to our 18 acre Adventure Farm area which includes a Hayride, 2 Corn mazes, Farm animals, 3 slides, Tractor Tire playground and 40+ activities for children and adults of all ages.
When: Weekends in November
Where: Hellerick's Family Farm
Cost: Ticket prices vary
SATURDAY, NOVEMBER 27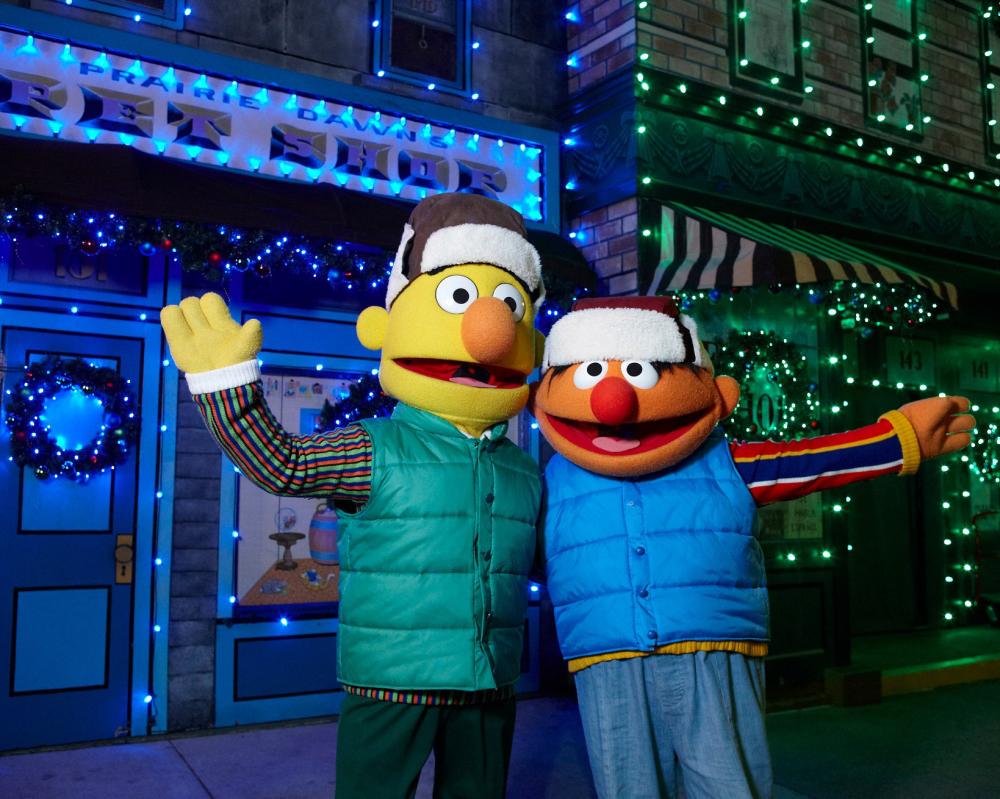 A Very Furry Christmas Celebration at Sesame Place is a festive, family-friendly celebration with everyone's favorite Sesame Street friends. The park is transformed into a one-of-a-kind Christmas wonderland with millions of twinkling lights and festive decorations all around! 
When: Now through January 2
Where: Sesame Place
Cost: Ticket Prices Vary
Bucks County's favorite holiday craft show, showcasing the works of approximately 50 artists and crafts people Every item in this show was individually selected by a jury, making a great mix of hand-crafted, vintage and antique pieces.
When: Now through December 5
Where: Pearl S. Buck House & Historic Site
Cost: $4
Send your letter to Santa! Santa has left a special direct mail box at the Market! Children can drop off their letters to Santa and we'll make sure Santa sends a personalized letter back! 
When: Now through December 19
Where: Quakertown Farmers Market and Flea Market
Cost: Free to attend
Glencairn Museum's annual World Nativities exhibition presents dozens of three-dimensional Nativity scenes collected from around the world.
When: Now through January 30
Where: Glencairn Museum
Cost: Suggested donation of $5 per person
A self-guided driving tour through southern Hunterdon County visiting seven professional artists studios in Lambertville, Stockton and Sergeantsville, NJ with an additional fourteen artists exhibiting in the Sergeantsville Firehouse Event Center during Thanksgiving Weekend.
When: Now through November 28
Where: Lambertville-Stockton-Sergeantsville
Cost: Free to attend
The Festival of Trees is one of the most unique and historic holiday traditions in the region. Each year during this festival, the rooms of Pearl S. Buck's iconic Bucks County stone farmhouse come alive with the glow of holiday decorations! 
When: Now through January 9
Where: Pearl S. Buck House & Historic Site
Cost: Ticket Prices Vary
Weekly comedy showcase! 8 hilarious comics bring the funny while top notch staff serve food and drinks! Each week brings a brand new lineup. 
When: Saturdays through December 18 
Where: Water's Edge Gastropub and Lounge
Cost: $20 
You are invited to the Annual Holiday Small Works Show at Canal Frame-Crafts Gallery! The show presents over 30 artist's work in a variety of mediums - Oil, Watercolor, Pastel, Egg Tempera, Acrylic and Pottery.
When: Now through December 30
Where: Canal Frame - Crafts Gallery
  Cost: Free to attend   
Tour highlights include newly-discovered research about the Grundy family's domestic staff, details about our extensive interior restorations, and collection items never exhibited before. Required reservations can be made online through TicketLeap. 
When: Saturdays through November 
Where: Margaret R. Grundy Memorial Museum 
Cost: Free to attend, reservation required 
SUNDAY, NOVEMBER 28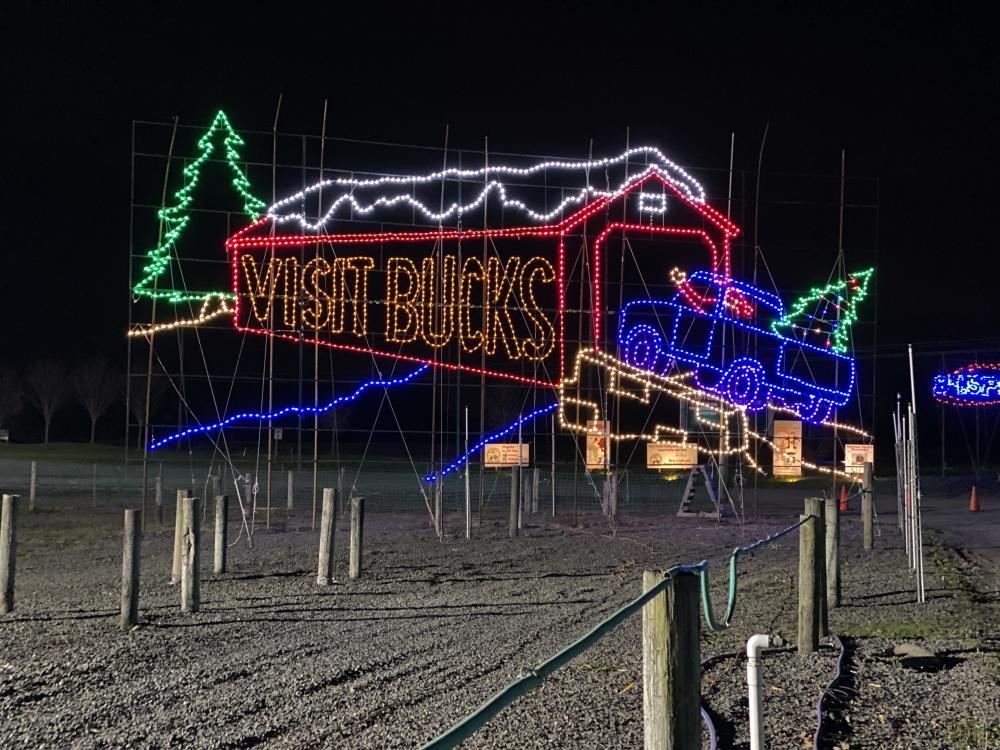 Shady Brook Farm hosts an extravagant show with more than 3 million lights on their acres of farm land. They offer two options: a socially distanced drive thru experience where visitors must stay in their car, mini-bus, limo, RV or bus, as well as an open-air wagon ride for guests to enjoy. At the end of the show, warm up with cup of hot cocoa and cook s'mores at a toasty bonfire.
When: Now through January 29
Where: Shady Brook Farm
Cost: Prices Vary
Christmas time will soon be here, bringing along joyous memories of times past. This year, the New Hope Railroad invites you along as we set the clock back and showcase a magical journey mirroring those of years ago.
When: Now through December 30
Where: New Hope Railroad
Cost: Free to attend 
Join The Shops at Valley Squarre on the first night of Chanukah for the lighting of the Menorah with Rabbi Prus of Chabad Lubavitch Doylestown. Featuring the gelt drop and free balloon art from Ben's Balloon Animals.
When: November 28
Where: The Shops at Valley Square
Cost: Free to attend
The tree on the corner of the Logan Inn's property will be lit for the holiday with an official ceremony, bands, choir, hot chocolate, and cookies–and Santa arriving by fire truck.
When: November 28
Where: Logan Inn
Cost: Free to attend
The leaves are beginning to change on the D&L Trail. Join us for an easy, guided ride along the trail in historic Upper Black Eddy. We will bike past 300 foot red shale cliffs once known as the Palisades of the Delaware to a local farmers market, and stop for refreshments at a local inn as time permits (additional/optional).
When: November 28
Where: D&L Trail Ringing Rocks Trailhead
Cost: $45 BYO Bike & Helmet $20
What holiday sits between Small Business Saturday and Cyber Monday and is cooler than both of those holidays put together? Small Brewery Sunday! Join The Aristaeus Brewing Company to celebrate the more than 8,000 small, independent breweries across the country!
When: November 28
Where: Aristaeus Craft Brewing Company
Cost: Free to attend
Join Chabad Lubavitch of Yardley for Chanukah on Main Street! Featuring: Giant Outdoor Menorah Lighting, Latkes & Donuts, Music, Chocolate Gelt, & Crafts!
When: November 28
Where: Borough Hall
Cost: Free to attend
Take this expertly guided walking tour to see the places and hear the tales that make New Hope such a fascinating place. The tour is approximately one mile long and lasts about one hour.
When: Every Sunday, 2:00PM to 3:00PM
Where: Start at The Parry Mansion 
Cost: $10 per person 
"Found, Gifted, Saved! The Mercer Museum Collects Local History", a new exhibit at the Mercer Museum, displays artifacts collected by the Bucks County Historical Society in the first two decades of the 21st Century. What objects, images, and documents are among these acquisitions, and what do they reveal about Bucks County's people, history and culture?
When: Now through April 10 
Where: Mercer Museum
Cost: Exhibit included with Mercer Museum admission
Joseph Marchetti, graduate of Central High School in Philadelphia and Tyler School of Art, Temple University presents "Places I Remember". The exhibit includes paintings that represent over two years of work in Bucks, Lancaster and Lehigh Counties. The body of work started with a painting of the Scholfield-Ford Covered Bridge in Tyler State Park and now includes covered bridges, farms, barns and castles in Pennsylvania.
When: Now through January 7
Where: Bucks County Visitor Center
Cost: Free to attend