Need weekend plans? Then look no further! Spend a fall weekend in Bucks County and explore our historic towns & main streets, shops, restaurants, wineries and everything in between.  
Check out our guide below for details on this weekend's must-see events around the County. Stay up-to-date on what's coming up next week with our Upcoming Events Calendar.
FRIDAY, OCTOBER 8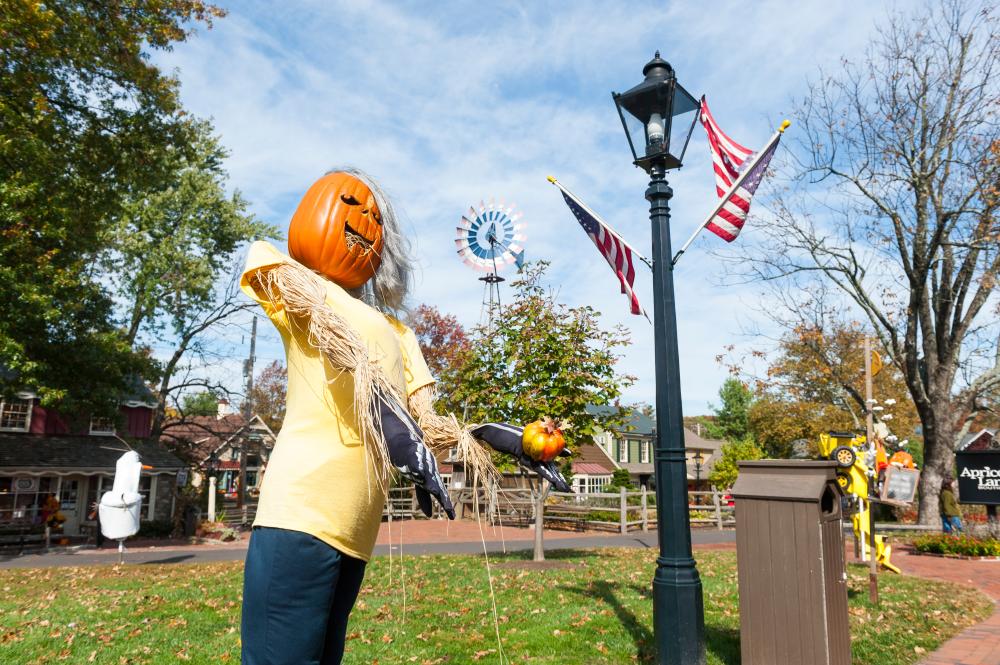 For eight fun-filled weeks, one hundred scarecrows dot the brick pathways of our autumn-tinted Village. Some are inspired by famous characters, some are humorous, some are scary – but all of them are carefully handmade by Philly-area residents and organizations.
When: Now through October 30 
Where: Peddler's Village
Cost: Free to attend 
Bring your family and friends to the rolling hills of Bucks County amidst the beauty of fall's finest colors to enjoy a great day of fun on the farm. General Admission includes entry to our 18 acre Adventure Farm area which includes a Hayride, 2 Corn mazes, Farm animals, 3 slides, Tractor Tire playground and 40+ activities for children and adults of all ages.
When: Fall weekends
Where: Hellerick's Family Farm
Cost: Ticket prices vary
Join the GhostDusters as they discuss Bucks County's famous haunts. But beware: While some of the ghost tales are true, some may be…less than authentic. Can you guess which stories are true and which are phantoms? Prizes will be awarded to those who know their Bucks County ghosts, but beware…We're ready to deceive you!
When: Now through November 7 
Where: Peddler's Village
Cost: $25 per guest 
Golden Girls Murder Mystery: The Halloween Caper 
The Golden Girls are at it again! Miami's Fab Four are planning their annual Halloween shindig, and the goblins and ghouls have all come out to play. Will you solve the mystery? Before the show, make sure to visit the unique  restaurants and shops at Peddler's Village. 
When: Now through November 13 
Where: Cock 'n Bull 
Cost: Ticket prices vary 
Murder for Two by Joe Kinosian and Kellen Blair 
Join us for one of the most uproarious musical comedies to hit stages, the sidesplitting and zany Murder for Two. It's a whodunit for two actors, one playing the detective, the other playing all thirteen suspects, and both of them taking turns accompanying each other at the piano. It's Agatha Christie meets Vaudeville and you won't want to miss it.
When: Now through October 10 
Where: Bristol Riverside Theater
Cost: Ticket prices vary 
Autumn Concert Series 
Celebrate the start of Autumn in the heart of New Hope with Singer Susan Whitenack. Bring a blanket or chair for this outdoor concert event! 
When: October 8, 6:00PM
Where: Parry Mansion Museum
Cost: Free to attend 
Haunted History Tours 
The Parry Mansion Museum Haunted History Tours featuring decades of haunting accounts from paranormal investigations, parapsychologist's, local residents and visitors. Come in and discover the hauntings if you dare!
When: Now through October 29 
Where: Parry Mansion Museum
Cost: $10 
Cocktails at the Castle
Join for a re-imagined, al fresco experience on the tented grounds of the Mercer Museum. Enjoy a portable feast, cocktails, entertainment, and silent auction. The event supports the Mercer Museum's education and community programs.
When: October 9, 4:00PM to 8:00PM
Where: Mercer Museum
Cost: $150 per person 
SATURDAY, OCTOBER 9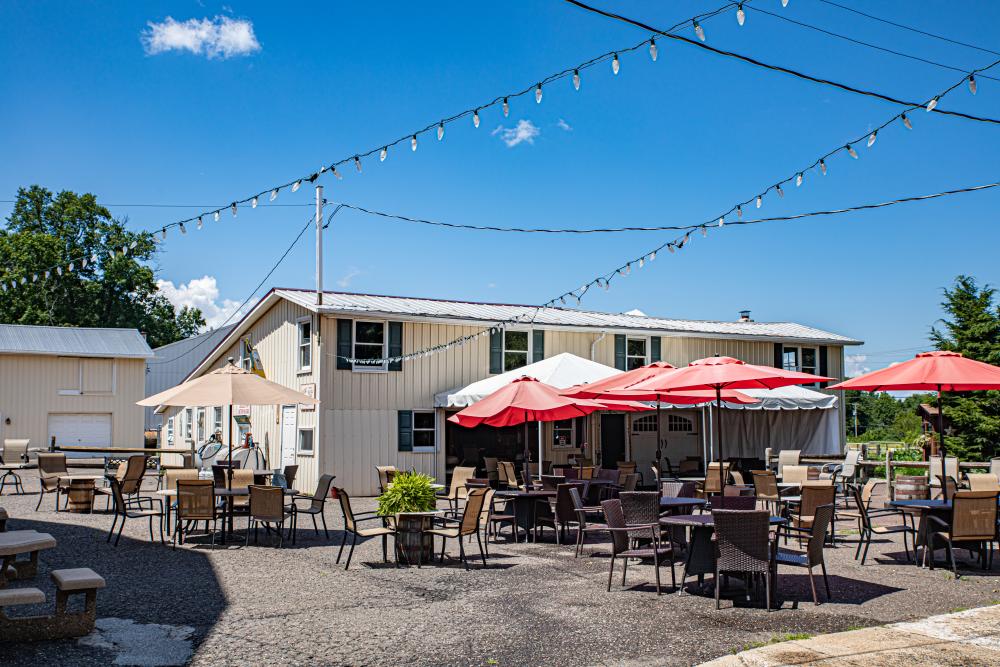 Harvest Celebration
It's time for The Bucks County Wine Trail's annual Harvest Celebration at each of the six member wineries: Bishop Estate Vineyard and Winery; Buckingham Valley Vineyards; Crossing Vineyards and Winery; Rose Bank Winery; Rushland Ridge Vineyard and Winery; and Sand Castle Winery. In addition to sampling an array of award-winning wines, guests can also sip freshly pressed grape juices from this year's harvest that have not yet fully transitioned into wine.  Hours, cost, and event specifics may vary by winery. 
When: October 9 & 10 
Where: Six member wineries 
Cost: Admission is free, wine tasting fees apply 
Historic Fallsington Day
This free community event will include something for everyone with many family-friendly activities including live music, historical demonstrations, artists, crafters, and participation from many community partners.
When: October 9, 10:00AM to 4:30PM 
Where: 4 Yardley Ave, Fallsington
Cost: Free to attend 
Come on out for some down on the farm fun including wagon rides, apple picking, pumpkin picking, 5 acre corn maze, live music (weekends) & lots more festival activities. 
When: Now through October 31 
Where: Shady Brook Farm
Cost: $12 weekday; $20 weekend
Fall Festival Weekends
Come enjoy Fall Fun on the Farm! Activities include pumpkin painting, pumpkin bowling, pumpkin ring toss, straw mountain, straw maze, an obstacle course, a corn pit, live animals, and more! 
When: Weekends through October 31 
Where: Charlann Farms 
Cost: $8.99 
Fall Festival 2021 
Froehlich's Fall Festival is the perfect fall adventure for all ages. The festival includes pick-your-own pumpkin patch, live music, bonfires + s'mores, cut out boards, hay maze, scarecrows and tractors, family photo opportunities and more. 
When: Weekends through October 31 
Where: Froehlich's Farm and Garden
Cost: Ticket prices vary 
Saturdays at the Cidery 
Come have a flight or share a chilled bottle of hard cider on Saturdays! The bonfire will be going during chilly days so dress appropriately. Our hard cider is made in house from our very own apples. Mostly dry and sparkling it's a refreshing drink of choice for sociable day drinking. 
When: Saturdays through November 20 
Where: Manoff Market Gardens & Cidery 
Cost: Free to attend  
Ghost Tours of Historic Hulmeville Borough 
View a short film about the history of Hulmeville and the paranormal hot spots in town. Then follow lantern led walking tour through downtown historic Hulmeville exploring 150 years of haunted history. 
When: Now through October 30 
Where: 321 Main Street, Hulmeville (Hulmeville Borough Hall)
Cost: $10 
Historic Walking Tour of Tyler Park 
All registrants will receive the new book on our local state park, "The History of Tyler State Park", written by Brian Rounsevill. Once registrants receive their tour book and orientation, they will be free to tour the park on their own over the course of the two-day event. 
When: October 9 & 10, 10:00AM to 4:00PM
Where: Tyler State Park
Cost: $15.90 
Join New Hope Winery every Saturday and Sunday for free live music performed by the greatest local talent in Bucks County. Performances are outdoors as weather permits, with a family and pet friendly experience!
When: Weekends through October 24 
Where: The Pour House at the New Hope Winery
Cost: Free to attend 
Murder by Gaslight: Murder of James Cosgrove 
The year is 1927, and as the champagne flows and the jazz plays, a shot splits the night...but who fired the shot that caused the demise of James Cosgrove? Enter a world of molls and gangsters, flappers and fellas, jazz bands, and gin joints. Stroll the mansion grounds and peek into the shadowy corners, led by your guide - who just happens to be the victim of a 100 year old murder!
When: Now through October 30 
Where: Historic Bolton Mansion 
Cost: $25  
Pints in the Park 
Enjoy an exciting roster of tastings from creative local breweries and distilleries! Live musical entertainment, food trucks, games, a cornhole tournament, and more. Meet some of the areas top brewmasters and learn their secrets to brewing the best beers. Plus bid on awesome items during the silent auction all while helping raise vital funds for local children and adults living with cancer. 
When: October 9, 12:00PM to 3:00PM
Where: 200 Kirk Rd, Warminster
Cost: 21+: $45, Designated Driver: $10
Travelin' McCourys
The McCoury brothers-- Ronnie (mandolin) and Rob (banjo) -- were born into the bluegrass tradition. Don't miss your chance to see them live this weekend! 
When: October 9, 7:30PM
Where: Zlock Performing Arts Center 
Cost: VIP - $30, GA - $20 
Tour highlights include newly-discovered research about the Grundy family's domestic staff, details about our extensive interior restorations, and collection items never exhibited before. Required reservations can be made online through TicketLeap. 
When: Saturdays through November 
Where: Margaret R. Grundy Memorial Museum 
Cost: Free to attend, reservation required 
SUNDAY, OCTOBER 10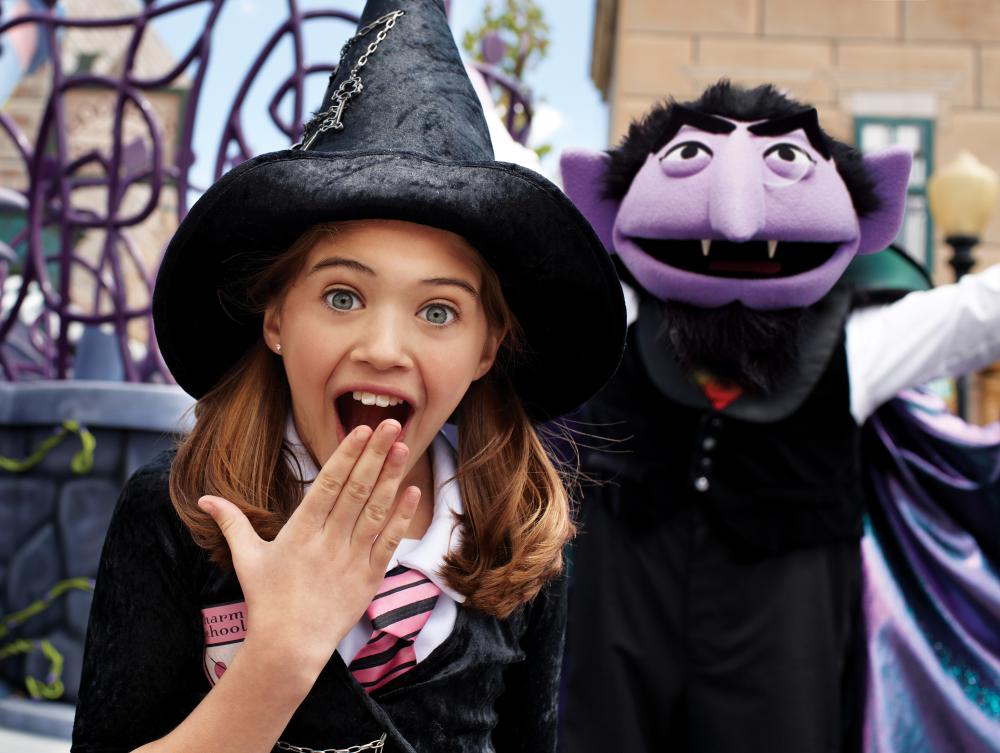 The park will be transformed into a family-friendly Halloween haven and guests will enjoy trick-or-treating around the park, Halloween-themed shows, participating in our interactive Scarecrow Scavenger Hunt, and unique photo opportunities with everyone's favorite furry friends dressed up in costume on their Halloween-themed floats!
When: Now through November 7
Where: Sesame Place Philadelphia
Cost: Ticket prices vary
Wine Tasting and Haunted Historic Tour
Being a ghost doesn't mean you can't be driven to murder! The ghosts of Bucks County are in a quandary. Some of them have been disappearing…for good…and no one wants to be next. When afterlives collide, who will be left with a ghost of a chance? Solve a murder at Homicide and Hauntings!
When: Sundays through October 24 
Where: Sand Castle Winery
Cost: $40 per person 
Breakfast & Botanical Illustration 
Sip on some mimosas or coffee, and enjoy a pastry while learning more about the art and science of botanical illustration. Then, we'll head out onto the property (if weather cooperates) to draw directly from the beauty of nature. A portion of the proceeds is donated back to Bucks Audubon.
When: October 10, 9:30AM to 11:30AM
Where: Bucks County Audubon Society
Cost: $35 per person 
Covered Bridge Bike Ride 
Choose from a 20-mile flat, family-friendly ride on packed gravel trails (visit one covered bridge), or 35-, 50-, or 63-mile challenging and hilly road rides (visit 4, 5 or 6 bridges). Enjoy the area's gorgeous fall colors, scenic roads and historic bridges. Routes are marked and fully supported. Well-stocked rest stops offer snacks and drinks. After your ride, enjoy our hearty grand finale lunch.
When: October 10, 8:00AM to 3:00PM
Where: Tinicum Park 
Cost: Adults: $50, Kids $20 
Jimmie Vaughan's The Story Tour 
When it comes to the blues today, there are a handful of guiding lights to make sure the music stays true to its powerful source. For Jimmie Vaughan, he's dedicated his life to making sure the blues not only stays alive, but remains full of life and an inspiration to all who listen. See him live this weekend! 
When: October 10, 8:00PM
Where: Sellersville Theater 
Cost: $65
Joseph Marchetti, graduate of Central High School in Philadelphia and Tyler School of Art, Temple University presents "Places I Remember". The exhibit includes paintings that represent over two years of work in Bucks, Lancaster and Lehigh Counties. The body of work started with a painting of the Scholfield-Ford Covered Bridge in Tyler State Park and now includes covered bridges, farms, barns and castles in Pennsylvania.
When: Now through January 7
Where: Bucks County Visitor Center
Cost: Free to attend
New Talent - Emerging Artists Invitational Exhibition 
This exciting collection of works represents artists at various stages of their lives who all share the goal of pursuing a career in the arts. Featuring a selection of works by eleven artists we are reminded that "emerging" talent is not just the domain of the ingenue. 
When: Now through November 7 
Where: New Hope Arts Center 
Cost: Free to attend