Kick-off the fall season with one of the many Oktoberfest celebrations across the Bucks County Ale Trail, spend the day at the New Hope Arts & Craft Festival or enjoy some not-so-spooky fun at Sesame Place. 
Check out our guide below for details on this weekend's must-see events around the County. Stay up-to-date on what's coming up next week with our Upcoming Events Calendar.
FRIDAY, SEPTEMBER 24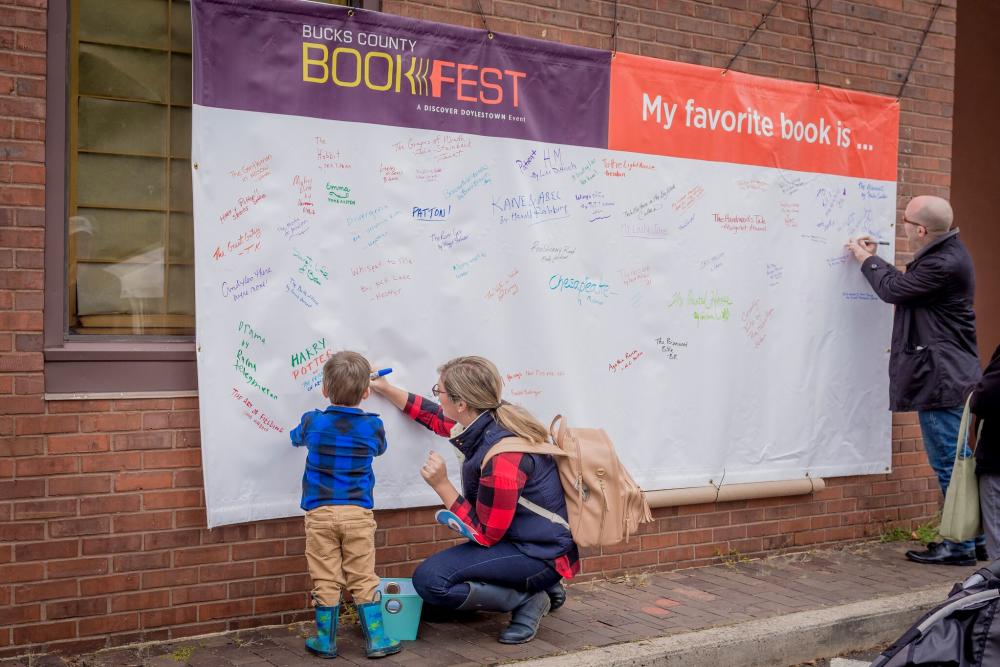 Bucks County Book Festival 
The fourth annual Bucks County Book Festival returns!  This three-day celebration, connecting authors and book lovers, features professionally published authors, including New York Times bestsellers Christina Baker Kline and Jason Reynolds, along with Book Fest on the Green on the grounds of the Mercer Museum, and a Writers Workshop. 
When: September 24 - 26 
Where: Mercer Museum 
Cost: ticket prices vary 
Bring your family and friends to the rolling hills of Bucks County amidst the beauty of fall's finest colors to enjoy a great day of fun on the farm. General Admission includes entry to our 18 acre Adventure Farm area which includes a Hayride, 2 Corn mazes, Farm animals, 3 slides, Tractor Tire playground and 40+ activities for children and adults of all ages.
When: Fall weekends
Where: Hellerick's Family Farm
Cost: Ticket prices vary
For eight fun-filled weeks, one hundred scarecrows dot the brick pathways of our autumn-tinted Village. Some are inspired by famous characters, some are humorous, some are scary – but all of them are carefully handmade by Philly-area residents and organizations.
When: Now through October 30 
Where: Peddler's Village
Cost: Free to attend 
Join the GhostDusters as they discuss Bucks County's famous haunts. But beware: While some of the ghost tales are true, some may be…less than authentic. Can you guess which stories are true and which are phantoms? Prizes will be awarded to those who know their Bucks County ghosts, but beware…We're ready to deceive you!
When: Now through November 7 
Where: Peddler's Village
Cost: $25 per guest 
Comedy Night at the Castle 
Relax, drink, eat, unwind, and laugh Under the stars. Katherine Williams and Lana Epstein will kick off the night followed by headliner Keith Purnell . Reservations required. 
When: September 24, 6:00PM
Where: Sand Castle Winery 
Cost: $25 
Murder for Two by Joe Kinosian and Kellen Blair 
Join us for one of the most uproarious musical comedies to hit stages, the sidesplitting and zany Murder for Two. It's a whodunit for two actors, one playing the detective, the other playing all thirteen suspects, and both of them taking turns accompanying each other at the piano. It's Agatha Christie meets Vaudeville and you won't want to miss it.
When: Now through October 10 
Where: Bristol Riverside Theater 
Cost: Ticket prices vary 
Tom Paxton & the Donjuans 
Grammy Lifetime Achievement Award winner and folk icon Tom Paxton has teamed up with the Grammy winning singer songwriter duo The DonJuans, Don Henry and Jon Vezner. Collectively, their songs have been covered by Harry Belafonte, John Mellencamp, Miranda Lambert, Neil Diamond, Judy Collins, Pete Seeger and Bob Dylan, just to name a few! Within days of writing and playing together, they knew they were onto something and now they're on the road and stopping in Sellersville!
When: September 24, 8:00PM
Where: Sellersville Theater 
Cost: $29.50 
Let the wine and the secrets spill! Catch this exciting live performance at Playmasters Theater in Bensalem
When: Now through October 3
Where: Playmasters Theater
Cost: $15
SATURDAY, SEPTEMBER 25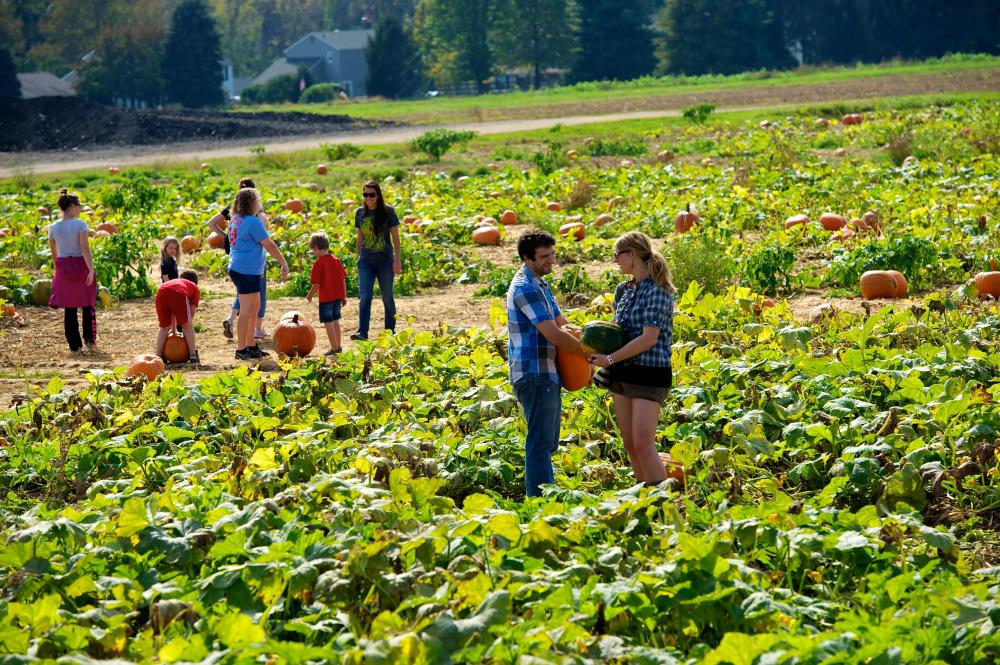 Come on out for some down on the farm fun including wagon rides, apple picking, pumpkin picking, 5 acre corn maze, live music (weekends) & lots more festival activities. 
When: Now through October 31 
Where: Shady Brook Farm
Cost: $12 weekday; $20 weekend
Fall Festival Weekends
Come enjoy Fall Fun on the Farm! Activities include pumpkin painting, pumpkin bowling, pumpkin ring toss, straw mountain, straw maze, an obstacle course, a corn pit, live animals, and more! 
When: Weekends through October 31 
Where: Charlann Farms 
Cost: $8.99 
Neshaminy Creek Oktoberfest 
Participate in our stein holding competition, grab a soft pretzel, or purchase some of our Oktoberfest merch. The Philadelphia German Brass Band will be playing live music all day!
When: September 25, 12:00PM to 7:00PM
Where: Neshaminy Creek Brewing Company 
Cost: Free to attend 
C'est la mort under the protective canopy of the new event tent at Peddler's Village, enjoy the fresh evening air, seasonal beverages, and a fun-filled show that is designed to provide plenty of kicks!
When: Now through September 25 
Where: Peddler's Village 
Cost: $65 for two 
During this week-long event, local restaurants, bars, cafes, merchants, churches and museums host talented musicians for residents and visitors to enjoy. Check their website for a full list of participating venues.
When: September 22 – 25 
Where: Downtown Doylestown
Cost: Free to attend
New Hope Arts & Crafts Festival 
Over 160 juried fine Artists and Craftsmen will exhibit using media such as oil paintings, watercolors, pastels, sculpture, fine and fun jewelry, ceramics, works in wood, fiber, furniture, wearable art, glass art, photography, outsider art, and more.
When: September 25 & 26 
Where: New Hope Solebury High School
Cost: Free to attend 
Fall Festival & Craft Show
Enjoy a day filled with food, animals, Best Apple Pie Baker Contest, Scarecrow Contest, Mobile Gem Mine and Craft Show with lots of handmade items including jewelry, woodworking, candles, bath & body, floral/wreaths, signs, home decor and more!
When: September 25 & 26 
Where: Quakertown Farmers Market
Cost: Free to attend 
Oktoberfest 
Warwick Farm Brewing is hosting the first Oktoberfest on the Farm! We will feature lager beer from Human Robot, Pizza Boy and Troegs. Live music and food trucks will be onsite all day!
When: September 25, 12:00PM to 7:00PM
Where: Warwick Farm Brewing 
Cost: Free to attend 
Mosstoberfest 
Join Moss Mill Brewing for their version of Oktoberfest! Beer flight specials and live music will be taken place all day.
When: September 25, 12:00PM to 10:00PM
Where: Moss Mill Brewing Company 
Cost: $10 
Food Truck Fall Fest 
Food from Humpty's Dumplings, G'Day Gourmet, Le Camion, Helmuts Strudel,  Kona Ice, & Drinks & More!  As well as activities for the kids and a special showing of Addams Family at dusk. 
When: September 25, 3:00PM to 9:00PM
Where: Central Park Amphitheater Parking Lot
Cost: Free to attend 
Join New Hope Winery every Saturday and Sunday for free live music performed by the greatest local talent in Bucks County. Performances are outdoors as weather permits, with a family and pet friendly experience!
When: Weekends through October 24 
Where: The Pour House at the New Hope Winery
Cost: Free to attend 
Hollywood Nights (Bob Seger Tribute)
Hollywood Nights is the ultimate tribute to Bob Seger and The Silver Bullet Band! This New Jersey based powerhouse has set out to recreate everything about Bob and his music right down to the smallest detail. See them live at Sellersville Theater! 
When: September 25, 8:00PM
Where: Sellersville Theater
Cost: $35 
Tour highlights include newly-discovered research about the Grundy family's domestic staff, details about our extensive interior restorations, and collection items never exhibited before. Required reservations can be made online through TicketLeap. 
When: Saturdays through November 
Where: Margaret R. Grundy Memorial Museum 
Cost: Free to attend, reservation required 
The public is invited to experience the fine art of our local member artists at this annual art exhibition. All art is for sale.
When: Weekends through September 26, 12:00PM to 5:00PM 
Where: AOY Art Center
Cost: Free to attend 
SUNDAY, SEPTEMBER 26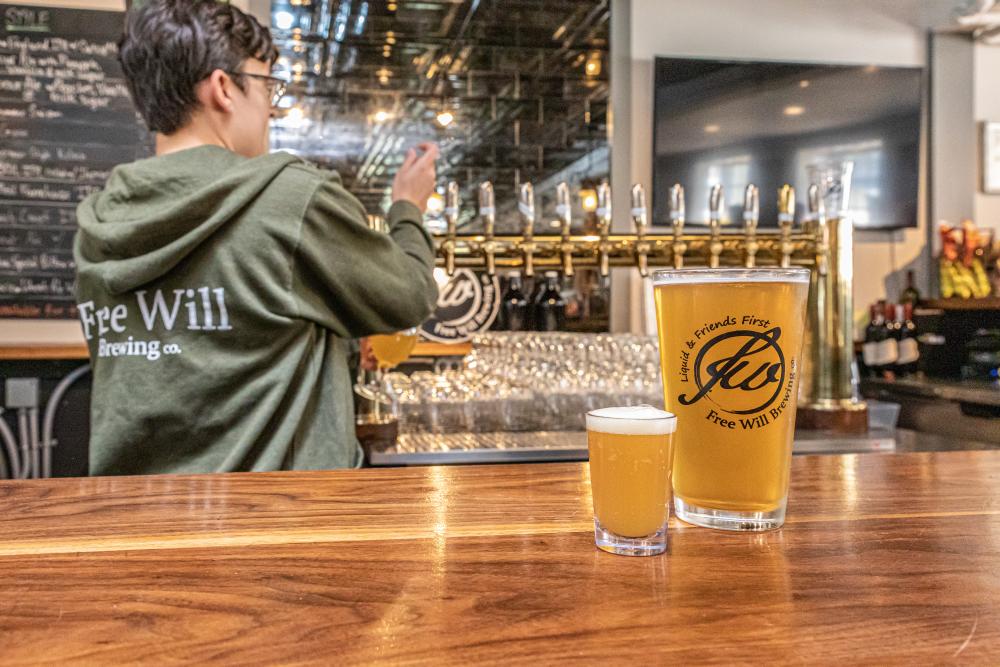 4th Annual Oktoberfest 
Come ready to eat, drink, and celebrate community and friendship. As always, don your full traditional German attire and get your glass and first fill FOR FREE!
When: September 26, 12:00PM to 5:00PM
Where: Free Will Brewing Company
Cost: $10 
The park will be transformed into a family-friendly Halloween haven and guests will enjoy trick-or-treating around the park, Halloween-themed shows, participating in our interactive Scarecrow Scavenger Hunt, and unique photo opportunities with everyone's favorite furry friends dressed up in costume on their Halloween-themed floats!
When: Now through November 7
Where: Sesame Place Philadelphia
Cost: Ticket prices vary
Apple Jam Concert 
Join the Danny DeGennaro Foundation at first annual Apple JAM Concert at The Barn at Snipes Farm. The event is a fundraiser to support the Foundation's music and art scholarships.
When: September 26, 2:00PM to 7:00PM
Where: Snipes Farm and Education Center 
Cost: $25 in advance; $30 at the door
Join us for a small-group, easy, flat ride along the D&L Trail from Washington Crossing Park in PA to New Hope and back. Ride time about 35-45 minutes each way depending on group pace. Stop in New Hope for refreshments and shopping (additional/optional).
When: September 26, 1:00PM to 4:00PM 
Where: Washington Crossing Historic Park 
Cost: $45 BYO Bike & Helmet $20
Vines & Wines - Picnic in the Vineyard 
Grab a blanket and head to the winery for a casual picnic lunch. Includes a basket full of goodies and a bottle of wine. Find yourself a shady spot and take in the vineyard views while you sip and snack!
When: September 26, 12:00PM to 2:00PM 
Where: Crossing Vineyard and Winery 
Cost: $85 
Joseph Marchetti, graduate of Central High School in Philadelphia and Tyler School of Art, Temple University presents "Places I Remember". The exhibit includes paintings that represent over two years of work in Bucks, Lancaster and Lehigh Counties. The body of work started with a painting of the Scholfield-Ford Covered Bridge in Tyler State Park and now includes covered bridges, farms, barns and castles in Pennsylvania.
When: Now through January 7
Where: Bucks County Visitor Center
Cost: Free to attend
Two renowned Bucks County Artists. One a painter of places and things related to the bucolic surrounding environs. The other, a sculptor who utilizes unique and locally found elements. Ilene Rubin and Kathleen McSherry will present Pieces and Places of Bucks County at The Stover Mill Gallery. 
When: Weekends through September 26 
Where: Stover Mill Gallery 
Cost: Free to attend  
New Talent - Emerging Artists Invitational Exhibition 
This exciting collection of works represents artists at various stages of their lives who all share the goal of pursuing a career in the arts. Featuring a selection of works by eleven artists we are reminded that "emerging" talent is not just the domain of the ingenue. 
When: Now through November 7 
Where: New Hope Arts Center 
Cost: Free to attend