Attend America's oldest community tree lighting ceremony, have breakfast with Santa and take a guided tour through beautiful holiday décor!
Check out our guide below for details on this weekend's must-see events around the County. Stay up-to-date on what's coming up next week with our Upcoming Events calendar.
Friday, December 6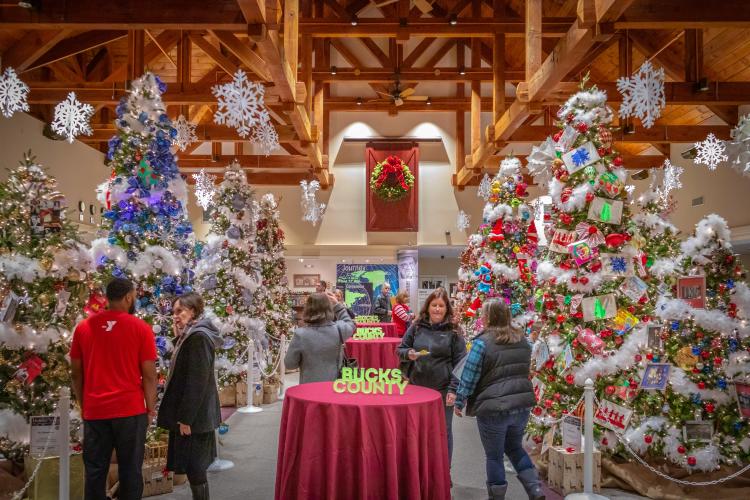 Make the Visitor Center your first stop when celebrating the Holidays in Bucks County. Don't miss Holiday Trees at the Visitor Center, a beautifully decorated display of trees and pick up the exclusive Bucks County Holiday Experience Book on must-see holiday attractions and events!
When: November 20 – January 4, 9:00 a.m. – 5 p.m.
Where: Bucks County Visitor Center
Cost: Free to attend
The Gingerbread Competition & Display is a feast for the eyes with creative and whimsical entries in several categories: Traditional, Authentic Reproduction, 3-D, Movie or TV Set, Student, Kids Only and more. The Gingerbread entries will be on exhibit in the Village Gazebo during shopping hours.
When: November 15 - January 4, Display Times Vary
Where: Peddler's Village
Cost: Free to attend
Join Santa and Mrs. Claus for a ride upon their magical Steam Train through the historic Bucks County countryside. Sing along with the train's roaming musicians as they play Christmas carols and you sip hot cocoa! Share your wishes with Santa as he and Mrs. Claus visit with the children. Each child will receive their own sleigh bell gift from Santa himself. Children and adults are encouraged to wear pajamas while settling in for a relaxing ride aboard this festive train!
When: Daily November 29 – December 24, Times Vary
Where: New Hope & Ivyland Railroad
Cost: Prices Vary
The first floor will be decorated for the Holidays and Santa will be there every day for pictures and wish lists! There will be face painting with princesses, ornament workshops and balloon art for an additional charge. Light refreshments will be available for sale. Please bring a new unwrapped toy for the Salvation Army's Angel Tree Program Toy Drive.
When: December 6 - 8, Fri. Tree Lighting 6 - 9 p.m., Sat. Hearth Cooking & Carolers 2 - 8 p.m., Sun. Brasketeers 1 - 4 p.m.
Where: Historic Bolton Mansion
Cost: Adults $5, Children 12 & under $3
Cairn University welcomes in the Christmas season with two of its favorite annual events on one exciting day: Christmas at Cairn concert in Chatlos Chapel and Starry Night on the campus walkway. At 4 p.m. or 8 p.m., listen as musicians perform holiday favorites. Feel free to sing along. At 5:30 p.m., make your way to the campus walkway for Starry Night. Witness the trees decorated with Christmas lights and holiday-themed activities such as horse-drawn carriage rides, hot chocolate and cider, and Christmas cookies.
When: December 6, 4 - 8 p.m.
Where: Cairn University
Cost: $15
Skip the mall and shop local this holiday! Moland House has gathered over 65 talented local makers to lift your spirits with their creativity. Find the perfect gift, tasty treat or decoration for your home! They will be offering pottery, floral arrangements and wreaths, primitive items, candy, cakes, dips and savory treats, jewelry and so much more!
When: December 6 & 7, 10 a.m. - 5 p.m.
Where: Moland House
Cost: $1 Benefits the House Restoration Project
Put on your dancing shoes and join us at Cascade for a fun evening of dinner and dancing to the tunes of Michael Arenella and His Dreamland Orchestra. Bring your friends, family members, significant other or yourself! Call for reservations!
When: December 6, 7:30 – 10:30 p.m.
Where: Durham Springs Culinary Event Center
Cost: Complimentary for dinner guests: 2 drink minimum for dancing only
Join Woods' residents and staff for the arrival of Santa on firetruck at 6:30 p.m. on Friday and the official tree-lighting ceremony. There will be indoor activities and games for children to enjoy, including visits (every child receives a gift) and pictures with Santa (bring your camera), performances from the Woods choir, DJ music, a Craft Market, and complimentary hot chocolate and soft pretzels. Specialty coffee drinks and snacks will be available for sale. Food trucks will also offer refreshments for purchase.
When:  December 6 & 7, Fri. 4 - 8 p.m., Sat. 10 a.m. – 2 p.m.
Where: Woods Services Campus
Cost: Free to attend
Please come on down and we'll tell you a tale; One of a Christmas with rain, sleet, and hail. Vixen is tired of being deer number four; She knows deep down that she is worth more...You won't want to miss this holiday themed mystery dinner presented by Without a Cue Productions LLC.
When: December 6 & 7, 6:30 p.m.
Where: Fisher's Tudor House
Cost: $56.99/person
It's Junie B.'s first day of first grade, and a lot of things have changed for her: Junie's friend, Lucille, doesn't want to be her best pal anymore and, on the bus, Junie B. makes friends with Herb, the new kid at school. Throw in a friendly cafeteria lady, a kickball tournament and a "Top-Secret Personal Beeswax Journal," and first grade has never been more exciting!
When: December 6 & 7, 7 - 9 p.m.
Where: Acting Naturally Theatre
Cost: $10-$12
Tusk covers the great hits of Fleetwood Mac, which has featured the talents of Mick Fleetwood, Christine and John McVie, Lindsey Buckingham, Stevie Nicks and others over the years. Authentic-sounding and always respectful, Tusk is a group of five well-seasoned musicians. They beautifully replicate the sounds of this beloved, top-selling band.
When: December 6 & 7, 8 – 10 p.m.
Where: New Hope Winery
Cost: $39
Start off your Friday Night right and come over to Bishop Estate Vineyard and Winery for Live Music and Food Trucks. Musicians are local and create a lovely, relaxing evening to sit around and just unwind! The venue has bonfire pits and an indoor accommodation area.
When: December 7, 5 – 9 p.m.
Where: Bishop Estate Vineyard and Winery
Cost: Free to attend
Saturday, December 7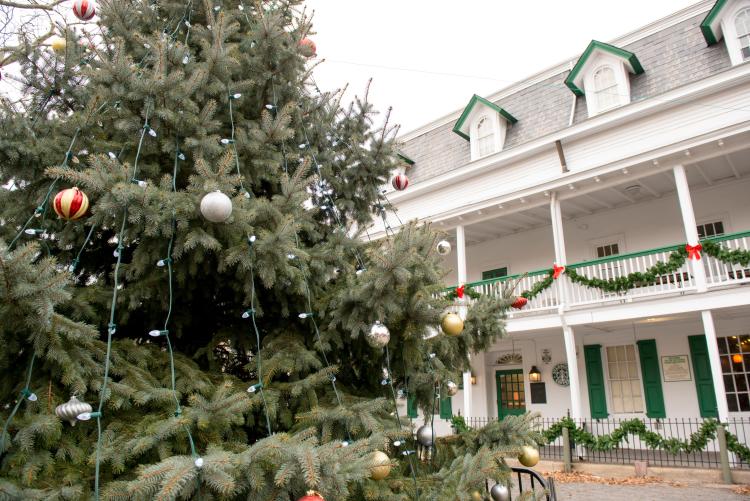 Grab your camera, iPhone, or Polaroid: Visit Bucks County will be hosting a FREE photo walk through historic Doylestown! Be a tourist in your hometown, snap pictures, get some exercise and win prizes. All photography ability levels are welcome! We will meet outside the Doylestown Library (next to the James A. Michener Museum). Look for the Visit Bucks County table.
When: December 7, 2:30 – 4:00 p.m.
Where: Start at Doylestown Library
Cost: Free to Attend
Experience the magic of more than 3 million lights illuminating acres of farmland at Shady Brook Farm's Holiday Light Show! Encounter whimsical displays and familiar characters as you drive through in the comfort of your own car or enjoy the show on an open-air wagon ride (weather permitting). The two-mile trail takes about 20 minutes to drive through if you're taking your time to enjoy the sights (on a non-busy night). Warm up with a cup of hot cocoa and cook up s'mores at their toasty bonfire!
When: November 23 – January 5, 5 - 10 p.m.
Where: Shady Brook Farm
Cost: $30/carload
VeryCoolLights presents their Christmas Light Show! About 20,000 LED lights choreographed to 10 songs at the Catapla Road location, and over 3,000 lights choreographed to 5 songs at the York Road location! This event is always free.
When: November 29 – January 12, 5 - 10 p.m.
Where: 901 Catalpa Road, Warminster, PA 18974
Cost: Free to attend
Excited to get your house all festive for the winter but want to avoid all of that plastic? Join Bucks Audubon for an afternoon of DIY fun for the family as we use natural materials like pine cones and grapevines to make decorations worthy of replacing all of your old, plastic, holiday decorations! Please bring a hot glue gun if you have one! Parents- bring your kids along! We will be hosting a Pop-Up Story time at the same time, so that your kids can enjoy some fun with New Hope Librarians while you craft your heart out! Register online to save your space for this event.
When: December 7, 2 - 4 p.m.
Where: Bucks County Audubon Society
Cost: $10
An all-inclusive elegant evening where you can eat, drink and be merry! Featuring tantalizing food stations, live music, glamorous cars, Ferrari sparkling wine and scrumptious Venchi Chocolate - all of Italy's #1s in one place, for one night! Cocktail attire suggested.
When: December 7, 7 – 9 p.m.
Where: Altomonte's Italian Market Doylestown
Cost: $90 at door
Mary Poppins and Bert fly in to Perkasie's town center for the nation's oldest community Tree Lighting Ceremony. Now in its 110th year, Perkasie's traditional ceremony began in 1909 and is officially the oldest community tree lighting ceremony in the United States. Santa arrives at 7 p.m.; take photos with him at 7:30 p.m. One lucky child will climb the stage and flip the switch to light the tree: every child who brings a non-perishable food item for Pennridge FISH is entered into a drawing to win the honor.
When: December 7, 5 - 8 p.m.
Where: Perkasie Borough Town Center
Cost: Free to attend
SDBM 21st CCLC WINTERFEST is a family-oriented day with over 30 vendors and crafters! Enjoy holiday shopping while children play carnival-style games and have fun at a variety of free craft tables. Throughout the day, guests can see live performances by students and local groups. Santa Claus will make a special appearance from 12:30 p.m. through 2:00 p.m. Please bring a donation of new hats or gloves for families in need. A collection box for these items will be located in the front of the school.
When: December 7, 10 a.m. - 2 p.m.
Where:  Morrisville High School
Cost: Free to attend
It's another Dickens of a murder! Despite hosting a murderous holiday party last year, which resulted in the murders of Ebenezer Scrooge and Tiny Tim, the Sawyers are going to give it another try. They have invited all of their closest friends for their annual holiday party – and are hoping for no mishaps this year. But when an uninvited guest shows up, someone is bound to exclaim, "What the deadly Dickens?"  
When: Select dates November 9 - January 11, 7:30 p.m.
Where: Peddler's Village
Cost: $69.95 per person (includes dinner, show, tax & service charge)
Sunday, December 8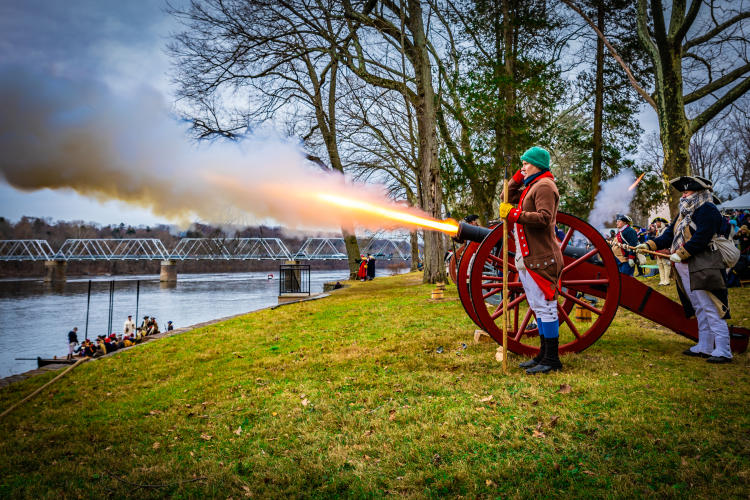 Each December, thousands of people gather on the banks of the Delaware River to watch the reenactment of George Washington's daring 1776 Christmas night river crossing. During the event, several hundred reenactors in Continental military dress listen to an inspiring speech by General Washington and then row across the river in replica Durham boats. In addition to the crossing reenactment, special colonial-era activities and demonstrations in the Historic Village will offer a full day of fun and learning!
When:  December 8, 10 a.m. –4 p.m., actual crossing around 1 p.m.
Where: Washington Crossing Historic Park
Cost: $8 for adults, $4 for children ages 5-11, free for children younger than 5
Enjoy Fonthill Castle's holiday decorations during their ground-floor open house. Sip hot cider and make your own holiday ornament. At the Moravian Pottery & Tile Works, enjoy hot chocolate, holiday music and a visit with Santa.
When:  December 8, 12 – 4 p.m.
Where: Fonthill Castle
Cost: Free to attend
Get in the spirit of the season while shopping in our stone barn for unique handmade gifts, decorations and food treats crafted by local artisans. Listen to live musical entertainment while enjoying hot, delicious food and drinks.
When: December 8, 10 a.m. – 4 p.m.
Where: Jerry Fritz's Linden Hill Gardens
Cost: Free to Attend
Enjoy a homemade breakfast, get that perfect picture of Santa with your little ones, and create memories that will last a lifetime. Menu includes omelets, French toast, bacon, sausage, potatoes, bagels, toast, English muffins, fresh fruit, juice, milk coffee & hot chocolate. Cash Bloody Mary bar for the grownups. Space is limited and advance tickets are required…get yours today!
When: December 8, 9 - 11 a.m.
Where: Shady Brook Farm
Cost: $24.95/adult, $19.95/child.
A Very Furry Christmas at Sesame Place® Philadelphia is a festive, family-friendly celebration with everyone's favorite Sesame Street® friends. The park is transformed into a one-of-a-kind Christmas wonderland with millions of twinkling lights and festive decorations all around.
When: November 23 – January 1
Where:  Sesame Place® Philadelphia
Cost: Ticket Prices Vary
Guests are invited to gather 'round and celebrate the lighting of the Historic Fallsington Christmas tree adorned with handcrafted ornaments made by the children from the William Penn Center Preschool and Kindergarten. *Will be held if raining, sleeting, or snowing as long as roads are passable.
When:  December 8, 6 p.m.
Where: Historic Fallsington, Stagecoach Tavern
Cost: Free to Attend
This huge event, sponsored by the Newtown Business Association, is a family tradition and continues to provide a magical experience for the whole community. Last year over 50 groups participated, totaling over 1800 people. Come out and find a comfy spot to watch this amazing event on Sunday, December 8, 2019. The parade promptly kicks off at 2PM from South State Street at the Stocking Works. It then continues north to Washington Avenue and makes a left turn, then turns right onto Sycamore Street. The Parade eventually ends at the corner of Sycamore Street and Durham Road.
When:  December 8, 2 - 4 p.m.
Where: Newtown Business Association
Cost: Free to attend
Just in time for football season, Pigskin Peanuts showcases fifty of Charles M. Schulz's daily and Sunday Peanuts comic strips featuring the sport of football and the popular characters Charlie Brown, Woodstock, Snoopy and more. The companion exhibit, Bucks County Plays Football! highlights some of Bucks County's own football history and traditions and will include historic photographs, video footage, game programs, tickets, sports cards and other artifacts and memorabilia.
When: November 15 – February 9, 10 a.m. – 5 p.m.
Where:  Mercer Museum
Cost: Free with Museum Admission
OK, so it's not exactly how George did it, but it's a fun way to experience the reenactment! And you won't have to worry about parking! Take an easy bike ride from Yardley to Washington Crossing to see the Crossing Reenactment on December 8. Reservations required. Must be 21 or older to participate. Don't be afraid to book early. Rain cancels for a full refund!
When:  December 8, 12 – 4 p.m.
Where: Funventures Tours
Cost: Bike/Helmet included: $35/person ; BYOB Bike/Helmet: $20 ; and $8/person for Reenactment paid at park
Join the wineries of the Bucks County Wine Trail for the annual Holiday Celebration. Guests can experience the wineries decorated for the holidays while enjoying delicious spiced wine tastings, sampling Christmas cookies and artisanal cheeses and relaxing with the sounds of holiday music. During the Holiday Celebration, visitors can also get a jump start on holiday shopping with special discount pricing, wine gift packs, gift baskets and unique wine accessories.
When:  December 8, 12 – 5 p.m.
Where: Bucks County Wine Trail
Cost: Free admission; tasting fees may apply