CATERING TO ALL DIETARY NEEDS IN BUCKS COUNTY
Did you know that an estimated 15 million Americans have food allergies? With that number growing, managing food allergies and other dietary needs at meetings and conferences has become even more important. Here in Bucks County, we recognize the importance of this issue and offer various options to accommodate every dietary need!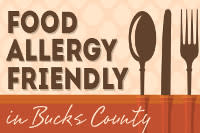 • Drexelbrook Catering at The Fuge has an extensive selection of foods to fit special diets and more than 25 of their staff members are NFCA Gluten Free Certified. Some of the gluten free menu items include their Famous Crab Cakes, Herbed Quinoa, as well as Tuscan Style Chicken with Gluten Free Pasta. Some of their Vegan entrees include Grilled Vegetable Napolean served with fresh Marinara Sauce, Asian Vegetable Dumplings, and Pan-Seared Tofu served over Herbed Quinoa. The Fuge, once a US Navy operated development laboratory, home to the largest and most powerful human centrifuge the world had ever seen, is now one of Bucks County's most dramatic meeting and event venues.

• Maggio's in Southampton also offers a Gluten Free menu for its guests, including appetizers such as Fresh Bruschetta, Pan Seared Scallops and Fresh Calamari. Some of their Gluten-Free entrees include a variety of Fresh Salads, the Chicken Fantasia, the Chicken Cacciatore, the Grilled Salmon, the Shrimp and Crab Abruzzi and even Filet Mignon! Don't forget to start off your meal with one of the Gluten Free beers available and end with one of their Gluten Free desserts such as the Chocolate Torta! Maggio's features a ballroom that can hold up to 300 people for special events. Or, bring the delicious food from Maggio's to your private event with their off-premise catering.

• With a variety of meeting rooms ranging from a private boardroom to a 120 person classroom-style space to a 250 person banquet room, Peddler's Village can accommodate both small and mid-sized meetings, and the Village's three great restaurants can accommodate all special dietary needs.

o Earl's New American is the perfect place for a Vegetarian to excite their taste buds. This farm-to-table restaurant features small menu item dishes like Truffled House Cut Fries and a Wild Arugula Salad. Or perhaps try the House Made Fusilli for a real treat. Guests can request low carb, whole grain or Gluten Free for their selection.

o Enjoy Cock 'n Bull's delicious mealtime offerings when you host your meeting or conference in their upstairs event space. The Cock 'N Bull offers Gluten Free lunch items like the Chilled Lump Crab appetizer and the pot roast entrée, as well as Gluten Free dinner with dishes like the Chicken Florentine and Teriyaki Glazed Salmon.

o For a more casual experience, the Buttonwood Grill can accommodate up to 50 people for meetings. Start your meal off right with the Gluten Free Salt Roasted Beets appetizer. Their freshly-prepared Gluten Free menu includes a Blackened Salmon Salad and Grilled Salmon Sandwich, among other delicious options. When the weather is nice, enjoy these delicious dishes on their outdoor deck!

• For someone looking to adhere to their dietary restrictions but still satisfy a sweet tooth, stay at the 1836 Bridgeton House on the Delaware near New Hope. This B&B offers guests corporate meeting practicality as well as Guest-Favorite Vegan & Gluten Free Chocolate Chip Cookies! Perfect for small meetings, the Bridgeton House can accommodate up to 25 people in the penthouse and smaller gatherings in other areas of the charming B&B.

• At Uno Pizzeria and Grill in Doylestown there is a wide selection of Gluten Free items including a beer selection to kick off your meal, All-Natural Herb-Rubbed Chicken, Baked Stuffed Spinoccoli, the Guac-alicious Burger, a variety of thin crust pizza choices and even an Ice Cream Sundae for the perfect dessert! Uno's banquet room is the perfect venue for small meetings of up to 25 people. 
These are just a few of the dining options Bucks County has to offer visitors with special dietary needs. Visit any one of these locations to give your meeting or event attendees the best and dietary-friendly experience! Be sure to find out ahead of time if any attendees have allergies and remind caterers or servers in advance to ensure your guests are happy and healthy during their time in Bucks County.