MUSEUM MEETINGS
Enrich your next meeting with the celebrated charm and rich history of Bucks County. From the home of a Nobel Peace Prize winner to a 17th-century-inspired riverside venue, it's easy to add a historical perspective to your next corporate outing.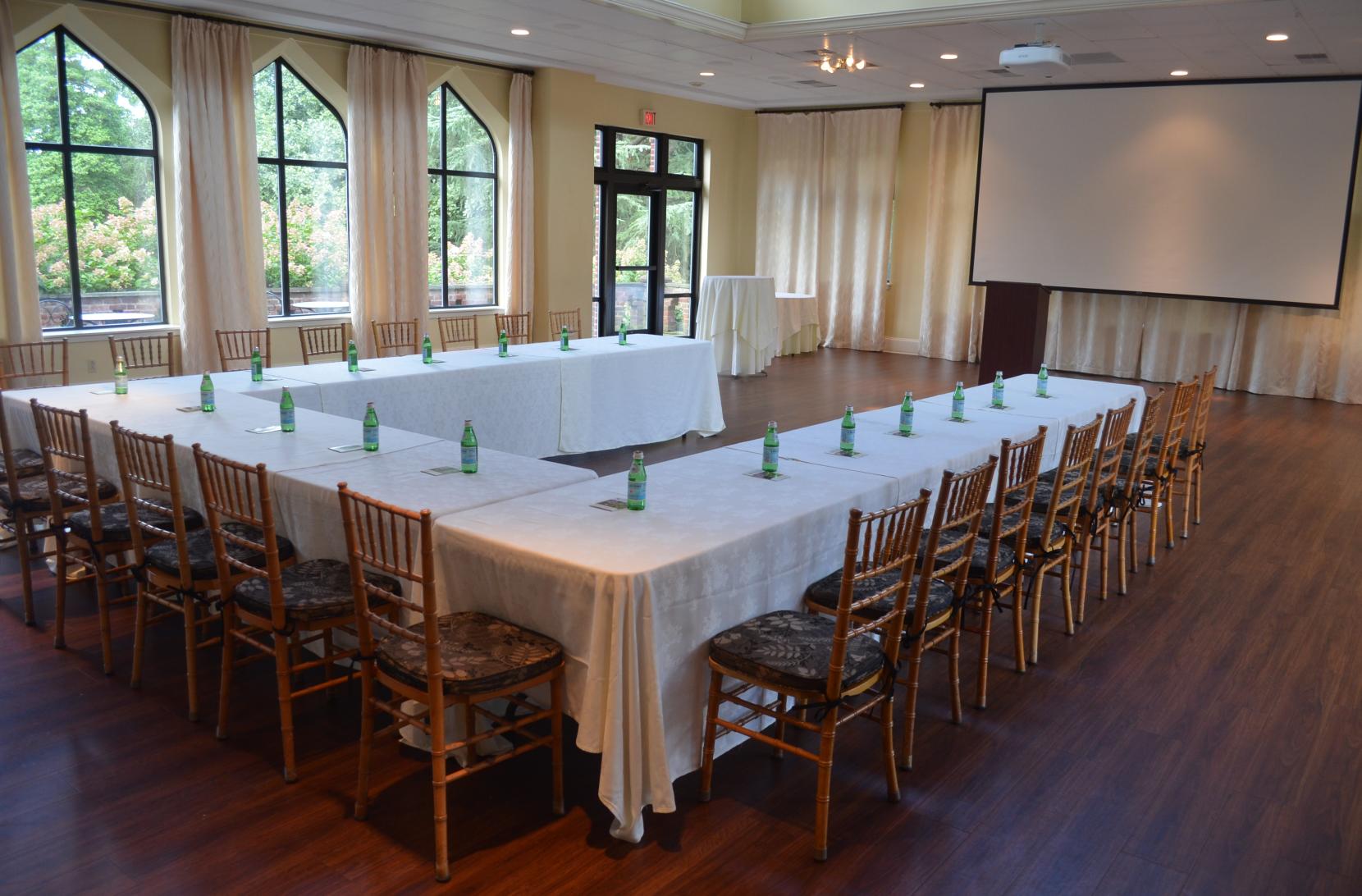 Meet at the former home of Pearl S. Buck, Pulitzer and Nobel Prize-winning author of The Good Earth. The Pearl S. Buck House & Historic Site is equipped with five on-site meeting spaces to accommodate up to 350 guests. The home's original 1827 barn is perfectly suited for meetings up to 70 people and features a stage and private seating area. For a more intimate setting, the eight-person conference room will brighten up your meeting with two eye-opening windows showcasing the area's natural beauty.
Travel along the Mercer Mile for facilities ideal for groups ranging from 20 to 300 people. Explore the grand castle once home to acclaimed patron of the American Arts & Crafts Movement, Henry Mercer, at Fonthill Museum. The Education Room, a comfortable theater-style room, allows for 30 people while the Terrace Pavillion, surrounded by sweeping views of the neighboring woodlands, can seat between 20 and 50 guests. 
The Mercer Museum, built by Henry Mercer to house his collectin of Americana artifacts, contains five unique meeting spaces. The Elkins Gallery, with seating for 120, features a fireplace and grand piano for a homey atmosphere.
Add a dash of color and creativity to your meeting at the Michener Art Museum, an acclaimed cultural institute known for its collection of American Impressionist paintings. The facility boasts four available meeting spaces, including the 2500 square-foot Edgar N. Putnam Event Pavillion, and the more intimate, 50-person Penn Color Board Room. All facilities at the Museum include AV equipment including projectors, microphones and wireless connection.
Also known as the Johnsville Centrifuge and Science Museum, this historic spot is dedicated to preserving the history of innovation forged at the Naval Air Development Center (NADC) in Warminster, PA and to use that history to inspire today's youth to explore STEM (Science, Technology, Engineering & Math) careers! Due to this reason - it's a great pace to host your meeting!
Named after the William R. Mercer family's ancestral estate (yes, that Mercer!) in Scotland, Aldie has several great rooms fit for your meeting or conference! Gather in their 2,400-squarefoot atrium, explore the library, gallery and great hall, too. Aldie's distinctive architecture, elegant landscaping, and experienced professional staff are guaranteed to make your event a memorable success.
Bring your staff to Pennsbury Manor, the reconstructed colonial home of Pennsylvania's founder William Penn. The 43-acre property houses the palatial Manor House as well as stables, gardens and multiple outbuildings. The Manor House, furnished with 17th century period furniture, can hold groups of up to 100 people. Larger groups can take advantage of the lush grounds, with outdoor space to hold up to 500. The soothing sound of the Delaware River coupled with the unique environment provides the perfect setting for a successful meeting.
Why not host your meeting on the site where General George Washington and the Continental Army crossed the Delaware River on Christmas Day in 1776 to change the course of the Revolutionary War? Washington Crossing Historic Park offers a number of indoor and outdoor venues for gatherings of all sizes, including a 248-seat auditorium, a beautiful Rivervew lobby area with great views that can hold 225 standing and 75 seated, education center and multiple outdoor pavilions that can host 50 to 100 people. 
Host your meeting or conference in a space that's unique as could be - inside of a train! Rent a private charter aboard the New Hope Railroad. You and your guests will ride the rails in turn-of-the-century style, making your event a "moving" experience.