BUCKS BEAUTIFUL BLUEBERRIES
By Lynne Goldman
Bucks County Taste
It's blueberry season! Buy them by the quart and throw them in smoothies, on top of your morning yogurt or freeze them for a taste of summer in the middle of winter. Of course you can also just eat them straight out of the box, by the handful.
Blueberries bring to mind one of my favorite recipes, Blueberry Buckle. It's an old-fashioned, moist cake, full of bursting blueberries with a crackly thin sugar glaze on top. Perfect with coffee in the morning. Diet be darned. Blueberries are only in season a short while.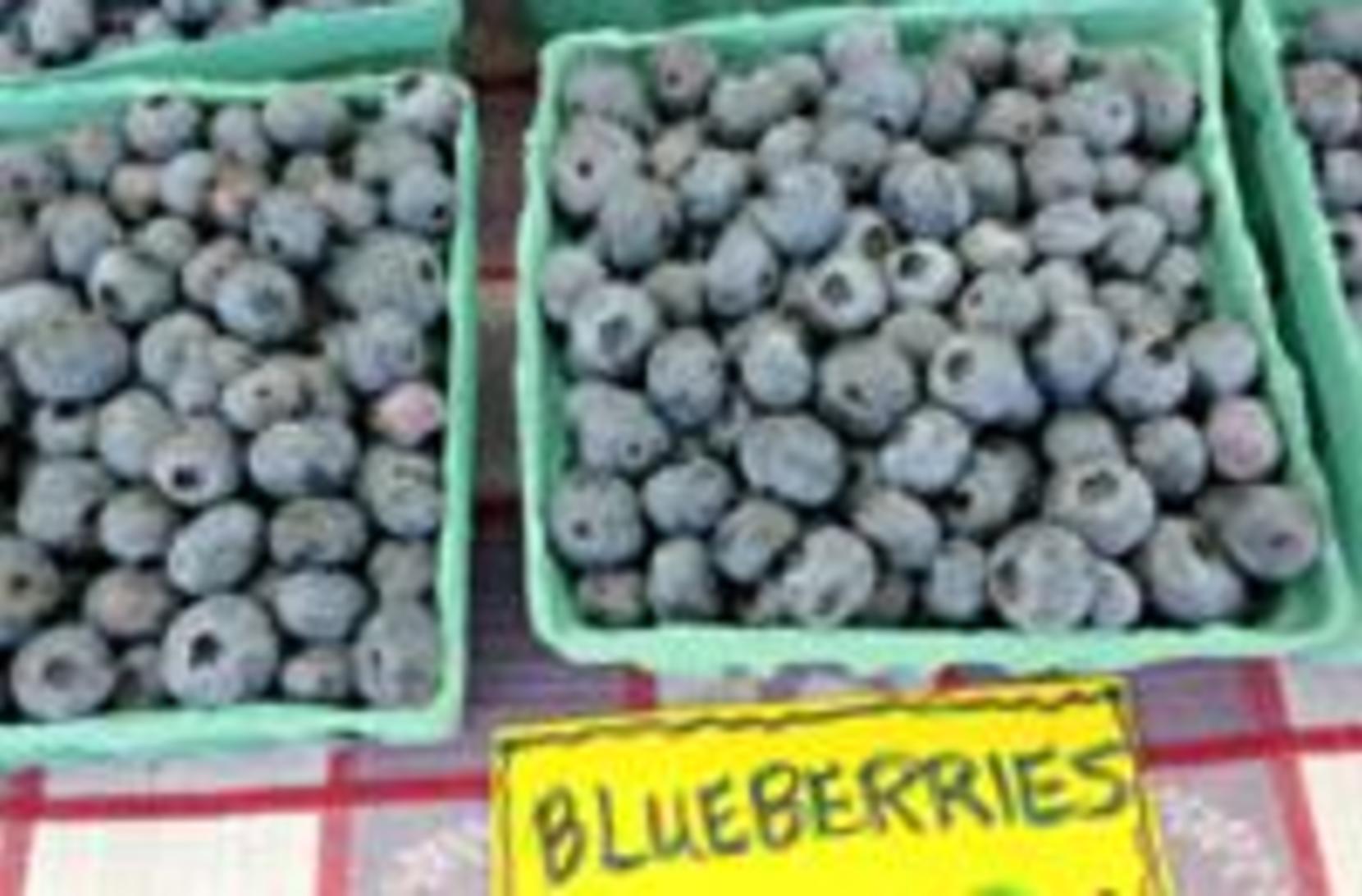 Solebury Orchards blueberries
BLUEBERRY BUCKLE
INGREDIENTS FOR CAKE
2 cups blueberries
1 tsp. lemon juice
1/3 cup milk
1/4 cup butter
3/4 cup sugar
1 egg
grated lemon rind
1 1/2 cups all-purpose flour
2 tsp. baking powder
1/2 tsp. salt
INGREDIENTS FOR GLAZE
2 tbsp. soft butter
1/4 cup sugar
1 tbsp. lemon juice
HOW TO MAKE CAKE
1. Wash and drain blueberries. Set aside on towels to dry thoroughly.
2. Stir lemon juice into milk. Set aside.
3. Set oven for 350 degrees F.
4. Cream butter, sugar, egg; grate lemon rind in.
5. Add milk and lemon mixture, flour, baking powder, and salt. Do NOT overmix/beat.
6. Add blueberries and gently stir; pour into greased 8″ square pan.
7. Bake 40-45 minutes until toothpick inserted in center comes out clean.
HOW TO MAKE GLAZE
1. Prepare glaze just before cake is done baking.
2. Cook all ingredients over low heat until smooth, and then remove.
3. When cake is done, spread glaze over top. Return cake to oven and broil until glaze bubbles (but avoid overbrowning).
NOTE: You can also use this same recipe to make muffins, but brush the glaze on the muffin tops instead of pouring.
See below for some farms and farmers markets for potential places to find blueberries! 
Every month, Visit Bucks County features a guest column from Lynne Goldman of Bucks County Taste, an online publication focused on the food scene in Bucks County. Get the inside scoop on local restaurants and exciting upcoming food events in Bucks County. For more information on Bucks County Taste, visit their website, Twitter or Facebook page.