HAVE A BITE OF BUCKS COUNTY'S BEST BURGERS
If you're in need of comfort food, then you won't want to miss out on some of the best burgers in Bucks County. From BBQ and chipotle burgers to veggie and turkey burgers, you will find options that offer the freshest meats and homemade recipes. These restaurants, bars and grills offer succulent burgers that you need to try for yourself!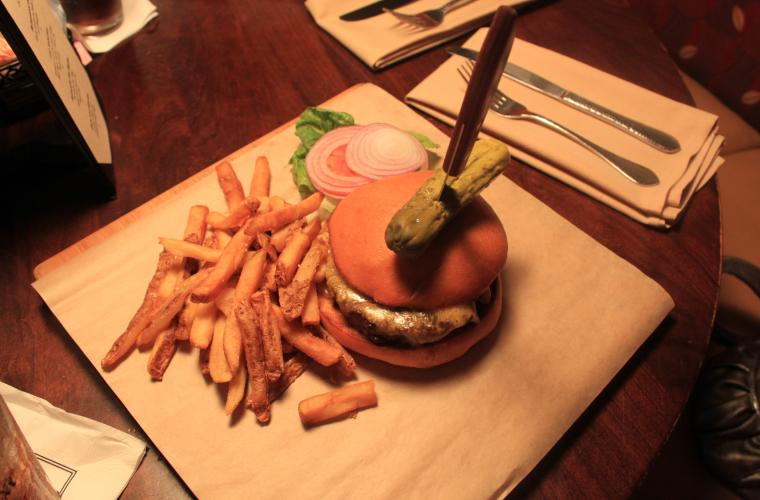 Butchers Burger at Buttonwood Grill
Peddler's Village offers several restaurants of varying cuisine, but Buttonwood Grill has appetizing burgers on their menu that are hard to beat. The burger patties are made fresh daily with mouth-watering house recipes. Try the make-your-own Butcher's Burger and pick your patty, style and toppings. Choose from Butcher's grind, turkey, black bean and feta with quinoa, salmon or even bison and top it your way.
Make a stop in Newtown at the Green Parrot Restaurant, offering unique options not found in most restaurants. If you're looking for something new to try, have a bite of the eight ounce Lamb Burger topped with delicious horseradish mayo. If you're feeling daring, satisfy your hunger with the Parrot Double Burger. This savory monster of a burger has two eight-ounce burger patties with bacon, caramelized onions, Swiss and cheddar cheese. This filling double-decker is complete with chipotle mayo that will light up your taste buds.
You won't be disappointed with the burger selection presented on the menu at The Bucks Pub. Enjoy Burger Night every Wednesday! The Jamison Burger is a delicacy stacked with smoked Gouda cheese, bacon, onion rings, and a rich BBQ sauce. If you like breakfast foods, then you'll love the Breakfast Burger topped with a fried egg.
Head up north to Quakertown to taste what The Brick Tavern Inn has to offer. You can't go wrong with a classic burger when it's homemade with the best meats, so treat yourself to the Brick Tavern Burger. This tender sandwich consists of a half-pound Angus burger, with your choice of cheese, mushrooms or bacon. Vegetarians and mushroom-lovers will love the California Veggie! This sandwich is made with a meaty grilled portabella mushroom topped with roasted red peppers and fresh mozzarella.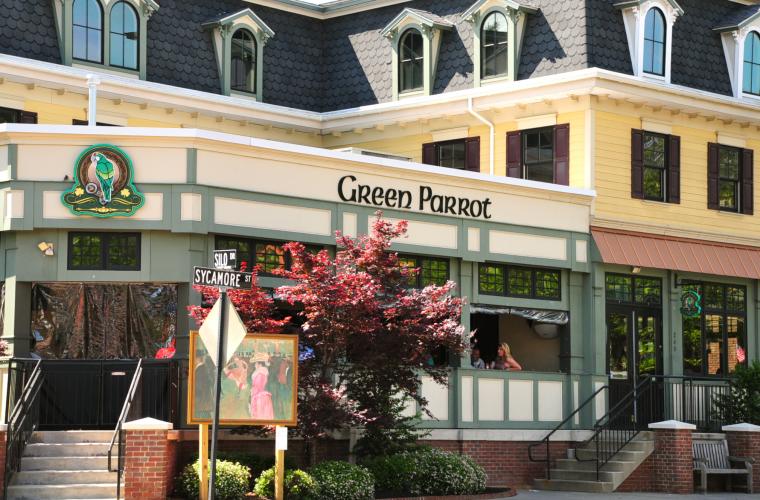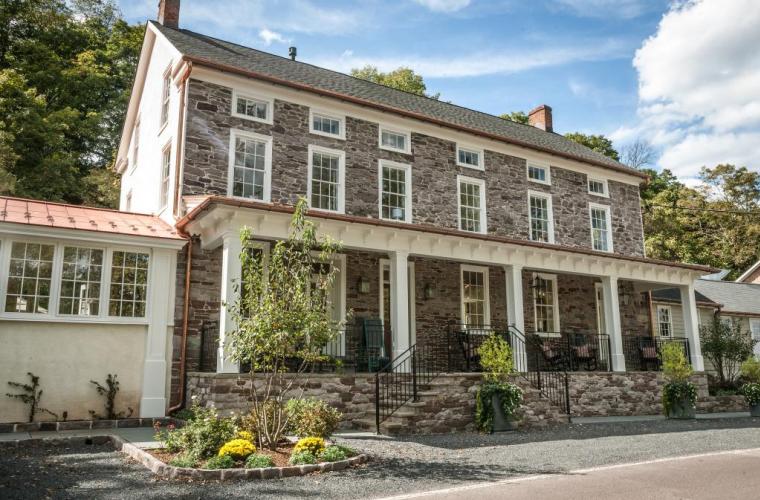 The Porterhouse Restaurant & Pub located in Lahaska gives you a cozy atmosphere to enjoy some of Bucks County's best burgers. Taking a twist on classic bacon burgers, the Brew Master's Burger is loaded with cheddar-jack cheese, bacon and a creamy horseradish sauce. If you are looking for a little fire in your bites, taste the Chipotle Burger with jalapenos and smoked mozzarella. This pub will have you coming back for seconds!
At the Golden Pheasant Inn Restaurant, burgers are taken from a quick dinner to a fine-dining experience. Have a bite of the Joe Jurgielewicz & Sons Ground Duck Burger with apricot ginger rum sauce on a brioche bun. This impressive burger has a hint of sweetness within each savory mouthful. If you are feeling creative, then prepare your own Beef Burger on a Brioche Bun with three different options, such as old Chatham Ewe's blue cheese and Port Wine reduced onion confit.
Who says all burgers are made with red meat? Head to the Spinnerstown Hotel Restaurant for decadent burgers made from lighter choices. The Turkey Burger, topped with cucumbers and a malt aioli, will awaken your palate with flavorful and healthy ingredients. If you want something a little different, then the Fried Tomato burger is a must-have, made from fresh mozzarella, fried tomatoes and a roasted red pepper pesto aioli. Complete your meal with the fresh homemade Belgian frites that come with every burger on the menu!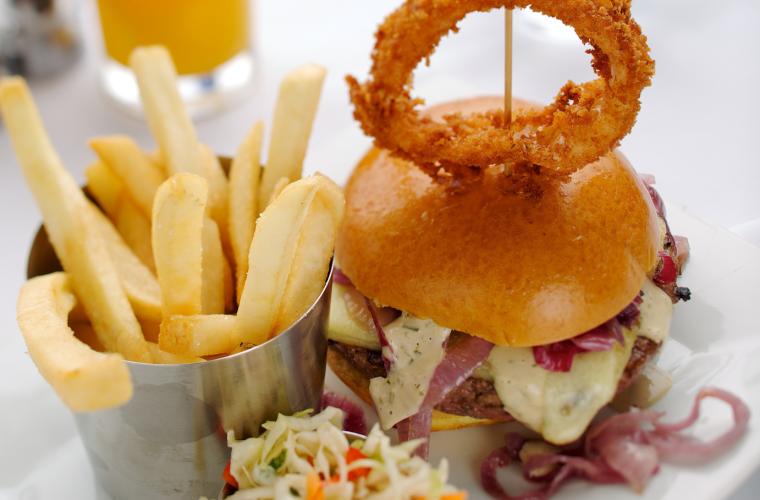 Burger at Caleb's American Kitchen
Forget about Taco Tuesday and head to Caleb's American Kitchen for their All-American Tuesday Burger night. Enjoy a specialty menu that includes a ground turkey burger, faro and black bean burger and a short rib and brisket burger. Cooked to perfection and with a variety of toppings to choose, Caleb's burgers will leave your mouth watering for more. The menu also includes a wide selection of sides to pair with your meal, including truffle cheese fries and grilled romaine.  
Beer and burger lovers will be in their element at Triumph Brewing Company in New Hope. Besides enjoying a variety of craft beers, Triumph also has a diverse burger menu that includes a turkey burger and specialty Triumph burger. Vegetarians won't be left out of this fine dining experience with Triumph's quinoa burger, complete with pickled beet, micro green, pickled onion and herdsman cheese on a ciabatta roll.
Dine at the outdoor bar and patio at 86 West in Doylestown. Be adventurous and try their "Burger of the day" special or sample one of their delicious options off their regular menu. The black and blue burger with bacon, jalapeno marmalade and creamy bleu cheese topping is a meal you won't want to miss. If you crave something more rich in flavor, chow down on the 86 West Cheeseburger, with cheddar cheese and smoked bacon on a brioche roll.