72 HOUR BARNS & BRIDGES TOUR
Attention all adventurers and sightseers! Travel through this three-day tour of some of Bucks County's oldest and most picturesque barns and covered bridges to discover their structural history. Find places to wine, dine and stay along the way, as well as other delightful activities to enjoy. Bring the whole family for this one-of-a-kind journey!
Please note, many of the barns along this tour are privately owned. We encourage you to admire them from afar.
DAY 1: 
• Begin your journey through scenic Bucks County by starting in Plumstead Township at Cabin Run Covered Bridge. Crossing Cabin Run Creek, this bridge stands 82-feet-long. Cabin Run was built in 1871 by David Sutton, who built several additional bridges in the area.

• From Cabin Run, make your way north to find the Erwinna Covered Bridge. This bridge only extends 56-feet-long, making it the shortest covered bridge in the county. Also in Erwinna, the next stop on your tour leads to Uhlerstown Covered Bridge, the only Bucks County covered bridge that crosses over the former Delaware Canal.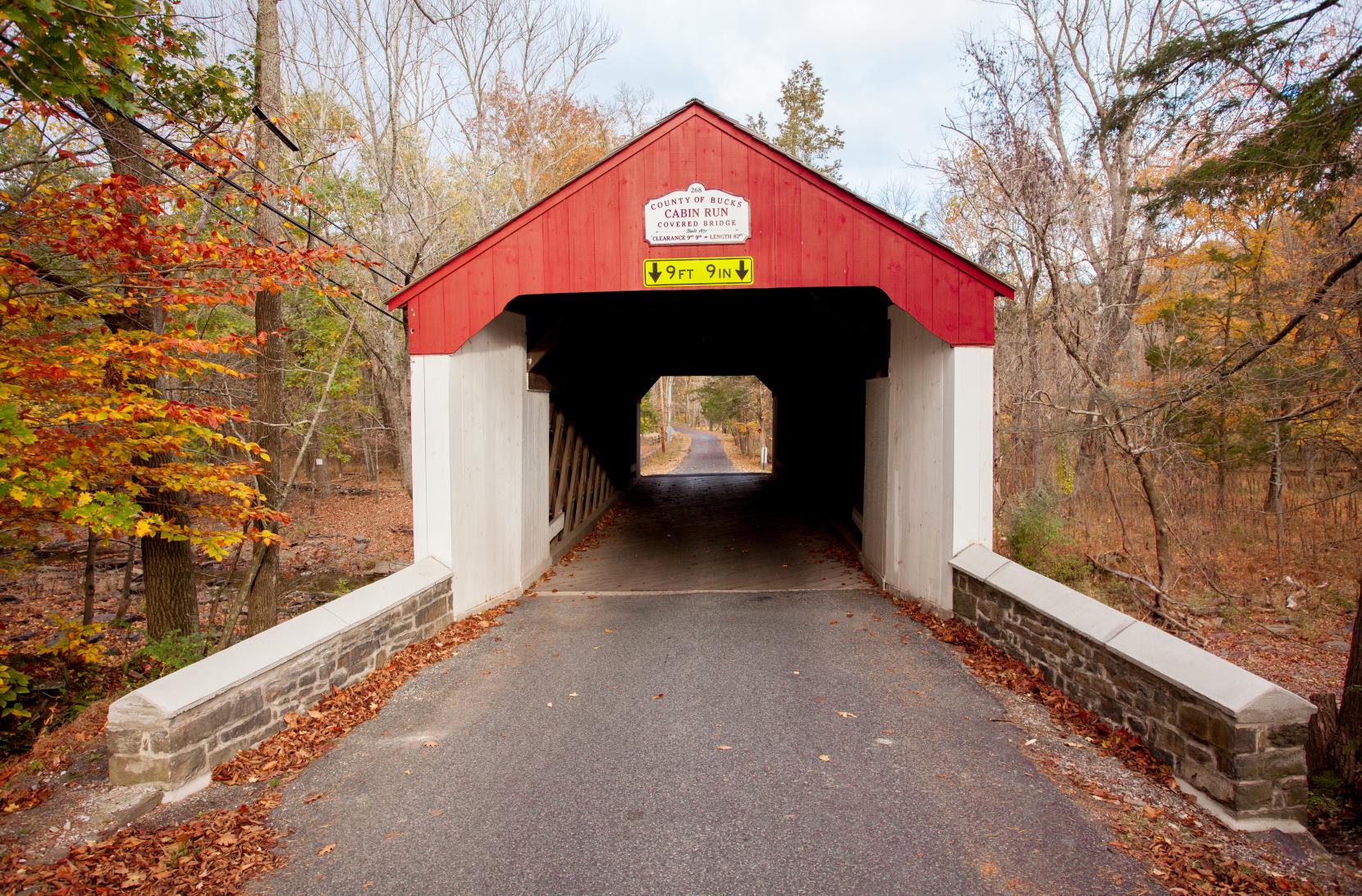 Front of Cabin Run Covered Bridge
• While you're in the area, explore some of the numerous places to wine and dine. The nearby Bridgeton House on the Delaware offers wonderful breakfast options every morning from 8:30 to 10:30 a.m. that will surely give you energy for the remainder of your exploration. Or head to the Riegelsville Inn and order superior American cuisine with a French twist! After lunch, take your time cruising along beautiful River Road to Sand Castle Winery where you can taste delicious house-made wines and take a tour the vineyards and cellars.  

• Continue your drive toward Riegelsville, where your first destination will be a frame-over-stone bank barn with small ornamental details, located at 2955 Bodder Road. Keep driving along Slifer Valley Road where you will find four very different structures of barns. 
      o 3005 Slifer Valley Road is a stone Standard Pennsylvania barn with a frame front wall above a recessed stone wall. 
      o 2789 Slifer Valley Road is a gambrel roof barn that has main doors located on either end of the barn, rather than on the long sides. 
      o 2655 Slifer Valley Road is a preserved complex that has a remarkable collection of buildings along a sweeping bend in the road. 
      o 2545 Slifer Valley Road stands as a testament to a preserved farm that brought 19th-century buildings into 21st-century agriculture. Be sure to look around the farm store to access the bounty of the farm directly into your own hands.   
• Off of Slifer Valley Road you can easily find Knecht Bridge Road where you can see Knecht's Covered Bridge, set on the route of the Penn family's famous Walking Purchase. About three miles away in Hellertown, you'll find a large barn at 3016 Moyer Roadwith a three-bay construction and stonework extending to the peak of the roof. See if you can find the single round porthole at the very peak of the barn. 

• The fun isn't over yet! Stop and refuel in Quakertown with a homemade meal at the Spinnerstown Hotel Restaurant, where you can dive into the country flare that this eatery offers in every burger and steak. Quakertown is noted for its unique shops in town, such as East Broad Antiques, where you can pick up a nice souvenir from your travels. Cool off with Rosemarie's Italian Ice less than half a mile away!  

• By now you will surely need some rest - there are still 48 hours of barns and bridges to explore! Head over to the Springhill Suites Quakertown and enjoy the oversized rooms and whirlpool tubs available! Unwind in comfort in the spacious suites full of unique décor and amenities that ensure that you feel refreshed and renewed.
DAY 2:
• Start your day with a complimentary deluxe hot breakfast from Springhill Suites Quakertown,or head into town and grab a fresh cappuccino to go from Karlton Café before you begin day two of this grand tour. 

• The first stop on our tour is a barn located at 2135 Route 212in Coopersburg, where you can check out a working farm surrounded by smaller historic outbuildings. If you look closely, you can see faded hex signs on either side of the doors that represented the end of an era of farming at the end of the 20th-century. Head back through Quakertown to stop at 1925 Old Bethlehem Road. This is a stone barn is unique for its narrow ventilation slits and a projecting peeler eck on the front elevation.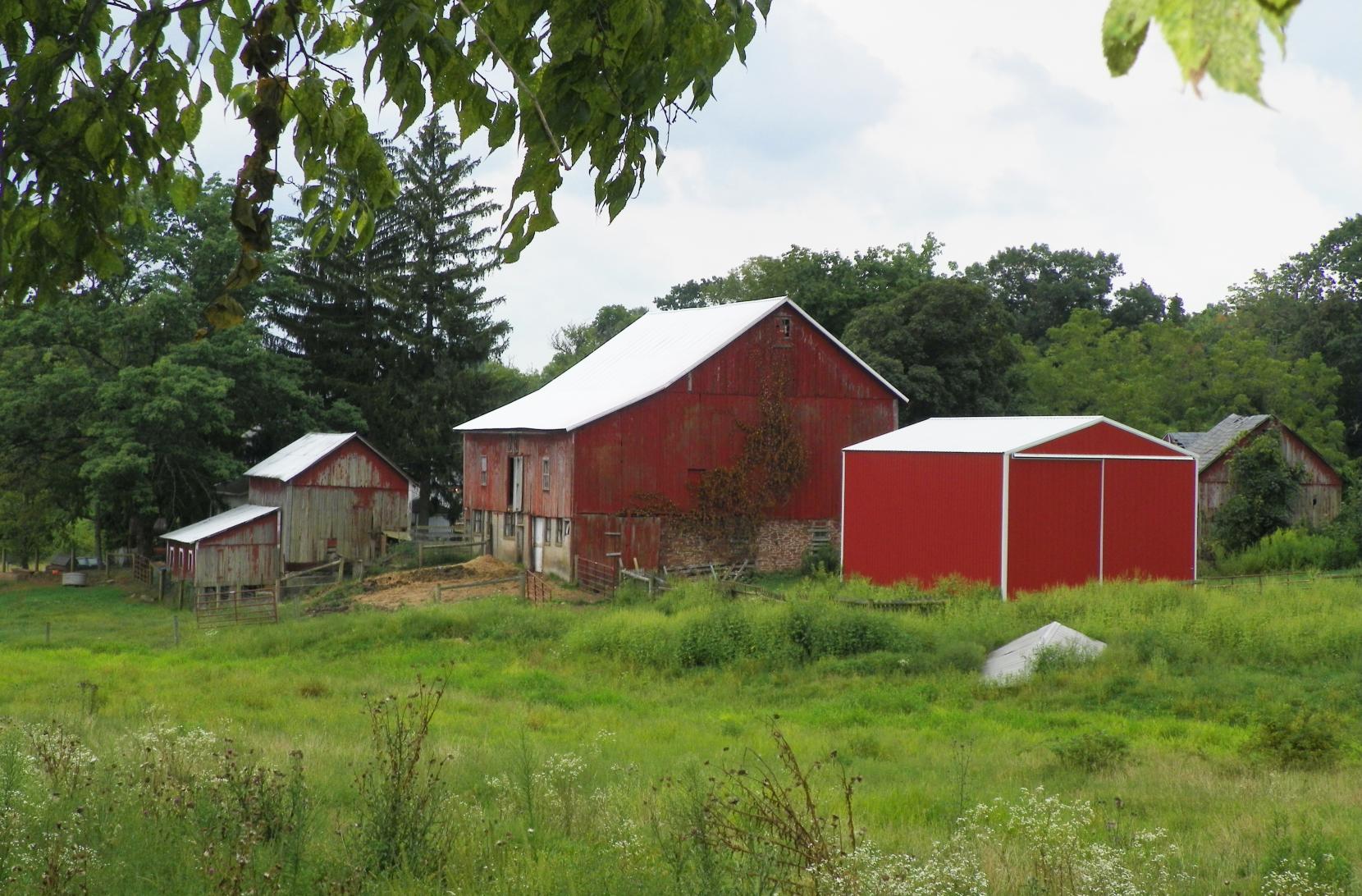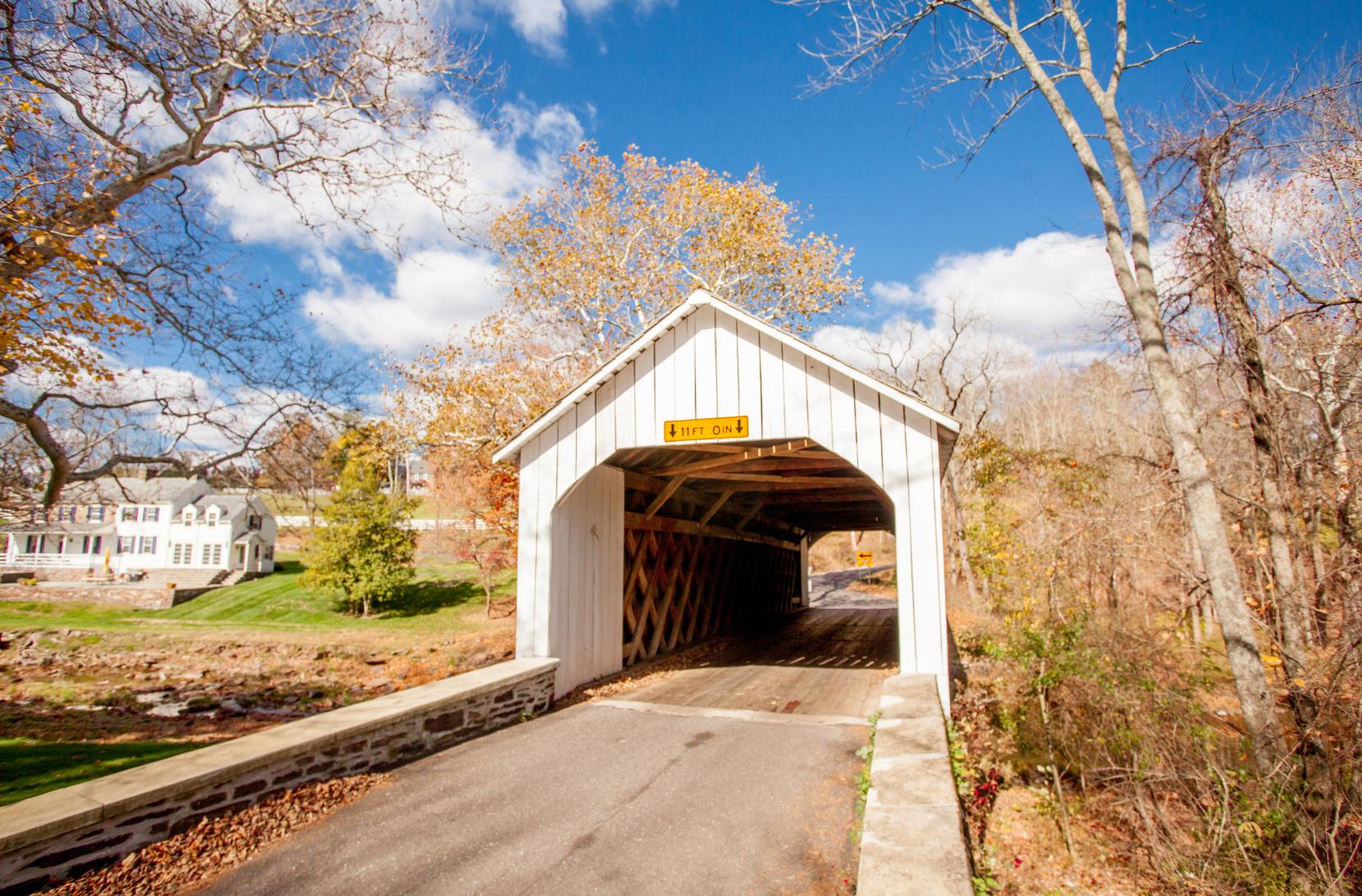 • Also in Quakertown is Sheard's Covered Bridge, stretching 130 feet over the Tohickon Creek near the village of Thatcher. Then, venture through Pipersville where the next covered bridge awaits. Known as Loux Covered Bridge, this bridge is just 60 feet long, making it the second shortest in the county. This bridge was constructed of hemlock, a type of tree once plentiful in the area. 

• By this point, you'll need to satisfy your appetite! Luckily, Doylestown is not too far. Not only does this historic town have incredible old-style barns, but it also boasts tons of great places to dine and shop. Enjoy a fresh quiche or grilled pound cake in The Zen Den's cozy and funky atmosphere. Or grab a lunchtime craft beer with amazing American fare, like burgers and grilled swordfish, at M.O.M.'s; Maxwell's on Main.  

• History lovers will appreciate the handcrafted work of the artisans at Moravian Pottery & Tile Works. These handmade tiles can be purchased in the gift shop, so be sure to take a piece of Doylestown history home with you! Located beside Henry Mercer's 20th century home, Fonthill Castle, you can unearth history and innovation along the grounds of  The Mercer Mile.

• Doylestown is also home to many historic barns and farmsteads to admire. Stop by 3447 Street Road in Doylestown to appreciate a large stone barn atop a smith shop. Not far from there, you won't want to miss out on the barn at 3171 Ash Mill Road. This 18th-century-style barn and private residence holds unique features that you'll love and appreciate. Then head to 5441 Ash Road, where you can see an English Lake District structure from the 19th century. 

• Before you check in at a local B&B, taste the finest New American cooking, courtesy of Chef Caleb Lentchner at his BYO restaurant, Caleb's American Kitchen. Explore the endless farm-fresh options made from local ingredients! Try old favorites with a modern twist, like the Crisp Calamari Salad or the Pan Seared Diver Scallops. Then check in for the night at Ash Mill Farm B&B, a 10-acre working sheep farm with five beautifully-appointed Manor House guest rooms and cottages. Kick back and relax in a rocking chair found on the porch as you treasure the peaceful landscape.
DAY 3:
• Continue your journey through Bucks County's back roads for a final day of adventure. First, enjoy some leisure time as you walk through the many shops at the nearby Peddler's Village. This 42-acre shopping mecca boasts more than 60 shops and restaurants, so there are plenty of places to enjoy a wonderful breakfast or brunch. Try the signature Veggie Burrito and fresh fruit at Buttonwood Grill!

• As you head back onto the road, cruise to New Hope to find the remarkable Thompson-Neely Barn. A unique feature of this property is that the house next to the barn served as a hospital for the sick and wounded Revoluntionary War soldiers. As you continue your drive to Covered Bridge Road in Solebury Township, you'll come across Van Sandt (also known as Van Sant) Covered Bridge, built in 1875, that stretches 86 feet long over the Pidcock Creek. The nearby barn at250 Lurgan Road is the next stop on this tour, although its year of construction is unknown. A gambrel roof hangs over this vast structure and concrete silo.

• Make your way along scenic River Road and to the Main Street in the heart of New Hope. There are plenty of places to stop, shop, wine and dine in this eclectic and cultural town. If you're visiting during the warmer months, it's the perfect time to enjoy al fresco dining on Main Street! Have a taste of the community-favorite Deep Fried Mac & Cheese, only at Havana Restaurant and Bar. Save time to find a unique gift to take home from at Heart of the Home, specializing in handcrafted household items. 

• Begin again on your route to the final stops of the barns and bridges tour! Off of Pineville Road in Newtown, you'll find two unique barns designed in the early 19th century.
      o 390 Pineville Road has a traditional feel within the stone and wooden frame. Admire the intricate worn look of the wooden beams that make up the structure. Attached to the main structure is a smaller hay barn that holds the same rich detailing in the wood.
      o 359 Pineville Road is a stone bank barn that has two separate sections. One is a three-level structure with red sandstone quoins on all four corners. The other is a much larger section that was added later, giving the barn an uneven appearance in the gable roof.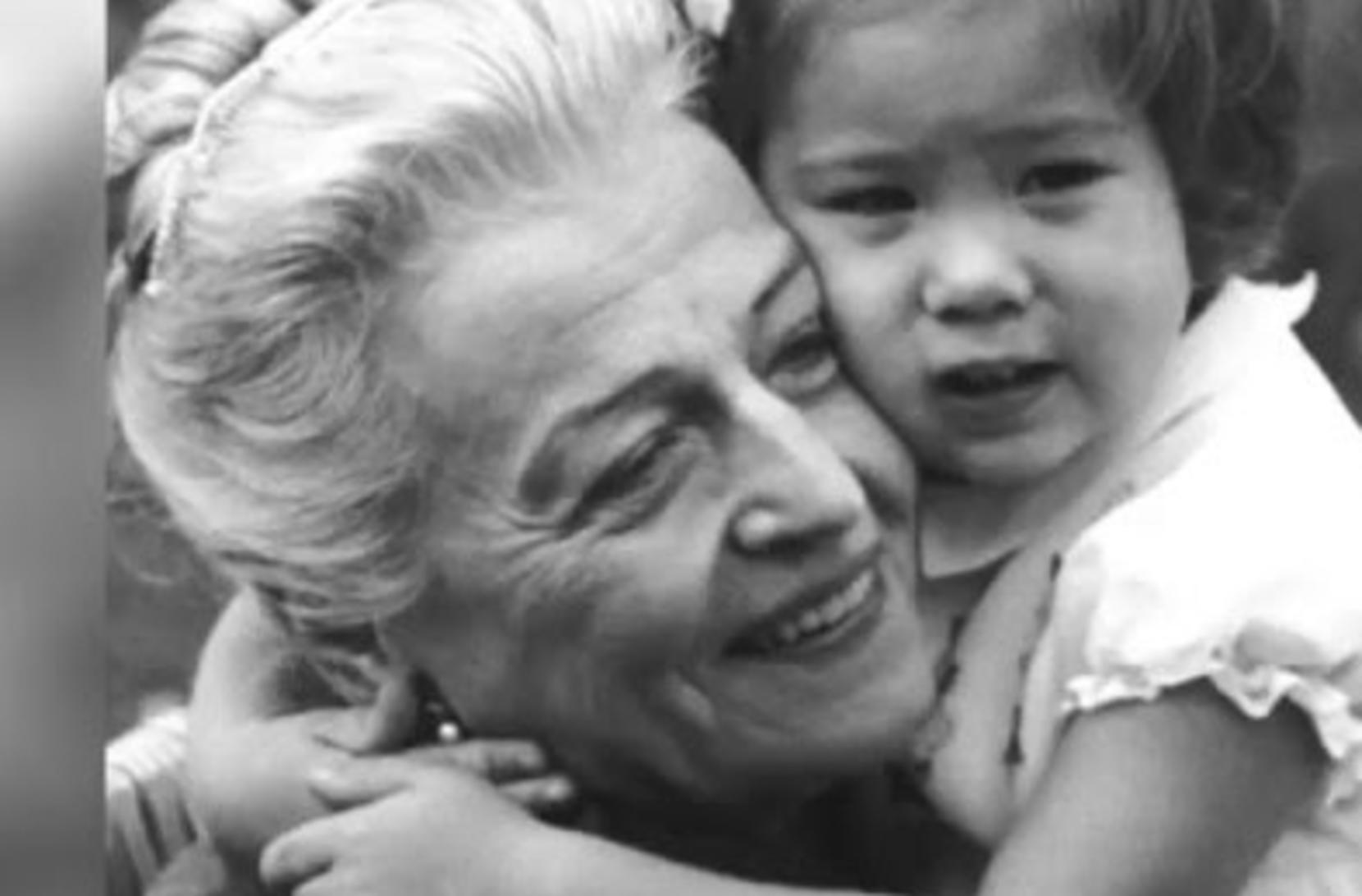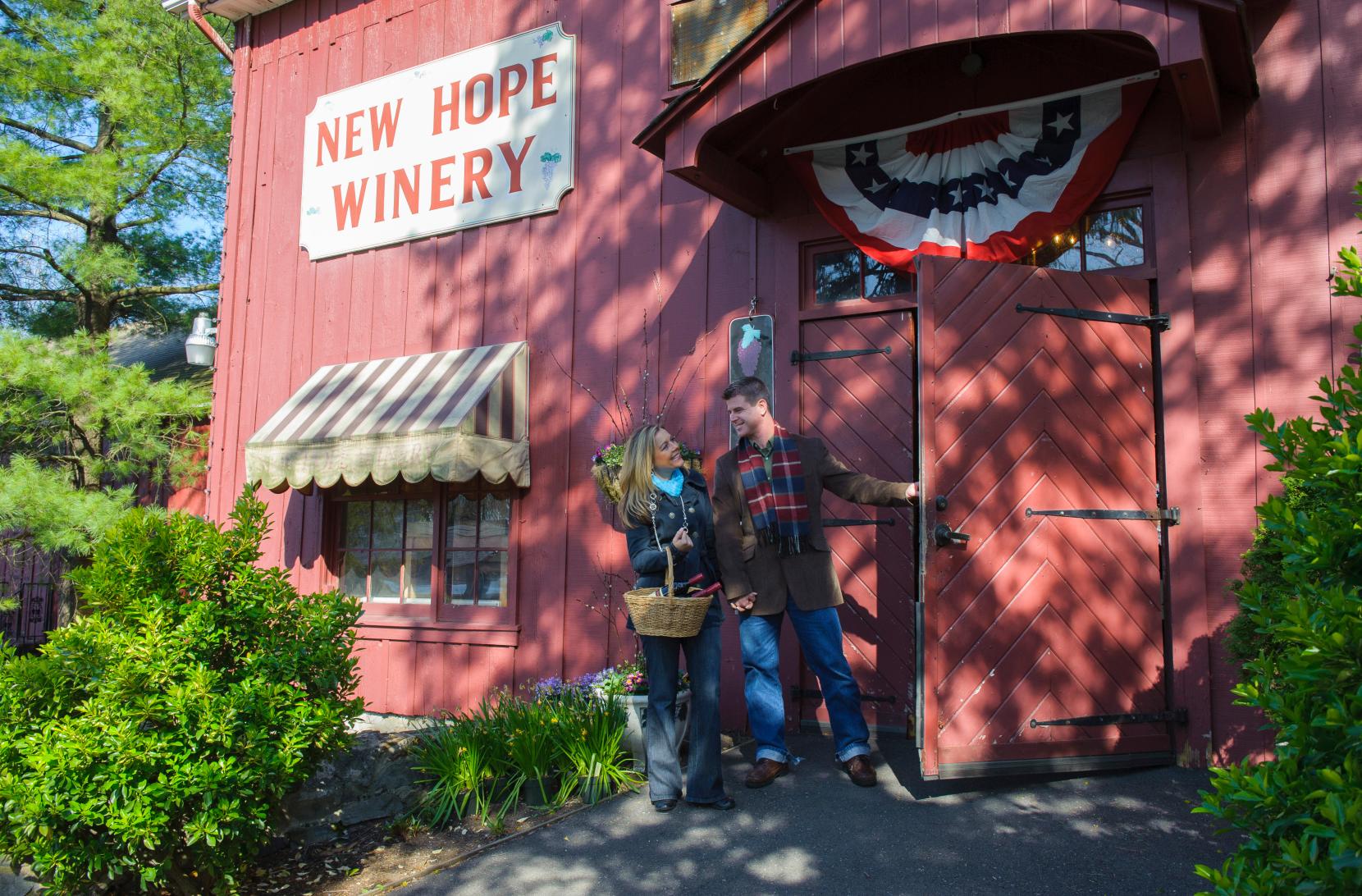 • The simple structure of the barn at 1085 Durham Road in Newtown is not actually the original structure. After a fire in 1914, the barn was reconstructed into the beautiful frame ground barn that you see today. As you drive back towards New Hope, you'll find the dramatic barn at5801 Ridge Road. This barn in particular holds some of the most eccentric details with its yellow and green walls accompanied by a red roof. 

• About 3 miles away, you'll see the final stop of your destination at 2725 Aquetong Road. This barn displays great 18th-century architecture and was previously an encampment site for General Charles Lee's army during the Revolutionary War. It is also one of the oldest in the county, dating back to 1748.

• You've reached your final barns and bridges destination, but that doesn't that the fun has to end! At the local New Hope Winery, you can not only enjoy the converted barn's design, but you can taste and pick your favorite wines as you tour the property. End your voyage with a sweet and savory treat at Skip's Candy Corner in Peddler's Village.

• Re-energize yourself by relaxing at the wonderful Golden Plough Inn. Lounge in the whirlpool tub or by the gas-lit fireplace in the many exquisite guest rooms and suites. There are nearby spas and wineries to visit during your say at the Inn.

Now it's your turn to uncover and continue your own path throughout Bucks County! Tell us what you find by tweeting us @VisitBucksPA or share a photo on Instagram with the hash-tag #BucksCountyMoment!