MEET THE BREWER:
CLAUDIA CONFOY, TRIUMPH BREWING CO.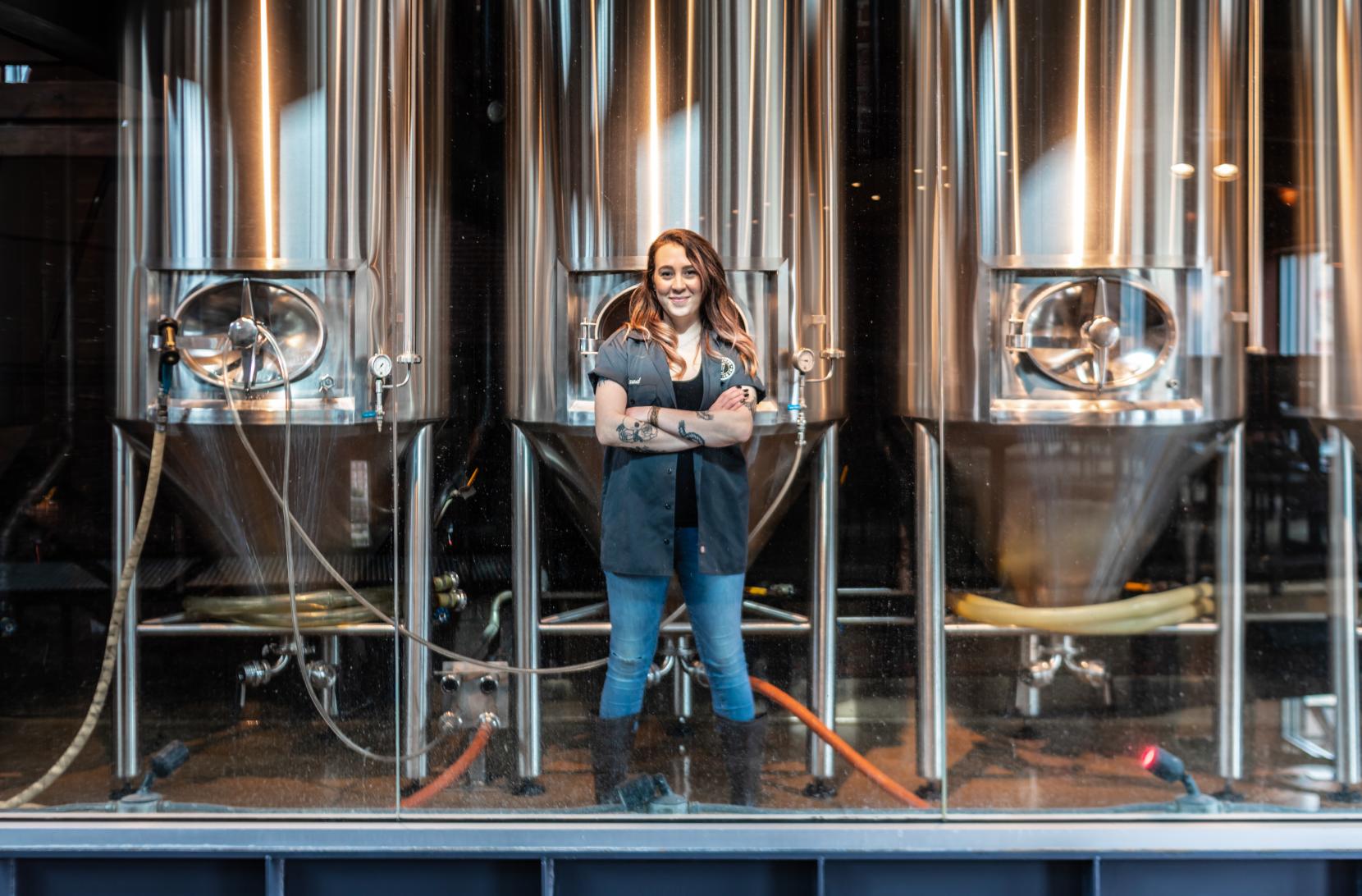 How did you get your start in brewing?
I actually started out at Triumph as a hostess and although I was incredibly curious and intrigued by the whole brewing process, I had never homebrewed and honestly, I didn't start drinking beer until I started working at the pub. I'd always loved cooking (the blending of science and creativity while getting your hands dirty) and was thinking of working my way into the back of the house as a cook. Soon enough though, the brewers posted a Brewer's Assistant position, and I thought, "Why the hell not?" I never thought I'd get the job let alone be Head Brewer only four and a half years later.
What was the first beer you ever brewed?
Although I cannot recall the first beer I ever brewed, I would believe it to be the Bengel Gold IPA, and that is due to the fact that it is and has been in our weekly rotation since before I even started brewing.
What do you enjoy most about brewing?
I really enjoy the blending of creativity and science, as well as having a physical and very hands-on job. I love ending the day feeling like I've made something tangible, something people will enjoy. The absolute best feeling is when you finish a long brew day and can go down to the bar and have a pint of beer you've made. It's terribly satisfying and beer always tastes better after a brew day!
Is working at a brewery different than what you thought it would be?
I had no idea what to expect when I started this job. I had never brewed at all before, so everything was brand new. I remember at the beginning being surprised how much engineering and basic plumbing was involved. There's a lot of tinkering involved and being able to maintain and construct equipment (all of those days helping my dad with odd jobs around the house have really come in handy). Brewing also involves a lot of strategizing and being able to plan my moves ahead, like chess. You've got to be very in tune with your clientele, knowing what they want/what they'll drink more of, and then being able to plan your brew schedule accordingly. This is especially apparent in a brewpub, where what you are able to do in the brewery directly affects the people at the bar drinking your beer (whom literally watch me work, since the brewery is on display for the whole restaurant).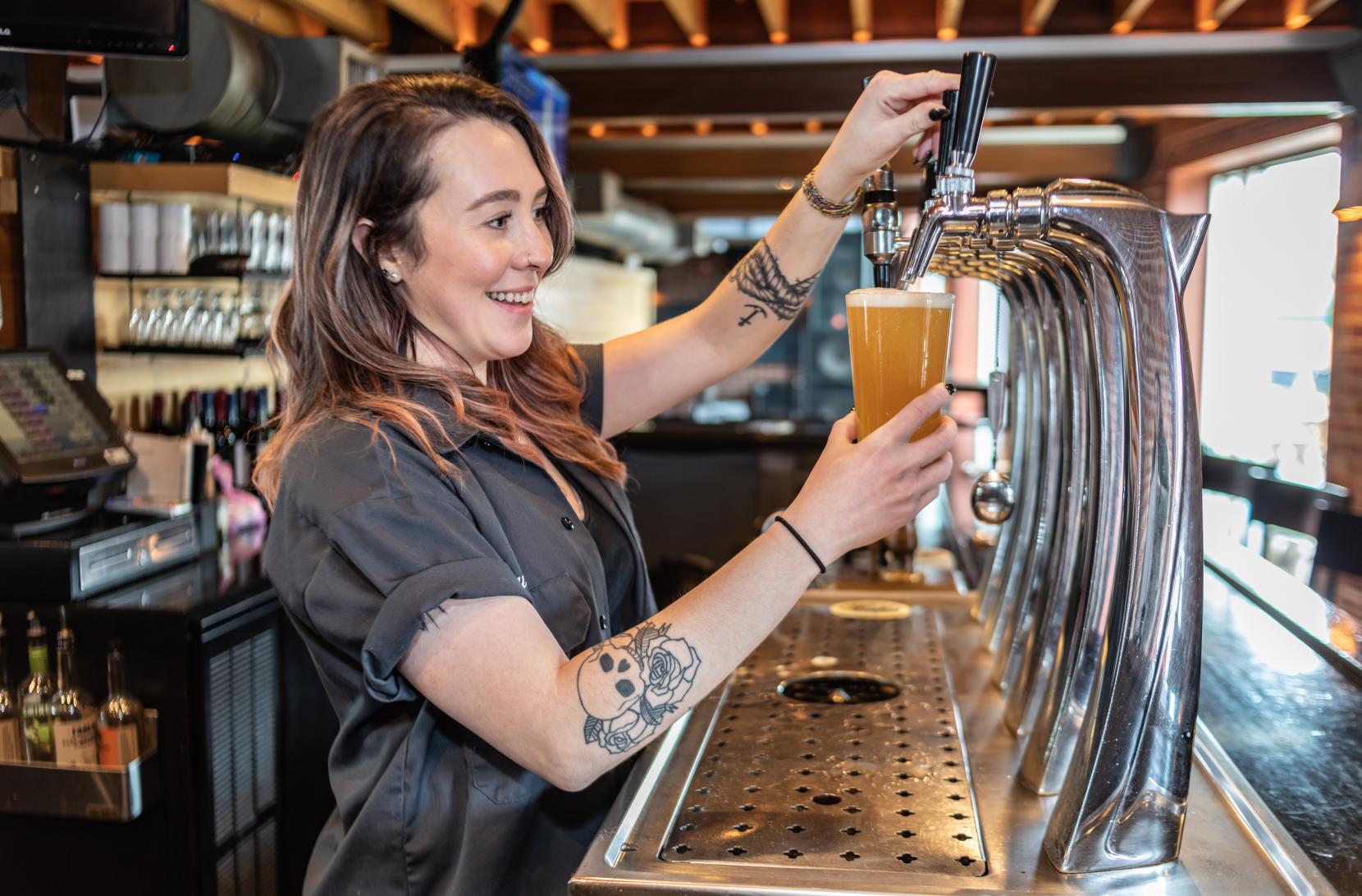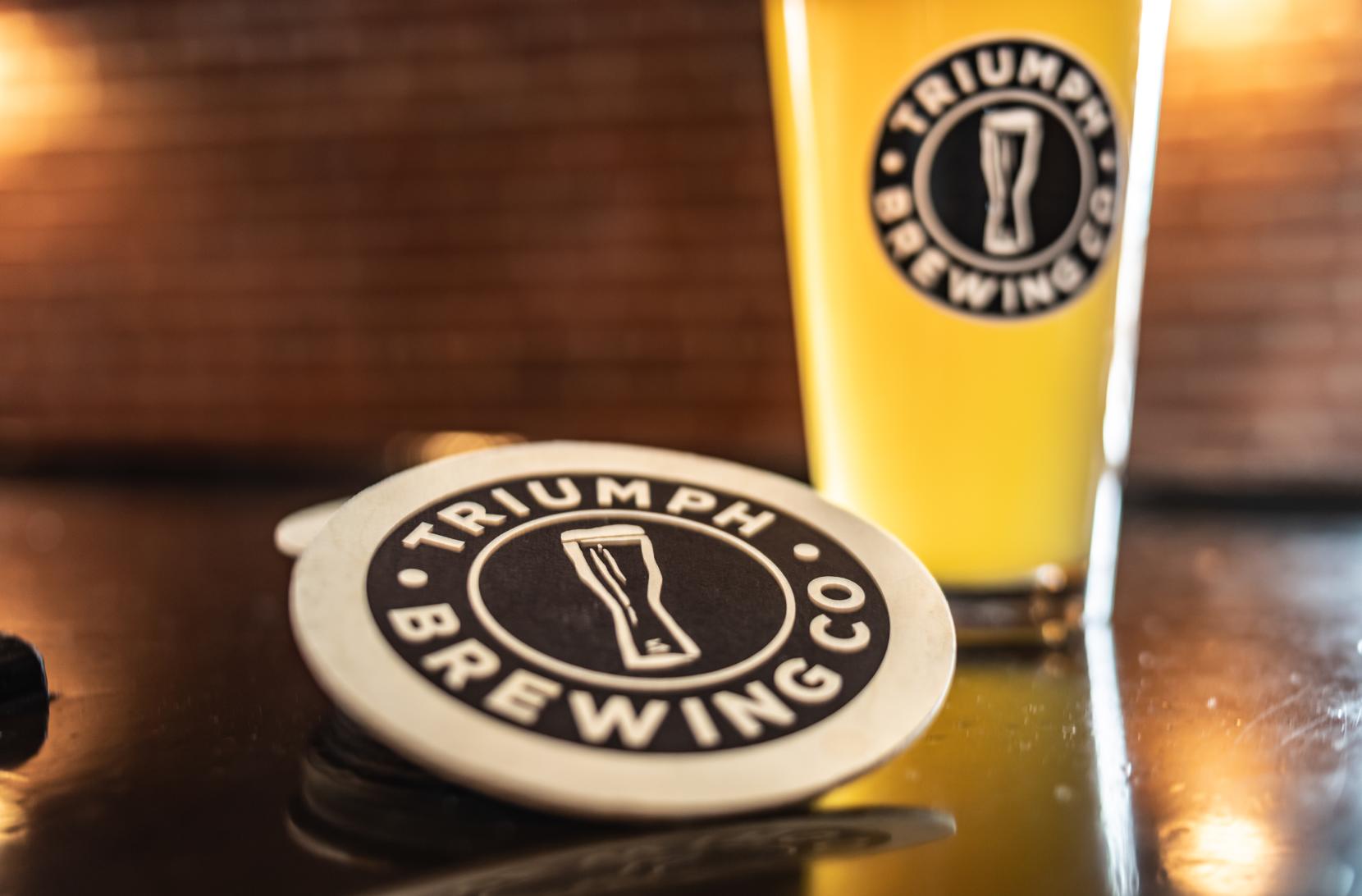 Do you have a favorite memory during your time at Triumph?
When I first started as Assistant Brewer, I bounced between the New Hope and Princeton locations. Everything was new and exciting and I was learning so much. And I got to learn from two brilliant brewers, who taught me everything I know, and who became and still are my best friends. I have many fond memories of getting done long, exhausting days in the brewery and going down for a beer (or sometimes on really bad days, Scotch) and just hanging out with those guys. That was probably my favorite time on the job.
How is your beer connected to the local area?
We try to take advantage of the farms and local businesses in the area.  We use Bob's Buzzy Bee's for our honey and Folk City Roasters from Pipersville for our coffee beans.  We've used herbs from Roots to River Farm and cider from Solebury Orchards. We had a beer dinner once where we collaborated with The Farm Cooking School and used produce and herbs from Roots to River Farm. I brewed the "Farm to Tablebier" (a Belgian style ale brewed with the local honey and late-harvest lavender from Roots to River) special for the occasion. And starting February 2019 we want to start hosting a Happy Hour Farmers Market every Tuesday night in the bar.
What's unique about your beer?
I think the fact that we do a lot of lagers is unique to a small brewpub.  We usually have at least two on tap. Come Oktoberfest our tap list is all lagers and German styles.  But even in our ales, we try to make clean, simple beer. We try to stick to the four main ingredients of beer - malt, hops, yeast and water - and if we do add anything to our beers, we try to use fresh, whole and (when we can) local ingredients.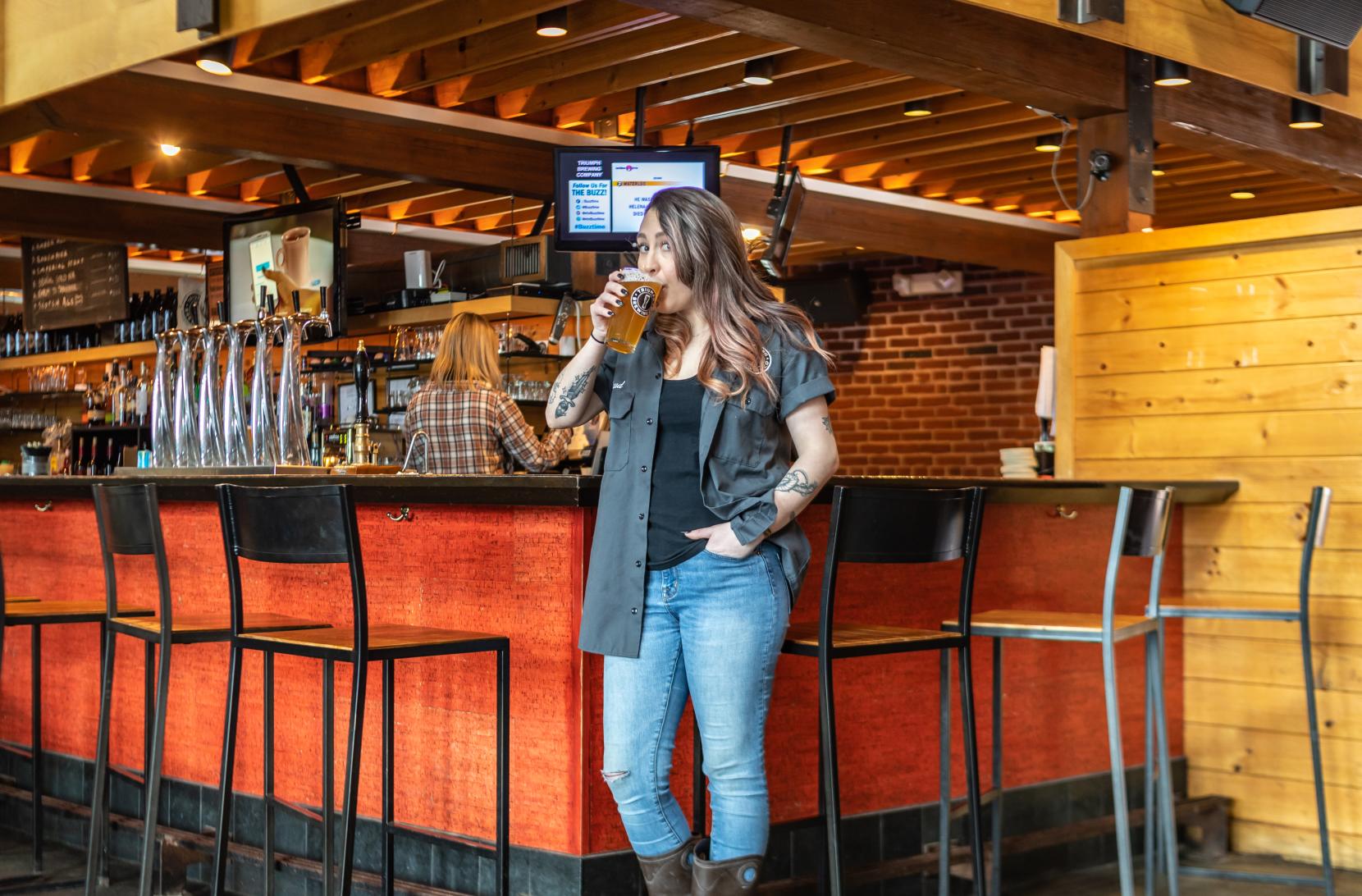 Claudia Confoy, Triumph Brewing Co.
Do you have a favorite Triumph beer?
Well, that's like asking me to choose a favorite child... I really enjoy our lagers, especially the Vienna (very malt forward) and our Black Lager (dark like a stout, but light and crisp like a pilsner). I also love some of our more unique styles, like our Red Eye (red ale aged on coffee, tastes like iced coffee), Jewish Rye (malty ale aged on caraway seeds and malt vinegar, and it tastes exactly like a slice of marble rye bread), and in the summer our Zitronenweizen (Hefeweizen brewed with lemon and chamomile). I like the beers that change people's preconceived notions about what beer is or has to be.
What's your favorite thing to do during the summer in Bucks County?
I grew up in Ewing, New Jersey, right on the Delaware, so summer to me is hiking or biking on the canal, bringing a book and beer down to the river, cooling off in the swimming hole and just being outside as much as possible.
All Beer, Wine & Spirits in Bucks County: