MEET THE BREWER:
HANNAH GOHDE, FREE WILL BREWING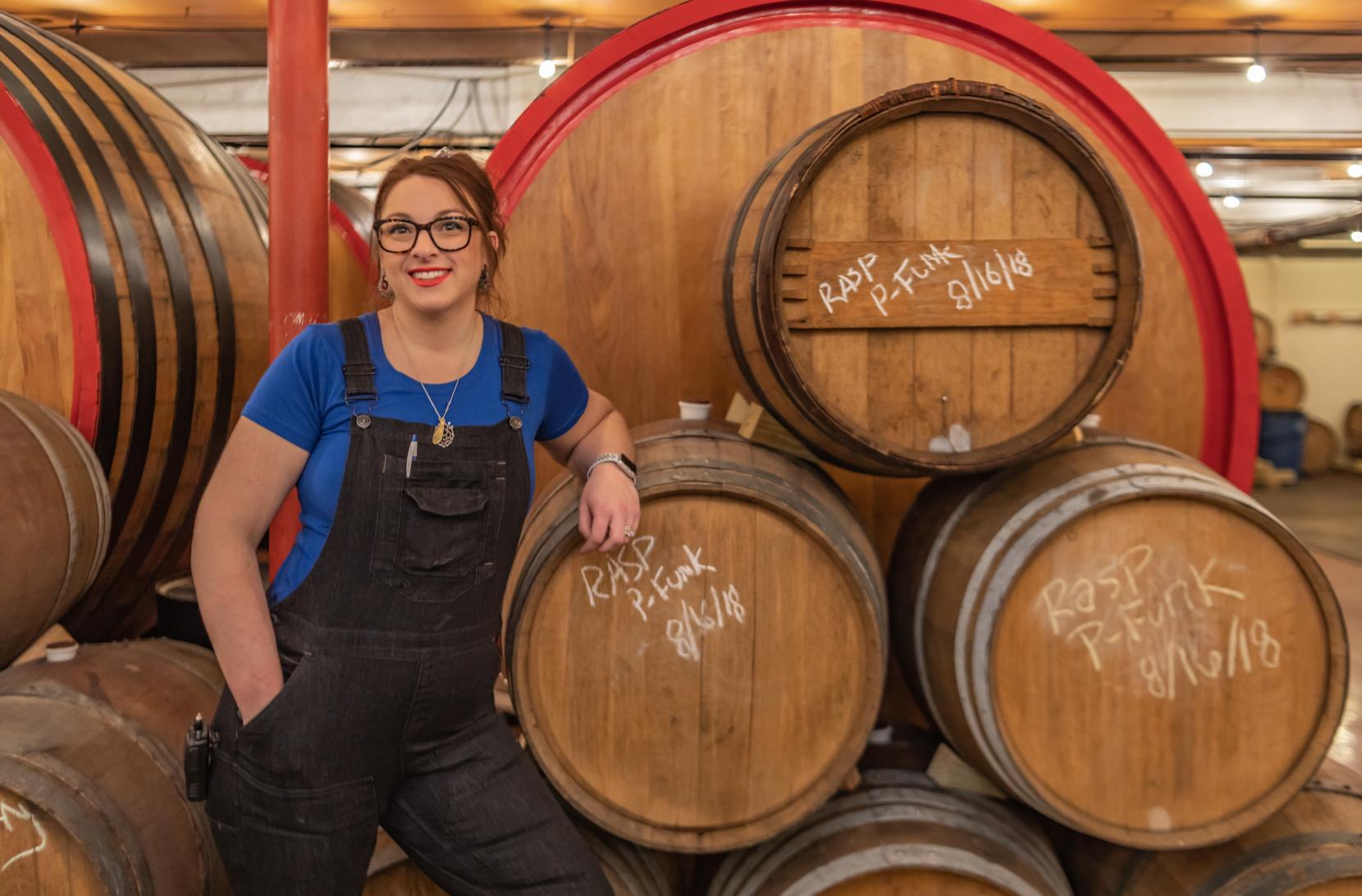 How did you get your start in brewing?
I started homebrewing during college with different groups of friends. I don't actually remember if what we brewed was good or not, but it was palatable and I loved the creativity and comradery that went along with it. Around the time that I turned 21, one of the former dive bars was revamped and turned into a craft beer English-style pub, which is where I first experienced and solidified my love of sour beers. I continued to dabble with homebrewing throughout my 20's, brewing occasionally with my younger brother and friends while I was in grad school.
Life post-grad school got a bit chaotic and I found myself abruptly moving from Hershey to Chalfont, with an old friend (Andrew, who would later become my husband) from undergrad who conveniently enough, also loved craft beer, Scotch (my spirit of choice), and had also occasionally homebrewed with friends. Shortly after I moved in, Andrew and I bought several hundred dollars worth of homebrew equipment and made the full jump into it. It didn't take long before we were both completely hooked and started nerding out together over recipes and processes. Fast forward about 6 months, and I started working at Keystone Homebrew Supply, learning and absorbing everything that I possibly could from the seasoned brewers that I was surrounded by on a daily basis.
I started working part-time at Free Will in February of 2014. I would work 1-2 days a week in the tasting room (this was prior to the law change, so onsite beer consumption was prohibited except for the free samples), which was enough to make me realize how much I needed to be a part of Free Will in any way possible. For the next 18 months, I worked both jobs, became BJCP certified, taught numerous classes, and did everything I could to bolster my position so Free Will would see that they needed to hire me full time. I wasn't afraid to get down and dirty, to pay my dues, to do the work that no one else wanted to do. I just knew that I NEEDED to be part of it all.
In July of 2015, I was hired full time as a Brewer and Event Coordinator. My role has changed and evolved many times in the 5 years that I have been here. This is a very fluid environment (pun intended but also 100% serious), which means that you need to be able to bend, be flexible, adapt, and change with the times, trends, and needs of a growing company, and that includes wearing many, many proverbial hats. While I've traded in my Event Coordinator hat for other hats, the one that has continued to remain is Brewer. I've had some detours and even a year-long temporary derailment along the way, but Brewer is the hat that I will always come back to.
I have an extreme amount of passion for this industry, and it's genuine. Much of that passion comes from me having my hand in the product. I have the unique opportunity to be able to have my hand in the product AND get to share it with our Free Will Friends, whether it's through marketing campaigns, sharing a pint in the Taproom, pouring at a festival or educating the public. Present day, I split my work week into brewery production work/brewing and "other." The "other" responsibilities include such things as quality control panels, marketing, community outreach, social media (though that hat will soon be worn by our newly appointed Brand Manager), and other responsibilities along those same lines. It's a unique position and I'm just one person among an amazing team of people who share that same passion for beer.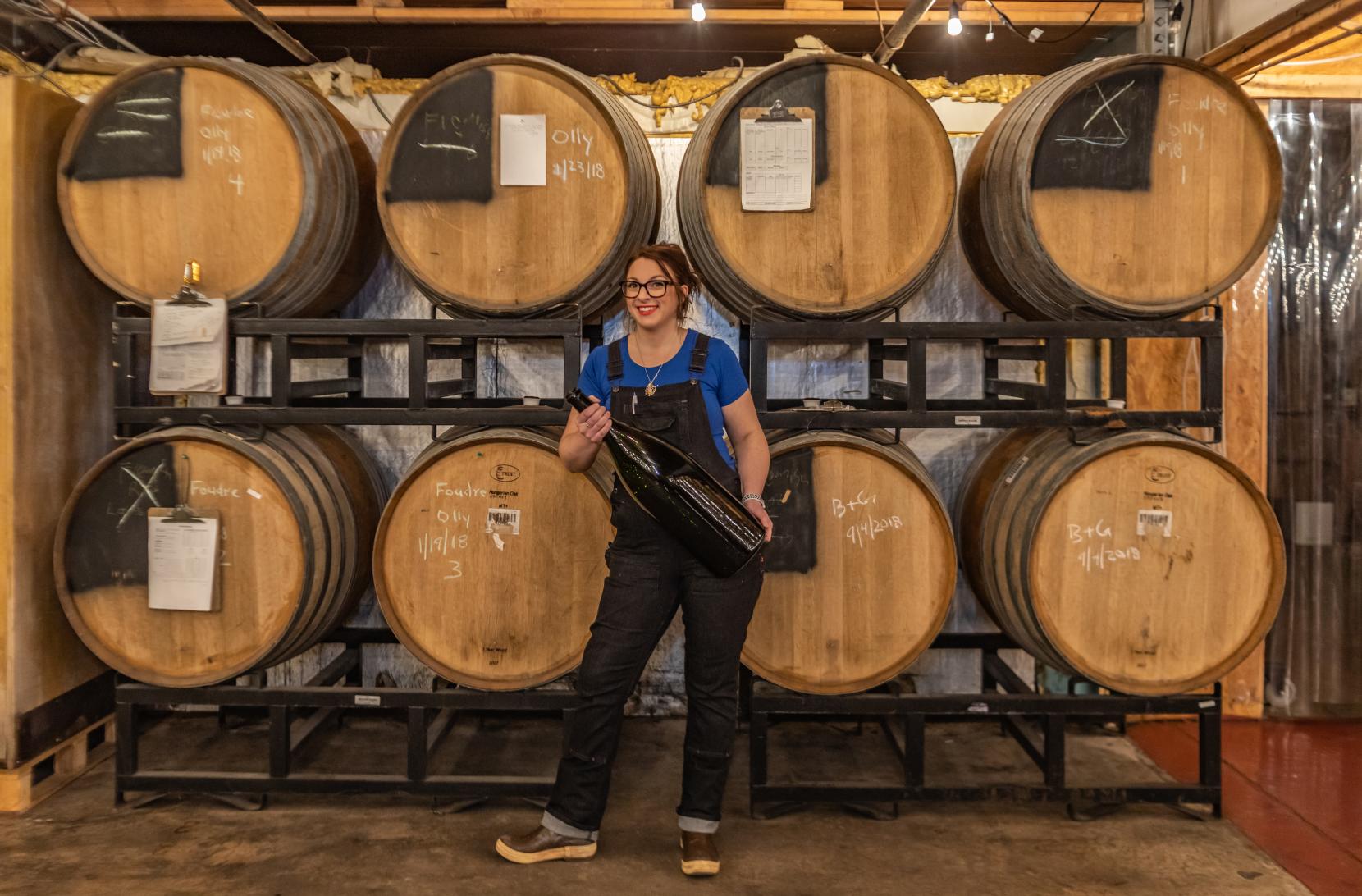 Hannah Gohde, Free Will Brewing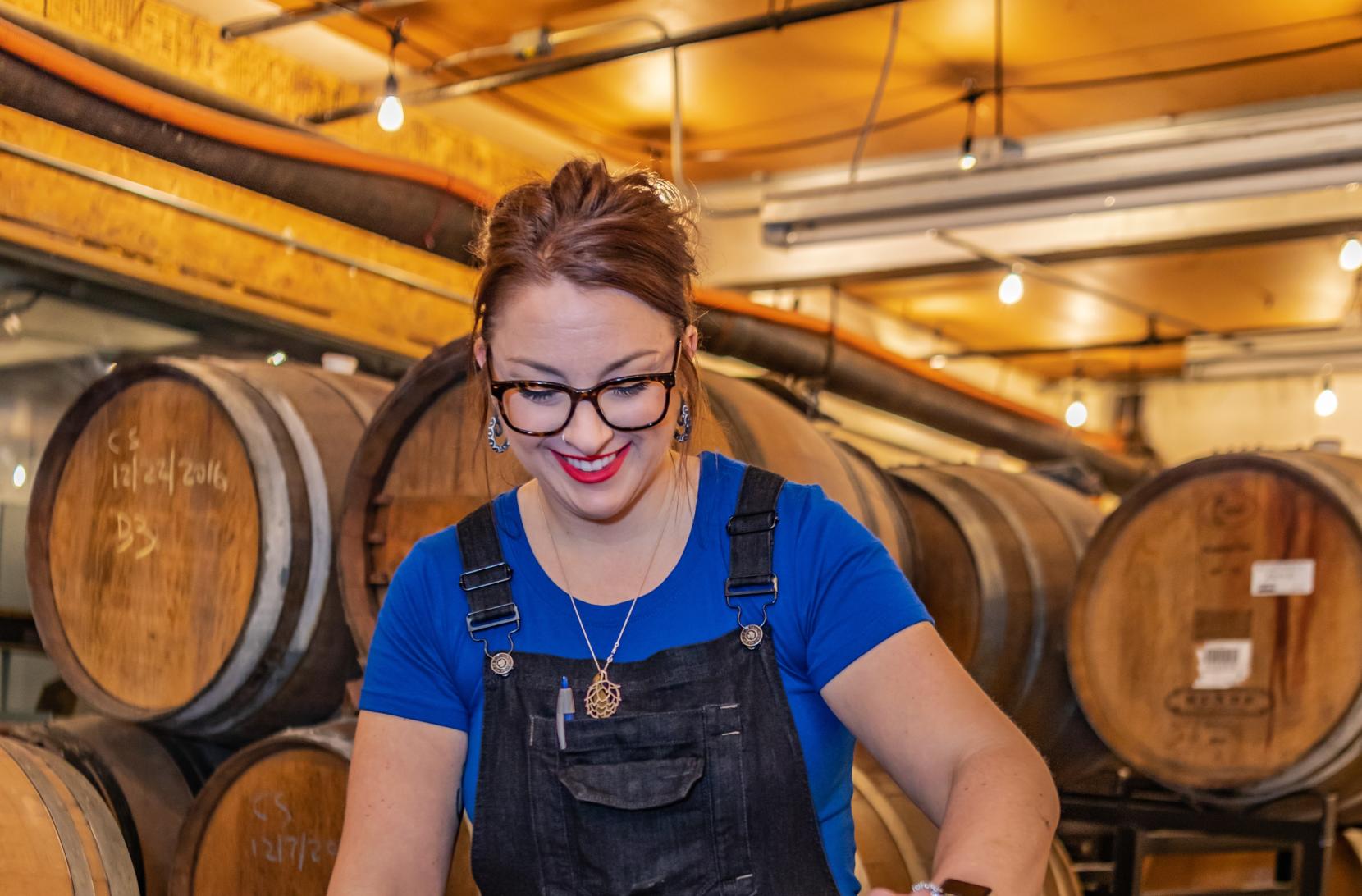 Hannah Gohde, Free Will Brewing
What do you enjoy most about brewing?
First of all, I love the physical demands that brewing puts on me. It is by no means a glamorous job. Most days, I look like a bridge troll covered in sticky grain, slimy yeast, and who-knows what else. My hands are heavily callused. And I couldn't tell you when the last time was that I didn't wear my hair in a ponytail or under a hat. But I love it. Feeling my muscles shake and my shoulders sore after a particularly hard brew day, makes drinking that post-shift pint all that much more gratifying, knowing that I helped make that. Seeing the efforts of myself and the rest of the team come to fruition in a single glass of beer, is one of the most rewarding things I think I could experience.
Second, I love the creativity that brewing allows for. Don't get me wrong, brewing is a science that does require precision, but creative energy pulses through the entire process from inception to execution and everything in between.
Third, community and diversity within this industry inspire me, and who doesn't love to feel inspired?!? I love, LOVE, LOVE that beer has brought me together with so many people that I would not have ordinarily crossed paths with. Beer unites us. Diversity is not about race, religion, or socioeconomic backgrounds. Diversity is simply a difference between people. Diversity is me looking at someone and drawing from their experiences, their knowledge, their background, and using that to become a better person—a better brewer. The people, whether patrons or industry folk, are what I draw inspiration from.
Is working at a brewery different than what you thought it would be?
Sure! But as Shakespeare said, "Expectation is the root of all heartache," so I've always tried to maintain an open mind and be receptive to learning.
Do you have a favorite memory during your time at Free Will?
Oh boy, that's a tough one because there are so many… Yacht Rock Brew Days, shotgun Fridays, winning a silver medal at World Beer Cup for Olly (Sour Brown Ale), hosting some amazing badass women during last year's Pink Boots Brew Day, sharing some of our Sour Cellar projects with my parents—especially my dad who doesn't drink, but he tasted every barrel sample I pulled and really got into the nuances of each one… these are just a few of my favorite memories.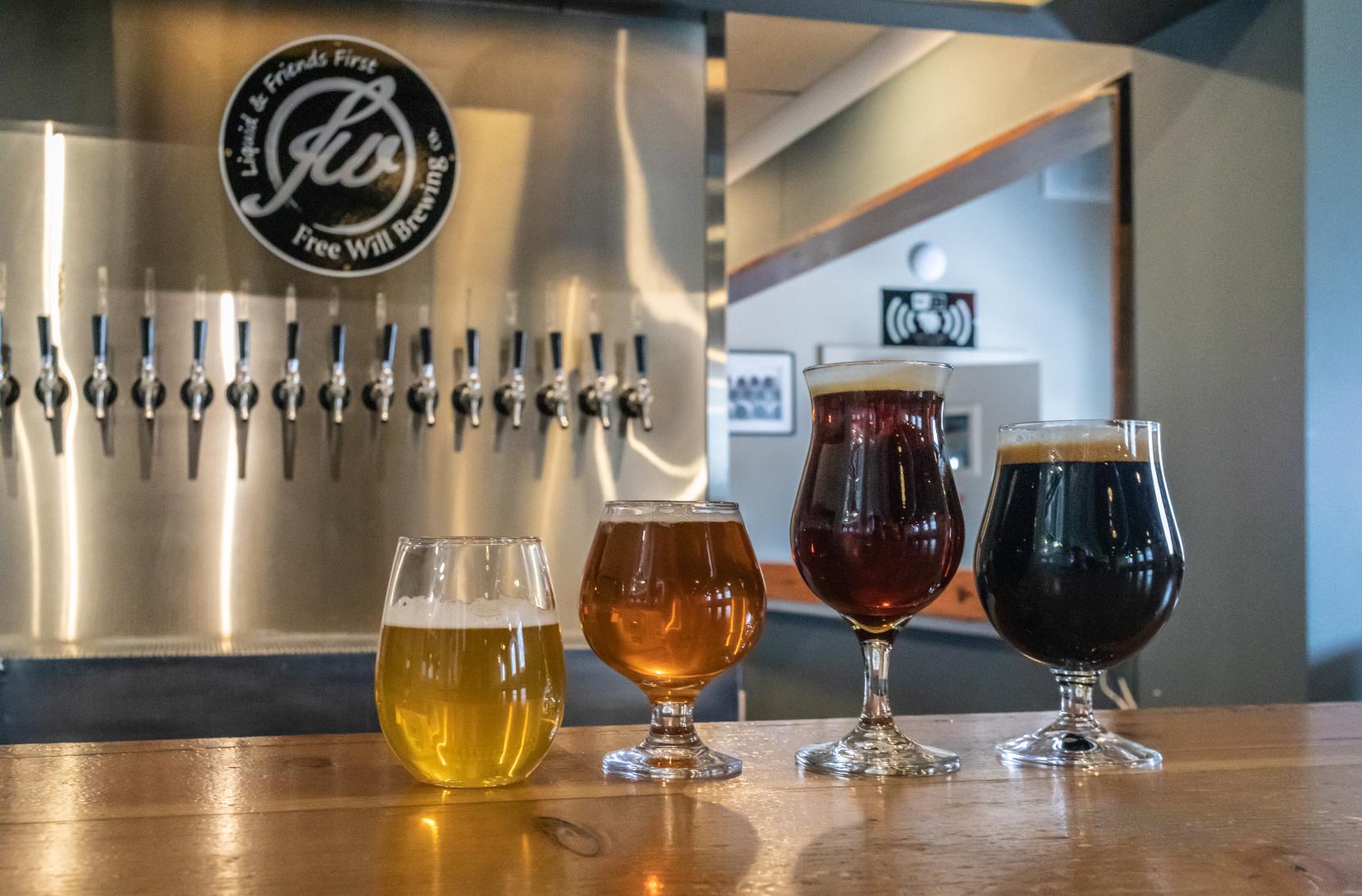 Do you have a favorite Free Will beer?
I LOVE our sour program, but I don't think that the actual brewing process for sours is all that much fun. It's what happens in the barrel, with all the trillions of microbes, that actually makes the beer. I love the blending process. I love tasting barrels and discovering just how different they are from barrel to barrel, even if it was from the same 15bbl batch. Producing sours is where science meets art. Science gets you to a certain point, but beyond that, it becomes an artform. Art is subjective, it's intimate, it speaks a story. I love that part. An oil painter sees a beautiful sunset full of vibrant shades of oranges and reds and purples, and they set out to recreate that sunset using their paint palette and a canvas. Barrel blending is much the same way, except our palate are actually the barrels and our canvas is our palate—through sensory analysis we strive to achieve this masterpiece that fully envelops our palate.
All of that being said, I have a fun story specifically pertaining to one of our beers.
The first time I had Free Will was in the fall of 2012. I had C.O.B. (coffee.oatmeal.brown) on tap at the Blue Dog Tavern in Chalfont, and it was one of those extremely memorable moments where you know that your life was just changed. I actually said out loud, "Holy &$#*, what is this?? I need more of this in my life!!!" Andrew told me it was from this new brewery in Perkasie and that we'd have to go visit sometime. Fast forward 3 years, and I can't even make this up, the first beer that I brewed as a professional brewer, was C.O.B. It was serendipitous, and completely by chance. Life always has a way of coming full circle.
How is your beer connected to the local area? What's unique about your beer?
Since the beginning, Free Will has been embraced and celebrated by our very local community. Many of our Brewployees can walk to the brewery or grew up in Perkasie. We have put a strong focus on community and giving back to those that have supported us. We want everyone to feel welcome in our Taproom and to create their own experience when drinking our beer. Our distribution footprint has grown, but we will always put our local market first.
Philly has the BEST beer scene in the whole world. You can try to argue, but it really is the truth. We get things like Cantillon and Russian River (we are the only market they distribute to east of Colorado), and have local powerhouses such as Yards and Victory who have helped to pave the way for younger craft breweries such as ourselves. Everybody wants to gain distribution in Philly, which is super great as a consumer, but makes for some tough, yet awesome, competition as a producer. We have tried to always put our liquid first. Quality above all else. We have had some mistakes along the way, but we have always placed intense importance on the integrity of our liquid. We have also always put our friends first. Every single person who purchases our beer or walks through our doors, is a Friend. And without those Friends, we have no one to consume our beer. This mentality translates into our motto: "LIQUID AND FRIENDS FIRST"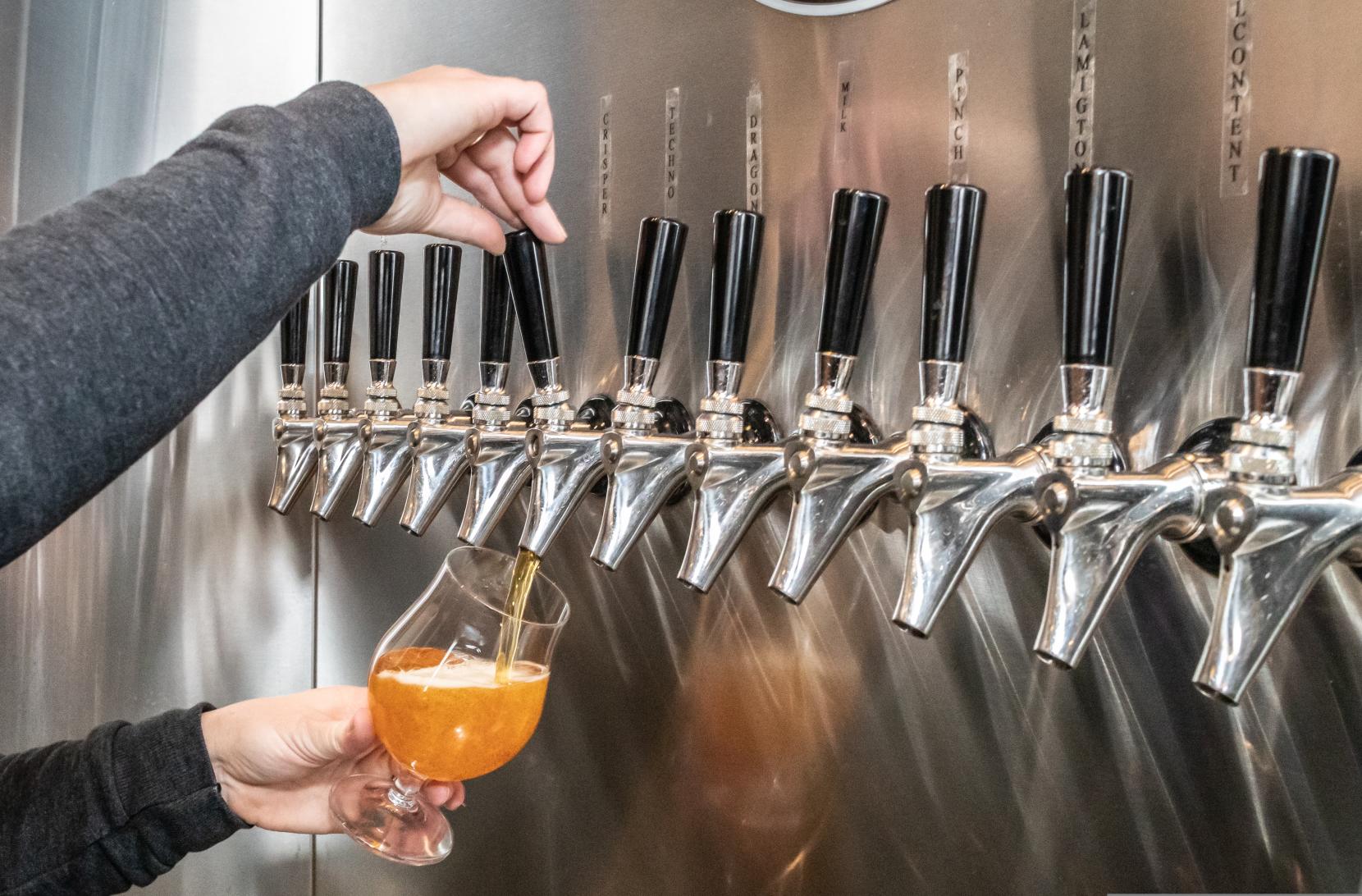 Hannah Gohde, Free Will Brewery
What is your favorite thing to do during the summer in Bucks County?
I love kayaking.  Being on the water is probably my favorite place to be.  When I lived in Harrisburg, I would kayak nearly every day from Fort Hunter, up to Lady Liberty.  It was an intense workout and I absolutely loved it.  Now, I mostly kayak at Peace Valley Park, though I am hoping to do a 3-day river sojourn on the Delaware this summer.
What is it like being a female brewer in a male-dominated industry?
I want to point out that women in beer isn't new. In fact, women were the first brewers.  It was part of their "house duties" (I cringed as I wrote that). All throughout history, women's roles have changed and evolved and right now, we're in the thick of a cultural and societal revolution. 
In my opinion, the national push for STEM based learning curriculums has been a huge springboard for craft beer.  More women are being exposed (and at a younger age) to these fields of study that were once considered to be male-dominated.  I think that is huge. Not only for the advancement of STEM based technologies, but for normalizing diversity and inclusion. The beer industry is hugely STEM focused, so as more women are being exposed to these disciplines, I think we will see a shift in the gender split.  To some extent, we already have, but we can do better. 
I am on the steering committee of the local Pink Boots Society chapter, and we have organized the first female-focused beer festival in PA, called BOLD WOMEN & BEER. The BOLD WOMEN & BEER Festival will benefit the Pink Boots Society to help fund educational scholarships and raise the profile of women's roles in the beer industry.  This is a craft beer festival for ALL beer lovers and serves as a platform to highlight and feature female beer experts from within the local beer industry.  As a proud BOLD WOMAN, I am personally very passionate about this mission and believe that education along with exposure are the keys to successfully elevating women in every facet of this industry.
I have never been a woe-is-me type of person so highlighting and speaking about the negativity I have experienced doesn't feel natural to me.  I choose to focus on the positive.  This industry is filled with some of the greatest, smartest, funniest, kindest, most loving people that have ever existed—that's what we should celebrate. 
All Beer, Wine & Spirits in Bucks County: