Bucks County As Your Canvas 
Artists have always been drawn to Bucks County, taking inspiration from the natural landscapes, unique architecture and historic feel. It's what has attracted names like William Lathrop, Daniel Garber and Edward Hicks to the area. You too can make Bucks County your canvas by taking advantage of the county's many photogenic settings.
• Bucks County's parks provide a beautiful landscapes for local artists to capture nature on canvas and film. Sites like Lake Galena in Peace Valley Park, the boulder field and waterfall in Ringing Rocks Park, Lake Nockamixon in Nockamixon State Park and Schofield Ford Covered Bridge over the Neshaminy Creek in Tyler State Park are just are a few of Bucks County's beautiful backdrops.

• There may be nothing more photogenic than Henry Mercer's three concrete castles. The palatial Fonthill Castle, his former home; the six-story Mercer Museum; and the imposing The Tileworks building offer spectacular focal points for any work of art.

• The vast farmland of Bucks County provides a beautiful backdrop for photographs. The rolling landscapes, dotted with barns and farmhouses are perfect for painters and photographers alike.

• The Bucks County Playhouse is one of the most recognizable and picture-perfect buildings in the county. With its unique architecture, the former grist mill is photogenic from any angle.

• Vineyards have always been fruitful for artists, and Bucks County's Wineries are no exception. Rows of grapes hang from the vines at the nine wineries along the Bucks County Wine Trail, each one a new opportunity.

• Bucks County is home to 12 historic covered bridges, each one of them providing a unique setting for setting up your canvas or snapping a photo.

• One of nature's beautiful gifts, the Delaware River meanders along the eastern edge of Bucks County, providing many places for landscape photography and painting. The adjacent Delaware Canal State Park parallels the river from Easton to Bristol and is lined with historic homes and bridges to create idyllic waterfront scenes.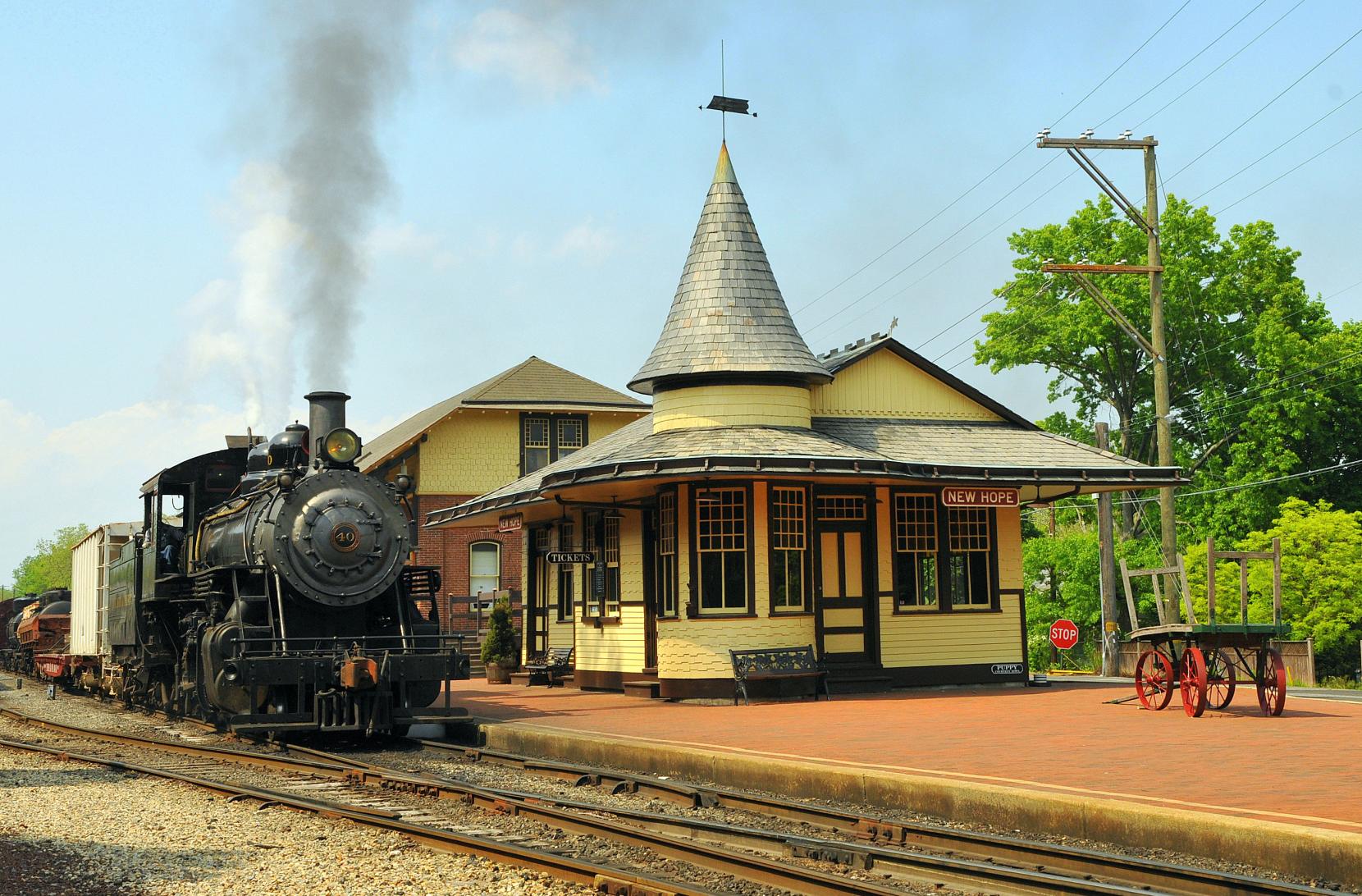 New Hope Ivyland Railroad
• Steam pouring from a century-old steam locomotive provides an awe-inspiring subject. The New Hope & Ivyland Railroad's No. 40 engine steaming through scenic Bucks County makes a picture-perfect scene.  
• Capture the beauty of nature at the Bowman's Hill Wildflower Preserve. This 134-acre tract is home to more than 800 species of native plants, providing endless opportunities for artists and photographers.
• The nearby Bowman's Hill Tower inside Washington Crossing Historic Park offers breathtaking views of Bucks County and New Jersey. The stone-built tower also makes an excellent focal point in any pictures and paintings. 
• Bucks County's historic Main Streets provide many excellent views. Concentrate on the historic architecture of Doylestown or the crowded sidewalks of New Hope for a memorable image.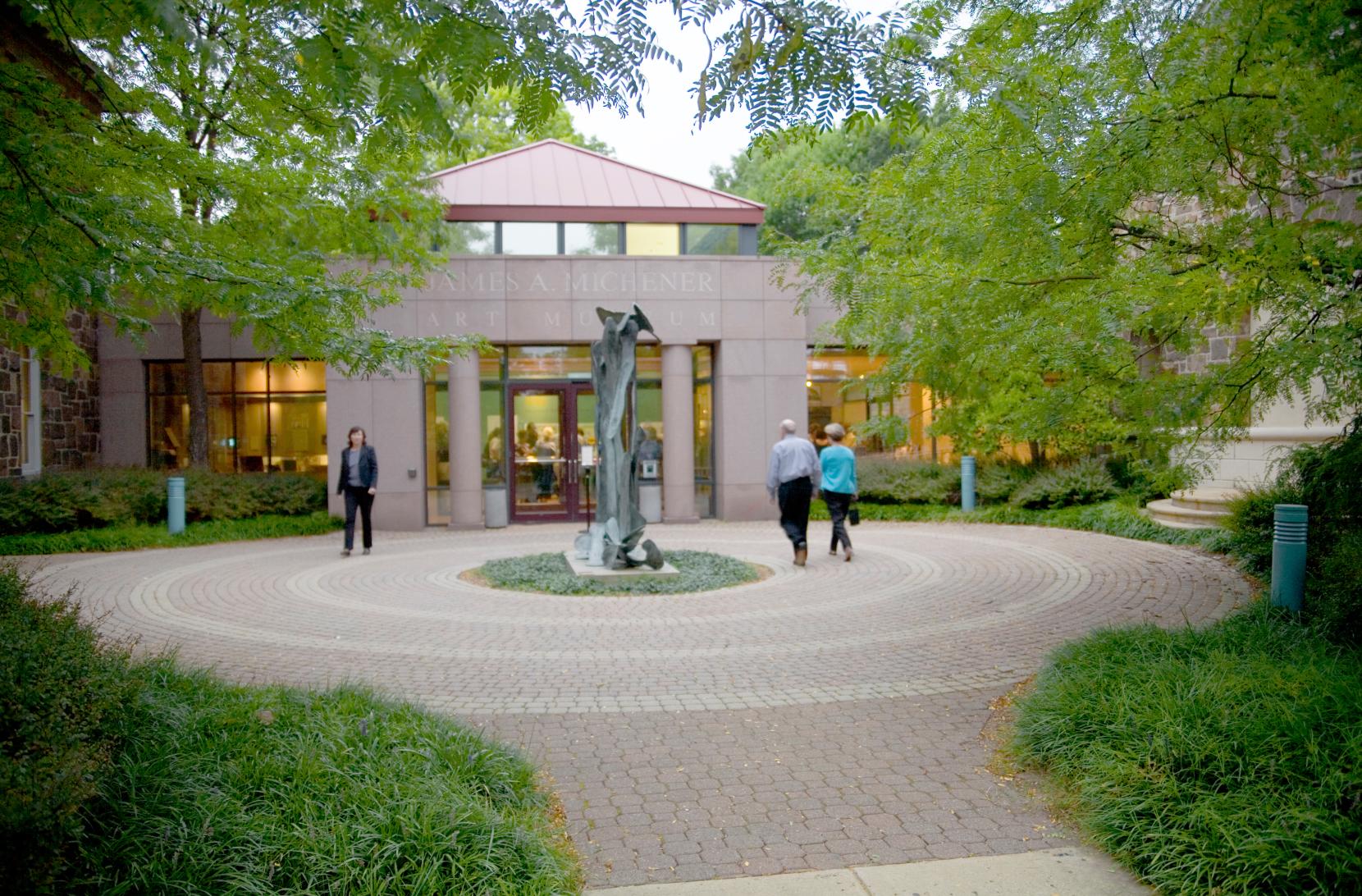 • Outside the James A. Michener Art Museum in Doylestown, the Sculpture Garden draws the eye of artists. Set in the shadow of the former Bucks County Jail that makes up much of the museum, the gardens are home to both magnificent landscaping and brilliant works of art.  
• Lavender flowers waft in the breeze at the Peace Valley Lavender Farm. Come by in the summer to capture the pretty purple and blue flowers that grow along the Bucks County hillside.
• Thirty acres of gardens and manicured landscape await shutterbugs at Hortulus Farm. The farm boasts 20 unique formal gardens, each one offering new natural wonders.
• While Byers' Choice may be best known for its holiday Carolers®, the Byers' Choice Emporium should be on every artist's must-see list thanks to the elegant English Gardens, home to blossoming trees and sculptures by local artists.
• Pennsbury Manor, the reconstructed colonial estate of William Penn, offers countless photo opportunities. With the stately Manor House, 43-acres filled with pastures and outbuildings, and scenic views of the Delaware River, Pennsbury Manor is a photographer's dream.