Fall Fashion Finds
Can't decide what to wear? Not to fear, the Bucks County Fall 2018 fashion guide is here! We've taken inspiration from the latest fall trends to help you dress to impress this season. Here are eight trends to keep an eye out for along your shopping adventures in Bucks County: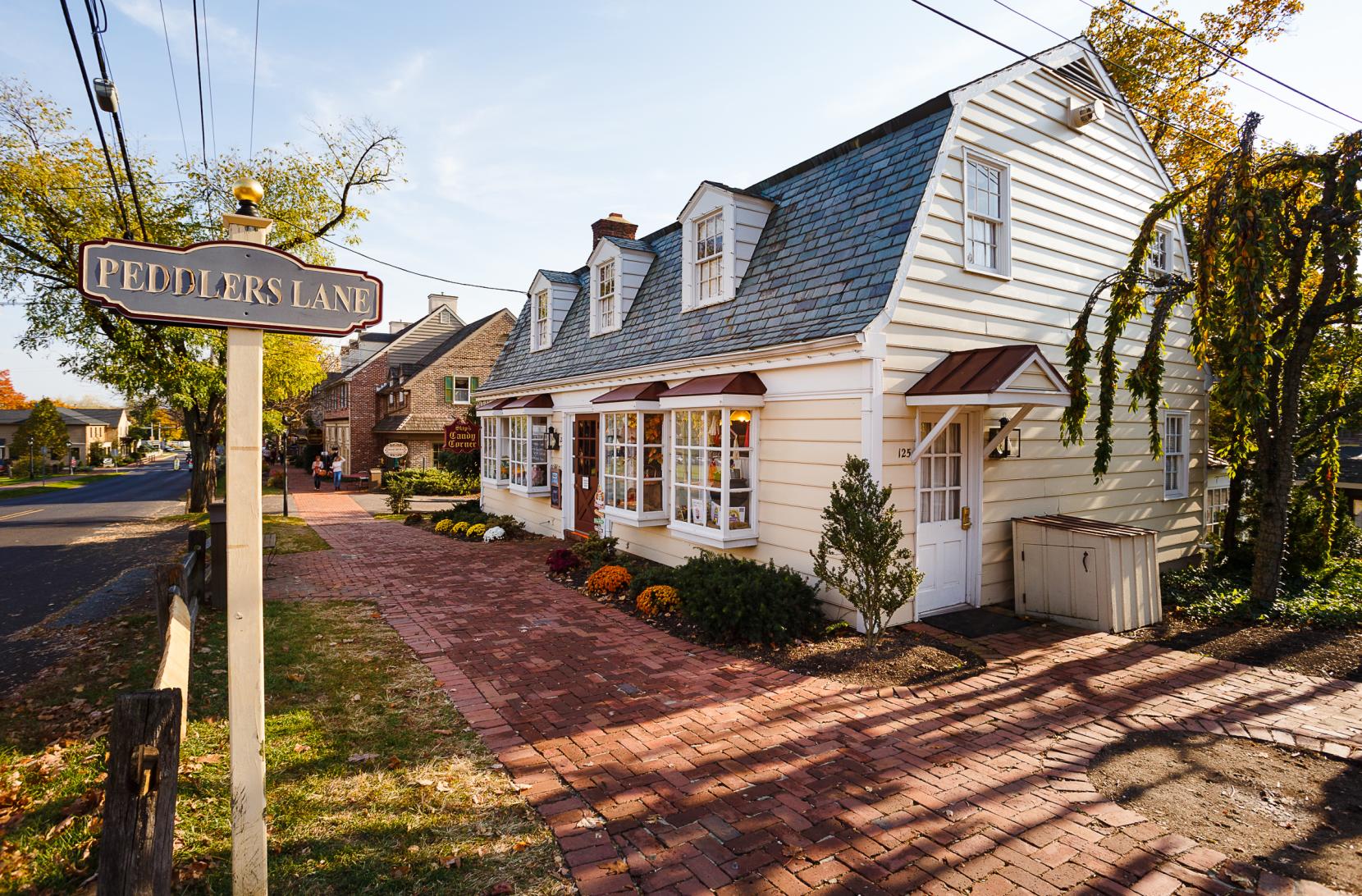 Peddler's Village lane sign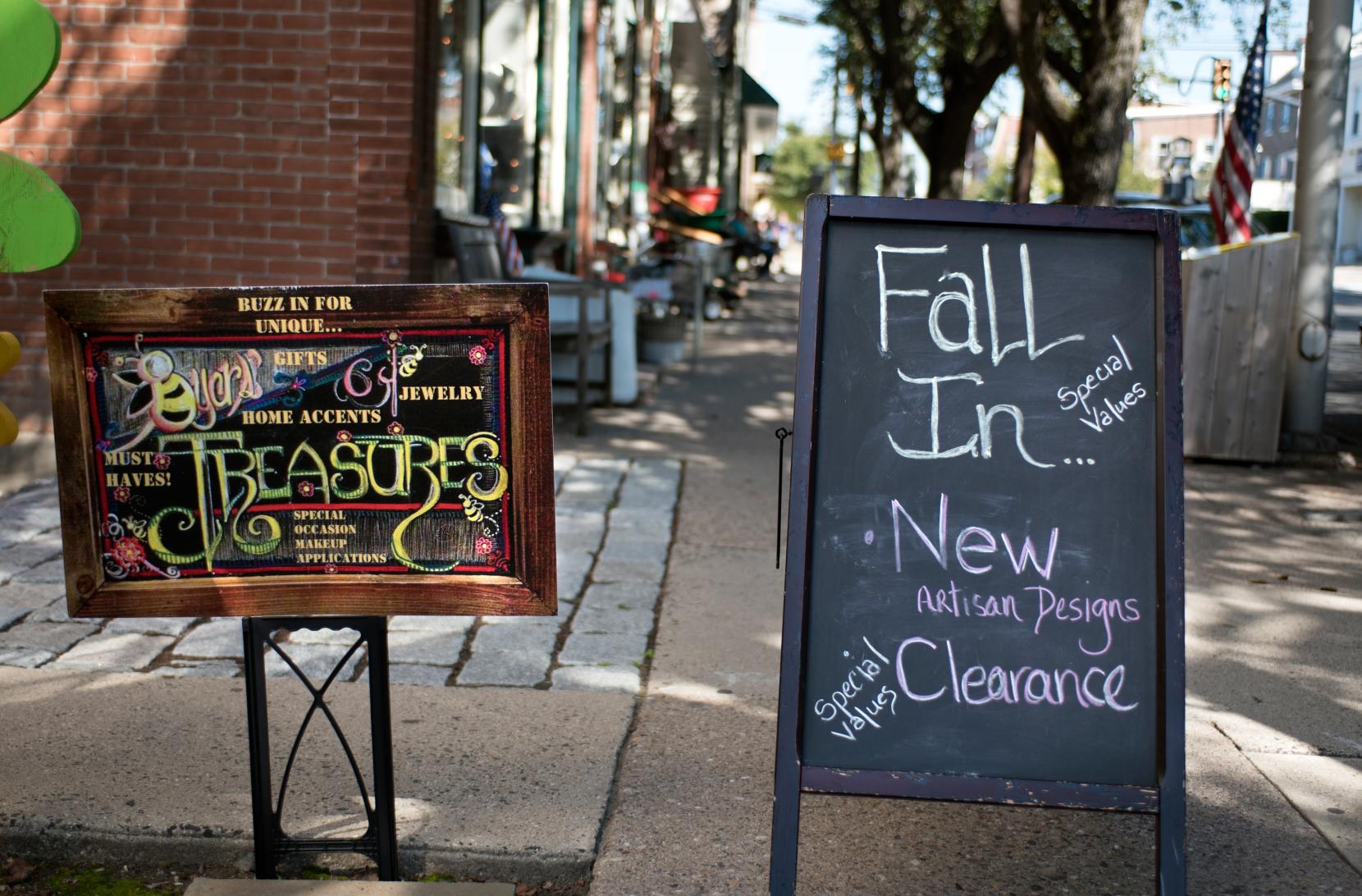 Newtown Main Street signs
"Red Maven"
Whether it's a statement lip or a bold piece in your wardrobe, red is the color of the moment. Timeless and elegant, this bright cherry red will be the perfect accent to any outfit you wear. Some of our tips for styling are to use small accents such as a bright clutch or heels. For the more daring fashionistas, a red coat or dress will have you ready to take on the day in style. 
One store to shop this trend is Marissa's Boutique in Newtown. They have a great selection of evening wear gowns in dazzling reds as well as some stylish neutrals to pair with your statement pieces. 
"Golden Girl"
Millennial pink has met its successor this year: Gen-Z Yellow. Already popping up in full swing on the spring/summer 2018 runways, it's time to be ahead of the game and begin your experimentation with this sunnier sister shade. You can begin to expect to see this color in a variety of shades from creamy buttercup to a golden honey. A deeper and fall appropriate yellow looks beautiful paired with moodier colors such as navy or black. 
Anthropologie in Newtown has a wonderful selection of golden yellow hued fabrics and textures to play with this season. Whether you're into modern and structured or bohemian vibes, their selection is perfect for the season. 
"Fall for Florals" 
Florals don't need to be synonymous with spring and summer! Take these delicate petals into the cooler months with dustier shades of blush and burgundy over navy. A bomber jacket in a floral print layered over a white tee and jeans is a no-brainer. As it gets chillier, a knit cardigan over a floral blouse and jeans can breathe life into the season. 
Intrigue Fine Apparel in Buckingham has a few floral pieces this season that are appropriate for an intimate night in town. They have plenty of high-end accessories to shop in addition to their curated collection of clothing. 
"Plaid Jane"
Checkmate. This season has been all about slouchy check-patterned blazers and tartan skirts. To update this pattern many designers have been looking at sleek lines and boxy cuts. Whether you love gingham dresses or want to rock that pant and blazer combo, you're sure to turn heads with sophistication and grace. One styling tip is to pair a plaid culotte jumpsuit with sock boots and a blazer for a day to night look.
For something outside of the box, go over to Lotus Apparel in Doylestown. They have a wonderful selection of plaid scarves and tops that are fall-friendly and timeless.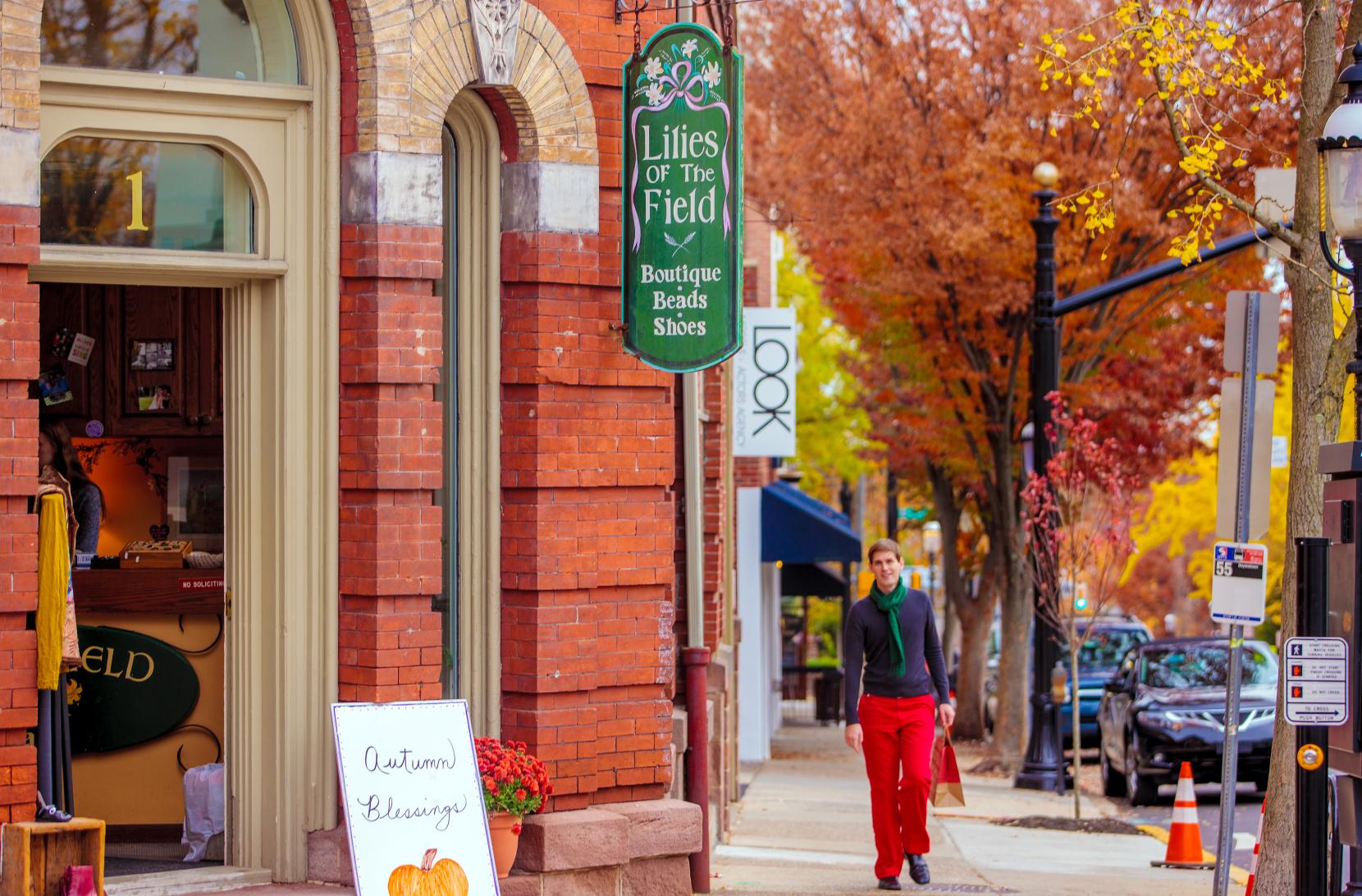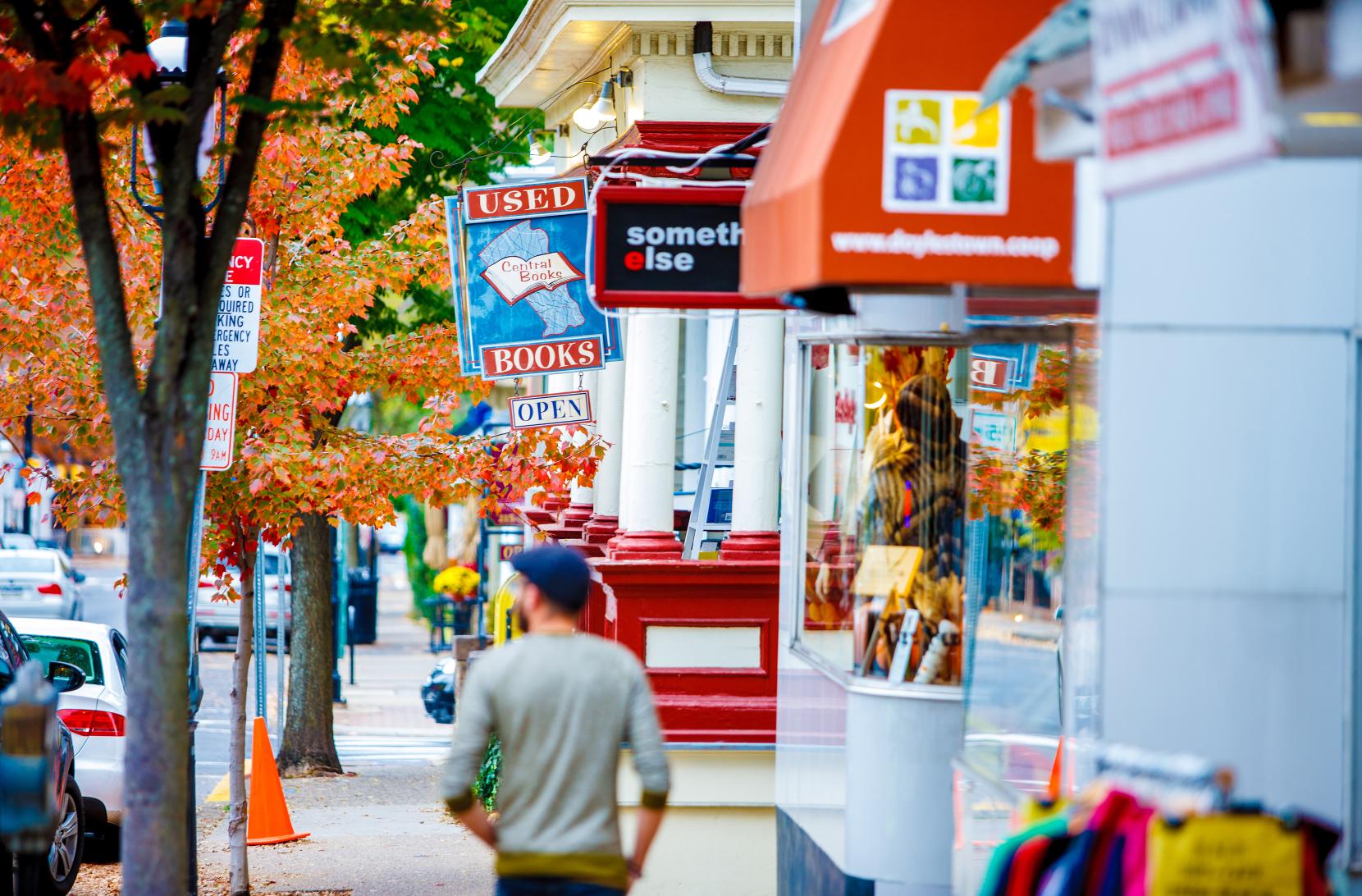 Main Street signs in Doylestown
"Camel Back" 
Outerwear in neutrals have been cropping up everywhere. Pair a camel coat with some patterned neutrals to keep the look monochromatic and interesting. Plaid suits are another wonderful way to try out this trend this season with a shirt and tie in the same color family. 
If you're looking for a great menswear option, check out Ventresca in Doylestown. They have a variety of casual, business and formal wear options to choose from in different textures and patterns. 
"Moss Fashionable Gentleman"
Moss greens have been popular this season and we aren't surprised. Olive greens are versatile and can be paired with tans and black for a more utilitarian vibe. Throw on a parka over an all-black outfit and you'll be streamlined and ready to go. 
Village Outfitters at Peddler's Village is the perfect stop to look for some khaki and olive outerwear for the season. With brands ranging from Columbia to Patagonia, there are plenty of options to choose from. 
"Cozy in Shearling"
Leather jackets lined with shearling are making a big appearance this season. A shearling jacket will look effortless paired with some black denim and casual boots. Alternatively, a dark brown jacket pairs well with light neutral trousers and brown boots to match. 
You can find an array of jackets at Savioni Boutique in New Hope to keep warm as we transition into colder weather. They have a variety of leather jackets and menswear, as well as picks for women. 
"White Walker" 
But not as intimidating as your Game of Thrones counterpart. The key is to play with textures and shades. Warm cashmere sweaters in light cream will brighten dreary days and look fantastic with slate gray and darker colors. One way to style this look is to wear a cream turtleneck under a tailored suit for a more relaxed feel. 
For cozy sweaters and tailored suits, Giovanni's Fine Fashions & Custom Tailoring in Newtown provides shoppers with a variety of fall styles.