OLD-TIME BUCKS COUNTY
One of Pennsylvania's three original counties, Bucks County has more than 300 years of history packed into 622 square miles. William Penn and George Washington are among the famous faces who've left their mark here. Bring history to life through the many historic sites, museums, restaurants and lodgings Bucks County has to offer!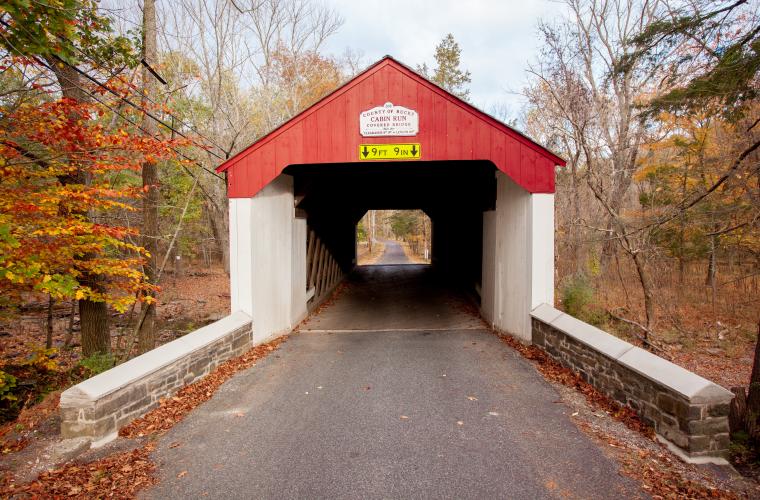 Front of Cabin Run Covered Bridge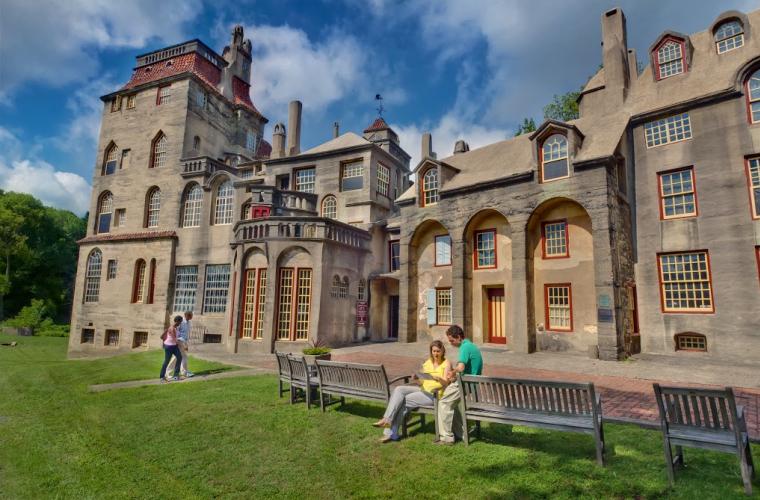 THINGS TO DO:
• Bucks County is known for its beautiful, winding back roads and rustic country towns, but the region is also home to 12 historic covered bridges. Known romantically as 'kissing bridges,' these 19th-century structures are reminiscent of a time passed and create a striking backdrop for photos. Hop in the car and coast past each bridge on the Covered Bridge Driving Tour for a perfect relaxing day in the countryside.

• Hit the open road and embark on the Heritage Conservancy's Barn Voyage!, a self-guided driving tour passing more than 20 of Central and Upper Bucks County's barns. 

• Experience life in Colonial America at Pennsbury Manor, the reconstructed home of Pennsylvania's founder William Penn. The 43-acre estate includes several outbuildings, including the stables that house the park's team of oxen and flock of sheep.

• Learn how America won its independence at Washington Crossing Historic Park, the site where George Washington crossed the Delaware River in 1776. The park's Visitor Center houses artifacts and exhibits that tell the story of George Washington's midnight crossing of the Delaware River and the "10 crucial days" that followed.
• For someone who prefers antiques, take to the skies in a classic 1942 Stearman Biplane at Van Sant Historic Airfield. Hop on board for a ride-a-long or rent a 1946 Aeronca Champ and plan your own flight over the scenic countryside of Bucks County.

• Take a trip through America's past at the Mercer Museum in Doylestown. Henry Chapman Mercer spent his life collecting bits of Americana, everything from cigar store Indians and spinning wheels to antique carriages and boats. Mercer's display is as unique as his collection, with items hanging from the ceiling and suspended in the air in the large central atrium of his six-story concrete castle.

• The Mercer Museum is just one of three concrete castles built by Henry Mercer. Fonthill Castle, Mercer's palatial home, now houses a collection of artwork and original tiles from the Moravian Pottery & Tile Works. Mercer founded the Tile Works in 1898, and today the Bucks County Parks Department runs it as a living history museum, where artisans still make tiles using the same methods perfected by Mercer more than a century ago.

• Tour the village that time forgot at Historic Fallsington. The 300-year-old village preserves six centuries-old structures, including a hand-hewn Log house, Federal-style Townhouse, Tavern and General Store.
RESTAURANTS:
• The Washington Crossing Inn adjoins the spot where General George Washington assembled his troops before the historic crossing of the Delaware River and is likely where he dined beforehand. The McConkeys, who owned the inn at the time, were instrumental in helping the Continental Army with its daring strategy. Diners can now experience fine dining under a lush canopy of trees intimately nestled next to their Secret Garden.

• Indulge in Cock 'n Bull's Sunday Country Brunch featuring a variety of their most savory signature dishes. Taste this colonial restaurant's favorite Corn Pudding, crispy Applewood Smoked Bacon and so much more before strolling through the brick pathways, lush gardens and unique shops of Peddler's Village.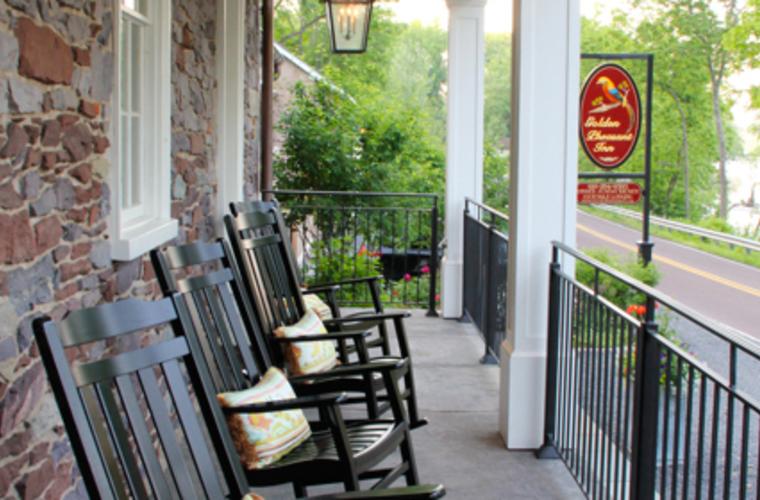 • The Golden Pheasant Inn resides on land that Arthur Erwin, best known for his role in assisting Washington cross the Delaware in 1776, owned before his death in 1791. When the "tavern" was built in 1857, it served as a social hub for area farmers, iron workers and canal men traveling along the river road. Today, it is an architectural beauty serving tourists and locals fresh ingredients along the Delaware Canal.

• Enjoy a heavenly experience at Marsha Brown Restaurant, a refined Creole kitchen and lounge set in a 125-year-old stone church located directly in the heart of New Hope. The main dining room features 40-foot ceilings, impressive 30-foot Renaissance-style mural, antique furnishings, stained glass windows and a grand staircase leading to an in-tact choir loft.

• Sample contemporary American cuisine made with fresh, seasonal ingredientsat the Historic King George II Inn, established in 1681. Located on the Delaware River, the inn offers five dining rooms, a historic tavern and an outdoor riverfront patio.
LODGING:
• Set along the Delaware River in Lumberville, the Black Bass Hotel has access to the pedestrian bridge to Bull's Island. Many suites have floor to ceiling windows that boast wondrous views of the river and provide an abundance of natural light. All suites have lavish private baths and most include private balconies facing the river.

• Built in 1741, the luxurious Inn at Barley Sheaf Farm is part of the original William Penn Land Grant. Pulitzer-prize winning playwright George S. Kaufman later purchased this property and hosted star-studded parties which landed the home a photo feature in Life Magazine in 1936.

• Spend an eerie night in Room Six of the Logan Inn. It has been rumored to house four individual ghosts, each with their own unique tale. The female ghost likes to linger while you sleep. The male ghost likes to appear in the bathroom mirror and the two children enjoy waking you up with their chilling cries. Smell lavender? That usually means one of the spirits is near.