SCENIC ROAD RACES
Bucks County, PA is home to a variety of beautiful parks and nature trails that feature just about every landscape imaginable. From gorgeous canal paths teeming with wildlife to lakeside running trails, Bucks County is the perfect place to feed a nature fix. When the weather starts to warm up, there is no better way to take advantage of the season than by lacing up those sneakers and heading out to the great outdoors! Test your skills at one of the many annual road races that take place along some of the most scenic routes in Bucks County.
• Tyler State Park is 1,711 acres of lush greenery nestled in a wooded area of Newtown, PA. With hiking, biking and running trails that run along the Neshaminy Creek, park-goers have a beautiful waterfront view which comes alive in spring and summer.

o The Bucks County Half Marathon is held at this location annually in April. All proceeds of the race benefit the Autism Cares Foundation.

• Washington Crossing Historic Park is known as the site where General George Washington crossed the Delaware River into New Jersey on Christmas Day in 1776. However, this park is also known for its scenic pathways along the Delaware that take visitors past historic buildings left behind from Colonial times and river banks teeming with wildlife. This 500-acre park is dotted with trees which provide a gorgeous green backdrop in spring and summer as well as a colorful collage of fall colors in autumn. Due to its size and landscape, several races are held at this location throughout the year.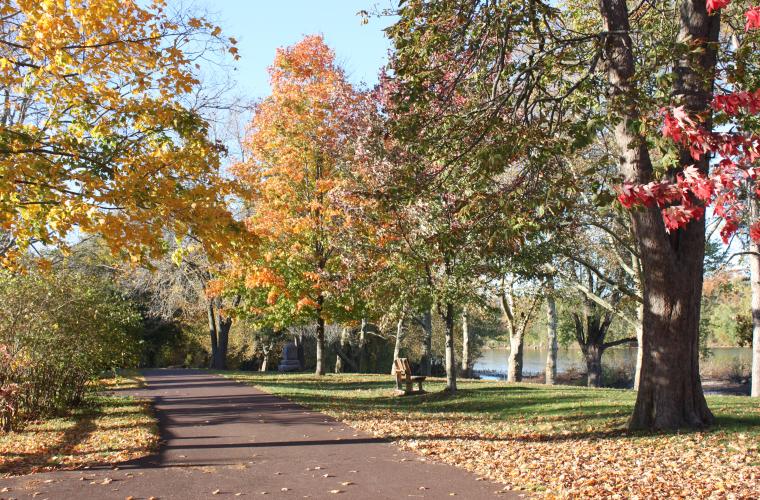 Washington Crossing Historic Park
o The Bucks County 10-Miler is held at this location in May and takes participants along the Delaware Canal Tow Path, one of the most picturesque routes in all of Bucks County.

o The Mother's Day 10K is held at the park annually, with all proceeds to benefit Girls for a Change, a national organization focused on empowering young women to create social change. This exciting new race asks participants of all genders to come out and celebrate their mothers and all the important women in their life by racing through beautiful trails along the Delaware River.

o July marks the 34th Annual Revolutionary Run at Washington Crossing. This mostly flat road race takes participants through the greenery of the park, shaded by the tall branches of the surrounding trees. This race is perfect for runners of all skill levels as there is an option to run 1 mile, a 5k or a 10k for more experienced runners.

o The Washington Crossing 15K will be held in August. This race through the park is an important part of the Bucks County Marathon series and takes participants through more than 9 miles of scenic summer greenery with breezes coming off of the nearby Delaware River to help cool runners off during the long trek.

o Also in August, Washington Crossing Park hosts the Chasing the Unicorn Marathon. This marathon is a USATF sanctioned event and is the last chance for runners to qualify for the Boston Marathon. This race is also part of the Bucks County Marathon series.

o Runners should save the date for the Alternative Half-Marathon in September at the park. This race is a little more than 13 miles and is also a part of the Bucks County Marathon series.

o Experienced runners can test their skills at the Delaware Canal 20-Miler in October at Washington Crossing. This endurance race takes participants along the gorgeous Delaware Canal Tow Path during one of its most beautiful times of year-fall. This race is also part of the Bucks County Marathon series.

o The first half of "The Bucky," a challenge for racers to run 39.3 miles in one weekend, kicks off in November during the Delaware Canal Half-Marathon. This race is also part of the Bucks County Marathon series.

o The second half of "The Bucky" also takes place in November during the Bucks County Marathon. This race is the last race in the Bucks County Marathon series.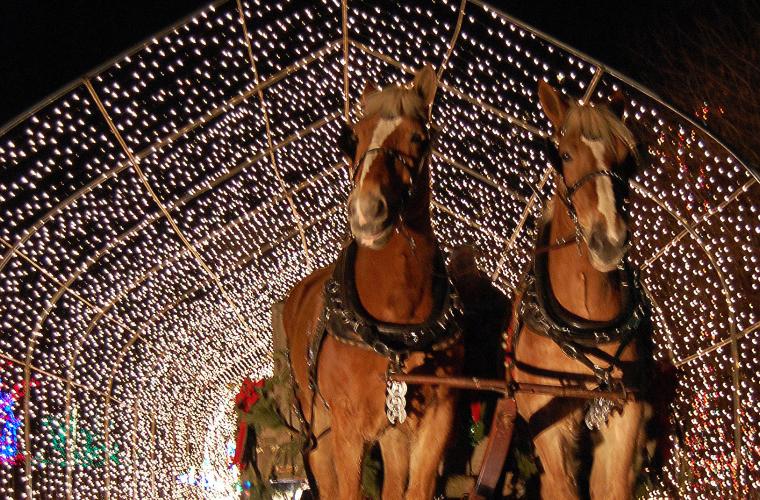 Shady Brook Farm Holiday Light Show
• Shady Brook Farm in Yardley, PA is a historic farm in Bucks County still in operation today. Each year this farm gears up for the holiday season in mid-November with a spectacular light show covering acres of farmland. More than one million colorful lights decorate the farm as part of whimsical displays and favorite holiday characters.
o Run the Lights gives participants the chance to take a two-mile run among this beautiful holiday lights show. This race is usually held in mid-November just after the lights make their first appearance, but before the weather gets too chilly!
• Nockamixon State Park of Quakertown, PA is a beautiful 5,286-acre park surrounding the Tohickon Creek. From gorgeous waterfront views to lush greenery in wooded areas, this park offers visitors a diverse landscape that is sure to delight.
o Save the date to take part in the Independence Triathlon, occurring annually in June. This quarter-mile swim, 10-mile bike race and 2-mile run is a USA Triathlon Sanctioned event that is both a Greater Atlantic Multisport Series Event and a Greater Atlantic Club Challenge Event.
o The 2014 QuakerMan Triathlon will take place at the park in September. With a gorgeous 1k swim around Lake Nockamixon, followed by a challenging bike race that takes racers up the rolling hills beside the park and a run course taking runners around the "Magic Tree" up to the finish line, this race features a variety of scenic views as well as a hefty challenge.
• Sand Castle Winery of Erwinna, PA is a family-owned, estate-bottled winery that boasts views of more than 17 miles of green vineyards and gorgeous surrounding landscape. The winery itself is a picturesque castle that appears to be straight out of a fairy tale, making all visitors to the area feel like true royalty.
o This winery hosts Run the Vineyards - Castle in the Sky 5k in late Spring. Accompanying this fun dash through the beautiful landscape will be live music and shuttle bus service to events taking place in local Tinicum Park. All participants receive a race-themed wine glass - the perfect token to celebrate victory after the race with a wine-tasting inside Sand Castle!
• Thompson Bucks County Classic, September. You don't have to be a runner to enjoy racing in Bucks County! 

o This two-day road race takes 200 cyclists from around the country down winding, scenic back roads from Doylestown to New Hope, PA. Now in its third year in Bucks County, this event includes three professional races, a recreational ride and children's races. As one of the only Union Cycliste Internationale sanctioned races in the United States, the event draws more than 20,000 spectators and is one of the top races on the East Coast. Line up alone the main streets of these quaint, small towns and watch the elite athletes pedal past at speeds of up to 30 miles per hour or more.