UNIQUE SHOPPING
Turn your shopping trip into a shopping experience with the eclectic shops and boutiques of Bucks County. Stroll down brick pathways or listen to live music browsing local art galleries. Whether you're shopping for you or for that perfect gift, Bucks County is a destination full of treasures.
To find more ways to shop in Bucks County, see our board on Pinterest. 
• Head to Doylestown Bookshop for a book signing or browse through an abundance of new and nearly-new titles. This independent bookstore has teamed up with the Berenstains, locals to Bucks County, to offer 10 unique collections of Berenstain Bears books not available at any other bookstore. While in Doylestown, stroll down North Main Street to shop at Bella's Boutique. Find unique clothing, jewelry pieces and more at this one-of-a-kind boutique. Exclusive ceramics can be found at The Tileworks, built by tile maker, Henry Mercer. Visitors can tour or shop at this working history museum that produces exquisite handmade tiles.

• Head north of Doylestown to Pipersville where you can journey through the Steven Snyder Cedar Maze and discover fountains, bird baths and more created with found objects and rocks indigenous to beautiful Bucks County. Or, head west to Chalfont to experience the relaxing aroma of Peace Valley Lavender Farm as you wander through more than 3,000 blooming lavender plants. Pass through the gift shop where lavender is perfectly picked and transformed into extraordinary gifts and products.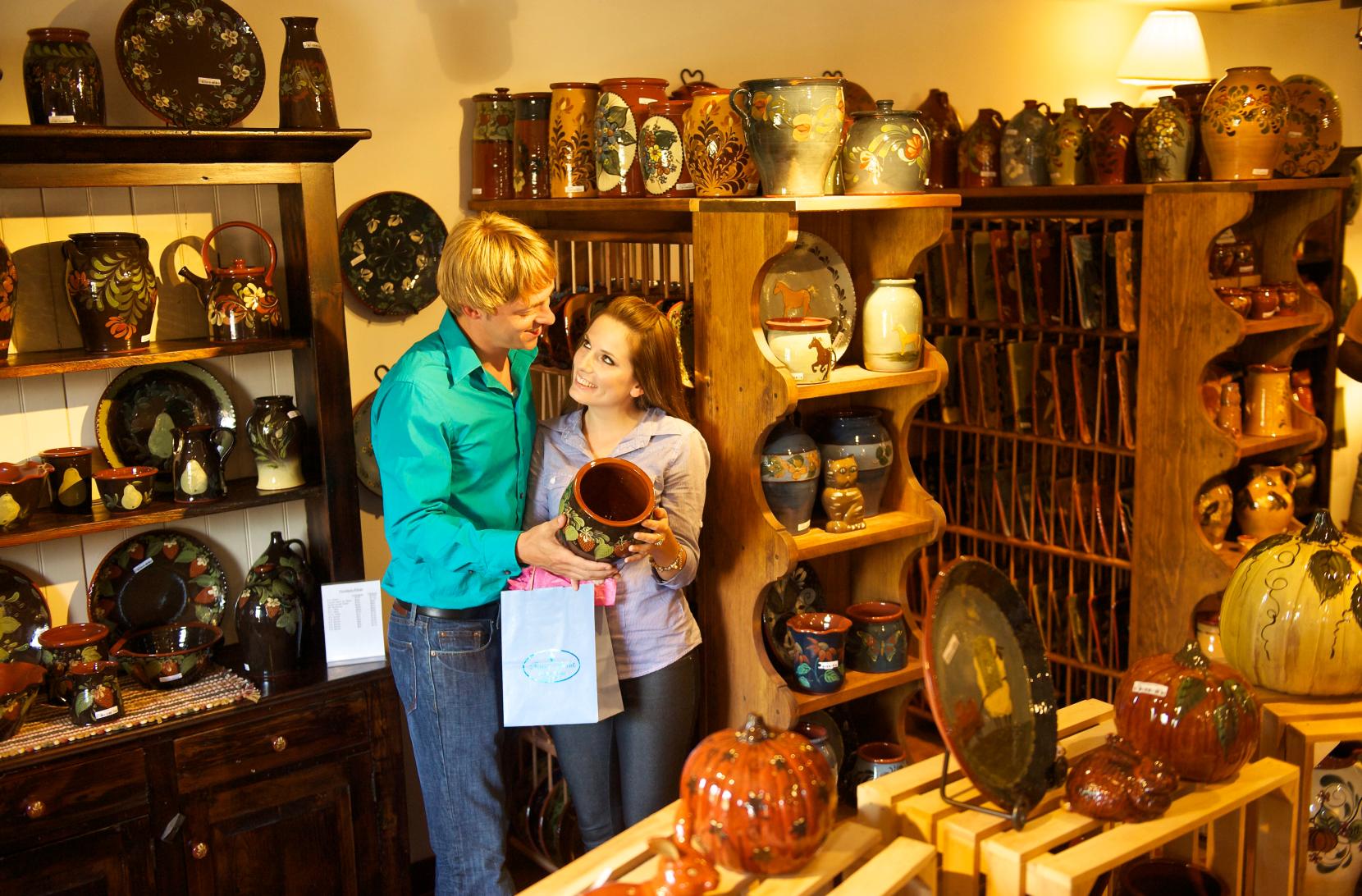 • Stroll down the charming brick pathways of Peddler's Village, an 18th century-style shopping village boasting 65 unique shops and boutiques across 42-acres of lush gardens. Find the perfect piece to complete your art collection at Lachman Gallery, Lighthouse Galleries, or the Upstairs Gallery.
• Journey through the Bucks County Wine Trail for a collection of wines, wine accessories and more from the cool wine cellars, rustic barns and castles of Bucks County wineries.  Pick up a bottle of award-winning wine from Peace Valley Winery or Crossing Vineyards and Winery to complement the perfect present. Gaze at the dazzling glassware and wine accessories in an 18th century rustic barn at New Hope Winery. Personalize your own wine label at Buckingham Valley Vineyards with a unique message and design for a gift sure to impress.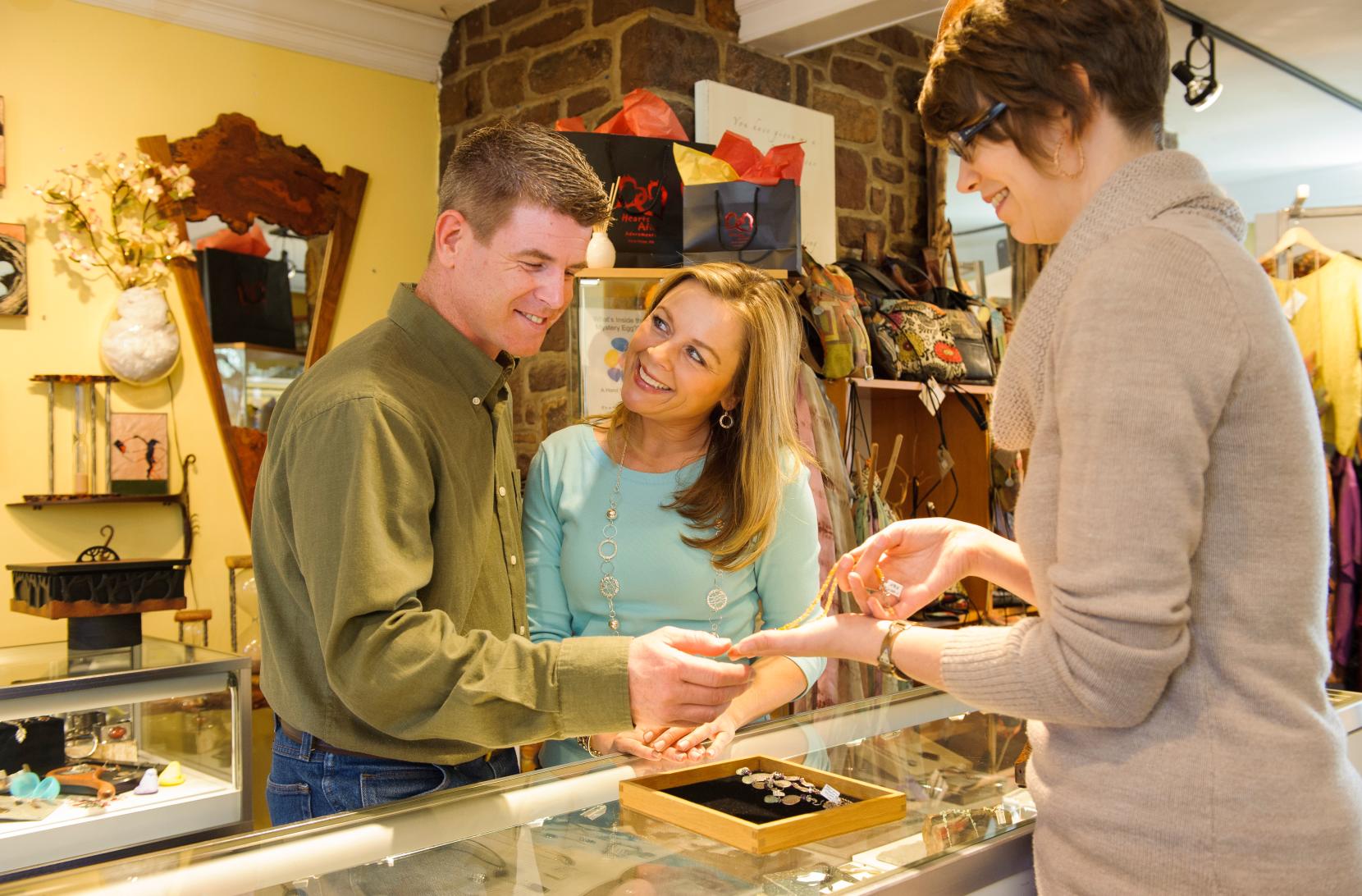 • Saunter down the vibrant streets of New Hope as this riverside town comes to life with eclectic shops, boutiques and art galleries. Try on the latest fashions at Savioni Designer Boutique and get yourself a matching leather handbag, belt or accessory at Fred Eisen Leather & Art Knives. Browse collections from more than 300 artisans and craftors at Heart of the Home. This Main Street shop offers jewelry, sculpture, home decor and more.