VENTURE OUTSIDE OF BUCKS COUNTY
If you're headed out of Bucks County, there's still plenty to see and do around the region! Tons of fun family activities, art and history and places to eat lay just outside of Bucks County's borders!
FUN FOR KIDS:
• Visit the Adventure Aquarium in Camden, NJ and explore one-of-a-kind exhibits with more than 8,500 aquatic animals, including penguins, hippos and the largest collection of sharks on the East Coast.

• Head to a Trenton Thunder game for the best in Minor League Baseball! As the Class AA Affiliate of the New York Yankees, the Thunder offer the highest level of baseball in the state of New Jersey and have been recognized as the "Nation's Best Franchise" for providing an outstanding and unique fan experience.

• Penn's Woods Puppet Theater in Hatboro, PA is an all-day puppet presentation that includes three performances, an interactive children's theater where the kids are the puppeteers and a life-sized musical puppet that kids can control with music!
HISTORY AND ART:
• Bryn Athyn Historic District, a National Historic Landmark, was founded as a religious community in the late 19th century by members of a Christian denomination known as the New Church. Today, it offers spectacular architecture, gardens, tours and events.

• The National Canal Museum in Easton, PA is the only museum in the country dedicated to telling the story of America's historic towpath canals. After you're finished touring the museum, take a ride on Pennsylvania's only mule-drawn canal boat!

• The National Constitution Center in Philadelphia is America's first and only museum devoted to the US Constitution. The Constitution Center brings the United States Constitution to life through hundreds of interactive exhibits, engaging theatrical performances and original documents of freedom.

• Also in Philadelphia, the National Museum of American Jewish History brings to life the 350 year history of the Jewish faith in America. Visitors of all heritages are invited to explore more than 1,200 artifacts and documents as well as 2,500 images taken from the Museum's own collection, 30 original films and 13 state-of-the-art interactive media displays.

• Discover works of art at one of the largest and most renowned museums in the country, The Philadelphia Museum of Art. With a collection of more than 227,000 works of art and more than 200 galleries presenting painting, sculpture, works on paper, photography, decorative arts, textiles and architectural settings from Asia, Europe, Latin America and the United States, it's an attraction not to be missed!
OUTDOOR ADVENTURES: 
• A truly unique outdoor experience is yours with Balloons Aloft, Inc., Hot Air Balloon Rides. Launching from Sky Manor Airport, Pittstown, NJ, flights last about an hour and take place in beautiful Hunterdon County, NJ, whose landscape is a combination of wooded areas, farmland and enchanting villages and towns.

• Take the family on an adventure through Lost River Caverns, nature's underground wonderland in Hellertown, PA. Tour the 1200 feet of paved walk ways and see the stunning and unique natural formations of an underground cavern.

• Morris Arboretum of the University of Pennsylvania is a historic public garden located in Philadelphia. Spend time with family and friends exploring the Arboretum's 92-acre lush and colorful gardens and learn from 12,000 labeled plants, trees and flowers. The ever-changing color palette in every season is a true showcase of the beauty of nature!
PLACES TO EAT:
• Prepare for an entertaining dining experience at Dave and Buster's Grand Sports Café in Philadelphia. The 65,000 square foot food, drink and entertainment complex features a host of bars, full service dining, billiards, bowling and the Million Dollar Midway Game Room.

• Take in the natural tranquility of the Delaware River while you dine at Lambertville Station Restaurant. Enjoy innovative American cuisine in a unique setting in this restored 19th century train station.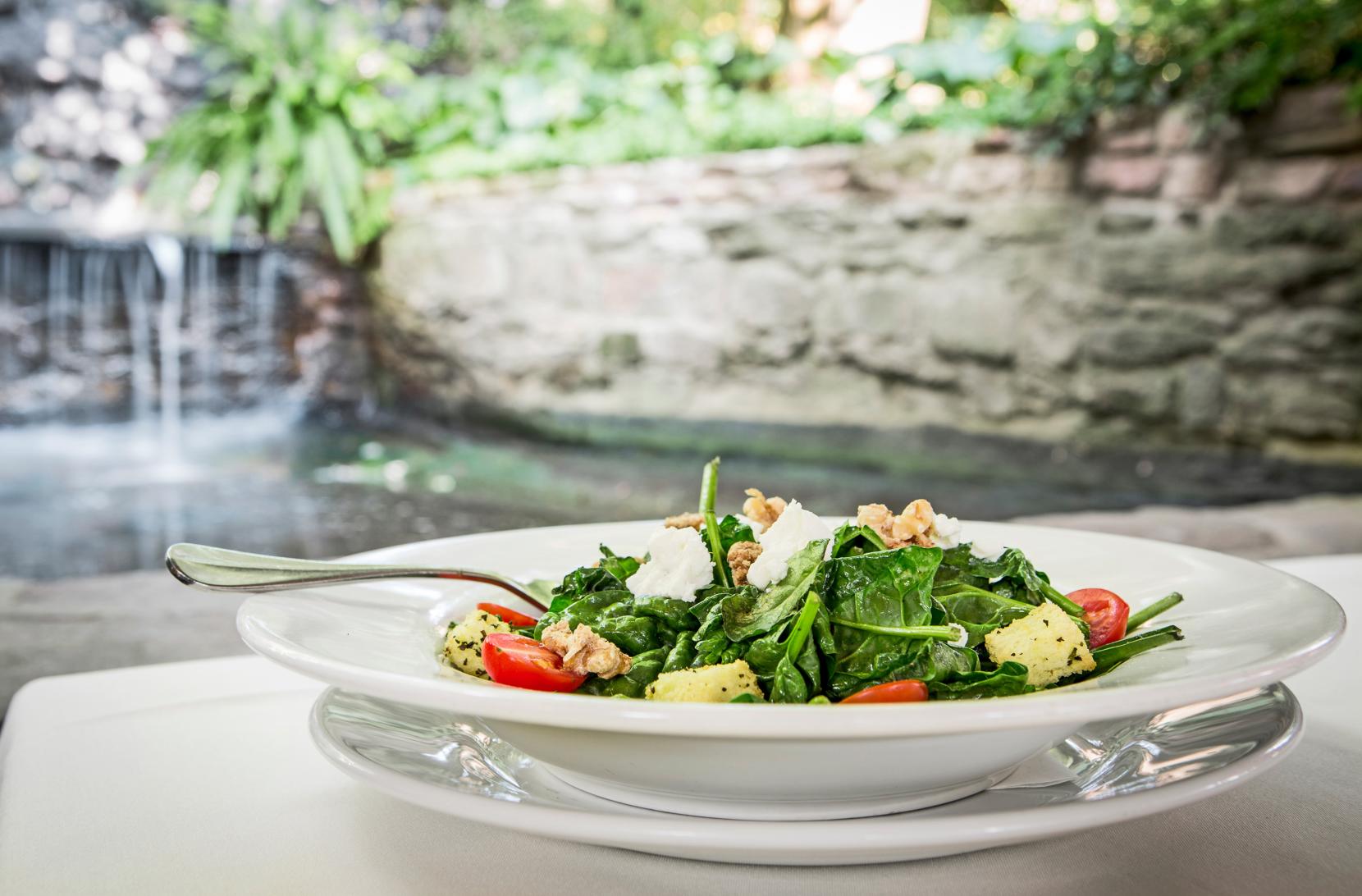 Al Fresco Salad at Stockton Inn
• Featuring rustic fireplaces, intimate art-filled rooms and terraces overlooking a quaint pond, Rat's Restaurant in Hamilton, NJ is designed to make visitors feel they have stepped into a village reminiscent of Claude Monet's romantic town, Giverny. The award-winning food and excellent service make for an unforgettable dining experience.
• Stockton Inn is a historic restaurant with a rustic tavern and beautiful gardens and patios nestled in charming Stockton, NJ. Romantic dining is served in the exquisite Mural Rooms with fireside seating during the colder months. In the warmer months of the year, enjoy your meal and surroundings on the patio alongside the waterfall and beautifully integrated gardens.