Consumer & Business Events
Visit Bucks County plans and attends a number of consumer facing events and business-to-business meetings and tradeshows throughout the year.
Visitor Center Events
Tourism partners are invited to contribute to a number of events that Visit Bucks County plans throughout the year.  
Bucks County Quilt Show, Summer event
The Bucks County Quilt Show is an event that gives Bucks County quilt makers a platform to share their extraordinary workmanship, artistry and talent with both visitors and residents. For more information on participating in the Quilt Show, contact GloriaS@VisitBucksCounty.com
Local Artist Series, ongoing event
Visit Bucks County coordinates with local artists to display an array of art exhibitions throughout the year that are displayed in the Visitor Center Main Gallery and Theater at the Bensalem location. This exhibition series offers elevated exposure for the featured local artists and the opportunity for the public to view and purchase these unique masterpieces. For more information on exhibiting artwork, contact GloriaS@VisitBucksCounty.com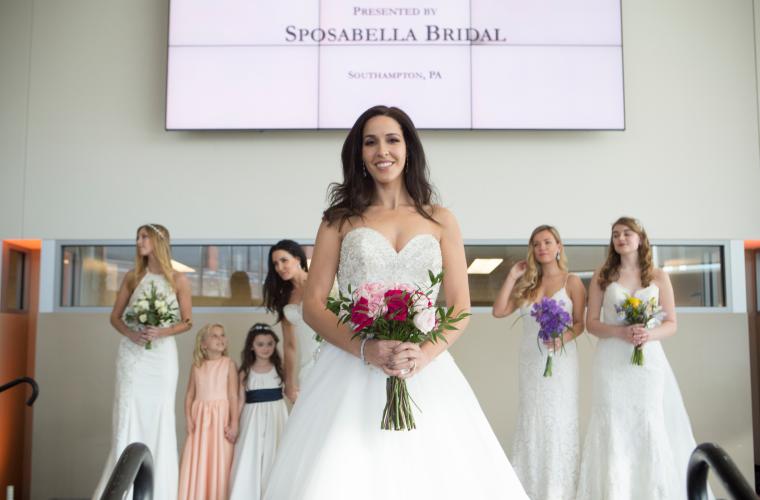 2017 Bucks County Wedding Show
2017 Bucks County Wedding Show
Showcases, Tradeshows, Events  
In addition to marketing the county as a destination for leisure travelers, Visit Bucks County also focuses of several business-to-business markets, which include weddings, meetings, sports and group tours. Several annual events are hosted as a means of furthering these markets. Additionally, several industry tradeshows are attended throughout the year by VBC staff. For more information regarding these events or tradeshows, please e-mail IndustryRelations@VisitBucksCounty.com.
Bucks County Wedding Show, Winter event
Visit Bucks County presents a premier wedding market event that serves to unite the consumer and its wedding-oriented county partners. This show is an opportunity for wedding venue and service providers to showcase their businesses and make connections with engaged or soon-to-be-engaged couples and their families and friends. To participate as a vendor fill out this form and send to Jenna Worrell. 
Bucks County Event Venue Show, Fall event
Join the Visit Bucks County staff along with Bucks County partners, area meeting planners, and other business professionals that focus on off-site meeting planning and event production for an exclusive evening networking event. This is an opportunity for venues that have meeting space to make connections with planning professionals and have open discussions about future business opportunities and industry trends.
Industry Tradeshows, Varying
Throughout the year, Visit Bucks County staff attends industry tradeshows around the country for the sports, weddings, meetings and groups markets. These tradeshows not only provide the staff an opportunity to pitch Bucks County directly to potential customers, but keeps them informed of industry trends.